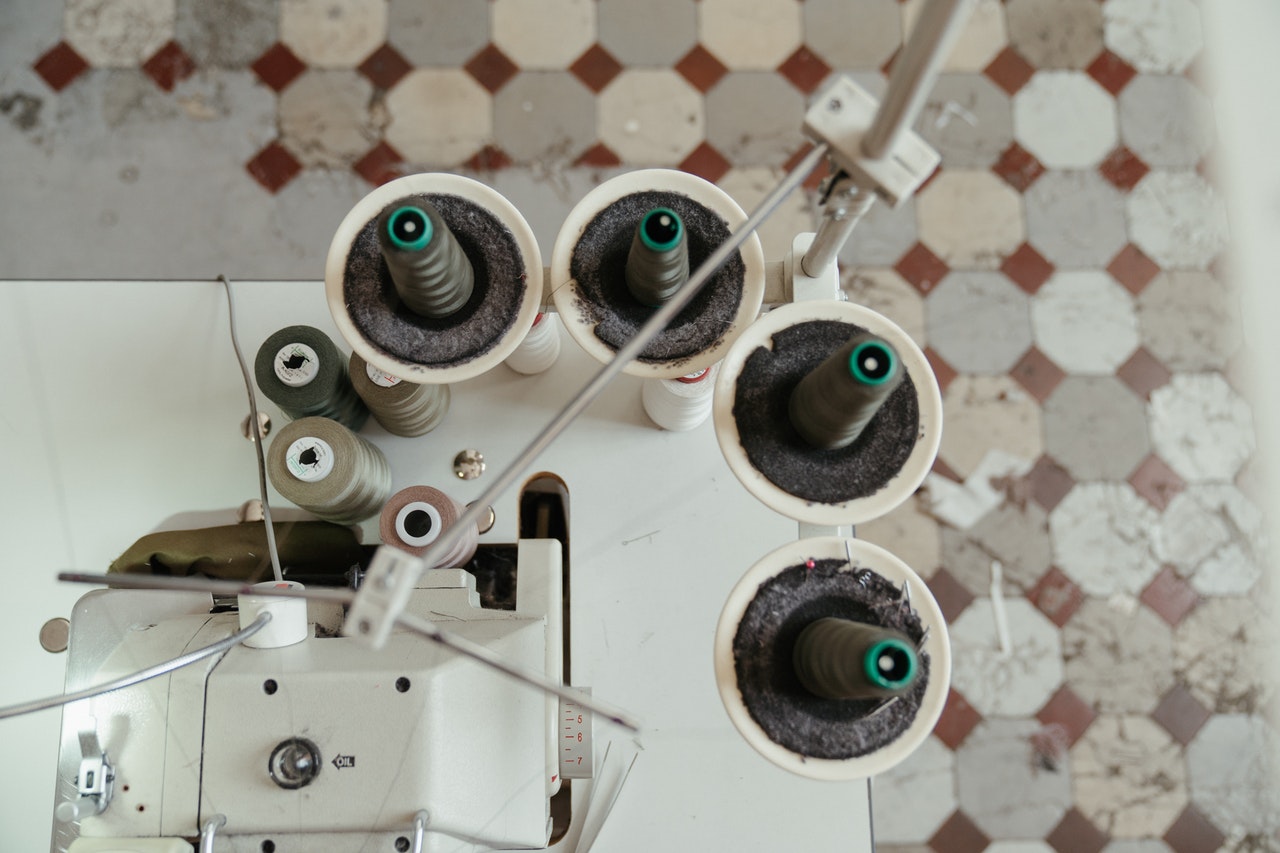 Although using aluminum foil tape may be preferable, you can also sew Reflectix, which works and holds the thread well. But, it may be tricky and more challenging to work with, so it is best to use your sewing machine to sew this material.
As I mentioned, using aluminum foil tape on your Reflectix may be better because it is easier to work with and gives a more aesthetic look. But, if you want to secure your material with stitches, you came to the right place!
Non-wovens can be challenging to stitch, and getting it right can be tricky. So, I shared some tips and some must-know basics to help you learn how to sew your Reflectix.
What is Reflectix?
Reflectix is a polyethylene bubble wrap-like reflective insulator that you can use to reflect heat. The bubble wrap insulates the air space and provides strength to sustain the reflective foil surface.
All the massive bales of fiberglass, foam, and denim can seem intimidating when looking for insulation. So, when you see Reflectix, it can appear to be a respite from all others because it is compact, tidy, and clean, with thermal-blocking R-values.
Reflectix is a type of insulation for various applications and an ideal option if you cannot or will not insulate the ceiling using fiberglass or foam. Also, you can use it for confined spaces where thick insulation and other types of insulation are ineffective.
Here are other ways of using Reflectix:
Reflectix can help you augment dense insulation with a reflective one to produce a more complete, insulated home. As a bonus, its reflective surface would increase the amount of light in your space.
Reflectix can help with any area of your home where chilly air is flowing in. Although many people prefer caulking, there may be instances where Reflectix will better prevent airflow.
You can wrap Reflectix around pipes and heating vents or drape it around your water heater as a thermal blanket if your local codes allow it since it is so flexible.
Some homeowners apply Reflectix to their garage doors' inside to assist in insulating these rooms for use as workshops.
You can also use Reflectix as basement ceiling insulation when you attach it to the centers of the floor joists above.
Even though Reflectix works best with airspaces, there are some applications where adding airspaces is impractical, such as around vents, pipes, and water heaters.
One advantage of utilizing Reflectix over fiberglass insulation is that it is resistant to mold and mildew. Therefore, you can clean it even if mold and mildew grow on your material, unlike fiberglass insulation which you should throw away when it gets moldy.
How to Use Reflectix in RV
Reflectix may be one of the best inventions for road life. Besides its many applications for various camping situations, you can also use Reflectix to wrap your water heater, line your ice chest, or make window shades.
Reflectix consists of polyethylene bubble wrap enclosed in reflective metal foil, which insulates the air space and provides strength to sustain the reflective foil surface. Additionally, it is widely available in various sizes and lengths at most retailers.
So, as I mentioned, you can use Reflectix in various ways, especially for your RV needs. But for these applications, it is best to look for the double reflective insulation roll to get ideal results.
Wrap You RV Water Heater
Suppose your camper lacks a readily available water heater and stores your hot water in a tank. In this case, it is vital to avoid the heat from escaping from that tank, especially when camping in colder locations.
You can fit a roll of reflective bubble wrap like Reflectix around your RV hot water tank to prevent the loss of heat. But if you want ideal results, it is best to buy an insulation roll with an R-value of 4.5 and is compatible with Reflectix foil tape.
Apply Lining on Your Ice Chest
If you prefer to transport your food in an ice chest rather than a refrigerator, you may extend the life of your ice and food by coating the inside of an ice chest with sheets of reflective insulation. Additionally, the bubble wrap will not take up much space in the chest.
All you need to do is line the inside of the chest and the lid with the Reflectix and secure it with Velcro sticky tape. You may even construct individual Reflectix containers to carry things like eggs and cheese.
Put up some window shades.
When you park your car in a sweltering parking lot, the first thing you do is put your handy reflective windows blinds up. So, you may use the same concept to keep light and heat out of your camper.
You can cut your Reflectix into inserts to fit any RV window from a roll. But, first, you must make a bubble wrap template and insert the parts, securing them using Velcro tape. Then, place the reflective bubble wrap between the canvas and the screen of a pop-up camper.
Related: 
How to Use Reflectix on Windows
If you want to use Reflectix on your windows, you will first measure the area where you would like to place them, then cut your Reflectix according to the measurements. After doing so, put up your window shades and secure them using durable, quality duct tape.
Most projects using this reflective insulation wind up feeling like the inside of a low-budget spaceship because of the bright material called Reflectix. So, if you want a more aesthetic look for your space, the combination of patterned cloth, adhesive spray, and black duct tape may be the ideal answer.
These window shades not only look fantastic on the inside, but they also block off almost all outside light. Also, they can help make it hard to see inside, so you can sleep comfortably and privately anyplace you parked. Here is how you can use Reflectix on your windows:
Tools and Supplies:
Your Chosen Fabric
Squares of Velcro Adhesive
Heavy-duty scissors
Tape measure
Marker
Follow these steps:
Prepare Your Window Shades
Using your tape measure, measure the length and height of a window. Next, cut a cardboard piece an inch or two larger than those dimensions since cutting away extra material is more manageable than taping it back.
Load your cardboard piece, heavy-duty scissors, and permanent marker inside your vehicle. Next, position the cardboard against the inside of the glass.
Make a mark that is a bit smaller than you believe you should take off a corner, then remove it. Repeat this step until the cardboard fits snugly into the recessed area of the window.
a. Note that it is vital that they are snug if you want the window blinds to stay in place.
Trace the cardboard onto the Reflectix, then make a larger cut out of it. Next, insert the Reflectix piece into the same window and trim for a snug, uncrinkled fit.
Repeat steps one to three for each window. But, to save time, you can trace your initial window shade and cut it out slightly larger, then trim to exact size.
After cutting all the window blinds to size, spray the outward-facing side with matte black spray paint. But, to avoid spraying paint on the wrong side, you must place each piece in its window and mark the exterior as you remove it. Then, let the paint dry completely.
You can skip step six, but I strongly advise you to do so because it will make sleeping in your vehicle much more discreet! Also, covering all of your windows in reflective silver will make your vehicle stick out like a sore thumb, so spray-painting will help you solve that problem.
Put Up and Secure Your Window Shades
Spread out your patterned fabric roll and place all window shades on the fabric with the black side up, considering pairs of windows and the direction the pattern is going on each piece for when you put them up in your windows.
Trace each window shade onto the cloth and cut out all fabric pieces using a permanent pen. Next, apply your adhesive spray onto the silver side of the window shade and wait until it becomes tacky. Then, stick and push the corresponding fabric piece in place.
To fix the cloth, wrap it with maximum strength duct tape, hot-dog style, around the borders of the window shade. Then, align each piece of duct tape with the preceding part on the fabric side to make it look good.
If you use high-quality duct tape that is sturdy and compatible with your materials, you can stop with the process and enjoy your newly ut-up window shades. But, if you got cheap, knock-off duct tape, you must do more to ensure that your window shades are secure.
If your duct tape starts to peel up, what you can do is get the duct tape extremely hot using your iron to help it cling better. But, make sure that you put a scrap piece of fabric between the iron and the tape to prevent it from burning.