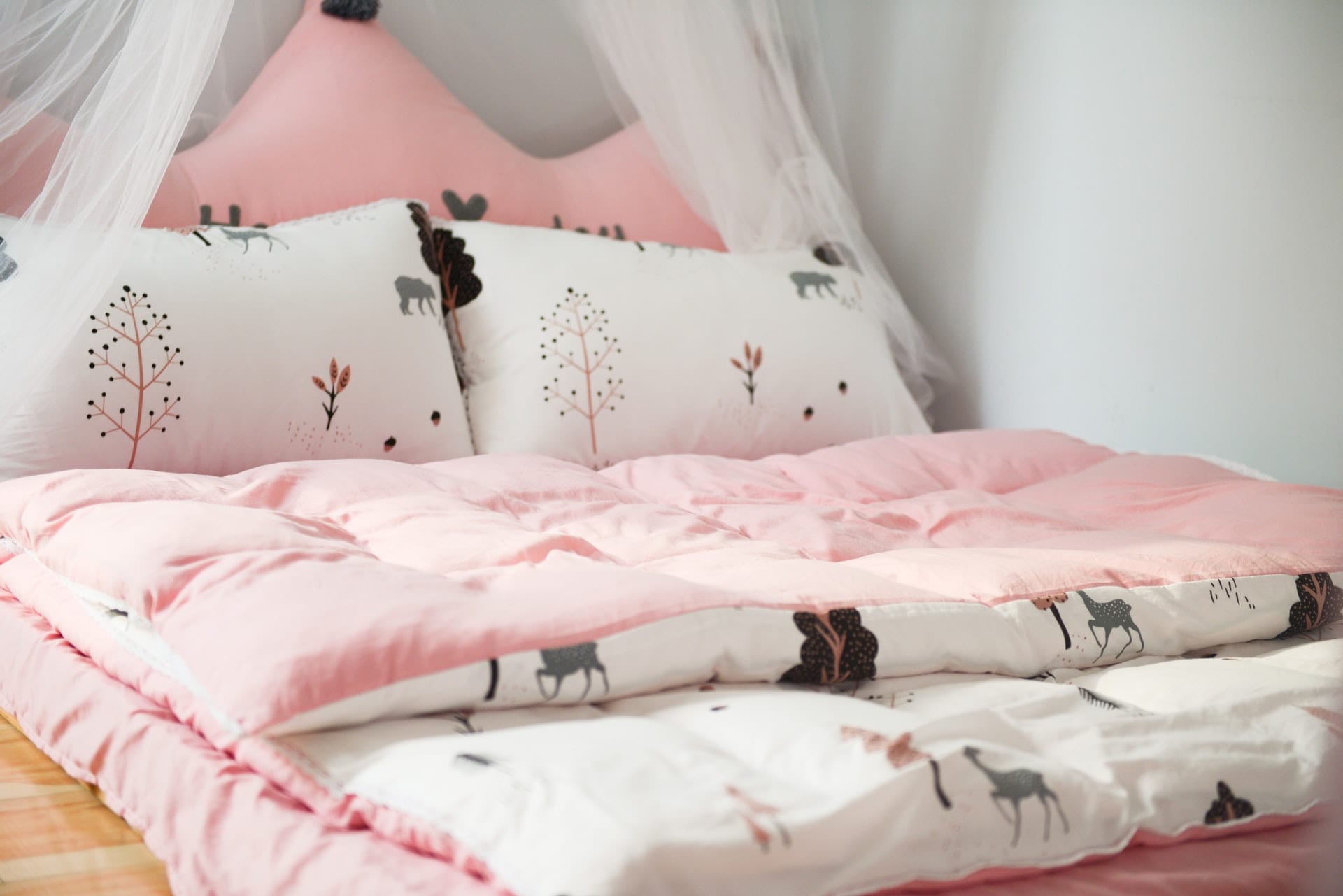 It depends on the user. Quilts and comforters are each excellent bed covers. One may have an advantage over the other in terms of warmth, design, price, material, or weight. And who could better decide which is better- a quilt or a comforter- but the one who will sleep on it.
A quilt will be a better bed cover for hot sleepers. Quilts are lightweight and thinner than most comforters. So, if you are a hot sleeper and dread waking up all sweaty, you may prefer a quilt than a comforter. On the other hand, a comforter is a better match for someone who likes sleeping under thick and fluffy covers.
So, is a quilt better than a comforter? It really depends on what kind of sleeper you are. If you get chilly a lot, maybe a quilt will not be enough for you, so use a comforter. And if you want your bed to look tidy and less fluffy, then it's not a comforter that you wish to but a quilt.
Which is better quilt or comforter?
Quilt and comforter both serve as beddings, and to have a clear picture of what each one is, here is a detailed description of each one so you can choose which you think would work best for you.
Quilt
By definition, a quilt is a warm bed covering made of padding enclosed between layers of fabric and kept in place by lines of stitching, typically applied in a decorative design.
A quilt is a flatter type of bedding with a top and bottom layer and insulation in between.
The top layer of the quilt is a patchwork composed of different pieces of fabric. The back layer is usually made of a solid color. And the inner material called batting is generally made of cotton, polyester, down, or wool. Modern quilts also come with the top layer in a single-color fabric but give more emphasis on decorative stitches rather than fabric designs.
Quilts are usually fabulous as bed covers because of the unique designs created by the patchwork of fabrics on the top layer. A quilt can give a rustic or cottage vibe to your room.
Quilts have other uses than covering the bed, such as throw rugs, tablecloths. You can also hang them on the walls.
As beddings, quilts are thinner and rarely as warm as comforters. Although, you can layer your quilts to create more warmth, especially during the winter. You can also pair quilts with other pieces of beddings for added warmth.
Generally, quilts are lighter than comforters. They are also usually smaller than comforters, which overflows the surface of the bed.
If you live in a place where it is mostly warm during the year, a quilt may be the right bedding choice for you. It is not too thick and not too fluffy to make you break out in a sweat.
Hot sleepers or those who easily detect an abrupt change in temperature may appreciate a quilt more because of its thinner and more breathable quality. If the weather gets too cold, you can always layer your quilts with other types of beddings.
Comforter
A comforter is a fluffy, thick, quilted blanket that is used as the top blanket on your bed.
Comforters are usually filled with synthetic materials such as down or down alternative like polyester. They are stitched so that the material is secure and in place and distributed evenly. The considerable amount of insulation in a comforter should make you sleep warmer at night.
Comforters use a sewn-through or baffle-box construction. When a comforter is sewn-through, the stitching goes all the way through both sides of the comforter. With the baffle-box construction, there are extra fabric pieces between the top and bottom layers of the comforter. A box or square is filled with a fluffy fill, such as down or polyester, making the bedding look three-dimensional in shape.
If you want a cloudlike sleeping experience, comforters are fluffier than quilts and make you feel like you are sleeping underneath a huge cloud.
It can serve as the main blanket and can be the decorative piece that gives your bed the overall design and style.
If you are a warm sleeper, consider using comforters made of breathable material like cotton.
A comforter is typically plain on either side, uses only one color and one type of fabric.
Comforters are used only for sleeping and not so much as a room design.
You can only use a comforter as a bed cover as they can be quite bulky if you use them in any part of the house.
Comforters have more filling than quilts, so they tend to be warmer. In places where there are fall and winter seasons, it is better to go under the covers when you are using comforters.
Based on the insights above, you can now clearly decide on your bedding preference. And to reiterate, there is no better choice between a quilt and a comforter; they are both equally great as beddings. The better one for you is the one you would like to see and lie on, on your bedspread.
Is a quilt or comforter cooler?
You can say that a quilt is cooler than a comforter. Even though a quilt has three layers – top, batting, and bottom- it is still relatively thinner than a comforter. The materials typically used to make quilts are cotton and wool, which are breathable and regulate body temperature.
Most comforters are warmer than quilts because they are thicker and are made of materials that can provide more heat, such as down, cotton, and synthetic fiber. Comforters tend to be warmer than quilts because they have more filling. However, you can also find lightly stuffed comforters, which can adjust to your body temperature.
Does a quilt go over a comforter?
When layering your beddings, quilts typically occupy the topmost portion of the bed coverings. Quilts have top layers with elaborate and colorful patterns, while basic quilts usually have plain front and back fabrics. It is more fitting to display your quilt's beautiful patchwork design, although you need a lightweight one to cover your comforter for it to stay fluffy, just the way you want it.
Putting a quilt over a comforter creates a more layered look and adds warmth to your beddings.
If your quilt and comforter layers become too hot for comfort, you may fold either one of them toward your feet and choose which one goes with the weather.
Are quilts for summer or winter?
Quilts are a great alternative to comforters during the warmer seasons. Quilts are usually thinner and made of lighter and cooler materials. But quilts can also be fine layering pieces during the winter. You either layer your quilts to derive enough heat or cover up your comforter to help retain more warmth to your bed during the cold months.
What is the best quilt for summer?
When it is summer, and you still prefer burrowing under the covers, the comforter's thickness and fluffiness will be overrated. Quilts made of wool and cotton are the best types to use for summer.
Cotton retains very little heat, so this material is excellent to use in the hot season, especially in places where the climate is mostly warm. Woolen quilts are made of breathable fabrics that regulate body temperature and is perfect for summer.
Also check:
What bedding is best for hot sleepers?
When you are easily awakened from slumber when temperature changes and can feel your sweat start to trickle, you are a hot sleeper. If so, what you sleep on plays a significant factor in your sleeping comfort.
Quilts are typically made from 100% cotton or cotton blends. These fabrics are breathable, very comfortable to sleep on, and cools off the body instead of perspiring. Comforters are too thick for comfort for warm sleepers.