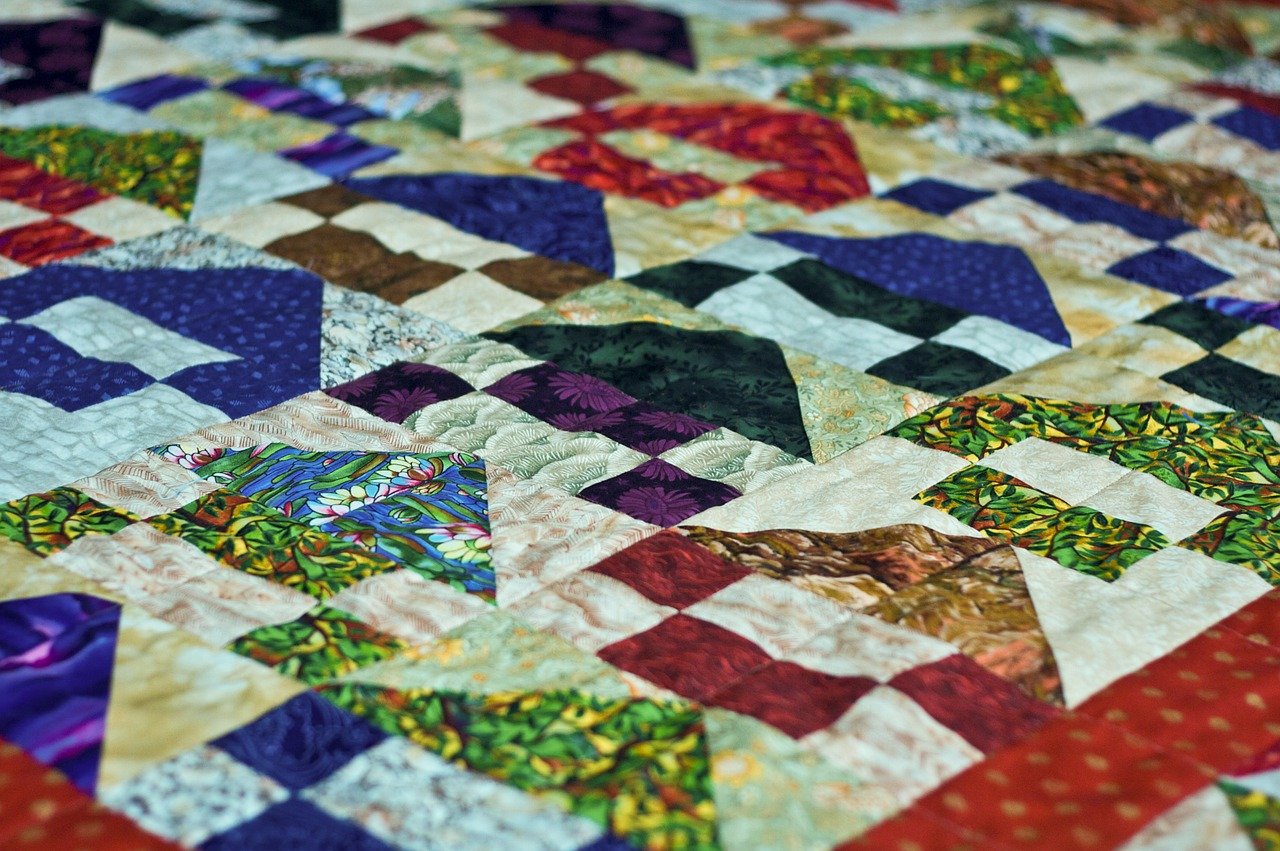 Quilting as you go, or QAYG, without sashing, is a simple technique that allows you to make larger pre-quilted blocks using smaller ones. This method is quite simple, but you must first stitch out your blocks designed for use without sashing.
However, remember that you should not use your quilt as you go designs meant for quilting techniques with sashing. They use different methods, which will give you varied results.
What Is Quilt As You Go Technique
The quilt-as-you-go technique (QAYG) is a way of producing a quilt sandwich with finished quilt blocks or rows, batting cut to size, and backing, and then quilting the finished block. You then sew the blocks together on the quilt top and finish the back seams by hand.
As a result, you will see your already quilted top at the end of the project. There are many ways to QAYG, all of which result in a quilted top after you finish piecing. For example, some approaches require attaching the backing as you go through the quilting process, while others involve adding the backing at the end of the piece.
QAYG is a quick approach to creating a quilt. The back can be just as interesting as the front, making it reversible.
Additionally, QAYG is not only fantastic for completing projects fast, but they are also helpful in threading a huge quilt sandwich through the throat of a domestic sewing machine. You can do this technique by doing the quilting in smaller blocks and then joining them at the end.
Another reason to adore this technique is that it is excellent for little sewing space. Instead of wrangling a large quilt around a small area, you now quilt each block separately before joining it to the rest of the quilt.
If you want to try quilting-as-you-go (QAYG), here are the two fundamental techniques you can do to help you get started:
Quilt-as-You-Go Method 1: Joining Quilted Blocks
Step 1: Create a Strategy
The first step to do is devise a strategy. So, you must determine the size and design of your finished creation, then calculate the yardage required for that size. The only difference between this method and a conventional quilt project is your pieced backing, so you do not need straight yards.
Step 2: Determine the Size of Your Blocks, Batting, and Backing
Next, you will determine the measurements of your blocks, batting, and backing. For example, suppose your design employs four blocks across and five rows completed at 9″ square. In this case, you will trim your top blocks to nine inches, leaving extra inches for your seam allowance.
After doing so, you must trim the backing squares to be the same size as the top. Then, cut your batting to size without leaving any seam allowance. Doing so will help you prevent your seams from getting too bulky.
Step 3: Assemble Your Quilt Sandwich and Start Quilting
After you piece and trim all your blocks, you must stack your quilt sandwiches by placing your backing fabric on your work table, ensuring it is the wrong side up. Next, you must place your batting square on top of it. Make sure you put it in the center, with an even seam allowance on all sides.
Once your batting is in place, set your top block on top of it, right side up. Next, make sure you carefully align it with the backing square underneath. Then, after you position your layers, you must baste them by pinning or spray basting, whichever works for you.
After basting, you must quilt your blocks, doing whatever technique you are most comfortable using. But, it is best to avoid stitching into your seam allowance. So, it might not be a terrible idea to use an easily erased marking pencil to mark around the edges, so you know when to stop.
Step 4: Connect Your Blocks and Press Your Seams
Once you have a large stack of quilted blocks, you may connect them. Do this step by placing two blocks, right sides together, to join squares. Next, pin only the top layers together. But remember to do it with care to avoid sewing through the fabric.
Press your seams once you link the two blocks at the top layer. Then, smooth the backing fabric back over the seam, folding over one side and fixing it.
Step 5: Complete Your Back Seams and Connect the Rows
After connecting your blocks and pressing your seams, you can now finish the back seams. You may line up and pin the back before machine stitching it all down to do this step. Remember to stitch as cleanly and invisibly as possible if you want excellent results.
I would recommend that when stitching the back, you leave your seams free on the top and bottom. Doing so will allow you to open your layers straight across when you put your rows together.
You can now sew them together using the same techniques to link your blocks into rows when you finish them. And, just as you finish the back of each row, you must complete the seams that connect the rows.
Quilt-as-You-Go Method 2: Quilt-and-Flip
Flip and Sew, also known as Sew and Flip, is a simple sew triangle technique. First, you must layer a square on the corner of a larger piece, right sides together to do this method. Then, you will sew diagonally point to point across the corner to make a Flip and Sew square.
As a result, you will have a corner triangle by pressing the triangle back towards the corner. Ideally, you can use this method for simple half-square triangle procedures, snowball blocks, and flying geese.
Follow these steps to learn to quilt-and-flip:
Step 1: Cut Out Your Pieces
First, you will remove the hem and backing from the strips. Remember that your fabric backing should be 36″ x 36″ in size. So, it would be best to keep the extra fabric for binding and other projects.
Cut four 36-inch-long 2-inch-wide stripes from the extra backing fabric and cut nine strips into 36-inch lengths, trimming off the selvage after doing so. Then, you will cut the batting to be a few inches larger than 36″ by 36″.
Tip: You can remove the batting to make a lighter blanket. But, it may be simpler for a beginner to sew with the batting because the cuddle can shift due to stretch.
Step 2: Attach Your Backing to the Batting
Attach the batting to the backing with double-sided tape. Then, using ample space on the floor, pin or tape the batting's edges down, lightly stretching it to make it taught. To protect your flooring from the temporary adhesive spray, you can place paper underneath the edges.
Next, with the wrong side facing down, center the fabric on the batting and spray the wrong side of the material. Then, slowly begin to glue the cloth to the batting, smoothing out wrinkles as you go.
If you make a mistake, you should carefully lift the material and try again. Once you connect the fabric and batting, take it from the floor and trim the excess to align it with the backing.
Step 3: Lay Your Strips in Order
Place the strips in the proper order, paying attention to the nap as you go, which will either lay flat or rough. Then, continue caressing your fabric to ensure it applies in the same direction.
After finalizing your layout, you will fold the central strip half lengthwise and make a mark along the fold of the fabric to define the line. Then, fold the backing in half with the batting side out.
Make a mark on the batting along the fold to create a central line and unfold and put out the backing. Then, line them up and apply the adhesive spray to place while the Cuddle strip remains folded in half.
Step 4: Sew and Flip
Get your second strip and place it down, with the right sides on the middle strip. Pin it into place, making sure the nap is in its place. Then, using a walking foot, you will sew through all the layers of cloth.
Sew with a straight stitch and a half-inch seam allowance and spray the wrong side of the sewed piece with glue, and "flip" into place, smoothing out wrinkles as you go. Next, you will continue alternating the sides of the middle strip. Then, sew the flipping all the way around till you reach the edge spraying the final outer strips into position.
Step 5: Trim and Bind
Because your fabric is stretchy, there will be excess on the sides, so you must trim the extra to match the backing. Next, you will scrimp and save on this quilt, take a plate, and round off the blanket's corners.
Sew the two-inch strips together with a straight stitch and use a straight stitch and a half-inch seam allowance to sew on the backing. Then, fold over and sew a serpentine stitch down to the front to finish your work.
Here are two stitch-and-flip tips to help you get the best results using this method:
Tip #1: Use a Pencil or Fabric Marker to Draw Diagonal Line Before Sewing
Drawing a thin diagonal line before sewing would be best when using the quilt-and-flip technique. Additionally, you cannot distinguish which section of the thick line is the angle you desire. So, if your line is thick, you might stitch at a slightly different angle.
So, as you sew, it would be best to use a decent light to stay as near to the specified line as possible. The finished artwork will then adjust depending on how closely you adhere to the designated line.
Tip #2: Sew a Narrow Seam (about 1/4")
As you may notice, there is a natural bump in the attached fabric piece where the "flip" or fold is. It may cause your attached section to become smaller than intended or not line up correctly with other units.
If this is a problem, it would be best to sew about a quarter of an inch of a narrow seam, sewing approximately two threads away from the marked line into the seam allowance. Then, the bump will take in that little bit of extra space when you press.
This process reminds me of string piecing, with the significant distinction being that your batting is already in place. It is an excellent strategy to use when working with cloth strips, as you will see. Additionally, it is a perfect way to use up excess batting and fabrics, as well as a solution to the challenge of quilting a massive quilt on your home machine.
Related article: 
What Kind of Batting Do You Use For Quilting As You Go
Using 100% cotton batting is crucial for quilting as you go (QAYG) because you will press directly onto the batting. Additionally, it would be best to find one low-loft and needle-punched to get excellent results.
Cotton batting is by far the most common batting choice among quilters today. But, despite its popularity, this batting type is far from average. Click here for a wide selection of 100% cotton batting if you want to buy some for your project.
Cotton batting is soft, resilient, and all-natural, crucial for this quilting method. If your batting contains any synthetic fibers, they may melt when you press it with your hot iron.
Since you will be using 100% cotton batting, it would be best to know more about it. Here are some tips to consider that could help you in working with 100% cotton batting when quilting as you go:
Tips for Working with Cotton Batting
Quilt Your Batting a Little More to Prevent Bunching
Cotton can bunch after washing if you use a loose quilting pattern. So, you would generally want to keep your quilting close and tight so that the batting precisely stays where you put it. Most packages will tell you how close your stitching can be, which makes reading the fine print essential in this case.
Look Out for Scrim
Scrim is a coating found on the batting that attaches and stabilizes the fibers to prevent them from separating or stretching too far. Additionally, it allows you to quilt a little looser than usual, and it is excellent for machine quilting.
However, a lot of cotton batting lacks scrim because it often contains polyester. So, batting that claims to be 100% cotton will almost certainly be scrim-free.
Reduce Shrinking by Pre-Washing Your Batting
If you like the look of crinkle but want to tone it down a notch, you can pre-wash your cotton batting. But, it would be best to avoid agitating your batting in the washing machine if you do not want to end up with a cotton disaster.
So, you need to fill your washing machine with water and unfold and submerge your batting. Next, you must turn your device off if you do not want to wash it by hand in a tub or large sink. Then, drain the water and ring out your batting after it has soaked for 30-60 minutes. Finally, toss the batting in the dryer on air fluff or lay it flat on some towels.