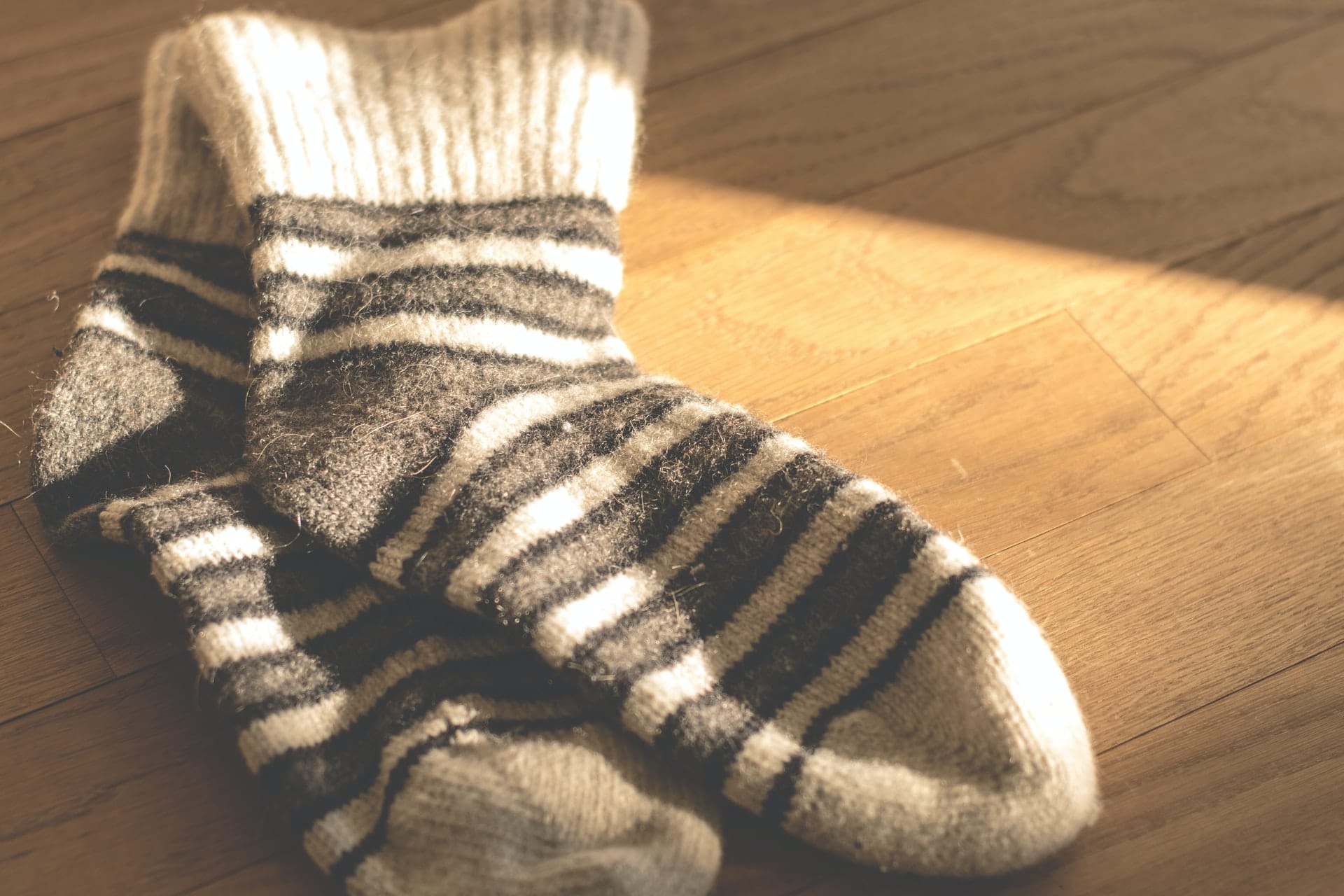 You have heard that your friend will be having a baby soon. And so, you decided to knit a pair of adorable baby socks. Would you grab any of your yarns in the kit and start right away?
Hold up. Knitting baby socks is not the same as regular adult socks. The baby's skin, especially that of the newborns are sensitive. Their skin can get irritations in an instant. So, before you start this new project, consider the following reminders.
A baby's skin is delicate and so a soft and gentle yarn for socks and baby clothes are crucial. Choose a yarn that is gentle on the skin but durable. Make sure that it is tough enough to withstand washing and constant rubbing.
Babies tend to rub their socks as their feet keep on kicking. This is why softness and durability must go hand in hand when choosing the yarn for knitting baby socks. The most popular choices for durable soft fiber are blends of cotton, nylon, wool, and merino wool.
These types of yarn fit the criteria of softness, durability, and elasticity. These qualities are what baby socks need. Some knitters do not recommend using pure cotton yarn for baby socks.
Yes, cotton is soft; but it is prone to shrinkage and does not have much elasticity. It is important to choose a yarn that provides a certain level of elasticity.
Elasticity will ensure that the baby can use the socks for quite some time. This means that the baby will not outgrow the socks that fast.
When choosing the yarn for baby socks, consider its sensitivity to regular washing. Some knitters do not recommend all-natural fibers as they tend to absorb much water. They also take longer to dry.
Although natural fibers are soft, they are not always best for knitting baby socks. You might find yarns made of pure cotton fibers that have been pre-washed and pre-shrunk. These are great yarns, but they come to a hefty price.
If you want the socks to withstand regular washing, choose yarns that are blends of cotton, wool, and nylon. Always consider yarn blends for your baby socks.
The natural fiber adds softness. Meanwhile, the synthetic fiber brings elasticity and durability to your yarn.
These three elements are necessary to make sure that baby socks will remain useful for a few more months. You have to keep in mind that recuperating mothers do not always have the time to hand wash baby clothes.
They might just throw in the baby clothes and socks into the machine. They may even forget the wash care of the clothes. They could load the baby clothes without thinking if they will shrink or not.
You need to consider all these to ensure that your baby socks can tolerate such scenarios. Always choose a washable yarn, either by hand or by a washing machine.
What Yarn Is Safe For Babies?
As discussed in the previous section, yarns made of natural fibers are suitable for the baby's skin. But pure cotton or wool is not always the best for baby clothes and booties. It is advisable to choose blended yarns.
You may opt to buy yarns made of natural fibers blended with synthetic fibers like nylon. These blended fibers provide softness, durability, and elasticity to your yarns. These properties are all important for baby clothes
How Do You Wash Baby Socks?
Washing baby clothes and socks is the same as washing regular adult clothes. A baby's skin is sensitive, and so it needs gentle care. You cannot put any chemicals that may irritate or harm their fragile skin.
For this reason, you need to wash baby clothes and socks in light and non-allergenic detergent. Some detergents are damaging to both the babies' clothes and their skin, too.
Look for a detergent made of natural ingredients. Also consider hand washing your baby's tiny garments such as socks to maintain its perfect shape. You should also consider washing baby clothes and socks on separate loads.
Here are some of the important reasons why you need to wash baby clothes and socks separately.
If your baby has super sensitive skin or has eczema, you will have to buy a special kind of detergent. It will be costly if you will wash all your clothes using the same detergent.
Always check the care instructions on your baby's clothes. Some garments need special washing procedure, so do not just soak them in water. Read and understand the instructions.
Remove tags or stickers before washing baby clothes or socks. These stickers can leave remnants of sticky or gooey substance on the baby's clothes.
It is not advisable to wash baby clothes with the rest of your laundry. Someone in your family might have spilled strong chemicals on their clothes. This chemical may be harmful to your baby.
Babies use a lot of clothes and beddings in one day. This means that your baby alone can make enough full load in a day.
The key point here is to wash and handle baby clothes and socks with utmost care. Babies are delicate. Any strong scent or chemical may irritate their skin and other senses.
What Ply Is Sock Weight Yarn?
When you first started knitting, you might have encountered unfamiliar words like ply. The term ply is also the weight of the yarn. Both of these terms refer to the strand thickness of the yarn. They also determine the number of threads that make a strand.
In simple terms, a four-ply yarn means it has 4 threads in it. An eight-ply yarn means there are 8 threads in each strand.
The four-ply and five-ply yarns are both baby socks yarns. The composition and construction of these yarns are different. Most baby socks yarns contain a little bit of synthetic fiber like nylon.
The five-ply yarn is a great material for knitting hats, shawls, and some baby garments. Meanwhile, four-ply yarn is most suitable for knitting baby socks. They are best to work on using needles between 3 mm. to 3.75 mm.
This is the thinnest and lightest yarn available in the market. There is only a single strand of thread for lace yarn.
This is a little thicker than the lace yarn. You use yarn with this weight is you want fine knits or stitches on your project.
Sport and Double Knitting
This is two times thicker than fingering yarn. You four-ply and five-ply yarns belong to this type. Socks yarns have this weight.
Beginners use this type of yarn for most projects. These yarns are bigger and heavier. Worsted yarns are perfect for knitting socks.
These types of yarn weight are perfect for scarves, cowls, and thick and bulky projects. Bigger needles are necessary for these chunky yarns.
What Is The Softest Yarn For Baby Socks?
Since baby socks need to be soft, durable, and with a bit of elasticity, most knitters prefer blended yarns. They prefer blends of cotton, wool, and nylon. The natural fibers provide softness and elasticity. Meanwhile, the synthetic gives durability and warmth.
If you want to use wool, make sure that it is the "Superwash" type. The same goes for other yarns made of natural hair fibers. Wool fibers have scales on their fibers, and that can irritate the baby's skin. These fibers are the worse alternative if you run out of yarn for your baby sock project.
To remove these scales, wool undergoes a treatment of acid washing. Hence, the name "Superwash". But even if these fibers have undergone treatment, it is better to use the blended type.
Blended wool and cotton yarns are great for knitting baby socks. But the merino wool is the softest fiber. Blended merino wool gives the softest texture and keeps the baby's feet warm and comfy.
Is Acrylic Yarn Bad For Babies?
A lot of knitters do not advocate the use of acrylic yarns for baby clothes. Some issues make acrylic a no-no for baby garments.
Acrylic is a synthetic fiber. It does not offer the softness that natural fibers have. It tends to be stiff and does not fit snug on your baby's feet.
Since acrylic is a man-made fiber, it is not breathable. Knitted garments such as baby socks tend to be too hot and uncomfortable for the baby.
Acrylic fibers are flammable. They melt and burn fast because they have components the same as plastics.
These fibers have plastic components, and so they may contain a certain level of toxicity. Babies tend to bite on their clothes and socks, hence not a good material for baby garments.
Is Polyester Yarn Safe For Babies?
Choosing the right yarns for making baby socks and clothes is important. Not only because of the comfort but also the safety of the materials to your baby's health. Some fibers in knitting yarns are not suitable for babies.
One of which is the polyester yarn. It is one of the most toxic synthetic fibers in the market. It has a polymer component that uses dihydric alcohol and terephthalic acid. Akin to Acrylic yarn, polyester is not a good material for baby garments.
Polyester yarns are not breathable fibers, and so the garments feel too hot or warm for the baby. This will not give your baby a regulated temperature it needs.
Garments made out of polyester are not durable. Since they are plastics in origin, they tend to wear off fast.
Polyester only yarns are not suitable for baby clothes. The fiber does not cling well on the skin and it is flammable.
As technology advances, synthetic fibers become additions to natural fibers. The process aims to produce better and safer yarns.
Baby clothes and socks must have a balance of comfort, safety, and durability. This is why buying blended yarns for knitting baby socks and garments are a better option.
What Type Of Yarn Is Best For Socks?
The best yarn for socks is those with super fine threads. They often have the "sock yarn" label, so it is easy to identify. These types of yarns use small needles that range from 1 to 3.
Even if they are fine, they still vary in weight and thickness. Some sock yarns are bulky or have worsted weight.
Most sock yarns are from blended yarns of natural and synthetic fibers. Blended yarns provide comfort, snug fit, and durability to socks.
Things to Consider In Choosing Your Sock Yarn
Socks must fit well on your feet. They must be snug and comfortable. Because of this, you must choose a yarn that has tight ply.
Sock yarns with ply 4 or 5 are best for knitting tight-fitting socks.
Your socks need frequent washing, so choose a yarn that is not prone to shrinkage. It may be difficult to find pure synthetic sock yarns that can give you a comfort fit. The same goes for pure natural fiber yarns. Blended yarns are the next best option.
Superwash wool and cotton blended with nylon are great yarn fibers. You may also consider blended threads of bamboo, silk, and more. The key here is to choose yarns that can provide comfort, softness, fit, and durability.
When you choose your sock yarns, look at its thickness. The bulkier your yarn, the thicker your knitted socks.
If you want thin or light socks, use a yarn with fingering weight of 400m/100g.
What Is The Difference Between Sock Yarn And Regular Yarn?
Regular yarns are the threads made out of natural or synthetic fibers. The wool, cotton, merino wool, bamboo, silk, and so on are examples of regular yarns.
These are good for knitting different projects, but rarely for socks. This is because these yarns either lack durability or softness. Using pure wool or cotton yarns can provide softness and comfort, but they wear off fast.
These natural fibers also tend to shrink and absorb too much water – not ideal for socks. Some natural hair fibers like wool are also not good for socks unless it is Superwash. The scales on its fibers can be itchy and irritating.
Sock yarns are often a combination of these natural and synthetic threads. This is to ensure that your knitted socks are fitting well and long-lasting.
Knitting socks whether for babies or yourself is fun. It is even more rewarding when you see the final output. The process could be a handful since you need to use the right yarn. But once you have figured it out, things get easier.
Knitting socks never gets old. It is one of the most practical projects you can make. Socks are always in fashion. You can give it as gifts to family and friends of all ages.