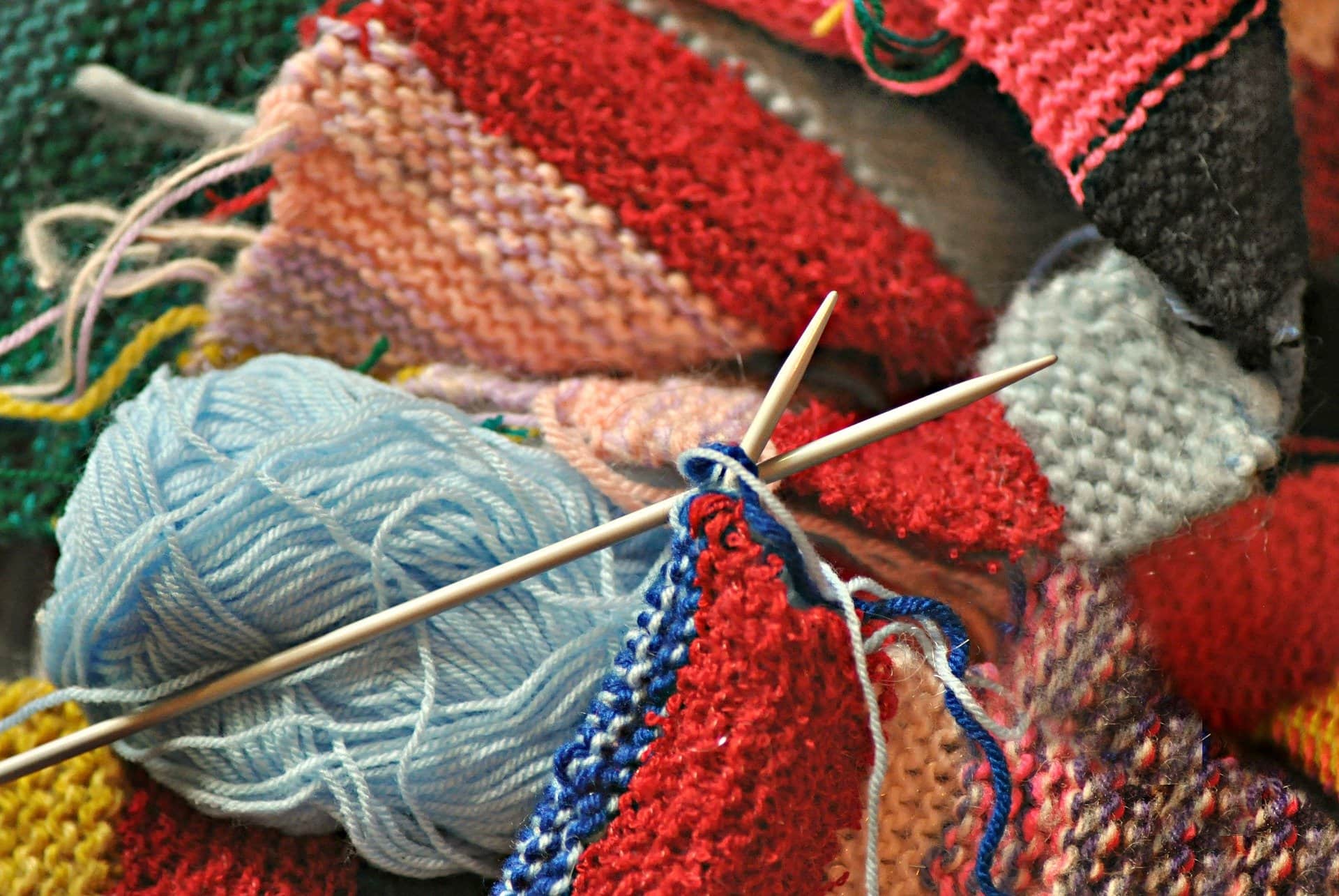 Knitting is a craft that does not need special skills for you to learn. But you need to be detail-oriented to have a satisfying output. One of the things that you need to pay attention to is the materials.
→ Shop +2000 Different Knitting Needles on Amazon here
The things you will need are simple, but it requires specific numbers and details. An example is a needle that you will use. If you knit with bigger needles, you will have bigger stitches and looser fabric.
If you do not pay attention to your needles, you might end up knitting the wrong design. There are a lot of needle sizes that you need to be aware of.
As a beginner, it will be difficult at first. But it will become more comfortable as you progress. Read on below to know more about knitting needles.
How does needle size affect knitting?
Most knitting patterns specify what size of knitting needle you need, and this can help you finish your design easier and efficiently.
Using the wrong needle might cause you more difficulties than you expected. The size of the knitting needle is essential. It affects the length of your stitches and your design as a whole.
The idea of the gauge is essential. It is the process of knowing how many stitches fit into 1 inch of knitting. This particular process relies on the size of the needles that you are using.
Usually, larger needles produce broad gauge and vice versa. Try knitting a test swatch before you begin your project. It can help you practice your measure with different needle sizes.
Do bigger knitting needles make bigger stitches?
The size of your stitches relies on the size of your needle. You will have bigger stitches if you use bigger needles. In contrast, you will also have smaller stitches if you use smaller needles.
Everything is dependent on the design that you are working on. You need to make sure that you are using the right side of the needle. It is to make sure that you organize your stitches well and follow the right pattern.
→ Shop a HUGE Selection of Large Knitting Needles Here
What happens if you knit with two different size needles?
Knitting with two different size needles is a unique technique. Simple and even beginners can learn how to do it. You will get an original lace look when you knit with one needle that is bigger than the other.
The strands of yarn will stay open while you knit and will create a "torn stitch" effect on your design, which gives a unique touch to your fabric.
But using different sizes of needles only applies to specific designs. If you are not aiming for a lace look, then this technique is not applicable.
Take this, for example. You are working on a design with simple patterns. If you use 15mm and 8mm needles, the length of your stitches will get complicated. Use this kind of technique for knitting shawls, wraps, and jackets.
What happens if you knit with smaller needles?
Knitting with smaller needles results in smaller stitches. It also makes the fabric tighter and denser. Smaller needles are perfect for detailed patterns.
You need to be familiar with the gauge when using smaller needles. It is different with the bigger needles. Beginners might find this difficult at first, but they can do it better as they progress.
Learning the gauge with smaller needles is essential. It is because the stitches you will create are small. Thus you have to be very specific with how you approach your needle handling.
→ Shop Small Knitting Needles on Amazon here
How do I know what size knitting needle to use?
Every needle size has its purpose. But if you are new to knitting, you will find needle sizes confusing, and that is why I have prepared a cheat sheet for you.
Here are the things you need to know when choosing the size of your needle. But before that, here are two things that are also important in buying your needles.
Materials – There are a lot of kinds of needles aside from their sizes. Knitting needles come in different materials and includes bamboo needles, metal needles, and plastic needles. Custom-made needles are also becoming popular right now. Which needle material to use depends on your preference. You can choose whichever you are comfortable with as the difference in output is minimal.
Shape – Needles have three types based on the form: The straight, the circular, and the double-pointed needles (DPNs). These three have different usage from each other. You can use the straight needle in any flat projects that you are working on. Circular needles for knitting also have the same function as straight needles. The difference is that it can knit in rounds and work in rows. Double-pointed needles (DPNs) are for knitting round details. It is a substitute for knitting details that are too small for circular needles.
Let us now discuss the sizes of your knitting needles. Know which one fits the project that you are working on.
When you are already familiar with the needle sizes, then the next thing you should do is check your project. Know what is the perfect needle size for it and choose from the list above. There are times when patterns come in sets and need a specific needle size.
How long should knitting needles be?
Needles are one of the most crucial things when knitting. You need to know which one fits your project. Its length is also another thing to consider when choosing the right needle.
If you are a beginner, you can start knitting with a medium-size needle. The length ranges from 4.5 mm to 5.5 mm. These are the sizes used for medium-weight yarns.
They also feel the most comfortable in your hands when knitting. If you are working on a flat project, straight knitting needles are the perfect fit.
Its length ranges from 7 inches to 14 inches. These sizes are the most ideal for beginners. It is because shorter needles are less bothersome and easier to use.
You need to remember this important thing. When you start knitting bigger items, you will need longer needles. That is for you to hold all the stitches together as you knit. Also, the size and length of your knitting needles should complement your yarn.
Do larger needles use more or less yarn?
The amount of yarn that you use does not need to compliment the size of your needle. It is a case-to-case basis. Take this, for example. Using a larger needle makes bigger stitches and rows, and it means that you will end up using less yarn because you do not need to make a lot of stitches.
If you use smaller needles, you have to make a lot of stitches that require more yarn. But there is an exemption. Using bigger and smaller needles may need the same amount of yarn to use because if you make a lot of stitches using larger needles, you will need to use more threads.
There is one thing that you need to remember. The amount of yarn that you use depends on the number of stitches you will make. The sizes of your needles will only matter on the length of your stitches.
Another thing to remember is the quality of your needle. It will be difficult to knit if your needle does not cooperate with you. Make sure to buy a needle that feels comfortable with your hands.
Converting knitting patterns to different size needles
Changing your knitting patterns to different size needles is essential. It is one way to personalize your work. If you use larger needles with thick yarns, you also need to adjust your pattern.
Without adjusting the pattern, your finished design will look too big. By doing a bit of calculation, you will be able to convert knitting patterns. The result will help you know the different sizes of needles. Here's how you can do that.
Prepare the needed materials – You will need the following elements: Your knitting needles, pattern, yarns, and a calculator. These are the essential materials when you want to convert your knitting patterns.
Do not get intimidated with the calculator. You will not solve severe math problems. You only have to do simple math.
Knit a gauge – Start by knitting a gauge swatch with the same size as your pattern. You can use whichever needle you want to. It can be a larger or smaller needle. Stitch enough rows until you meet your desired length for your swatch.
Count your stitches – It is to count the stitches and rows in your gauge swatch. Since you started knitting with your preferred stitches, it is easier to count the rows. Always make sure to count well and not leave a single detail.
Find your stitch converter – This is where you start converting your knitting patterns. Divide the stitch count from your gauge swatch and the count listed in your design. Round it up to two decimal places and find your stitch converter. It is where you will start changing your needles.
Stitch count – You have to multiply the stitch count in your pattern by the stitch converter, as this will determine how many stitches you will need to cast.
Count the rows – This time, you need to count the rows of your gauge swatch. It is essential to be precise with this one as it can affect your finished project.
Divide your rows – To continue converting your knitting pattern, do this process. Divide the number of rows in your gauge swatch by the number of rows in your pattern, as this is how you will find your row converter.
Focus on your row – Multiply the number of rows from your pattern by your row converter. You can also start changing the size of your needle as you knit the rows, as this will help you maintain a consistent stitch length, even after converting your knitting pattern.
Be consistent – Your knitting pattern will affect your finished product, which is why it is essential to be consistent in converting your needles. Make sure to follow the steps above. It is the best way to create fabric art with your design preference.
Stitch count is vital
The number of stitches in your pattern is essential. You have to round it up or down to cast an appropriate amount of stitches. To know the number of stitches needed in every row converter, do this process.
Multiply the number of stitches per inch by the total number of stitches needed. After that, you also have to divide your stitches per inch yield, as this will determine how your finished project will look.
Knowing the dynamics of needles in knitting is difficult. But if you continue to practice more, it will be easier for you. Start using the basic needle sizes while learning the more complex ones.
That way, you do not have to wait for a long time to learn everything. Take small steps each day, and it will help you a lot in the future as you progress.
Frequently Asked Questions About Knitting Needles
What Are Big Knitting Needles Used For?
Different types of knitting projects require different sizes of needles. If you have been using smaller needles, you might be wondering; does needle size really matter? For relatively, large projects with bulky yarn, you'll need big knitting needles to be as productive as possible. In most cases, beginner knitters will find the large needles easier to handle. Hence, it is known to speed up the knitting process.
Is it better to have longer or shorter knitting needles?
For professional knitters, longer needles are preferred because it helps them to get the job done faster. However, if you are just starting, getting the best short needles will be your best bet. While you are building experience in the craft, you can start testing out longer needles over time.
What size knitting needles do I need for a chunky blanket?
When it comes to knitting, chunky blankets are hard to deal with, especially if you are a beginner. During this learning stage, you might be wondering if needle size really matters. For chunky blankets, you'll need 7 – 8 mm big needles to knit a tight wool blanket that will give the utmost value to the users. If you go to Amazon, you can find some of the best big knitting needles that will be suitable for your project needs.