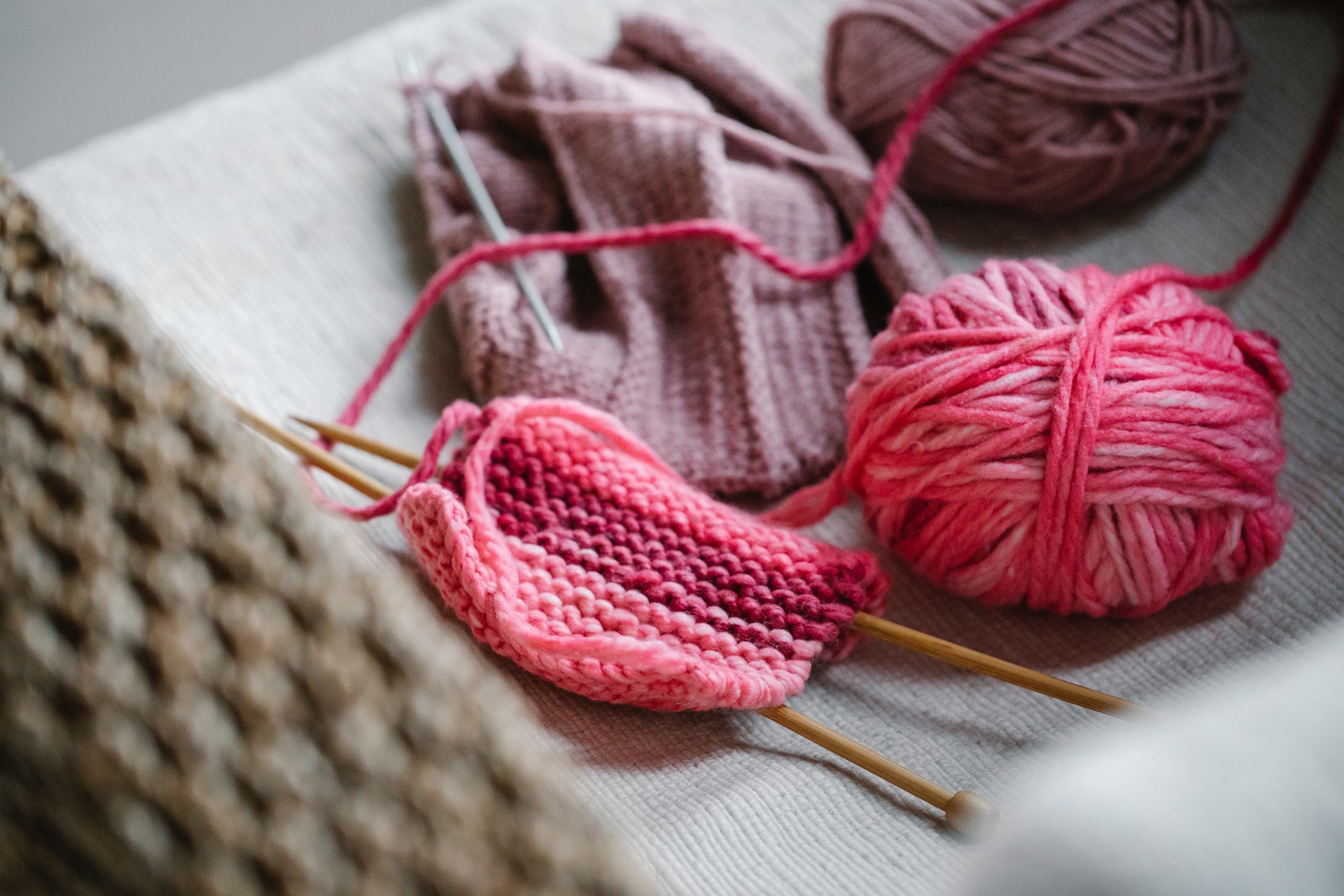 Most, if not all, knitting patterns specify the needed gauge and needle size to achieve a finished garment that looks good. If you change your needle size into something different from your pattern, you will get a finished product with a different gauge.
If you need to change your pattern's planned size, it is okay to change your needle size. But you have to remember that you can only change it within a small tolerance in gauge. Make a swatch before you sew on your pattern to ensure that it will work well.
Be careful not to choose a needle size that will give you a gauge that is too loose or firm. If your gauge is too loose, your garment will be saggy and may not wear or drape well. If it is too firm, your fabric will be too stiff and uncomfortable to wear.
What is the best knitting needle size for beginners?
Remember that your knitting needles' size affects your experience and finished product. You need to know which needles are perfect for you. Medium-sized-needles are generally the best size for beginners.
Medium sizes range from six to ten inches. A small 10-inch knitting needle is a good starter size because it is small enough to use comfortably. If you are still not sure, you can make a test swatch before knitting to check your gauge.
What are the best needles to knit with?
There are many types and sizes of needles that have different attributes. But material choice only comes down to personal preferences. Many believe that wooden needles are the best for knitting.
Wooden needles offer knitters an even knitting speed, a smooth finish, and a warmth and softness to the touch. But, these needles are generally the most expensive type of knitting needles.
Other knitting needle materials include metal, plastic, and pored resin or glass. Metal needles are more durable than their wood or plastic counterparts. But they are cold, hard, and not flexible. Beginners may find them difficult to use.
How to adjust gauge in knitting?
Your knitting gauge will determine if your finished product's measurements are what you expect. You need to ensure that your gauge is correct to get a garment that looks appealing. But if you feel that your gauge is not right, you can adjust your gauge by trying these simple things:
Get a bigger knitting needle.
You can go up a needle size if you are getting more stitches than the number on your knitting pattern. Remember that bigger needles make bigger stitches. Going up a size will give you fewer stitches and might help you get the correct gauge.
Get a smaller needle.
You can go down a size if you feel like you are getting fewer stitches than your pattern's specific numbers. Since smaller needles make smaller stitches, it should give you more stitches. Hopefully, this will help you get the correct gauge for your knitting pattern.
Change your needle type.
Remember that needles of different materials are not always the same size. If your row gauge is not right, you can use a different type of needle.
Change your knitting style.
Knowing how to knit using English and Continental style may be affecting your gauge. Sometimes you will have to go up or down a size because of your knitting style.
How to change needle size while knitting?
Some patterns will tell you to work some stitches on smaller-sized needles. And then, change to larger-sized needles to work a different type of stitches. Some find this step overwhelming. But it is a simple process.
Follow this simple guide to change your needle size:
If you have interchangeable knitting needles, you can simply unhook your current needles and change them into the new ones. You can start knitting after doing so.
If you do not have interchangeable knitting needles, you can easily set your new needles beside the old ones. Start knitting with the new needles until all your stitches load onto them.
How to change needle size in circular knitting?
Some knitting patterns will tell you to change your needle size after a specific number of stitches until a particular marker. You can simply remove the marker, pick up your new needle size, and begin knitting with it.
As you start knitting with your new needles, all your stitches should load onto them. Be careful not to load any stitches onto the old needles, as doing so will make things more complicated for you.
How to resize a knitting pattern?
Although it might not seem like a common thing to do in knitting, some patterns need some resizing or reshaping. You can encounter it in simple garments like a scarf, cowl, or shawls.
Here are a few simple steps to help you resize a knitting pattern:
Make and measure the correct gauge swatch.

Many people do not like making swatches because it feels like a lot of extra work. It also does not necessarily guarantee that your garment will fit perfectly. But it tells you how your yarn and needles will work and look together before you begin knitting.

The purpose of making swatches is to stimulate the fabric of your finished garment as closely as possible. It is why you need to knit your swatch with the same yarn, needle size, and material. If you do it correctly, your swatch can help you avoid a time-consuming redo if there are mistakes.

You also need to remember that in-progress swatches do not give you accurate finished gauge readings. So, you need to make your swatch correctly. You can always unravel it if you need to be frugal with your yardage.

Determine the appropriate number of stitches per inch.

First, you need to determine how many stitches will fit in one inch. Do this step by dividing your width into your number of stitches.

Next, you need to measure how big around you would like your finished garment to be. After doing so, you need to multiply your number of stitches per inch by the number of inches around.

Get the measurements of the person in the areas where the garment should fit.
Multiply the measurements by your gauge to determine the number of stitches that you need to knit.
Adjust for stitch pattern multiples if you need them.
How to shrink a knit sweater?
You do not have to throw away your sweater if it became too stretched out for you over time. There are simple ways to shrink your knit sweater:
Shrink your sweater in your washer and dryer
You can do this method for wool, cashmere, angora, and mohair sweaters.
Turn your sweater inside out to prevent fading. You can also put your sweater in a pillowcase to prevent its fibers from snagging in the washer.
Wash your sweater on a hot cycle that is much shorter than a full cycle.
Time it for 10 minutes and check on it every few minutes.
Dry your sweater on low heat for about 25 minutes. Make sure to check on it every 5 to 6 minutes.
You can put your sweater in the dryer for another 25 minutes if it is still too big for you.
Reshape your wool sweater
You can do this method for a stretched-out wool sweater.
Fill a sink with cool water. Add one tablespoon or 15 ml of bleach-free detergent to the water and mix it by hand.
Soak your sweater inside-out for 5 to 10 minutes. Make sure that you check on it every 3 minutes and agitate it in the water. Remember not to twist or bunch your sweater as this can damage the material.
Blot your sweater with a towel to remove the excess water.
Place your sweater on a flat surface. Grip your sweater with your hands to gently squish some parts together. Ensure that you put your hands firmly on the sweater and use your fingers to push the material inward.
Let your sweater air-dry and keep it away from direct sunlight and heat.
Shrink your sweater with an iron
This method works best for 100% cotton sweaters.
Put your sweater in a pot of boiling water for 5 minutes. Add 240ml of white vinegar to prevent the colors from fading.
Remove the sweater from the pot and absorb excess water with a towel.
Place your sweater flat on an ironing board and cover it with a cloth to protect it from heat damage.
Iron the sweater on high heat for 5 minutes.
Tailor to make your sweater smaller
Put your sweater on, then pull out the sides to see how large it is. Decide how closely you want it to fit your form. Doing so will help you determine where to start your seam.
Turn your sweater inside out to find the seam. This area is where you need to start altering. Make sure that you press your sweater completely flat and symmetrical on a flat surface.
Use chalk to draw a line where you want to make the seams. Then, take in about 2.5 to 1.3 cm on the side. Stick pins along each side of the sweater to mark where your seam will be. Do this step starting at the armpit, or whichever part is the biggest.
Take in 2.5 to 1.3 cm on each side of your sweater and put pins where you want to place your seam. Keep the pins in place when you sew the seam.
Set your sewing machine to make a zig-zag or dart stitch. Sew along the edges of the sweater. Remove the pins as you sew your seam. Ensure that you stop sewing just before the ribbing or hem to prevent an odd flip out of fabric at the bottom.
Sew a seam on the other side of the sweater. Then, flip your sweater right side out to try it on.