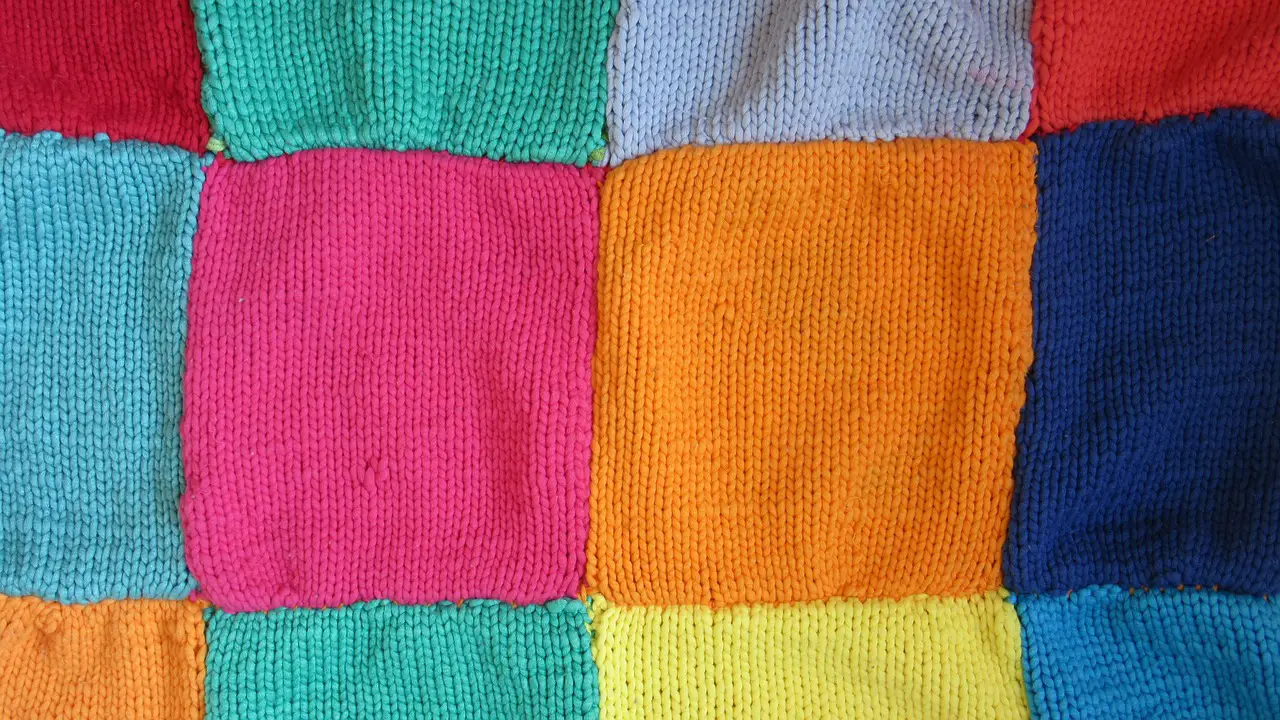 Practice is always essential when you are learning something new, including crafts! If you are a beginner in knitting, you probably made many kitted squares to practice your stitches. But, what do you with them? You can use your knitted squares to make various things, including:
Pouches or pencil cases
Bookmarks
Storage boxes or baskets
Envelopes
Coffee cozies
Coasters
Cushion cover
Potholder
Headbands
Phone cases
Gloves
Soft toys
As you knit squares for your throw project, you will discover that making extras help you better understand stitches. It also enables you to ensure that your tension is even.
It does not matter if knitting squares are a continual work in progress. Many people find it easier to work on small to medium-sized squares one at a time. But many crafters usually do not know where to use these extra pieces.
If you do not need them for your final throw project, where else can you use them? It will be a shame just to throw away your hard work! But you do not need to worry, because you found the right place. I will show you not one or two but twelve ways to use your knitted squares!
I know there are many different ways to make these knitted crafts. But, we will focus on utilizing your ready-to-use knitted squares in this post. I hope it helps you find creative ways to know what you can do with them.
How to knit a pouch?
Pouches are probably one of the most practical things to create using your knitted squares. They are easy to make, and you can use them for almost anything! Follow this simple guide to make zipped pouches using your knitted squares:
Gauge: 8 stitches and 12 rows – 2 inches. If your knitted pieces already have this gauge, good for you! Now all you need to do is to do the following steps.
Fold your knitted square (or rectangle) in half, right sides facing. Sew them together, then turn them right side out. Do not forget to steam them flat using your iron!
Unzip your zipper and pin it inside your pouch. Then, sew it in place.
For the liner, you need to cut an 8-by-13 inch piece of thin cotton fabric. Fold its short ends down for about an inch, wrong sides facing. Remember to iron to crease. Next, you need to fold the cloth in half, end to end, right sides facing.
Sew along the sides using a ¼' seam allowance. Do not turn it inside out, then place it in your pouch. Finally, whipstitch the folded ends to zipper tape directly under the zipper's teeth.
How to knit a bookmark?
Bookmarks are a great project, especially if you have ready-to-use knitted squares! You can simply join your knitted squares together by sewing them. You can even make it as unique and long as you want.
But, you can always knit another square if you do not have enough to make a bookmark. Follow this simple guide:
Row 1: K1, P1, then continue until the end of the row.
Row 2: P1, K1, then continue until the end of the row.
Bind off when you finally reach your desired length.
You can also make another knitted square using the pattern of the one you already have. This way, your bookmark will still look beautifully put together.
How to knit a basket?
Like pouches, creating storage boxes or baskets are also an efficient way to put your knitted squares into use. You can knit a basket by gluing your knitted squares together. But how do you make them hard enough to hold your stuff? Here are three ways to do so:
Dissolve cornstarch in boiling water, then turn off the heat. Soak your knitted squares in it before shaping to harden them. Remember not to twist your squares in any way when removing excess liquid.
You can also apply a half-and-half mixture of clear or white adhesive glue and water. This option is the easiest and most convenient way to harden your knitted squares. So, there should be no problems when you do it this way.
Another common way to harden your knitted squares is to apply a solution of sugar and water. Do not worry because it does not attract any insects and will make it easier for you to see the details.
How to knit an envelope?
Creating knitted envelopes may be the perfect use for your knitted squares if you love stationery crafts! You can use them for any occasion, and they are very easy to make! Here is how you knit an envelope:
First, you need to have a long tail on your last row. If your knitted square does not have a tail, you can add an extra row. Cast off, then leave a long tail for sewing your envelope.
Next, take your yarn from where you fastened it off and feed it through the opposite corner. Then, take the bottom corner and bring it up to the center.
Sew the two diagonal seams shut to form your envelope. Finally, add the closure and a button to finish it off.
How to knit coffee cozies?
Knitting personalized coffee cozies are so easy, and they are great projects for your knitted squares! Measure your coffee cup's circumference, then make sure that your knitted squares will fit. Finally, sew the shorts end together.
Now you have unique cozies to keep your drink from getting cold and your hands from getting too hot! If you like, you can also create cozies for your family and friends. These cozies are a fantastic gift option!
How to knit a coaster?
Making coasters using your knitted squares is probably one of the easiest ways to put them into use. There is nothing much left to do except to wash and dry them before use. Simple as that!
But, here is a simple guide on knitting coasters for you, in case you run out of squares:
Prepare your materials. Then, start by casting on 19 stitches with needle size 6/4mm. Make sure that you leave a 6-8-inch tail for later use.
Knit across all the stitches with the knit stitch. Remember, you should come up with a garter stitch pattern when you do these steps.
Next, you bind off all the stitches and secure the tail.
Finally, weave in the tails and wash your coaster. You can also block it if you want your coaster to look neat and square.
How to knit cushion covers?
Aside from being easy, creating the front of your cushion covers is also a great way to spice up your space! You can simply stitch your knitted squares together, forming a larger square.
Your knitted squares do not even have to look the same! You can use different-colored squares to make your cushion cover's front more creative and unique. Be as creative as you want!
How to knit potholders?
There are two types of potholders you can create when using your knitted squares. First is your plain knitted potholder. There is nothing much left to do, but you can add a loop to hang it if you want. Remember to wash and dry your potholder before you use it.
Next, you can fold your knitted square and sew the parallel sides together. When you do this method, you will be able to slip your potholder over your pots and pans' handles. These potholders are perfect for your cast iron or stainless steel kitchenware!
How to knit headbands?
Headbands are pretty and practical for women of all ages, and you can make them using your knitted squares! First, measure the wearer's head circumference. Then, simply sew your squares together to form a rectangle that fits the measurement.
Remember to add extra centimeters so the headband will not be too tight on the wearer's head. You can also decorate them by attaching felted shapes with a hot glue gun or sew decorations on them.
How to knit phone pouches?
Phone pouches are simple projects that will help you get rid of knitted squares lying around your space. Follow this simple guide to knit your phone pouch:
First, you need to measure the gadget's length and make sure your knitted square fits the measurement.
Add an extra inch to your knitted square to ensure that it fits. Then, fold your knitted square in half and sew its sides and bottom together.
Next, take a piece of yarn and weave it in and out around your pouch's top edge.
Finally, tie the yarn's ends together and use it as a drawstring.
How to knit fingerless gloves?
Creating fingerless gloves from your knitted squares is another fun project. They also make great gift options in the winter! Follow this short guide on knitting fingerless gloves (using your knitted squares):
As usual, you need to measure your hand width first and multiply it by two. Then, make sure you knitted squares (or rectangles) fit the measurements.
Fold them in half and sew the two sides together. Make sure to leave an open space for the thumb to stick out.
How to knit soft toys?
Can you believe that you can make adorable soft toys from your knitted squares? One of the most popular knitted soft toys is a knitted bunny. Here is a simple guide on knitting a knitted bunny:
Grab your knitted square and sew a triangle into its top half.
Pull the thread or yarn tight and push some soft stuffing into your fabric.
Sew the body half of the bunny tightly shut. Then, push in more stuffing to make it extra soft!
Finally, sew the bottom of the bunny closed and make its fluffy pom-pom tail. Add decorations to complete its look.