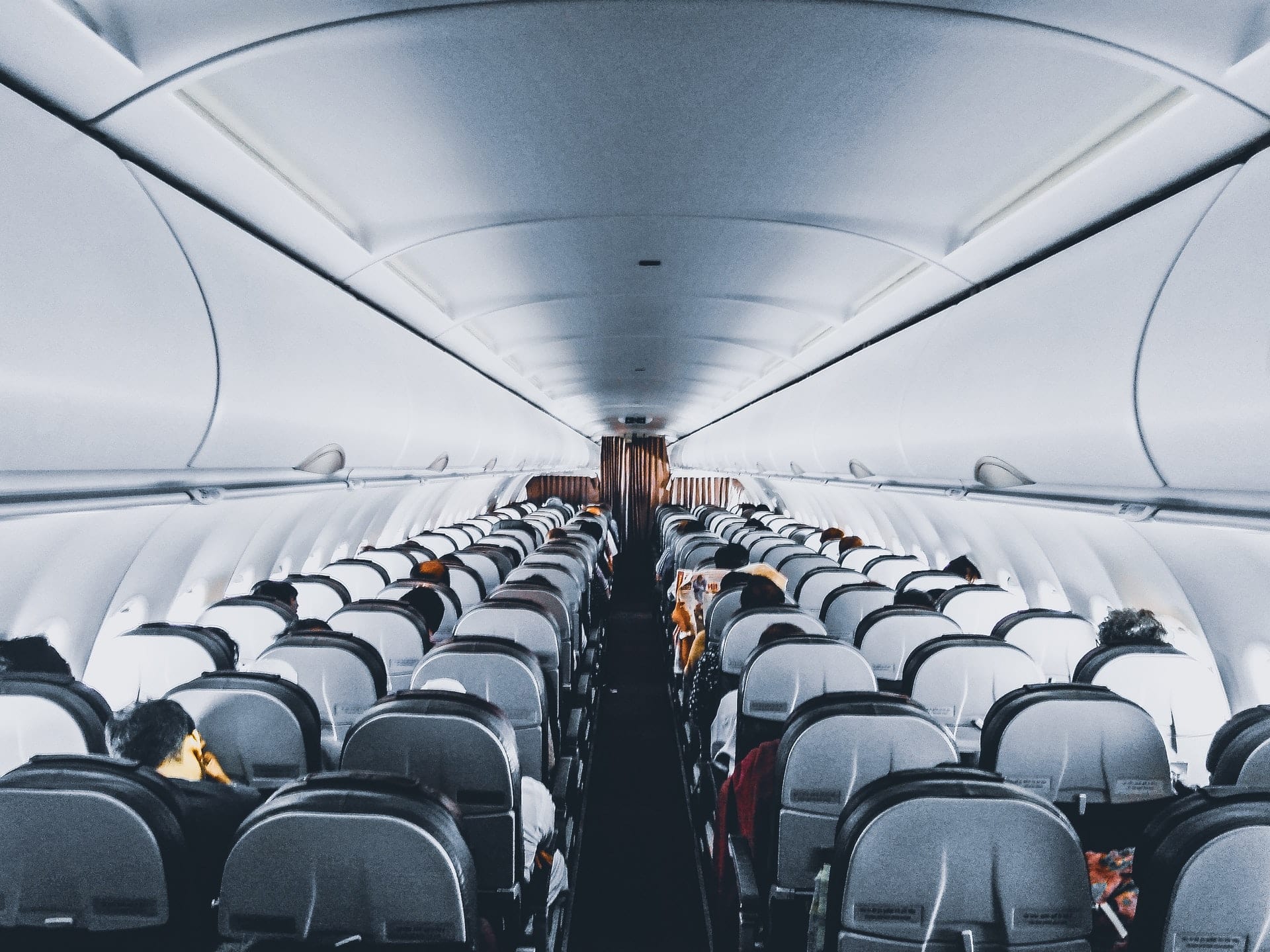 Flying off to somewhere may be one of the best things you can do in life, but only next to knitting, that is. But traveling does not always come easy. What will all the packing and unpacking, the documents you have to take care of, the jet lag, and all sorts of challenges you may meet along the way? You also need to think about airport waiting times due to flight delays and other unexpected flight changes. No biggie problems though, we have our yarn and knitting needles.
Being on a plane may be an ideal time to knit, just like knitting in a car during a long drive. But many knitters have second thoughts about bringing their needles on board. As a knitter, you have every reason to protect the tools of your trade (or your joy).
The Transportation Security Administration (TSA), responsible for flight security in the United States, allows knitting needles in carrying on bags and checked bags. As an added precaution, the policy also specified that sharp objects in your checked bags should be sheathed or securely wrapped to prevent injury to baggage handlers and inspectors.
TSA suggests that you bring plastic or wooden needles over the metal ones. Circular knitting needles are also better to carry than straight needles. These types of needles look safe for the security's eyes but to save yourself from hurt, leave your precious knitting needles at home.
Can knitting needles be taken on international flights?
Knitting needles are allowed on domestic flights in the US, but traveling abroad is another question. If you plan on bringing your knitting tools on an international flight, it would be best to check security policies in the countries you are visiting.
Countries like the UK and Australia allow knitting needles on the flight, just like in the US. It would still be advisable to check the policies of these countries individually as there may be variations. In Australia, knitters may bring knitting needles and round-ended scissors shorter than 6 cm in carry-on bags. However, approval is still at the discretion of the security officer at the airport. While in UK airports, knitting needles and short scissors are allowed in hand luggage.
Despite having policies of allowing knitting needles in flight for these countries, you still have a fraction of doubt of not passing through security. So before hauling your knitting equipment when you travel, know the policies of every airport and airline you will pass through.
Greece and other countries in Europe explicitly prohibit knitting needles on flights. Other countries have no clear policies regarding the bringing of knitting needles but ban sharp objects on flights. It is usually upon the discretion of the security officer to determine what counts as a sharp object. The officer on duty has the right to confiscate any item that they believe can cause harm, even as inoffensive as knitting needles.
If it is not clear whether the country you are off to allows knitting in carry-on or checked bags, you may consult Google for the country's specific policies in bringing sharp objects.
Different countries can have totally different policies regarding traveling with knitting needles. If you intend to bring your needles with you, here are some tips that may help you get your knitting equipment safely through your flight.
Avoid bringing long and straight needles. You can opt for circular needles instead. Using circular needles, you can do your seatmate a favor by not bumping shoulders as you knit during flight.
Metal knitting needles look the most dangerous among the lot. So, if you don't want your plane to leave you behind, better off bring the plastic or bamboo ones.
You can bring your interchangeable knitting needles, which look nothing harmful like the long, metal knitting needles. You can unscrew the pointy parts from the cables and stash them into a pencil case with your pens and pencils. You can twist them back on the cables after your security check or if you are settled enough to knit.
You can also bring other knitting tools such as tapestry needles and blunt-point scissors with blades less than 4 inches long. Circular thread cutters are prohibited because of the razor incorporated inside. Knitters are known to bring nail cutters for cutting yarn since they are allowed in the hand luggage.
Bring only a small knitting project. If you cannot travel without knitting, pick only your small projects such as a scarf, hat, or socks. Knitting a sweater on your airplane seat will be such a hassle to both you and your seatmates. If you cannot leave your big project at home, better have it in your checked-in luggage and pick up where you left off when you have arrived at your destination.
If you are flying in between countries where knitting needles are allowed on flights, you can bring a printed copy of the policy just in case a security officer questions you about your needles.
Accept and recognize that there is a possibility that you can lose your knitting needles or even your whole knitting project if things don't go as you hoped for. It is best to leave your knitting that you will be hard to part with.
Lastly, be courteous. Security officers are just doing their job of keeping each and everyone's safety their top priority. So, if security asked you what the pointed things in your hand luggage are for, explain calmly and possibly, both you and your knitting will be allowed inside the plane.
Can I knit on a plane?
If you are one of those knitters who are dilly-dallying travel plans because you would rather stay home and knit, excellent news for you is that the US allows knitting needles on board as well as knitting on board. This policy covers domestic flights around the US, but you must remember that you still have to go through airport security even with this written policy. The security officers doing the screening are still in charge of deciding whether the tools you are bringing do not pose any danger to any passengers onboard your plane.
If your knitting equipment is safe enough to bring in your carry-on bag, you can knit to your heart's content, make sure you are already comfortably seated in your proper seat. You can knit all you want from the plane's departure until you are about to land. Your private space on your plane seat is minimal, so if possible, do not bring massive and heavy knitting projects that can cause inconvenience to people near you.
A cabin crew can possibly ask you to stop your knitting when they think it might pose a risk to other passengers. When they do, follow them. After all, the cabin crew has the right to tell you what they think is best for everyone's safety on board. The situation offers you a chance to watch that new movie you've wanted to see or get on the next pages with the book you brought. You can save some knitting for when you are settled in your destination.
Related:
What if my knitting needles are confiscated?
You may call the airport ahead of your trip to confirm if they have mail facilities. If they do have, you may still send your knitting needles instead of losing them for good or see them in the airport trash bin. You may want to carry a padded, self-addressed, stamped envelope in case your knitting needles or your other knitting materials are not allowed on the plane. A piece of better advice would be to leave all your knitting valuables at home so you will not be forced to part with them and you can enjoy them for a long time.