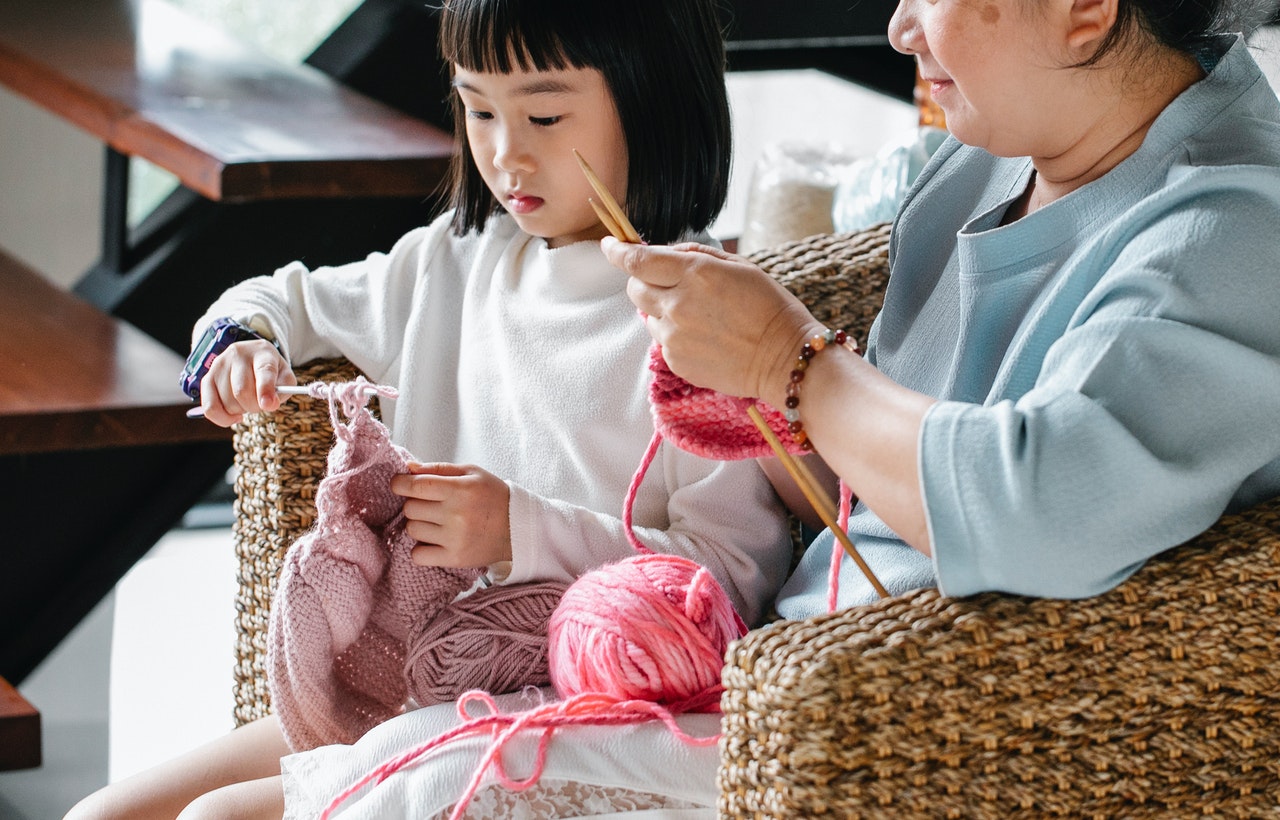 Are you a newbie at knitting? Well, if you are, do not worry yourself too much about why your knitting is getting narrower. One of the main reasons why your knitting can get narrower than it should be is because you are new in this craft. You want to know why? Read on below to know why this happens and a few more other reasons.
Why does knitting get narrower?
Your knitting can only go three ways: wider, narrower, and just right. We want our knitting to turn out like what we saw in the picture that came with the pattern. But sometimes, things do not turn out as we expect. Knitting that is getting narrower is equivalent to a tension problem; so does knitting getting wider. To simplify, let us discuss why your knitting can get narrower and leave the other problem as another topic.
There is a slew of reasons why your knitting gets narrower, and here are some of them:
Newbie knitter

No offense to newbies, but this situation is common to knitters who are just beginning to knit. Do not worry because there is a perfect explanation of why it happens. A newbie knitter does not have enough experience handling knitting needles with yarn and has the littlest idea about tension.

Newbie knitters usually tend to knit the first rows loosely. But once they get comfortable holding the needles, the tension can get tighter. This situation leads to tighter and narrower stitches on the next rows of knitting.

You can remedy the situation by frogging your work then increase the needle size after a couple of rows to keep tension looser. Or, if you are still at the onset of your work, you can frog the whole thing and start from the very beginning.

Dropped stitches

Whether beginner or longtime knitter, you will drop a stitch in your knitting journey at some point.

You will find out that this dreadful thing happened when you randomly count your current stitches, and they are not the same as when you started. Also, your knitting looks narrower and has a long tear in your knit fabric.

When this happens, you don't need to panic. You can solve this problem in a minute or less. It is so easy to rescue that dropped garter or stockinette stitch that you would not even know it happened at all. More on fixing dropped stitches below.

Knitting at the tip of the needles

When you knit right at the tips, afraid that your stitches might fall off the needle, you are making your stitches tighter. The knit stitches do not use the full width of the needle but only the width of the tip. The tip width is way smaller than the width of the needle. Your stitches get bunched up near the tips that it's so hard to move them through the needle's length. Make sure that you are knitting on the barrels of your needle and not at the tips.

Knitting in different positions.

Some knitters attest that knitting at different positions affects the tension in knitting. Some knitters are too focused not to drop stitches who grip the needles tightly, ultimately creating tighter stitches. On the other hand, those who knit lying down and are too relaxed produce looser stitches.

Lack of practice

In knitting and practically all fiber crafts, you will achieve a great finished product if you make time to practice as often as you can. It is only through practice that you will discover ways to make your work better or troubleshoot problems that you may encounter along the way.

If you practice your knitting a lot, you will be able to identify what a tight or loose tension is. The more you knit, the easier it is to identify what is causing your knitting to narrow and apply the proper solution. You will also find your comfortable tension.

How do you fix a dropped stitch?

When you have dropped a stitch somewhere in your knitting, do not fret. The solution is easy as counting below sixty. Dropping a stitch on your somehow perfect knit fabric can be a bit annoying. But there is no need to panic. Follow these easy steps to return the stitch to the row where it belongs.

Start by spreading out all the stitches on your needle to see the loose strands of yarn above the dropped stitch.
Use another needle to pick up the dropped stitch. You can use another knitting needle to do the job. You can pick up the stitch with the extra needle so that its left leg is sitting on the front of the needle.
Let the extra needle go underneath the strand of the yarn above the dropped stitch. Pull the dropped stitch over the strand of yarn then, get it off the needle.
Repeat the process of bringing the dropped stitch through each strand of yarn above it until it reaches the main needle.
When the dropped stitch has reached the main needle, it can rejoin the rest of the stitches on the needle.
Remove the stitches off the main needle carefully so the dropped stitch can rejoin the other stitches. Put the removed stitches back on the main needle after picking up the dropped stitch.
Admire your work. Is there such a thing as a dropped stitch?

Related:

The reason why your knitting gets wider

Should you knit tight or loose?

Some knitters knit tight while others knit loose, while some do it just right. So, the right answer should be neither tight nor loose. Just do it right.

Knitters have a unique way of handling their knitting needles, either knitting tightly or knitting loosely. Some can easily get the tension right, while others take time. Some knitters are comfortable knitting tightly, while some prefer their stitches a bit loose. And you would probably agree that there is no better answer to whether you should do it tight or loose than go where you are most relaxed and happy with.

Either way, you go, your finished piece would look different from what is written on the pattern. So, for some knitters who insist on their manner of knitting, they have developed or discovered ways to get the right gauge for the pattern. If you find yourself knitting either tightly or loosely, here are a few tips that you can try to correct your ways.
Knitting tightly is a beginner's common mistake, but it is a problem that is easy to resolve when you are just starting to knit. An experienced knitter who is used to knitting tightly will find it hard to break this habit.
So, while you are still new to this craft, change your knitting style and develop a better habit. You might want to discover which knitting style you are comfortable with. Adapting the continental style of knitting is a good way to keep your stitches even. It works by "picking" your working yarn using your working needle.
Avoid knitting off the tapered part of the needle.
When you look at the parts of a knitting needle, you would see that the longer part has a constant width, and there is a small part that tapers.
Another habit that tight knitters must change is knitting on the tapered part of the needles. If you haven't done it before, try knitting upon the wide part of the needle and not at the tips. The pointy parts are supposed to be for needle insertion and removal and not the parts that should be knit upon.
If you always remember where you should knit upon, you will get your tension right and get even stitches.
Make sure you are using the right needles.
When you start with your knitting project, make sure to read the pattern thoroughly. You need to take note of the details about the materials you need to use. Check if you have the size of needles that you need for this project. Sometimes, if you do not look carefully at the details at the start, your finished product will be a mistake.
If you are not aware yet, a knitting needle with a 5.00mm is size 6 in the UK and size 8 in the US. You might be using needles that are smaller than what was required in the pattern. So, a little bit of detail wrong will change the size of your stitches.
If you get your knitting needle sizes right, there is another thing that you should still consider. Some needles can produce tighter knitting stitches because, compared to others, they are easier to grip or can grasp yarn better.
Using bamboo or wooden needles may add more to create tighter stitches. If you have metal needles of similar sizes to what is required, try knitting with them. They might be the solution to your problem.
On the other hand, the metal needles' slipperiness may be the reason you stitch tightly. To prevent your stitches from slipping, you can try other needles like wood or plastic. Make a gauge swatch using various needle materials and see which ones produce the most accurate gauge.
Use the right kind of yarn as well.
As mentioned above, the size of the needles affects the size of the stitches and, therefore, your gauge size. Small needles will produce a small gauge. But aside from the needle size, did you know that the type and weight of yarn can also make a difference to the stitches' size.
It is important to use the exact type and yarn weight as described in the pattern. If you use a yarn weight one level lower, expect tighter stitches. Changing the yarn type can also affect the size of the stitches. Switching to acrylic from nylon may save you on yarn cost, but your finished product may not give the stretch a nylon fabric can give.