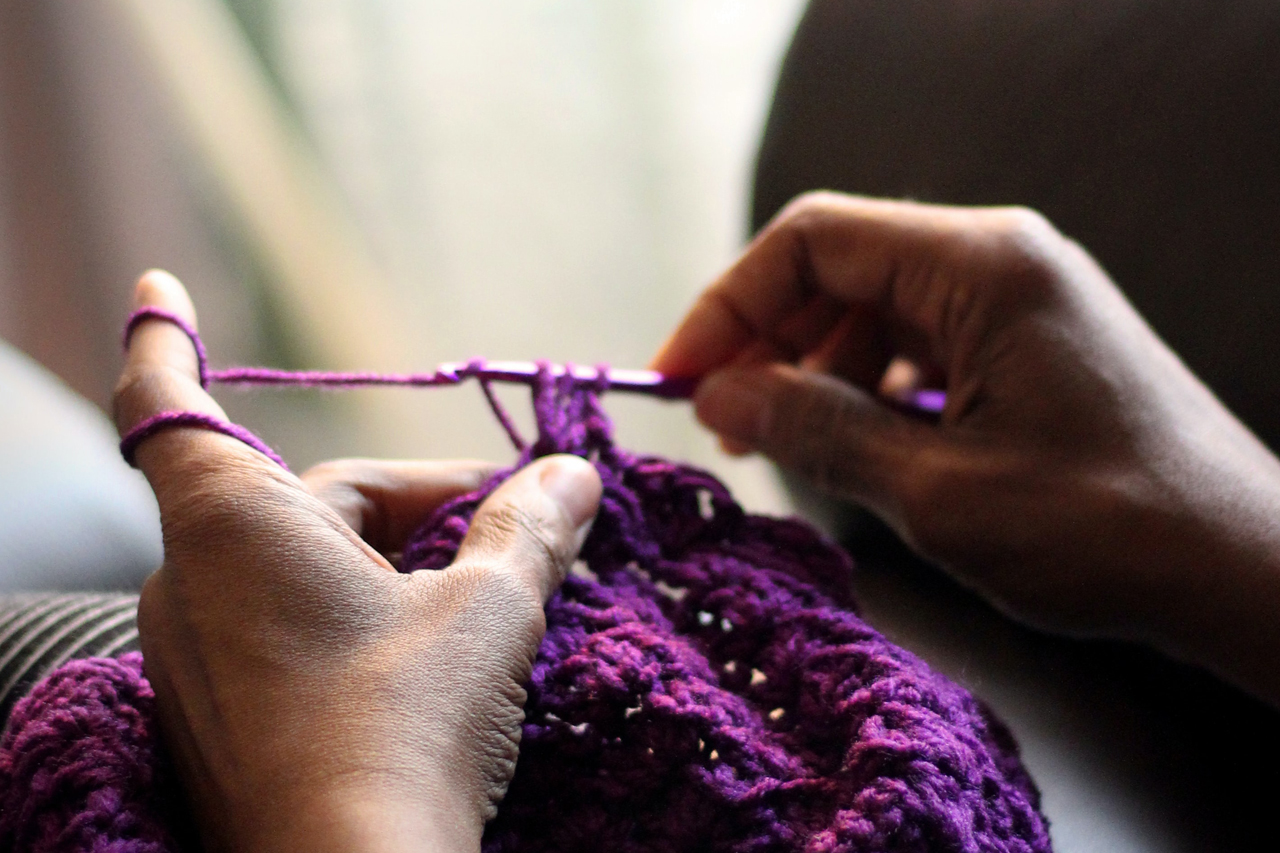 More skilled people in crochet and knitting agree that crochet is faster than knitting. Crochet is generally quicker than knitting because it is easier to learn with only one tool. You also deal with large stitches to finish a project in a shorter time. And, it is faster to fix mistakes in crochet than in knitting.
The question of which method is faster has been argued upon for a long time. A knitter would say otherwise since experience can make you work faster.
But someone who crochets would agree that crocheting is faster. Crafters may disagree about which one is a quicker process for future generations, but here are a few reasons crocheters came up with based on experience.
Crochet is faster to learn
The first thing that comes to mind about why crocheting is quicker to learn is that you are only using a single tool: the crochet hook. With crochet, you only have to deal with only one active stitch at a time as you work on your project.
Crochet is relatively easier to learn than knitting for a beginner if you are starting on a fiber craft. Knitting uses two needles and has many active stitches that you might drop as you knit. You also do not need to transfer stitches from one needle to another every time.
Crochet has larger stitches
Crochet projects are easier to work up because of their larger stitches. It creates a bulkier fabric so you can produce the same amount of bulk with fewer stitches than knitting.
You can also say that crochet is faster because it uses loose stitches. Although, it can use a lot more yarn than when knitting.
Knitting usually produces excellent and tiny stitches, which take a lot of time. If you want to finish your project fast, crocheting is the way.
Crochet is easier to fix
In your fiber crafting journey, you are inevitably going to make mistakes. The usual errors you will encounter in crafting and crochet are dropped stitches.
Since crochet usually has only one live stitch in the hook, there is less risk of dropping stitches from your crafting tool. You will likely drop a stitch in knitting where there are more live stitches on the needles.
In these types of crafts, it is common knowledge that you need to undo the stitches to correct your mistakes. It can be quite a challenging process for knitting because you need to thread all the loops back on your needles, which can be tedious.
Do not worry too much when you make a mistake when crocheting. You only need to pull your working thread until you get to the part where you made a mistake. Place your active loop on the hook and return to your crocheting.
Crocheting is done in rows
Crochet experts can somehow estimate how long a project is done. It is mainly because the stitching is done in rows. It is also proven that it would take less time to finish a row with crochet than knitting.
Which is harder, knitting or crocheting?
Knowing the basics of crocheting, you will find it easier than knitting. You don't need to move the stitches from one needle to another when you crochet. It is also easier to correct your mistakes in crochet.
The question of which method is more complex is difficult to answer as some crafters find knitting easy while others say otherwise. An excellent way to know is to test them both and see which one you find more enjoyable, relaxing, and makes you more productive.
Some things might make you believe that crocheting can be easier than knitting. You can learn the basic crochet stitches like slip stitch and chain stitch in a few minutes. The rest of the other crochet stitches are also easy to understand, and you can create other stitches from variations of these different stitches.
It takes some time to get the hang of casting on stitches when knitting, even if there are only two stitches you have to learn; knit and purl. Once casting stitches on needles becomes easy for you, you can combine them to do various projects.
The best advantage you can get from crochet over knitting is that it is easy to unravel and fix if you make a mistake.
Crocheting may be a more straightforward method to learn than knitting, but these days it can be effortless to understand any of these fiber crafts because of the online tutorials you can get online.
Is it easier to teach a child to knit or crochet?
Like the other skills you learned as a child, learning how to knit or crochet is not something you will get overnight. Both crafts can be easy to teach to a child. It would be best to teach the child crochet and knitting techniques a few times before it becomes easy.
When teaching crochet to children for the first time, choose easy patterns first, such as dishcloths or scarves. Also, use the basic stitches such as single crochet, double crochet, and triple crochet for your beginner projects to get crocheting and the correct yarn tension.
Start with crochet projects that the child wants to make. It will keep the child interested for a long time.
It would also help if you could find a video online that you can follow along while learning how to read a pattern.
If possible, it would be a plus if you could teach both crochet and knitting, as one technique may be more suitable for specific projects you have in mind.
Also check: 
Is knitting or crocheting a hat easier?
A hat is one of the smallest fiber craft projects, and crocheting is a faster way to make them. But it still depends on a person's preference, hat style, and material to use to determine which method is the better way to do it.
Crocheting and knitting are crafts that are both easy to learn coupled with a lot of practice. Different craft projects take different lengths to finish depending on their size, style, and method to use.
Below are some examples of fiber craft projects you can do using either knitting or crochet.
Dishcloth
A dishcloth is probably one of the easiest and fastest craft projects to make using either crochet or knitting. A beginner can practice different kinds of stitches on dishcloths before moving on to more difficult craft projects.
Crochet is the more preferred method for making a dishcloth as it does not require the fineness of the knitting stitches. It will usually take four hours to knit a common dishcloth. Crocheting one will only take two hours of your time.
Scarf
A scarf has a pretty straightforward shape and is also an excellent project to practice your fiber crafts. Knitting a scarf can take almost a week or more, depending on a person's expertise, the complexity of the design, and the scarf's size. Crocheting one will take only a quarter of your day to finish the scarf.
A scarf comes in contact with your skin, so many people prefer a knitted scarf that is fine and soft to the touch.
Baby Blanket
A baby blanket is a craft project that is not too small nor too big to make for a beginner. A baby blanket's size is enough to hold the attention and not bore a crafter.
If you are starting at fiber crafts, it would be better to try crocheting your first baby blanket as it would take you around two weeks to finish one rather than knitting, which would take you a month to finish using medium yarn and size eight needles.
Hat
There are different kinds of hats, but most are working your yarns on the round. Both are easy to make using crochet or knitting because it is also one craft project that is quick and simple to make.
Crochet is still the faster method for a small project such as a hat. Knitting has smaller stitches, so this characteristic makes it a slower process to use, even for a small item like a hat.
You can crochet an average-sized hat in two to three hours while knitting in seven to eight hours.
Socks
Socks are small items and one of the best sample projects to craft. It would be easier and faster to make socks by crochet, but socks are things to wear which are better done by knitting.
Knitting socks can take time to finish depending on the material used. The usual yarn weights used for socks are baby yarn or worsted yarn weight.
For an adult pair of socks using baby weight yarn and size one knitting needles, you can finish a pair in two to three weeks. An experienced knitter can knit a pair using medium-weight yarn and size four needles in a week.
Flower
Flowers are small yet fulfilling things to make. And it would not take an hour to finish crocheting or knitting one. There are flower designs or patterns that you can make best with knitting, but crochet is the process that can create more intricate and complex designs, adding to being the faster one of the two methods.
Purse
Purses and bags are also easy to make, especially for those who have experience in knitting and crochet. These two fiber crafts offer unique properties to the finished products, so choosing the best method depends on personal choice.
Bags and purses come in various sizes and styles, so it would also be hard to evaluate the speed of finishing one using either crafting method. But many crafters would agree that crochet will be the faster one.
Amigurumi
Amigurumi can be made using either fiber crafts. Like making clothing, knitting creates a more delicate fabric for your amigurumi item. Crocheted amigurumi is more common because the single crochet stitch used allows a more defined shape on your amigurumi object.
Many crafters may agree that knitting is a bit more complicated than crochet, but both create fabrics with unique properties from each other. There will always be disagreements about which fiber craft is better, but crochet will always come out as the faster method.