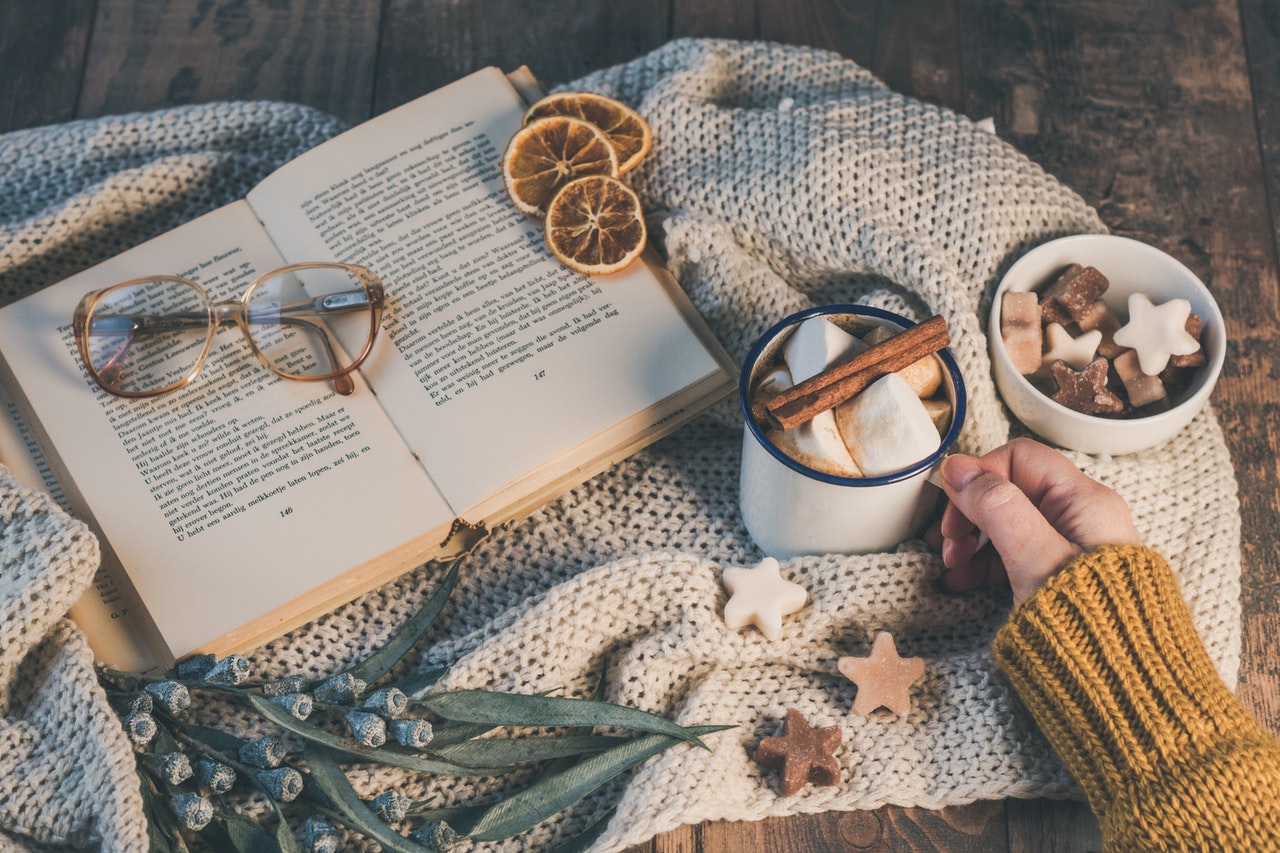 With a wide range of colors, weights, and types of yarn available today, choosing yarn for knitting a sweater can be overwhelming. Knitting a sweater will take a lot of your time, so it would help if you choose the best yarn before casting on.
Below is a list of the 10 Best Yarns for Knitting a Sweater available in the market today. Choose from the different yarn weights that you think would be perfect for your next sweater or pullover knitting project.
1. Knit Picks Hawthorne Yarn
Knit Picks Hawthorne Yarn is made of 80% Fine Superwash Highland Wool and 20% Polyamide, an all-purpose yarn of the fingering weight. It is durable and bouncy, making it a great material for a sweater.
2. TEHETE Angora Wool Yarn
A luxurious yarn made of 100% Angora Wool. It is a very warm and delicate sport-weight yarn. The TEHETE Angora wool feels luxurious against the skin, making it quite expensive. If you want a sweater of the best quality, this yarn will nail it.
3. Caron Simply Soft Yarn
This worsted weight, 100% acrylic yarn, comes in bright to pastel colors. It has a nice sheen and gives a wonderful drape perfect for loose sweaters.
4. Lion Brand Baby Soft Yarn
A soft, medium-weight yarn composed of 60% acrylic and 40% polyamide. It is available in pastel shades, the perfect choice for baby and toddler sweaters.
5. Mary Maxim Natural Alpaca Tweed Yarn
This natural Alpaca tweed yarn is described as warm yet surprisingly soft, ideal for knitting sweaters. It is made of 77% Acrylic, 20% Alpaca, and 3% Viscose. It comes in nature-inspired solid colors with complimentary flecks of color distributed throughout each ball of yarn.
6. Sugar Bush Yarn Bold Knitting Worsted Weight
A worsted-weight type of yarn made from 100% extra fine superwash Merino wool. It is perfect for knitting a sweater which can be a bit chunky, but still very light. It comes in 42 varied colors.
7. Bernat Satin Solid Yarn
An acrylic yarn with a satiny soft finish and gives defined stitches when knitted. It is branded as a luxury worsted weight yarn due to its extra-special satin finish. It is also machine-washable and dryer-friendly.
8. Patons Classic Wool Roving Yarn
A soft, quality yarn made of 100% wool. Patons Classic Wool Roving Yarn is of bulky weight, perfect to knit warm garments in a flash.
9. Bernat Roving Yarn
A soft wool blend of 80% acrylic and 20% wool. It is a bulky-weight yarn and certified safe for baby clothing. It is a great option for knitting super soft and warm winter garments.
10. Lion Brand Wool-Ease Yarn
The yarn component is 82% Acrylic, 10% wool, and 8% Rayon. The blend of fibers in this yarn makes it ideal for knitting extra warm bulky sweaters. This super-chunky yarn is best to use when you want to knit a sweater fast.
What is the best yarn for knitting sweaters?
The best yarn for knitting a sweater is the yarn indicated on your pattern. But the best choice of yarns to knit a sweater is the worsted or middle-weight yarn.
You can knit sweaters from every yarn weight there is. There are many kinds and types of knitted sweaters. You can find lacy designs made from fingering weight to chunky ones made from bulky yarns.
Sweaters made from fine yarns such as lace, fingering, or sport yarn will take a long time to finish. You can use fine yarns for your sweater to create intricate patterns. Bulky yarns will knit faster and will make warmer sweaters.
You can consider the middle-weight yarn or the worsted weight as the ideal option for knitting sweaters. It is thick and warm but not as bulky. It is also a fine material that you can knit into something lacy.
The best fiber to use for knitting a sweater depends on the person who will use it and when the wearer will use it. If you are knitting a sweater for the winter, your best option should come from animal fibers. But if you are making a summer sweater, it should be light and airy, so plant fibers are the best choice.
When knitting sweaters for kids, the best fiber to use is synthetic, they can be soft and feel good on the skin. Most synthetic fibers can also tolerate frequent washings.
As mentioned before, knitting a sweater will take you a long time. The finished sweater will be worn and enjoyed for many years also. It might be overwhelming that you will need several balls or skeins of good quality yarn. Eventually, you will know that the time and price were well worth it.
It would benefit the maker and the user of the sweater by investing in premium quality yarn. The knitter would appreciate how the fiber would feel on the hands when making it into a sweater. The wearer of the finished sweater will enjoy the fiber's beauty and texture for many years to come.
What is the softest yarn for a sweater?
The softest yarn you can use for a sweater is cashmere. It is the most luxuriously soft and fluffy yarn of all. But it is rather expensive and not so strong, so knitters opt for cashmere blends.
When making a sweater, you usually need a large amount of yarn. Cashmere is pretty expensive, so using it exclusively to knit a sweater can break the bank. You can still enjoy its softness by knitting yarn with cashmere blended with other fibers such as wool.
What yarn has the best drape?
Among the yarns used for knitting sweaters, bamboo yarn is the plant fiber considered to drape best. For the animal fibers, silk and alpaca yarns drape very well but can be quite expensive.
The drape is defined as how a garment or a fabric hang. The drape of a certain type of yarn is important when knitting garments such as a sweater. Different fiber yarns will have a different drape.
Knitted sweaters with silk and bamboo yarns will show a heavy and swinging drape, while mohair and cashmere will give a light and airy drape.
Wool, acrylic, and cotton yarns may produce a firm and sturdy fabric for knitting sweaters. But these yarn fibers will not drape well as bamboo, silk, or alpaca.
A great way to achieve a good drape using the yarn of your choice is by not knitting too tightly. You can also use the biggest needles possible without making too many holes in the fabric.
There is also a simple way to help you choose a yarn with the right drape. At the yarn store, pull out a small section of yarn, around 4inches. Pinch it between your fingers. Then, pinch it at two inches, then at one inch.
Look at how the yarn hangs at each point. The more it wants to hang down, the better your knitted garment will drape.
Also check: Ultimate solution when knitting with kinked yarn
How much yarn do you need for a sweater?
The average amount of yarn you will need to knit a sweater is about 1000 yards. And you need to buy an extra 10% yarn. Why? Because no two sweaters are the same. There are many factors you should consider when knitting a sweater. You might need more yarn than what your pattern calls for.
Before buying yarn to knit a sweater, there are many things you need to think about first. Know how these factors affect your decision to get the right amount of yarn to knit the right side of the sweater.
Yarn Weight

The difference between two yarn weights may not be noticeable when you hold the two yarns side-by-side. It will be more apparent when you knit them into a sweater.

Worsted weight yarn is slightly bigger than a DK weight yarn, meaning it would knit fewer stitches for the same number of rows. If you use a worsted weight over the DK weight, you will need fewer yards of yarn to knit your sweater.

Fiber Content

You can use various types of yarns to knit your sweaters. These yarns have different fiber content and different properties that you must consider.

Properties such as the coarseness, curliness, or length of fiber affect the drape of the yarn. Wool, cotton, silk, and other fiber types have properties that make the stitches form differently.

Combination yarns will also give a different effect on the fit of your sweater. A stiff and non-elastic yarn like cotton may need more stitches than the same weight wool. You may need a few yards more to complete the pattern.

Knitting a 2-ply lace weight yarn would need different yardage than a 1-ply fingering yarn. You would need a few more yards of the lace weight than the fingering yarn to finish a sweater.

The gauge also tells something about how much yarn you would need. Maybe the yarn you want to use has fewer or more stitches and rows per inch than the pattern. You would have to adjust the amount of yarn to complete your sweater based on your swatch.

Size

Another useful guide to tell you how much yarn you will need is the size of the person you are knitting a sweater for. Sweater sizes differ for a child, an adult woman, or a man. Also, it would help if you kept in mind that a sweater size is different from a shirt size.

There are also some other things that you should consider, such as how people wear their clothing. Some people like to wear loose-fitting garments, while others like tight-fitting clothing. You will need more skeins of yarn if you knit a loose-fitting sweater than a tight-fitting one.

Design

Before buying your yarn skeins, look closely at the pattern first. The design and style of your sweater have more to tell about how much yarn you need.

The style of the neckline of your knit sweater can affect the amount of yarn you need. When knitting a pullover, a flared shape at the wrist of your sleeve would need more yardage than a fitting sleeve. Crew, boat, and V-neck styles also use less yarn than other necklines.

Type of Stitch
The type of stitches you make on your sweater also dictates the amount of yarn you need. The stockinette stitch needs the least amount of yarn. It is the simplest of knitting stitches that you can use. The stockinette stitch is stretched lengthwise. The longer you can stretch a stitch, the less yarn you need.
The garter stitch has a horizontal stretch and makes chubby stitches. The rows you will make with garter stitch will be shorter than stockinette stitches. So, you will need more yarn to form the garter stitches.
Cable stitches need even more yarn than the basic stockinette and garter stitches.
Below is a basic guide on the amount of yarn you need for each yarn weight in knitting an adult sweater.
| | | |
| --- | --- | --- |
| Yarn Weight Category | Stitches per Inch | Yards Needed for an Adult Sweater |
| 3 Light | 5 to 6 | 1,000 to 2,000 |
| 4 Medium | 4 to 5 | 800 to 1,500 |
| 5 Bulky | 3 to 4 | 600 to 1,200 |
| 6 Super bulky | 1.5 to 3 | 400 to 800 |
What is difference between DK and worsted weight yarn?
DK or double-knit yarns are lighter than worsted weight yarns but heavier than sport weight yarn. It is equivalent to the number 3 Light standard weight category.
These middle-weight yarns are the go-to yarns for knitting sweaters. Knitters usually substitute one for the other.
When substituting yarns, you must remember that DK is thinner than worsted. It will help if you go up one needle size. This way, the tension on your knitted fabric will remain the same. Also, it would be best to knit a swatch to check if the gauge matched.
Is cotton yarn good for sweaters?
Cotton yarn is an excellent choice in knitting garments. It is soft, breathable, and takes moisture away from the body. It is a great fiber material to knit pullovers or cardigan sweaters for the spring, summer, or early fall.
You can find cotton yarn in a variety of weights, colors, and textures. You can make any design of sweater you can imagine.
Also check: