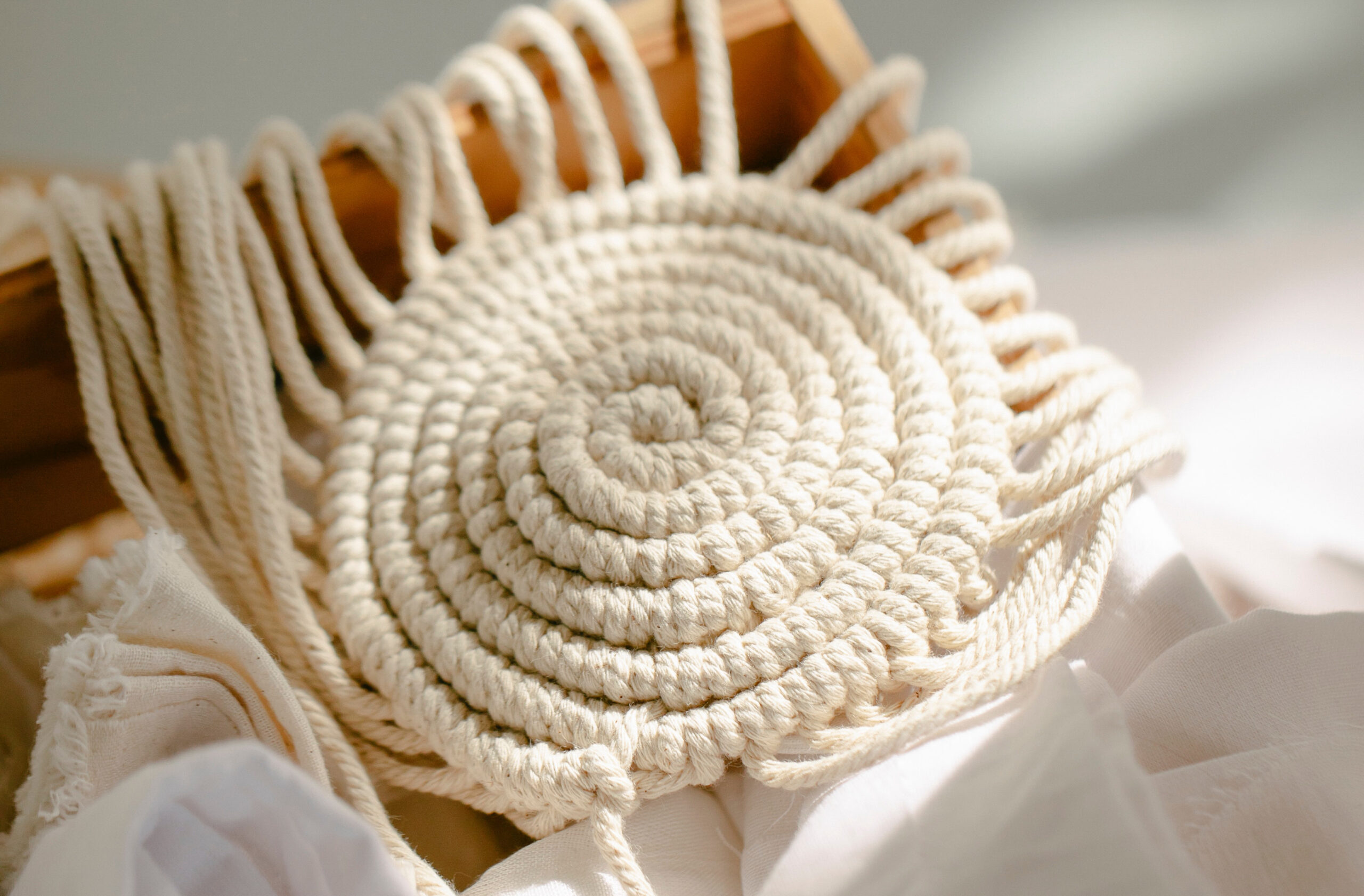 You can knit a rug with any yarn. But with a wide variety of yarns available, it can get daunting to decide which one to choose.
Here are 8 of the best yarns for knitting a rug you can find in the market. Choose the yarn with the quality and style of the rug that you want to knit.
Bernat Softee Chunky Yarn

A super-bulky weight yarn that is 100% acrylic. It is available in different neutral to bright colors. It is ideal for knitting or crocheting various home décor and accessories such as rugs. It is machine washable and dryable.

Sugar 'n Cream Lily

A worsted weight yarn in an extensive range of colors. It is made of 100% cotton and is known for its excellent absorbency. It is ideal for crafting projects such as dishcloths, placemats, afghans, rugs, or bibs.

Lion Brand Hometown Yarn

You can knit fast a rug with this chunky, colorful yarn. It is a super bulky yarn made of 100% acrylic, so it is machine washable. It comes in a wide range of bright, primary colors and textural tweeds.

Patons Classic Wool Roving Yarn

This bulky weight wool yarn is available in classic colors. A bit expensive but would be a perfect material to knit a rug that would add elegance to your room. It also needs handwashing and laid flat to dry to keep it looking beautiful for many years to come.

Bernat Maker Big Yarn

If you want yarn that stitches up fast, this chunky and t-shirt kind of yarn is a perfect choice. It is made of 50%cotton and 50% nylon, so you can easily machine wash and dry your knitted projects. It is ideal for knitting textural home projects such as rugs, totes, or baskets because it does not pill or shed.

Red Heart Grande Yarn

A yarn blend made of 78% acrylic and 22% wool. It is a bulky yarn with a subtle sheen. The yarn can knit up quickly and is a lovely yarn to knit. It is a great option to knit rugs, baskets, or scarves.

Loops and Threads Charisma Yarn

A bulky-weight acrylic yarn that is very soft to the touch will make a perfect rug that you can rest your feet on. It comes in modern solid colors and sophisticated prints.

It is an excellent material if you want to knit an elegant rug for your space with natural-looking colors.

Red Heart Boutique Unforgettable Yarn
A worsted weight acrylic yarn. It is a soft yarn with very attractive variegated colors. If you want a unique knitted rug to decorate your space or you ran out of standard knitting yarn, then this gorgeous yarn should be on your list.
What is the best yarn for knitting a rug?
Worsted weight to bulky yarns works well for knitting rugs. The yarns you should use must be thick, tough, durable, and machine washable and dryable. Cotton yarn, jersey or t-shirt yarn, and acrylic blends are the best options for knitting a rug.
But before you decide on choosing your yarn, know first the reasons for knitting a rug.
The common reason for knitting a rug is to protect the floor. You can use a rug to protect an area of the floor, such as the center area of a living room or the floor area below a center table. Knitted rugs are also useful household items in the kitchen and the bathroom.
When you need something soft to put your feet on, you can knit a warm and fluffy rug. You can provide comfort to your feet from the cold floor with a cozy rug.
And lastly, a rug can be a nice accent you can add to your living space. A knitted rug of your choice, design and materials can set the tone that you want for your room.
What is rug yarn made of?
You can use different kinds of yarns to knit a rug. Rug yarn is usually made of acrylic, cotton, or wool. But some kinds of yarns have advantages over others.
Acrylic
Acrylic yarn is the best yarn to knit a rug. It has most of the properties a rug should have. Acrylic yarn is one of the most affordable among the crafting yarns. It is the best material to use, especially if you are just a newbie at knitting rugs.
Knitting with acrylic yarn is also very easy because it is not very elastic. You can make neat and smooth stitches using acrylic yarn.
One of the best benefits you can get by knitting your rug with acrylic yarn is its machine washability. You can also dry your acrylic knitted rug in the dryer. Acrylic yarn is an excellent option if you are knitting a kitchen rug or a bathroom mat.
Some acrylic yarn pills easily, so it is not advisable to knit rugs placed on high foot traffic areas. It would be best to use acrylic yarn to make decorative rugs.
Cotton
You will create fine and smooth stitches on your knitted rug using cotton yarn. The cotton yarn is great for knitting a rug because it does not pill or shed fibers. Cotton is also not elastic, so you will be able to create stiff and clean knit stitches.
Cotton yarn does not have the sheen most acrylic or wool yarns have. But this quality is an advantage to some knitters who prefer a more subdued look.
A rug made of cotton yarn is also easy to clean and can be washed in the machine. A knitted cotton rug is also ideal as a bath mat or kitchen rug. It is also safe to place it in areas with high foot traffic.
Since cotton yarns are not very elastic, knitted cotton rugs can be a little bit stiff. It is if you knit using the garter stitch.
Wool
Wool yarn is the ideal material to knit soft, beautiful, and warm rugs. If you want your knitted rug to look posh, the wool yarn is your best option. The main drawback is it can get a bit pricey, especially if you choose the machine-washable type.
Because wool is warm and soft, it would be the best option to knit a gorgeous rug that you can also rest your feet on.
Wool yarn absorbs moisture while still holding its shape and retains heat very well. A knitted wool rug would be best in areas of your home where you need thick and warmer rugs. A good example would be in front of the fireplace. It is better to place it in a low-traffic area to avoid frequent washing that may cause the wool yarn to felt.
Fiber Blends
You can also make rug yarns from blends of different fibers. You will find yarns of natural and synthetic mixes such as acrylic and wool. The blending of natural and synthetic fibers creates yarns that do not pill much or shed less. The yarn blend usually has the combined qualities of the blended yarn fibers.
You can also try to knit rugs using unconventional yarn materials. It is a great way to recycle, reuse, and repurpose fabrics to create a different item, such as a knitted rug.
Jersey Cotton
Jersey cotton, also called t-shirt yarn, is an elastic material. It would help if you were careful when knitting jersey cotton. A change in tension can change the shape and size of your rug. Some jersey yarn frays at the edges, while some have smooth edges.
If you use jersey yarns of different colors, make sure they have the same elasticity. The same elasticity for both jersey yarns is important to achieve a uniform look.
Fabric
Fabric yarn is strips of fabric cut from old clothes, linen, or other textiles. It is a great option for knitting rags or doormats. You can cut the strips based on how thick you want your yarn to be, tie the fabric strips together, and wind into a ball.
Knitting with fabric yarn can be a little tiring to the hands, especially if you are knitting with long nails. But the benefit you will get from this recycled non-elastic yarn is the same as acrylic yarn. Fabric yarn has no pilling of fibers. Knitted fabric yarn makes great kitchen mats or bathroom rugs.
Related: Knitting with kinked yarn, your ultimate solution
What size yarn is best for rugs?
Most rug patterns suggest using only bulky or extra-bulky yarns. But you can also combine worsted weight yarn to produce a thick yarn that you can knit. You will get the same thickness as the chunky yarns, but you can create different colors and textures.
Below are the common yarn weights used in knitting a rug and the needle sizes needed for each yarn weight. It also shows examples of projects that you can knit using these yarn weights.
| | | |
| --- | --- | --- |
| Yarn Weight | US Needle Size | Common Uses |
| Medium- or worsted-weight, afghan, Aran | 7–9 | Sweaters, blankets, outdoor wear (hats, scarves, mittens, and so on) |
| Bulky or chunky | 10–11 | Rugs, jackets, blankets |
| Super bulky | 13–15 | Heavy blankets and rugs, sweaters |
How much yarn do I need to make a rug?
Using the yarn that the rug pattern calls for will usually state the number of balls or skeins of yarn you will need to buy.
But if you choose a yarn different than what the pattern suggests, you may need to do some calculations.
To get the total number of yards needed for your pattern, multiply the number of skeins called for in the pattern by the number of yards per skein. Then, divide the number of yarns you need for the pattern by the number of yards per skein of your chosen yarn. You will get the number of skeins you need for the yarn you chose (It would be best to round off to the nearest whole number.)
As with any knitting project, it would help if you buy extra yarn than what the pattern calls for when knitting a rug. The extra yarn will account for the yarn you will use to make a gauge swatch. It will be a safety net if an unfortunate yarn accident happens and the probability of the yarn is discontinued.
Buying additional yarn is a wise choice. It will help to account for the different stitches or styles you plan to knit your rug with. Take note that a knitting cable needs more yarn than if you knit with plain stockinette stitches.