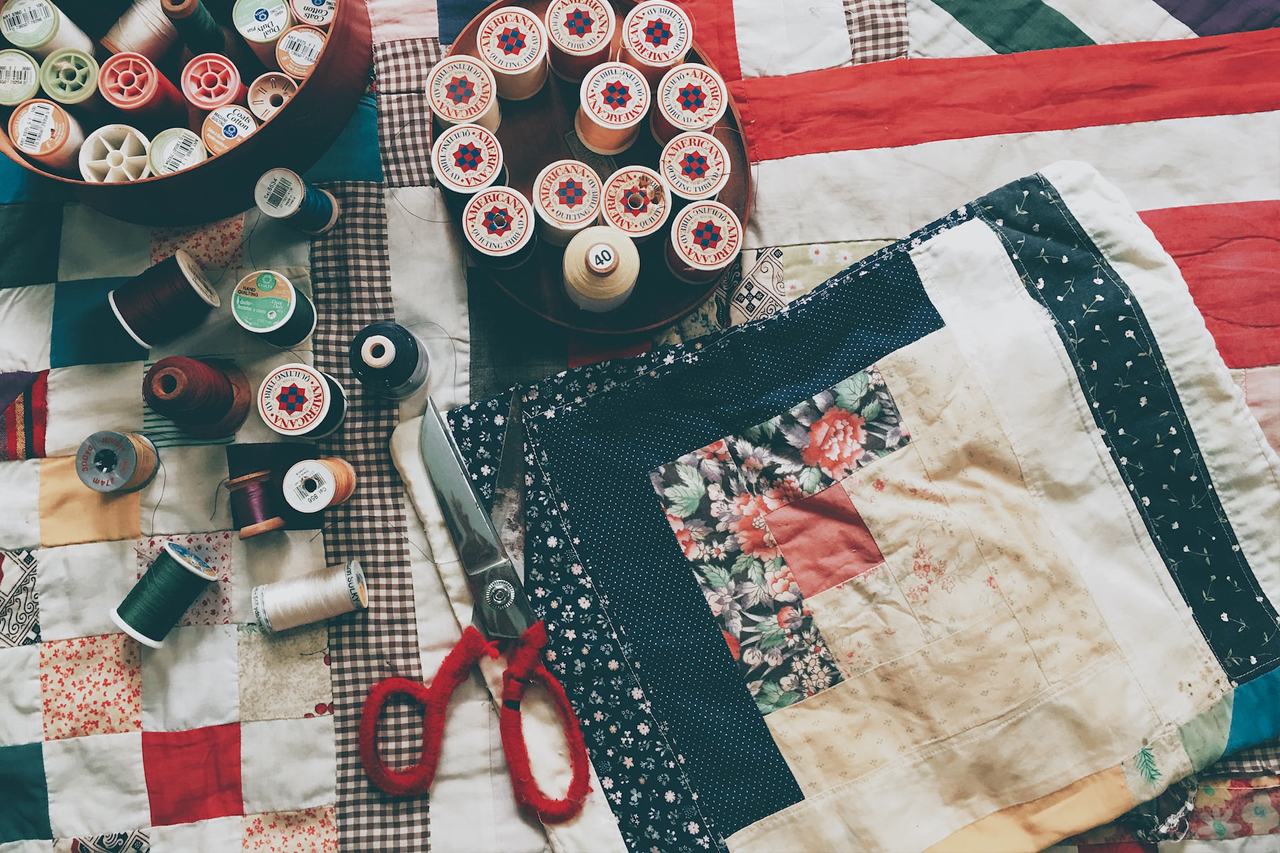 A one-block wonder quilt pattern is not only a pattern but a method open to innovations and interpretation. It is a technique for stacking fabrics that align repeats and produce a kaleidoscope appearance.
There are countless options and decisions that you can make that will impact your one-block wonder. For example, different first strips would produce various finishing hexagons depending on where you start the repeat.
Besides the first strips, their width also affects the hexagons. In addition, your imagination and desired result would significantly influence your one-block wonder as you attempt to create a narrative through the layout.
One-Block Wonder Quilt Pattern: How Do You Make a One-Block Wonder Quilt?
Creating a one-block wonder quilt is simple. You need to stack six identical fabric layers, align the patterns precisely, and cut each layer into triangles before sewing each cluster to form a hexagon.
You will start by getting a cloth with a repeatable pattern and substantial elements (ideally around 12″ to 24″). Then, you will cut eight repeats if you wish to make an octagonal quilt or six for a hexagon, stacking them and matching similar elements from top to bottom.
Next, cut the strips from your stack of layers and cut 60-degree triangles across the strip's entirety. Then, stitch the identical stacks of six triangles together to form half hexagons and pin them together.
Your kaleidoscopic block is now complete. You can prepare these blocks to be positioned and moved around on a design wall until you decide on your one-block wonder quilt's entire layout.
The designing process is one of the most artistic parts of making the quilt. In this step, you will have to be creative and innovative to make your piece unique. To help you go through this crucial step, you may consider the following:
Plan your design
When designing, you should remember that you will lose ¼ of an inch in the seam allowance, which somewhat alters the hexagon's final appearance. So, it would be best to consider picturing your design with the seam allowance.
Determine the amount of fabric you need
The amount of cloth you need depends on how many your repeats are. Remember that you will replicate your huge print cloth six or eight times to make a one-block wonder quilt. So, measuring your repetitions is crucial to ensure you have enough.
It would be best to cut all your cloth from the same bolt. And remember that slight color differences impact the outcome from one bolt to the next. In addition, I suggest avoiding using the bolt's end because the fabric may stretch and warp.
Using A Fussy Cut Mirror
Though not on everyone's list of supplies, a fussy-cut mirror can be helpful when picking a material for your one-block wonder. It previews the fabric's appearance after the block is complete without requiring actual cutting and sewing.
It is a fantastic tool for choosing fabrics and deciding which cloth triangle orientation produces the most appealing pattern. However, although the mirror makes it easier to select a layout that appeals to you, I still advise creating the block in your workspace before you begin sewing.
How Many Panels Do You Need for a One-Block Wonder Quilt?
You will need approximately seven panels for your one-block wonder quilt. You will divide the six panels into equilateral triangles, forming into your one-block wonder's hexagons. Meanwhile, the seventh panel will serve as its focal point.
Making a one-block wonder quilt is the same whether you use panels or yardage. The only difference is that you have had the repeats trimmed. You press and layer the boards to ensure they face the same way without cutting them. Then align them with finishing your design.
What Size Is A One-Block Wonder Quilt?
A one-block wonder quilt's standard measurements are a 3.75″ triangle size and a 40″ wide cloth. However, you can always change it according to your preferences.
Note that the variation in the hexagons increases with the length of your repeats. For example, you can create a one-block wonder using six repetitions up to 12″ or 14″, which is common and will still produce ideal results.
You can also make the strips in any size you like. However, 3.75″ is the standard size that will function with any repeat size, whether six, eight, or more. I believe this measurement will help you make the most out of your fabric while still allowing for some movement.
What Ruler Do You Use for One-Block Wonder?
Although your regular ruler likely includes a clear 60-degree marking, you can also use a specific 60-degree ruler. You can use these tools with a truncated top since it helps to reduce bulk in the kaleidoscope centers.
Using a specific ruler makes cutting triangles for your one-block wonder a breeze! If you prefer using a special 60-degree ruler, I recommend the one from Creative Grids. It is a specialized ruler that works well to cut equilateral triangles.
With this ruler, you can cut 30 or 60-degree angles up to an 8-inch finished height. This 60-degree equilateral triangle has legible black and white markings. A 1/4 inch dashed line on each central vertical line's side allows you to cut 30-degree triangles that incorporate the seam allowance.
Until you apply pressure, the ruler will glide effortlessly over your fabric. Then, when cutting, the proprietary gripper holds the material in place, minimizing sliding and miss-cuts! The ruler includes fully illustrated step-by-step instructions, or you can scan the QR Code printed on the ruler to see a video demonstration of these functions.
To start cutting triangles for your one-block wonder quilt, you will first fold the top of the strip, then align the bottom of your fabric strip with the 6-inch line on your ruler.
Take note that your ruler's point has a blunted top. When sewing your triangles together, this feature will help you line them up correctly. Make sure you also line up the fabric's edge with it.
Additionally, you must be careful not to get too close to the cloth selvage. After avoiding the hem, you will trim the ruler on both sides. As you cut, be careful not to move the ruler.
For the next strip, you will flip your ruler over and realign. Then, trim the following edge and continue moving down the fabric strip.
Is One-Block Wonder the Same as Stack and Whack?
The one-block wonder and stack and whack methods are comparable. The only difference between them lies in how you lay them out and put them together. The latter defines each block, while the OBW requires sewing all the blocks without any sashing or background.
Your stack and whack block can have six or eight sides, depending on your pattern and template. It can also have either a pinwheel or kaleidoscopic shape. In addition, wedge templates for making blocks like Dresden plates or fans are also available.
What is a Stack and Whack Quilt?
Stack and whack is a simple technique for making quilt blocks with distinctive kaleidoscope patterns. A set of identical pieces cut from a print fabric are the critical elements for these designs.
You can cut and stack a lot of large, identical print rectangles to create a stack rather than cutting each piece separately. Each triangle produces a block kit — a collection of similar components that will give one block its kaleidoscopic appearance.
Choosing the Primary Fabric
Remember that all your kaleidoscope blocks will come from the main fabric. Here are some tips for choosing your primary material:
Blocks with prints that are medium to large in scale may be more appealing.
Your blocks will have more diversity when you use larger pattern repeats, making your finished product look fascinating ad unique.
Smaller prints can be pretty powerful in smaller blocks, but they are less attractive in larger blocks.
The usual repeats for stack and whack patterns are 12″ or 24″. However, the repetitions can range from 6″ to more than 27″.
You can look for the same motif along the fabric's selvage to establish the repeats. It is best to pick a location with similar themes, then measure them. Doing so, you will receive the fabric's pattern repeat.
Instead of cutting identical rectangles along the width of the cloth, it is best to use the repeats along the fabric's length. The repetition length of the material is usually more accurate.
Giant flower or leaf patterns are a natural choice when making stack and whack quilts. However, large abstract prints can result in some intriguing blocks. I also recommend using designs with more vibrant colors, diverse colors, forms, and high contrast to emphasize the blocks.
On the other hand, you can choose a print with softer colors and less contrast if you want your quilt to have a gentler appearance. Additionally, you can carefully cut your pieces using novelty prints to obtain particular motifs that will make up your kaleidoscope.
Choosing the Fabric for the Background
When choosing your background fabric, remember that it should complement your main fabric. So, selecting a backdrop fabric color that will highlight the color in the primary material you wish to accent is best.
It is also best to pick a cloth with minimal design to avoid detracting the focus from your kaleidoscopic blocks. They will often stand out more when you choose a simple black or tone-on-tone black fabric.
So, remember that the kaleidoscope blocks are what your quilt is all about. You want to make sure they shine out.
How to Build Your Stack
After choosing your materials, you will layer similar rectangular pieces of the main fabric on top of one another to form your stack. It is best to select a location on the primary material that is simple to identify on all your layers.
Next, insert a pin's tip through that point and the same one on each of your rectangular layers. By doing so, you should be able to lift all the layers and pinch them all close to the pin.
Repeat inserting the pin through one location in all layers at a different point on the main fabric, about 4″ to the left. Then, lift your layers once more, pinning them together next to each other.
After doing so, you will roughly align all your rectangle-shaped layers by shaking them. Once you line them up, you will remove each pin and slide them back through all the layers at an angle.
When sliding the pin back, it is best to press the layers tightly together, close to each pin as you go, to prevent any shifting. Then, continue picking out places a distance of 4″ apart, placing a floral pin through each layer at that location.
While doing so, you must firmly pinch the layers close to each pin and then slide each one back through the layers. Now, you should be able to cut the fabric to make the kaleidoscope blocks.
Related topics: