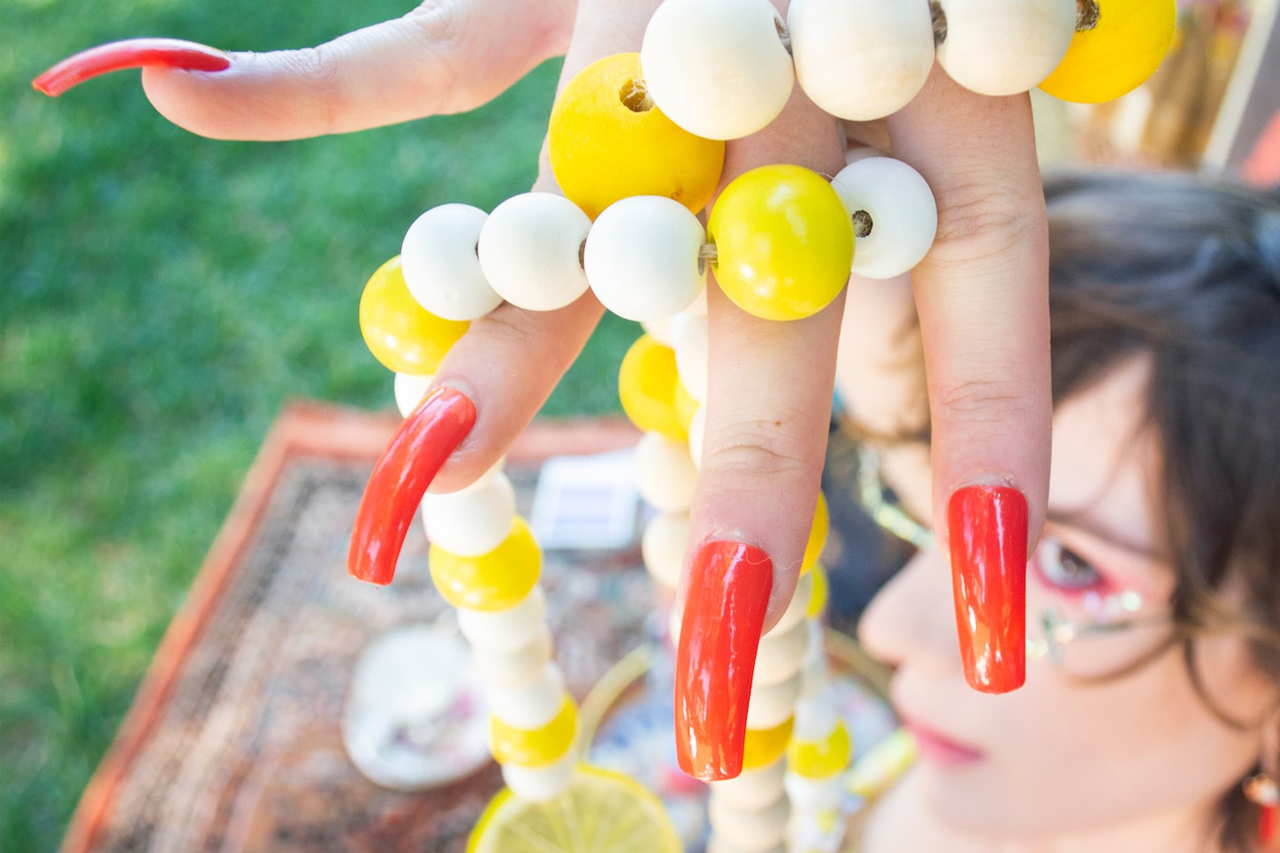 Some knitters prefer to knit with long nails. It can get tricky at first but gets easier with practice. Knitting with long nails is possible but will surely not be as comfortable and relaxing as short nails.
Any length of nails should not limit you from doing what you like best; if that is knitting, there is always a possible technique for you to enjoy the craft.
Different people have reasons for growing their nails long and knitting with them. Long nails are a sense of pride to some women, similar to having long hair. It makes them feel more feminine and beautiful and better about themselves.
Most knitters who knit with long nails can attest that it is not easy at the start, but it is something you can get used to after some time. Maybe you also need to hold the knitting needles differently than when you have short nails.
But before we expound on how you can knit with long nails, let us first understand why people, mostly women, want to grow their nails long. Below are some possible reasons why some people prefer long nails.
It makes one look attractive
Some women prefer to grow long nails because they believe that it makes them look attractive. Short nails tend to make the fingers look pudgy. Long nails tend to make the hands look elegant and slim.
Long nails even look more attractive when you shape and paint them. Most women who like to paint their long nails want to look prettier and more feminine.
Follow a current fashion trend
People who are used to growing their nails are usually updated with the current fashion trends, not only with clothes but nail designs and innovations.
One of the most trending subjects in the high-fashion industry is nail designing. More people are attracted to growing long nails now that decorating nails has become an art form.
Considered a sign of good health and wealth
Long, painted nails show that you come from a well-to-do family. In ancient times, a person with long nails is considered healthy and wealthy. Girls with long nails usually do not need to do house chores, so they can easily maintain them.
This notion may have led people to pass on this belief from generation to generation that you will benefit from growing long nails.
You can use it for playing an instrument
Long nails can benefit people who play string instruments like guitar and ukulele. You do not need a guitar pick for strumming, as the nails can do the job.
It gives a good grip
Having long nails can also increase the grasp of a person. Long nails make it easier for a person to grab and hold on to things.
As a weapon for self-defense
Long nails can serve as tools to defend oneself from an attack. Having long nails can be a woman's first resort to self-defense.
These long and sharp nails can aid her in times of trouble. But of course, this is not one reason that can encourage you so much to sport fancy long nails.
For some women, having long nails should be a part of their lives. And although knitting and sporting long, attractive nails may not go together, some women are willing to take the risk.
So, is keeping long nails a good idea?
Some women think so, while some do not. Long nails are not always helpful and are not practical if you are knitting. It will take you more time to finish your project if you do not work as comfortably and quickly as you usually do.
Knitters with long, painted nails usually bump the needles on the back of the nails. Some would develop blisters where the nails would bump on the palms. But some women would forego being uncomfortable and will knit with long nails no matter what.
It can get quite challenging to knit with long nails at the start. But when everything is done often and with practice, the task will eventually turn out more manageable than when you started.
Women who choose to knit with long nails have these to say to inspire you that you, too, can.
You can get used to doing anything with long nails, but it may take some time. You may also need to hold your needles or yarn differently than you used before.
You may want to use the continental style of knitting with long nails, as it involves less swinging around the fingertips. But any technique is better as long as you grow comfortable doing it.
Knitting with long nails may slow you down more than your usual pace, so maybe you can consider simple knitting projects when you wear them.
As you knit with long nails, determine the best position to hold your needles to avoid the sharp nails digging into your palms.
Consider the length of nails that you are comfortable working with. Some knitters can manage knitting with long nails without difficulty. No nail length is long enough or short enough for someone who wants to grow trendy long nails. At an appropriate size, they look feminine and pretty.
Long nails elongate the look of fingers and make them look more feminine. That is why some women cannot resist the desire to have them long despite the challenges of doing specific tasks like knitting.
How do you knit chunky nails?
Using some nail polish, a dotting tool, and a steady hand, you can knit yourself some chunky nails. You can make your chunky nails look like your favorite cable knit sweater.
Your love for knitting can be shown by doing the craft and physically manifesting it through designing your long nails.
You can "knit" your long, chunky nails by following a few steps of this manicure technique.
Shaping the nails

Shaping the nails is not crucial as you can still go about painting a cable knit sweater pattern on your nails, but doing so will make the task easier.

You do not need to take too much length off your nails. File the ends so that they will look the same.

You can either round the tip to achieve an oval tip or file your nails straight for a square tip. You must note that both tip shapes work for the cable knit design.

If you have short nails, to begin with, you can buy glue-on acrylic nails at the beauty supply store or the pharmacy, as you can shape them as you would natural nails.

Push your cuticles back

It is essential to push your cuticles back before you start your manicure so that you can entirely paint your nails. The cuticles of your fingers are the bis of skin at the base of your nail bed. With a cuticle pusher available at the pharmacy, you can quickly push back the cuticles from your nails.

First, you must apply some hair conditioner to the cuticles to soften them. Then, soak your hand in warm water to make the cuticles even softer and more accessible to push back. Lastly, dry your hand with a towel, then carefully push the cuticles away from the nails' surfaces.

Apply the basecoat to your nails

Applying the basecoat is a vital step in this manicure technique. It gives your nail polish a base to hold on to and prevents chipping and peeling. It will help your manicure last longer.
The clear basecoat can also moisturize your nails, cover bumpy surfaces, and prevent your polish from leaving a stain.

Apply the first coat of your nail polish

The first coat of your nail polish will be the background of your cable knit design. It will be the same color of polish you need to use every step of the manicure process.

Start by applying the polish in one stroke down the center of the nail, then add one stroke on one side, and another on the other.

To get the feel of warm, cable-knit sweaters, choose soft and mellow colors of blues, pinks, grays, and creams. But you are always free to select the colors you like best.

You may apply a second coat of polish if necessary or if you are using a light-colored polish. Make sure to dry off the first coat before applying the second coat. The second coat of polish will take care of the irregular areas or patches and ensure that your nails are painted opaque. It is vital that your polish completely covers the nail to make the design pop out.

Use a matte topcoat

Covering the foundation polish with a matte topcoat will make the cable knit design's shiny finish more visible and vibrant. It would be best to use a matte topcoat to contrast with the cable knit design to make it stand out. Allow your matte topcoat to dry completely before painting the cable knit design.

Decide on a cable knit design

Look for the cable knit design of your choice before applying polish to your nail. You can select from the many cable knit nail designs you will find online. Determine whether you are capable of the more intricate designs or, the more basic ones.

Use the dotting tool to create the loops

Dip your dotting tool into the polish you used at the start of the process. Start creating loops or ovals from the cuticle to the tip of your nail. This chain of ovals will look like the interlocked cables of your cable-knit design.

After creating your chain of ovals, add a vertical row of dots on one side of these loops, then make another row of dots on the other side of the chain. Add as many dots and lines as you can to fit on your nail. Finish the design by adding long vertical bars on either side of the chain of ovals.

After you finish painting your nail, you will have made a design that looks like the pattern of a cable-knit sweater.

You can add a second coat to your design to make it stand out from the background. But if you apply your design thickly with the dotting tool, one coat may be enough.

Allow your nails to dry
This last step is crucial. It is not necessary to use a topcoat at the end to see the contrast between your matte background and the glossy finish of your design. Make sure that your painted nails are dry before doing any chores requiring grabbing and gripping your hands.
More topic: