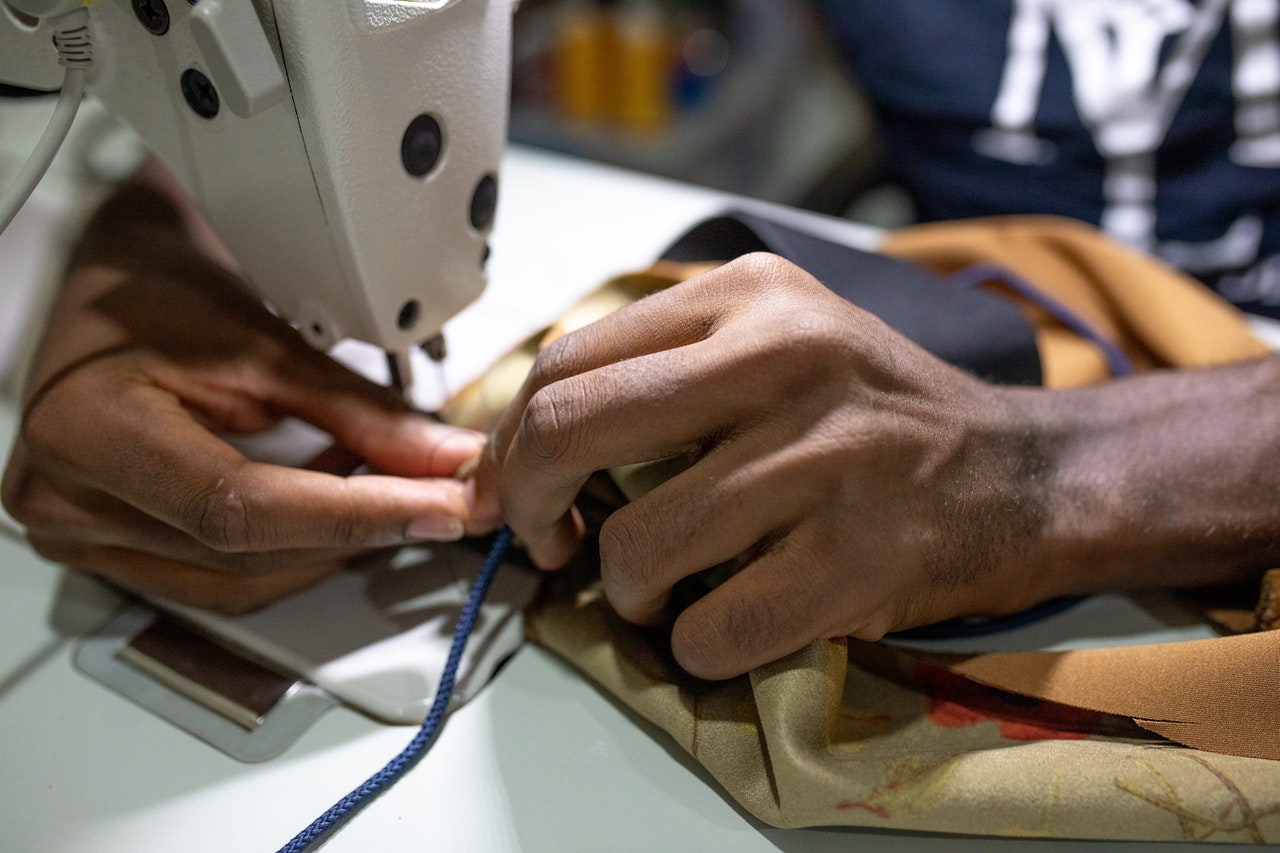 A quilter will always be a sewist, but a sewist is not always a quilter. If you want to know what kind of crafter you are, please read on.
What is the difference between sewing and quilting?
Sewing is joining fabrics together to make a product, such as a garment, a blanket, or a home décor. On the other hand, quilting is the process of creating a quilt. A quilt is a sewn material usually with three layers, the top quilt, batting, and backing.
Some people use the term quilting when they mean sewing. But they are two very different concepts that are very much related. All types of quilting are sewing, but not all types of sewing can be called quilting. Here are some points to correct the misconceptions between sewing and quilting.
Purpose

To understand more clearly the difference between sewing and quilting, know their purpose. Sewing refers to stitching two fabrics together using thread and a needle. The purpose of sewing is usually to make garments, toys, or decorative items.

Quilting, on the other hand, is specifically for making quilts, a layered piece of blanket.

Processes

Quilting is only one type of sewing. It involves many different processes such as making a design, cutting, piecing, binding, applique, and layering.

Sewing also includes various processes like pattern-making, cutting the fabric, altering, to name a few.

Layering

A quilt is always made of three layers; the top quilt, the batting and the backing. The top layer of the quilt has the design and is usually made of several pieces of fabric sewn together. The batting or the middle layer is an important component to make a warm blanket. The third and last layer is the backing. Most times, it is a whole piece of fabric. But you can also join many pieces of fabrics together to create the bottom part of the quilt.

Sewists describe sewing as stitching two pieces of fabric together with a needle and thread.

Insulation

Quilting has a middle layer that serves as insulation. Different materials are used for this warm lining, such as flannel, fleece, or batting. While sewing does not need a middle layer.

Machine
Both quilting and sewing were done by hand when they were starting. But with the advancement of technology, you can already do both crafts using a machine. An ordinary sewing machine is capable of quilting. But with modern technology, you can now find quilting machines that are better at making quilts. They are more capable of sewing quilts with many layers of fabric. The machine used can also differentiate sewing and quilting.
What makes a quilting machine different from a sewing machine?
A sewing machine can be a quilting machine. But a quilting machine that is specifically made for quilting is more capable of making quilts.
If you are taking your quilt-making to the next level, you should get yourself a quilting machine. It would be of greater help to your quilting hobby or business to invest in one.
But before you buy a longarm machine, read on for the differences between a quilting machine and an ordinary sewing machine. Consider the qualities of the machine that you need for your sewing projects.
Extension Table

When making a quilt, you are joining many pieces of fabric together to create a bigger piece. You would need a big area on your machine to work on.

You may need an extra work surface because you are working on huge projects like a queen-size quilt. A quilting machine with an extension table can give you more room to move as you quilt.

Some quilting machines come with the extension table accessory. Other quilting machine brands make it available as an optional accessory.

Work Space

You will notice a big difference between the workspace of a quilting machine and an ordinary sewing machine.

A quilting machine has a bigger workspace because it is longer than a regular sewing machine. The longer your machine is, the wider its throat is, the bigger space you have for bulky projects like quilts.

Stitches per minute

One of the main features of a quilting machine is its fast speed and stability. Quilting machines can reach speeds up to 1600 stitches per minute.

If you find yourself quite serious about quilting as a hobby or as your source of living, you might want to consider getting a quilting machine. Having a speedy machine can help you complete your quilt projects faster.

Machines equipped with high speed are also known to be more stable to bear the speed of the motor.

Number of Stitches

Having a huge number of built-in stitches is another added benefit of a quilting machine. Some quilting machines have more than 200 built-in decorative stitches. You can make different styles on your quilt with a wide range of stitches. It is especially useful when working with borders.

Foot Accessories
Both sewing and quilting machines come with several sewing feet. The quilting machine has some foot accessories specific for quilting. These are the quarter-inch foot, the free-motion foot, and the walking foot.
Quarter-Inch Foot
A quarter-inch seam allowance is the usual size of seam used in machine piecing. A quarter-inch foot can help in quilting projects which need a narrow seam allowance. It is usually included with the accessories when you buy a quilting machine.
Darning or Free-Motion Foot
You can use the free-motion foot to stitch quilting patterns as you move the fabric in any direction. You are also sure that your fingers are free from danger as you make free-hand stitching on the machine.
The darning foot makes sure that you form perfect stitches. It also minimizes skipped stitches and puckering. The free-motion foot is an essential feature of a quilting machine. So, make sure it comes with the package if you buy one.
Walking Foot
When you need to feed through heavy fabric or layers such as a quilt, having a walking foot is a great help. The walking foot acts like another set of feed dogs assisting the top layer of the quilt.
A walking foot can help you work better with quilting in a straight line. It would be the best add-on accessory to a quilting machine you plan to purchase.
Can you use any sewing machine for quilting?
You can use any sewing machine for quilting. A quilting machine is, in fact, a sewing machine. It would also be good to note that all machine quilting was done once using the regular sewing machine.
A quilting machine and a sewing machine are not exclusively different. These machines are literally the same thing, with a few features added or removed. Some quilts would turn out fine using an ordinary sewing machine, but others would be better finished using a quilting machine.
Most ordinary sewing machines can be great instruments for quilting. But quilting machines have added features that can make quilting faster and easier.
But, if you decide to use a regular sewing machine to make your quilts, you should consider a few things first.
If you use a regular sewing machine, you might find it difficult to maneuver a big bulk of fabric on a narrow "throat." You can sew small quilts and other quilt projects successfully using a regular sewing machine.
For queen size or larger size blankets, you may develop useful and clever techniques. You can roll your quilt to accommodate its size on a shorter ordinary sewing machine.
The durability of the machine.
Many domestic sewing machines are hard-wearing. The heavy-duty sewing machines can handle heavy fabrics and many layers of fabrics. You can use these types for all the processes required in quilting, such as machine piecing, layering, etc.
Regular sewing machines can surely sew quilts. But sewing machines made specifically for quilting are studier and more stable. This is because they can also handle higher speeds than ordinary machines.
You will limit your quilt designs if you use an ordinary sewing machine. The basic sewing machines can usually make only straight or zigzag stitches. If you want to upgrade your designs, find a free-motion quilting foot that can fit a regular domestic machine.
Adding foot accessories to your regular machine to help you create various designs can be your best option. That is if you are not yet decided on buying a long-arm machine.
Can you quilt a large quilt on a regular sewing machine?
The quilt you will be making is big, but the throat space of a regular sewing machine is small. A large quilt is still possible to quilt on a large sewing machine. But sewists can attest that you can quilt a huge one on an ordinary sewing machine.
Table Space

One of the most asked questions about making huge quilts on a regular sewing machine is the area where the quilt goes while you quilt. For a domestic sewing machine to quilt large quilts, you need large table space. It should be wide and sturdy enough to hold the large quilt's weight.

It would be best if your quilting table has a wide space to the left and rear of the machine. Having a lot of space to drape your big quilt can lessen the strain on your body. Working on a huge quilt, you have to fight against the gravity pulling on the quilt's weight. It would also help avoid breaking needles often because of the drag of the quilt.

Machine Position

When quilting a large quilt, you must place your machine in a secure and stable position. It would be best to set your machine down on a table. Sometimes domestic sewing machines can be very lightweight. Make sure that the quilt's weight will not push the machine over as you stitch.

Setting your sewing machine on a table lowers its risk of flipping over. It also gives your machine more stability if you sew at a fast rate.

Chair Height

To maintain a good working position, place your chair to sit up over your quilt. Adjust the height of your chair to make your arms at a 90-degree angle with your body.

Sitting up over your work can lessen shoulder, neck, and elbow strain. These body tensions may develop with long hours of quilting. You will also have better visibility of your work in this proper chair height.

Motif Size
Take it or leave it. You know that if you want to work easy on your huge quilt, you will need a long-arm machine. But if only a regular sewing machine is on hand, you will be limited to the size of motif that is easy to control.
It will help if you make your motifs small, just enough to fill the area between your hands. After doing one motif, you can reposition the quilt to move on to the next. It is not advisable to make your work area drift too far to one side of your quilt. If you are working on a big motif, it may cause strain on your body and affect your quilting as well.
More pages: