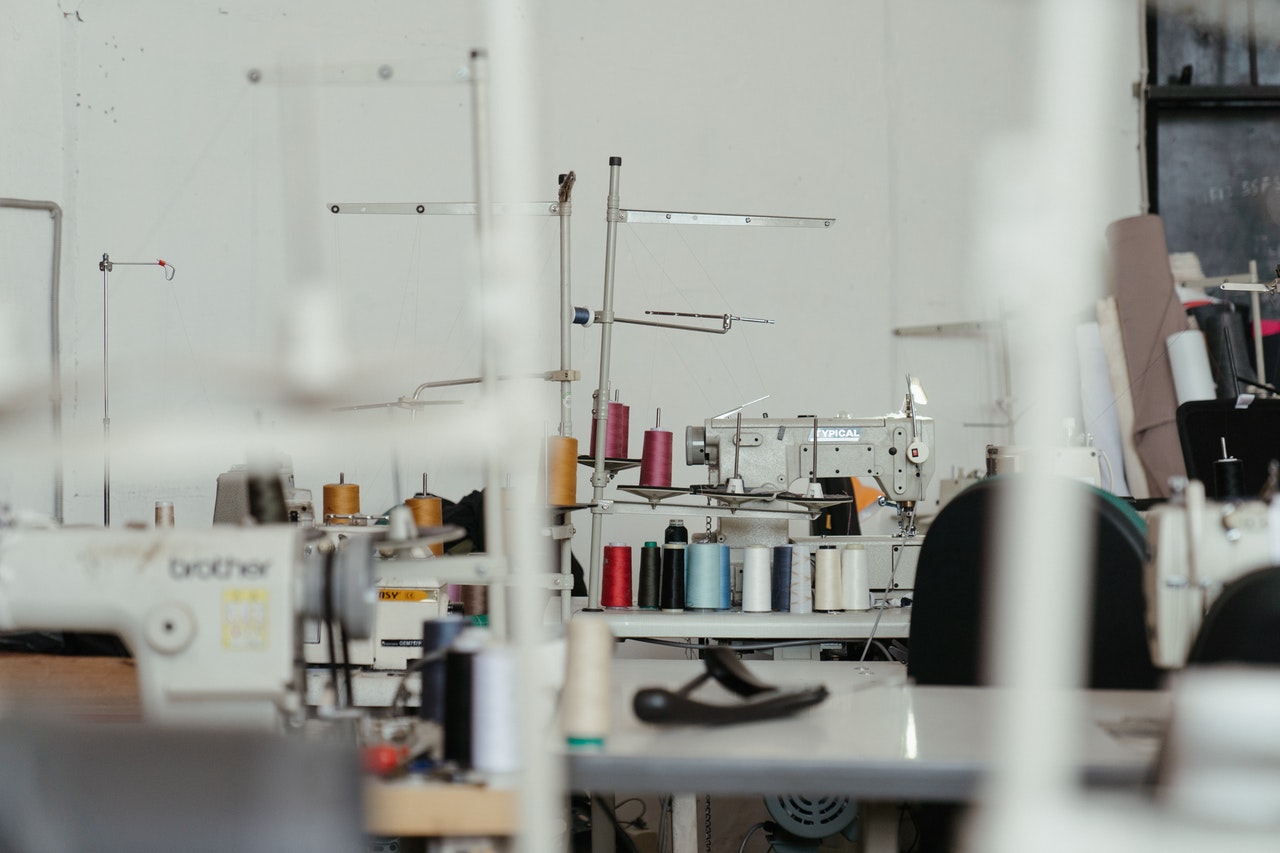 A serger and a sewing machine can both join two fabrics together. If they can accomplish a similar task, can one be used instead of the other?
Can a serger replace a sewing machine?
Some sewing projects can be done on a serger, but a serger cannot replace what a sewing machine can do a hundred percent. There are just some tasks that only a sewing machine can do and a serger cannot and vice versa. While they may be similar, they are not interchangeable.
A serger and a sewing machine are two different machines. They are even built differently. A serger uses around four to eight threads, while a regular sewing machine only has two; the top thread and the bobbin thread. The multiple threads of the serger make sure you have a stretchy seam and a strong, finished edge.
The sewing machine cannot produce a professional-looking edge like a serger can. But there are things that a common sewing machine can do that a serger cannot do, such as sewing zippers, topstitching, and making buttonholes.
The serger cannot replace a regular sewing machine because many sewing projects need straight stitching, which the serger cannot do. One cannot replace the other because these two different machines should complement each other to create beautiful sewing projects.
How is a serger different from a sewing machine?
The main difference between a serger and a sewing machine is the binding. A serger uses an overlock stitch, while a sewing machine uses a lock stitch.
To know further the difference between a serger from a sewing machine here is some information about both machines to help you determine which one you need.
Serger
A serger works faster than a regular sewing machine because it can handle several threads simultaneously.
A serger can stitch and cut the seams of your clothing at the same time; that is why it is more efficient than a sewing machine in terms of making seams.
The serger uses multiple threads to prevent the fabrics you are joining from fraying. Most common sergers have 3 to 4 cones of thread used. A regular sewing machine uses only one or two threads for sewing.
Using a serger, the seams that you will produce will look professionally made. The edges you make using a serger are neatly finished compared to sewing machines that create only ordinary seams. Because there are many threads looped at the edge of the fabric, sergers create a durable seam.
Essential for a Sewing business
Since the serger sews fast and can stitch and cut at the same time, it is an effective machine you can use for a sewing business because it can save time and effort.
Sewing Machine
If you are just starting to sew, it would be best to learn how to operate the sewing machine first before a serger. It would be best to learn first basic sewing skills rather than going directly to sew on a serger.
A sewing machine uses only two threads to make stitches; the top thread and the bobbin thread. Both threads are needed to join fabrics together.
The sewing machine can make straight stitches or topstitching, which a serger cannot do. Similarly, sewing buttonholes, zippers, and facings can only be done using the sewing machine.
What is a serger sewing machine good for?
A serger is the best type of sewing machine that can create neat yet durable edges. Aside from giving your sewing projects a professional look, it also makes ruffles and decorative hems.
If you have been sewing for a while using a regular sewing machine, you might have known by now that its capability is limited. A standard sewing machine usually cannot create seams that are similar in quality to store-bought clothing.
Sergers are made to produce more durable and professional-looking seams. Although attaching a double-needle to your standard sewing machine can create a similar effect on your seam, a serger makes the work easier and faster.
A serger is a handy tool in addition to your standard sewing machine, especially when you consider sewing as a long-term hobby or something you can do to earn a living.
There will be situations in your sewing journey when you would require a serger instead of a sewing machine.
Sewing the seams on stretchy fabrics like spandex or knit fabrics
When you need a professionally finished edge
When you need a more durable stitch
Making rolled hems
When sewing light and delicate fabrics like silk, velvet, and lace to avoid puckering
When you are hemming a sewing a project that will undergo a lot of wear
When you need to finish your sewing project faster
When you need decorative stitches made on a serger
There are things you must consider when looking for a serger that would be effective for your sewing projects.
Threading Types
Sergers have different threading types, and it is usually the most important factor in deciding for the serger to get. The common choice is the three or four-thread overlock stitches usually used on clothing. Some models produce three- or two-thread stitches for delicate fabrics and thin knits. Five and above threading types are used for garments as well as home decors. The more threads, the higher the price.
Price

Another chief factor in looking for a serger is the price. Sergers can be pricey as they are heavy and durable machines. A serger can be a good investment when you take your sewing to the next level aside from being a hobbyist. Get the balance of a serger with nice features but not one which would break the bank.

Size and weight

Sergers are commonly large and heavy, and they usually require a permanent area in your shop or room. The serger itself does not occupy a big space, but the fabrics you are working on might need a large space.

The weight of a serger is usually not a problem for sewists because it commonly has a designated space in a room, and it is not a machine that is often carried around. The weight of a serger is based on the material it is made. A serger made mostly of metal is heavier than that made of mostly plastic parts. Metal sergers are more heavy-duty and last longer.

Differential Feed

Sewing fabrics using a serger involves a differential feed system, which uses two sets of feed dogs. The front feed dogs push the fabric under the presser foot while feed dogs at the back push the fabric out of the serger.

The differential feed system of a serger is useful when you are sewing various fabrics with different thicknesses. For a medium-weight fabric, the differential feed setting should be "N" or 1. This setting allows the fabric to feed uniformly through the serger. You can increase the differential feed setting when you want to feed the hem of a flared skirt. On the other hand, you can lower the setting when sewing a lightweight fabric to avoid gathering. A serger with a differential feed allows you to try out ruffles and other twists on your fabric.

Motor Speed

Sergers are used in the sewing industry because of their speed and efficiency. Sergers usually have speeds of 1300 to 1500 stitches or revolutions per minute, making them fast and efficient in joining fabrics together.

Cutting Width

A serger is commonly equipped with a cutting blade to create a professionally finished edge. With some sergers, you can change the cutting width to a higher number. If you want a rolled hem or when the fabric you are working on is thick, increasing the cutting width may help sew using a serger.

Thread Tension Adjustment

Thread tension is vital in a serger. Use the recommended settings in your serger manual. If you do not achieve the desired result, threading your serger with different-coloured threads for each placement would help you spot which thread is causing the problem.

Once you find the thread causing the problem, you can adjust the thread tension in small increments until you get the stitch quality you want for your desired stitch.

Accessories
It would be best to choose a serger that comes with extra accessories that can provide different styles of garments that you are planning to make. Using these extra accessories included with your serger, you can bring out the creativity in you.
Related: How To Deflate Puff Sleeves Without Sewing 
What is the best serger for beginners?
If you are a newbie in sewing, a serger would be a great addition to your sewing essentials. It can produce smooth edges on your sewing projects and help beginners to learn adding embellishments to clothing. Sergers are also durable and can handle various fabric thicknesses.
Below are four of the best beginner sergers of popular brands available in the market today.
Juki is the ideal personal and home serger. It is a steady and sturdy machine that was built to last. It is made to tackle light to medium-weight fabrics. It is also considered portable but steady and stable, making the best combo with sailor sewing equipment; it is a good quality serger for an affordable price. The drawback of this serger is despite being considered a domestic serger; it has no scraps catcher.

This serger is a beginner's favorite because it is easy to use, versatile, and fast. Users recommend the machine because it is also easy to thread. The upper thread guides come color-coded and numbered, making them simple to use compared to the rest. The downside is that it has no two-thread stitch option and does not have cover stitch capability.

It is evident why the Singer 14CG754 has a ProFinish in its name. The machine delivers professional results. The fully adjustable differential feed makes it possible to produce perfect seams on various types of fabrics. Puckering of fabrics is avoided in this serger machine.

It also has a color-coding threading system to make threading of the multiple needles the easiest. It also features 2-3-4-thread capability.

The serger machine can run at a speed of 1300 stitches per minute, producing results at a very fast and easy process. The serger is also easy to transport as it has a carry handle. You can find many accessories with the serger such as tweezers, needle set, all-purpose foot, small screwdriver, etc.
The Janome serger equipped with a differential feed system preventing the stretching and puckering of any fabric. A differential feed dial can be adjusted to achieve a smooth feed even for tricky projects and knit fabrics.
Rolled hemstitching is easy to make on this Janome serger model. There is no need to change foot, needle plate, or tension settings for your seams to achieve a clean finish.
Still, the best option among the sergers is the one that would fit your budget and sewing needs.
Similar pages: