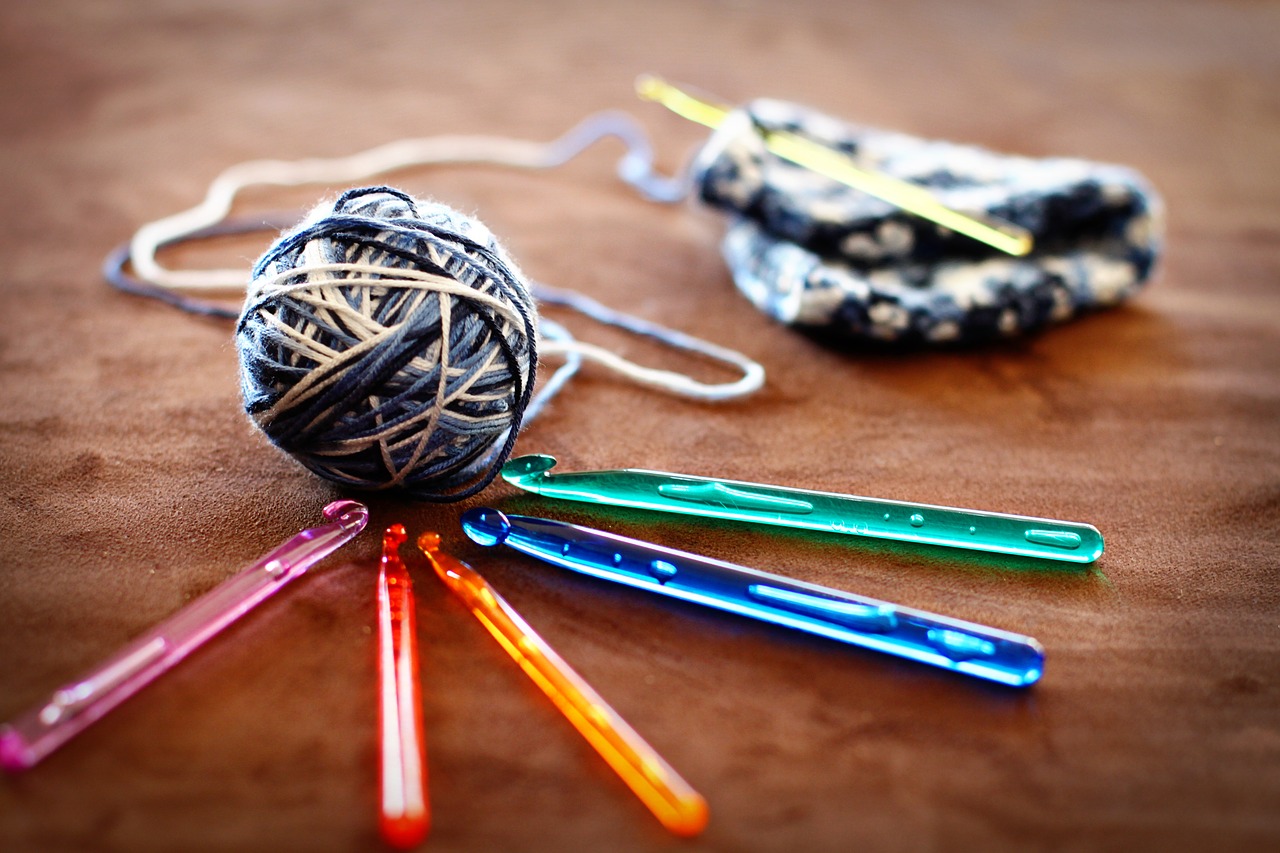 Are Metal or Plastic Crochet Hooks Better?
Choosing the best type of hook depends on your preferences. For example, metal hooks are better if you want something durable enough for heavy projects. But, plastic crochet hooks are the better option if you want something lightweight and affordable.
You already know that hooks are an integral part of crocheting. And yes, you can indeed crochet with any hook. But you will get a better experience and results if you use the right one for you.
As I mentioned, often, the type you choose is a matter of personal preference. But in some cases, certain materials outperform others.
You may find that choosing among all the different material choices can be a bit overwhelming. So, I narrowed your options down to two of the most popular selections — plastic and metal.
If you are unsure which to choose between metal or plastic hooks, then you came to the right place! In this post, I listed some of the pros and cons of each type of hook. Plus, I included some of the best items for each kind to help you choose the right one for you!
Metal Crochet Hooks
Metal crochet hooks are the smoothest hooks available. So, the yarn glides on and off the hook with ease, allowing for rapid crocheting. With such glide, you can use these hooks with considerable ease and comfort.
Using metal hooks could also make it easier for you to achieve the proper tension. Most metal hooks are aluminum, which is lightweight but not as light as plastic hooks.
But, depending on your skill level, these crochet hooks could be good or bad. If you can crochet quickly, these may be perfect for you. But, these crochet hooks are not suitable for use if you have arthritis or joint pain or if the weather is freezing.
PROS:
Metal hooks are sturdy and durable, with consistent shape and size.
Quality metal hooks are easy to use for crocheting, even for heavy projects.
Besides being durable, another significant advantage of metal hooks is their affordability.
They are smooth and fast to work with, which expert crocheters prefer.
Many knitters and crocheters like the ease with which yarn glides along a needle or hook.
CONS:
Metal crochet hooks generally feel cold. Meaning, it may be unsuitable for people who experience muscle pain while crocheting.
Because most metal hooks are rigid, they are less forgiving to weary or injured hands and wrists.
Most available metal hooks in the United States are 5.5 inches or shorter in length.
Metal hooks can rust if you do not store them properly. Also, they may be more challenging to repair.
Metal hooks are the best option if:
You are not prone to muscle pain while crocheting
You want quality hooks for general use that are durable enough for heavy projects.
Plastic Crochet Hooks
Plastic hooks are the most affordable options, making them ideal for beginners who do not want to commit to a whole set of hooks yet. Also, this material is lighter, which is beneficial if your wrist is prone to pain or tension.
Plastic hooks are typically hollow, so they are lightweight. They are available in sizes ranging from standard to large. Also, plastic hooks are delicate, making them ideal for projects with Granny's squares. But, this feature also makes them unsuitable for heavy crochet fabrics.
PROS:
Plastic hooks are cheap and will not rust.
They are inexpensive to replace.
They have some flex, making them suitable for people who tend to experience slight pain when crocheting.
Plastic hooks come in a variety of sizes.
If required, you can sand, stipple, or otherwise adjust the plastic hooks according to your needs.
Plastic knitting needles and crochet hooks are light and have a yarn grip akin to bamboo.
They also warm up rapidly, making them more pleasant to touch than metal.
CONS:
Plastics induce static and friction, which harm fibers and strain your hands over time. Also, "plastic on plastic" creates a vibration that you can feel through the hook and radiates into your joints.
A plastic hook can felt fibers depending on the quantity of friction it causes.
Plastic hooks do not come in tiny sizes as metal hooks do.
Plastic needles/hooks are weaker and more bendable may snap if you apply too much weight or pressure.
Plastic hooks do not always have a smooth surface, which can snag yarn.
Plastic hooks are the best option if:
You usually feel pain while crocheting.
You are on a budget.
The 3 Best Metal Crochet Hooks
If you think metal hooks are better, you might as well buy the best ones on the market! For example, two of the best brands on Amazon are BCMRUN and Clover.
If you are looking for the best metal hooks, Amazon is one of the best places to look for them! Here are five of the best metal crochet hooks I found on Amazon:
BCMRUN Aluminum Crochet Hooks
This BCMRUN metal crochet hook set is an excellent deal for your money. At this price, you can afford to buy a bunch and experiment with different styles. Also, they are high-quality aluminum, like the more expensive brand-name hooks.
These aluminum crochet hooks have round and tapered heads that are like Boyle hooks. So, this set might be the one for you if you prefer those types for crocheting.
The set comes with fourteen multi-colored aluminum hooks that have sizes ranging from 2.0mm to 10.0mm. So, you could use them for different projects and styles.
But, some hooks may not be entirely smooth, although they can barely snag your yarn. Also, the sizes on the hooks are in metric, so you will have to familiarize yourself with them.
Buy it here: BCMRUN 14 pcs Multicolor Aluminum Crochet Hooks Knitting Needles Craft Yarn 2-10mm.
Clover Amour Crochet Hook
Many crocheters believe that this Clover 1044/F Amour crochet is one of the best needles on the market. Its features are exceptional, so you might want to try this one out to see for yourself! For example, the yarn glides through the hook with ease, reducing splitting or snagging.
Its new elastomer grip makes crocheting comfortable and stress-free. So, it is an excellent option if you wish for a more ergonomic way to rochet. Also, if you often get muscle pain, you might notice it when using this hook set!
If you are on a budget, you can try one of these hooks in your preferred size. Or, if you are a beginner and looking to buy your first set, you might want to get this fantastic metal hooks set!
Buy it here: Clover Amour Crochet Hook, 3.27 x 6.44 x 22.32 cm, Multicoloured,.
Luxbon Crochet Hooks Set
You may be skeptical at first because of this Luxbon set's affordability, but it is fantastic! Many crocheters recommend these hooks and say that they have impressive quality for their price.
These Luxbon metal crochet hooks come in a variety of sizes and are ideal for weaving and knitting. They are long-lasting and durable hooks made of aluminum alloy material. Also, they are affordable yet look beautiful and sturdy!
This set is ideal for any beginner because it covers the most common sizes to get you started. So you will find them in a brightly colored design that you can identify according to size.
Buy it here: Luxbon Crochet Hooks Set 14Pcs Multicolor Aluminum Handle Knitting Needles Crochet Needles Craft Yarn 2-10mm.
The 3 Best Plastic Crochet Hooks
If you decided to go for plastic hooks, you have more options. But it is still better to buy the best ones on the market. For example, some of the best plastic crochet hooks include Lion Brand Yarn, Boye, and Susan Bates.
But, suppose you are unsure of which one to get among these brands. Then, you can read through this list of quality plastic hooks on Amazon:
Lion Brand Yarn 400-5-3507 Crochet Hook
If you want to expand your hook collection, this plastic hook might be the one for you! It is a lightweight plastic that is flexible and comfortable to use for various crocheting projects. So, it does not put too much strain on your wrists and hands.
This hook's pointed tip will help you weave in and out your fabric with ease and without loosening the stitches. But, it is a bit flimsy, although it would not easily snap as other cheaper options do. So, it is better to be mindful of the weight of your projects.
Buy it here: Lion Brand Yarn 400-5-3507 Crochet Hook, 19mm, Red.
Boye 235001MM Plastic Crochet Hook Set
These Boye plastic hooks are affordable and lightweight, making them an excellent choice for beginners! Also, they are perfect for crocheting while traveling, at a child's after-school activity, and more.
These are excellent hooks to try if you are skeptical of plastic hooks because of their quality features. For example, your yarn will glide with ease, and they are ergonomic too! Plus, they are easy to work with, and you will not find yourself grasping them too often, although they are plastic.
Buy it here: Boye 235001MM Plastic Crochet Hook Set, Sizes L11 to P16.
Susan Bates Luxite Plastic Crochet Hook Set
If you love Susan Bates hooks, then this plastic hooks set is an excellent option for you! Many crocheters love these hooks because yarn glides through them with ease. Also, the hook's indent is deep enough, so the thread does not slip off too quickly.
These Susan Bates hooks are a warm, lightweight, and affordable alternative to aluminum hooks! Luxite is a durable plastic material that can help reduce wrist motion for fatigue-free crocheting. Also, it aids in maintaining a more uniform gauge.
This 5-1/2 inches set includes the following sizes: US F5, G6, H8, I9, J10, and K10 (3.75mm; 4mm; 5mm; 5.5mm; 6mm and 6.5mm). So you can use this set for various projects.
Buy it here: Susan Bates Luxite Plastic Crochet Hook Set.
Also check: