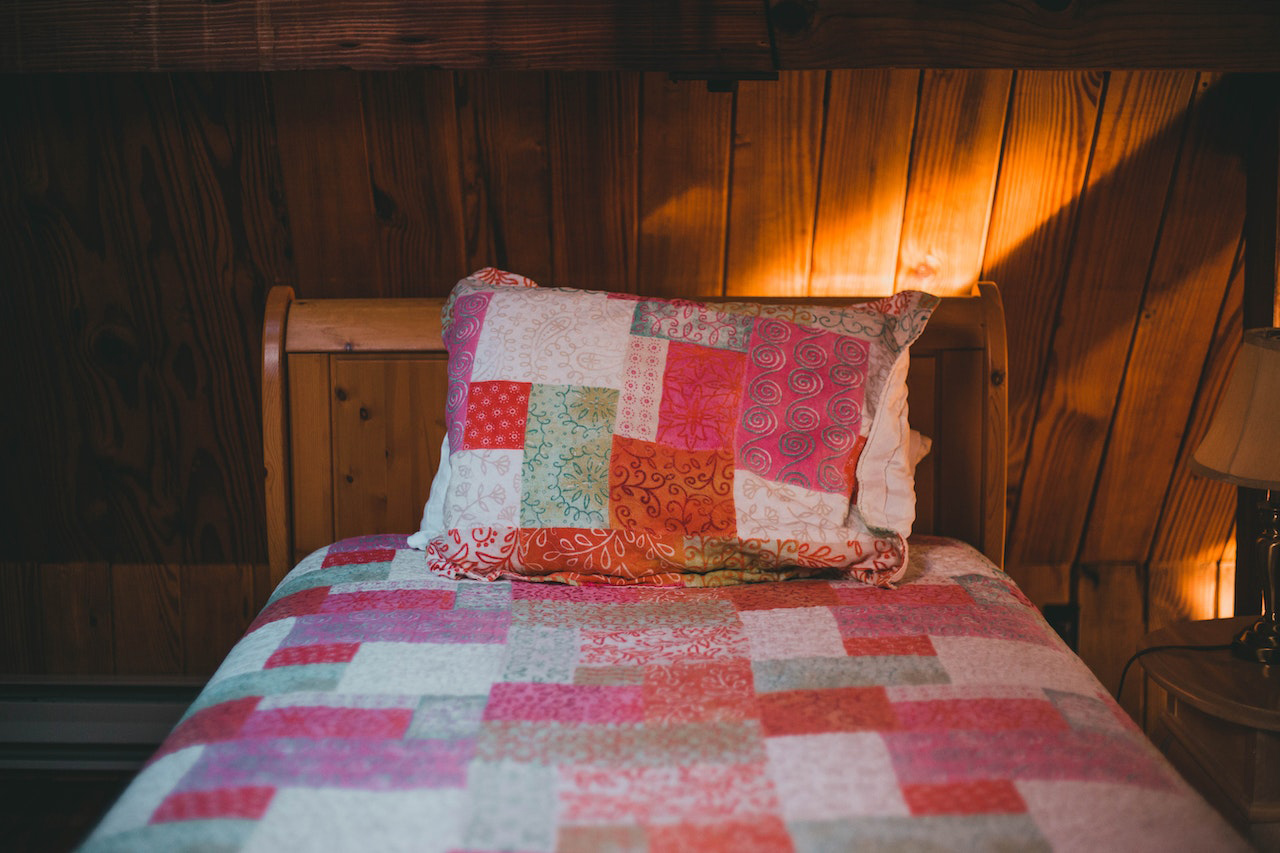 A cutter quilt is another term for a vintage quilt. Cutter quilts are very old quilts that got tattered through time but have pieces that are still in good shape and are still useful.
These cutter quilts are usually well-loved items in the family heirloom and are hard to let go of. The stitching and the quilting on these vintage quilts are traditionally handmade. They are usually worn or stained and cannot be used as a blanket or hung for display.
You can find some cutter quilts in yard sales, antique stores, thrift stores, garage sales, and now online. Expect that cutter quilts to have parts that are worn out or have holes, but there are areas of the quilt that are still good enough to be transformed into other valuable items other than something that can keep you warm.
A vintage quilt is an exciting and precious piece for a quilt enthusiast because of its past, design patterns on the top, stitching, and valuable parts.
You can get a cutter quilt for as little as $5, but others can cost much more. If you are interested in looking for one, you can visit crafts websites such as Etsy and check out the variety of cutter quilts for sale.
When purchasing a cutter quilt or when you are ready to take your vintage quilt out of the linen closet, you must determine how you want to repurpose it to lengthen the life of this valuable vintage blanket.
Some quilters who look for cutter quilts deconstruct them to make new quilts. Most of these vintage quilts usually have stains and tears that you would need to cut sections that are still good to use. These flaws show that the quilt was used and well-loved by its makers.
It is pretty hard to throw away such quilts with a long history and memories, so it would be best if you could create something new with the best parts to make your cutter quilt last for many more years.
What can you make out of old quilts?
You can make old and worn quilts into other valuable items than just a quilt. You can create smaller quilted items such as stuffed animals, home decor, and pot holders, to name a few.
Old quilts are hard to let go of when you consider the long hours spent by the maker to design and finish a quilt. Another thing is the sentimental value attached to the quilt if a grandma or a friend lovingly makes it.
Pillow
You can repurpose quilt blocks of your cutter quilt into an accent pillow. Select the non-tattered portions of the quilt. Join them to make a new design for a smaller item, such as a pillow.
Stuffed Animals/Dolls
A unique and cute way to recycle a worn quilt is to turn it into a stuffed animal or a doll. It can be a nice present for kids and adults who have a special attachment to a particular quilt.
You can also make it into a teddy bear which you can put on display as a memento of days gone by if the original quilt is too tattered to be hung or spread out as a quilt.
Christmas Ornaments
Small items such as Christmas Ornaments are ideal projects to repurpose old favorite quilts. You are giving a new life to a unique item you have kept and making it into something you can bring out and adorn your home every Holiday season.
You can turn valuable sections of your cutter quilt into Christmas stockings or ornaments that can be great conversation pieces for family and friends visiting.
Home Decors
If you think your vintage quilt is not quite fit for display anymore, but you still cannot find the strength to throw it away, you can make smaller décor pieces from still attractive quilt blocks on your top quilt.
You can make framed wall hangings with your favorite quilt parts, or if you want to display the whole vintage quilt, repair the worn-out parts before hanging it as a decorative wall piece.
Pot Holders
You can convert your old pre-loved quilt into pot holders or placemats that can extend its use. You can serve your meals using pot holders and placemats that you made using old family quilts. They can be good starter conversation starters for visiting family and friends.
Pet Beds
Your old quilt can still serve its purpose of keeping warm by creating pet beds for your furry pals. Use your favorite bits and pieces of your cutter quilt to create a washable quilted soft bed for your pets.
Upholstery
If the cutter quilt you bought or have kept in the linen closet for a long time is too unique or too precious to throw away, you can use it as an upholstery cover. Using good portions of your cutter quilt, you can make an ottoman or a footstool look more attractive.
Make a piece of furniture look new and exciting by repurposing your vintage quilt into a cover or creating seat cushions as adornment.
Pin Cushion
Old quilts will make great pin cushions. You can make several of them by selecting a cutter quilt's excellent and pretty sections. Small items like pin cushions can be unique gifts to friends who are also into sewing or quilting.
Purses and Bags
For an item that is hard to let go of, like a vintage quilt, transform it into something you can still use daily such as a nice bag or purse. You will be glad you turned your old quilt into a one-of-a-kind purse you will not find in the usual store racks.
Table Runner
For sure, a whole cutter quilt will not be useful anymore. Some parts of the backing or the top quilt can have holes or tears, but you can still use the good features to make a quilt table runner and add color to your dining table.
You may only get scraps from cutter quilts, but these small patches of fabric hold bits and pieces of history and memories of the past that you still enjoy in other forms.
Are old quilts worth anything?
Old quilts can be worth anything from less than $20 to a five-digit value depending on how old and valuable your quilts are.
If you want to know how old quilts are valued, you can look at the prices of various vintage and antique quilts on online sites like eBay or Etsy, where quilters post their cutter quilt stash or get their old things out of the linen closet.
The older the quilts are, the higher the price you can ask for them. If your vintage quilt is in good shape and has a significant history, it can cost more.
If you find an old quilt in the closet or purchased one which you think might be vintage or antique, it might interest you to know when and where it was made.
To be considered vintage, a quilt should be from the 1930s to 1965. Quilts made in the 1920s or earlier are antique, the same as those made a century ago or more.
It can be challenging to date a quilt if you are not a quilt appraiser, but looking at a few clues, you might get the nearest age of your quilt.
Handmade or machine-made
The first thing you must observe on your old quilt is whether it is handstitched or machine-made. The quilt was probably hand-stitched if the stitches are unevenly spaced or vary in size.
You will know that the old quilt is machine-made if you find the spacing between the stitches is uniform and the length of the stitch is the same throughout the quilt.
Antique and vintage quilts were made mainly by hand, and so were the unequal sizes of stitches. Quilters then made many antique quilts in different sizes that are not the same as the beds we have now.
Some handmade quilts in the 20th Century have identification tags at the bottom corner with the name and location of the quilter and the completion date.
A hand-pieced and hand-quilted old quilt in excellent condition can have a very high value. But an old handmade quilt with a sentimental value to the quilter is priceless.
Quilt Patterns
The pattern in an old quilt can also be an excellent clue to identify if it is vintage or antique or if it can be worth anything.
Quilters first made patchwork-style quilts in the 18th Century and after the American Revolutionary War. Star designs and nautical mariner patterns were also popular in the 1800s.
The Grandmother's Flower Garden pattern, also called hexagon, was common in the 18th Century. You can consider the quilts you find with these patterns as antique and may have a high value.
Colors
The colors used for making quilts can also depict the age of your quilt. The usual color used from 1860 to 1880 was Lancaster blue, comprising a light-blue print over a dark-blue background. Double pink and Cheddar Orange are other popular colors for antique quilts made in the late 1800s.
Vintage quilts made in the 1930s to 1940s have the Nile green color, a pale green shade paired with white, cream, or dark green.
Weaving Pattern
A quilt's woven patterns can also give a clue to its age. The twill-weave design used for antique quilts from 1880 to 1920 has threads with a diagonal pattern.
Satin weave was common in the 19th-century scrap quilts and was also popular from 1925 to 1950 for pastel-colored vintage quilts. You can identify a satin weave by its silky surface and dull bottom.
Plain weave, the typical weaving pattern used in quilting, is found in both vintage and modern quilts. You can create the design by making the weave, warp, and filler threads pass over one another in alternating rows. Plain weaving is not a good clue to knowing a quilt's age.
A great way to identify if your old quilt has a high value is by looking at dated photos of quilts. Alternatively, you can look for verified appraisers if you think an old quilt in your possession is worth selling for a reasonable price or is more worthy of keeping for sentimental value.
Also read: