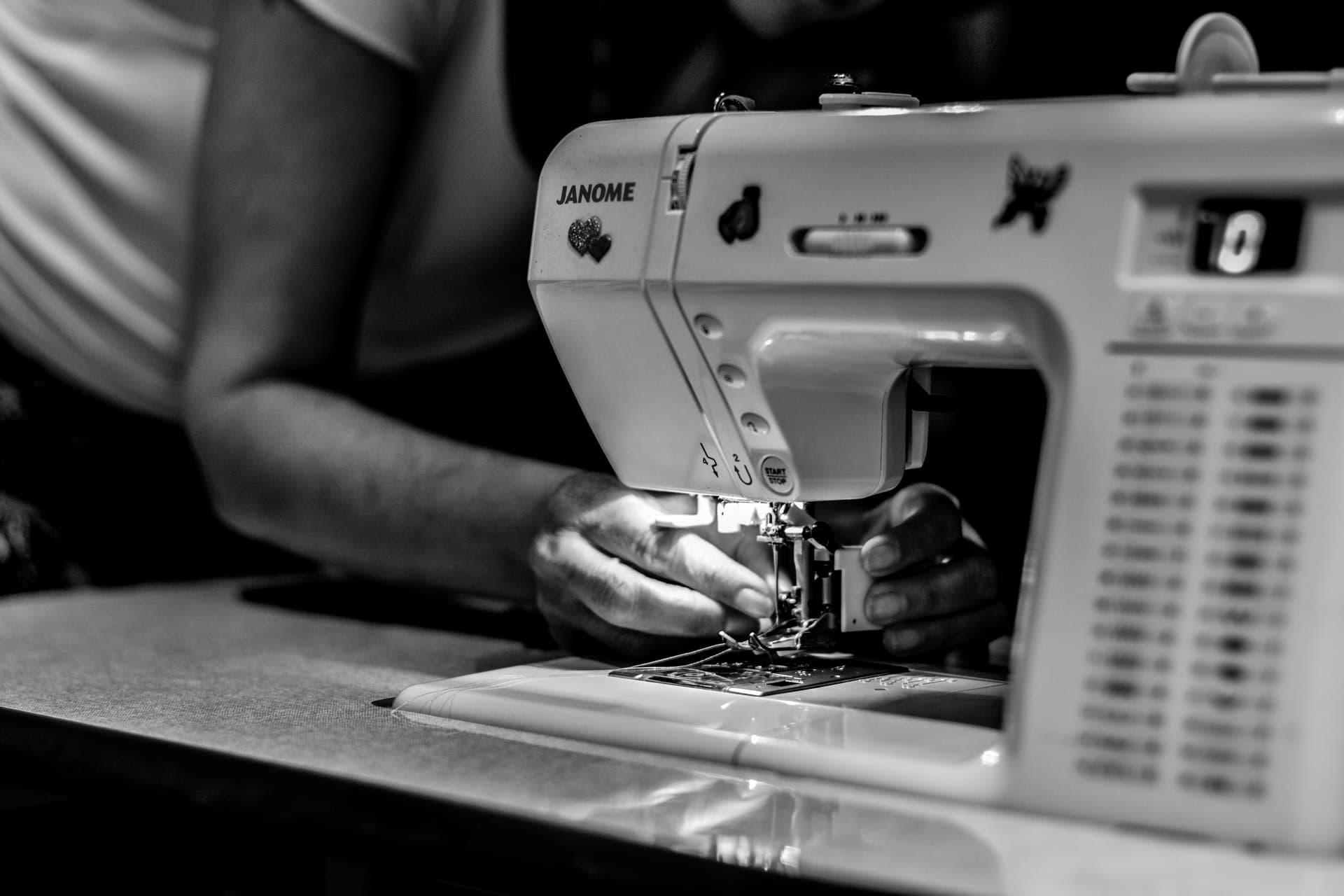 When you decide to go full-on with your quilting hobby, you need to have a good sewing machine. You need to have a sewing machine with a walking foot or feed foot. This part of the machine makes quilting easier.
The walking foot of a sewing machine has a feed dogs grip built in it. This moves the top layer of the fabric as it moves through the machine. The gripping movement of the foot feed dog holds the bottom layer while it moves along with feed dogs. This creates a synchronized movement of all the layers of fabrics. This prevents each layer from moving or shifting away from each other.
This walking foot works for sewing any kind of project, but it's most helpful for quilting. Quilting involves sewing several layers of fabrics, or some projects have slippery fabrics. For these reasons, the walking foot comes in handy.
Uses of Walking Foot for Quilting
The walking foot helps quiltmakers to sew fabrics with accuracy.
It holds the fabrics and the batting layers together as you sew them on the machine.
It is useful for sewing bulky quilts like the rag quilt or the denim quilt.
It assists in sewing of large quilts and curved lines.
The walking foot helps you sew in the binding to your quilt.
It makes easy sewing plaids and patterned fabrics.
Creating quality and beautiful quilts does not only happen with great skills. You need to invest in a reliable sewing machine with a walking foot.
Why Do I Need A Walking Foot For Quilting?
The following are reasons why you need a walking foot.
Sewing stripes, prints and matching plaids
A walking foot helps to sew a project with a pattern or directional print. You need to sew this kind of pattern to match across major seams. You can do it manually, by pinning the patterns to the layers. This can take so much time and effort. While using a walking foot allows you to sew them without moving away from the other layers.
Makes Machine Quilting Easier
Sewing or quilting layers of fabrics with batting can be challenging. A walking foot holds these materials together while you quilt. The walking foot helps in making Stitch In the Ditch.This part of the machine keeps the fabric layers and the batting layers together as you quilt. The walking foot is your friend when you make straight lines and curved lines as you machine quilt.
Sewing Stretchy Fabrics and Knits
Sewing knitted and stretchy fabrics are tricky. With the help of a walking foot, you can sew these fabrics without stretching as they move the machine. If you don't use a walking foot, these fabrics will be sewn out of shape.
Sewing Smooth and Slippery Fabric
Sewing smooth and slippery fabrics like satin are quite challenging. They tend to slip off the machine as they move. Using a walking foot eliminates this trouble.
Sewing Hems, Bindings and Topstitching
Using a walking foot helps in making uniform and even stitches on hems and bindings. It also helps you sew flat edges while you do topstitching.
What Is The Difference Between A Walking Foot And A Quilting Foot?
When you do machine quilting, you can either use a machine with a walking foot or a quilting foot.
Not all quiltmakers or seamstresses know the functions of their sewing machine attachments. If you are new to quilting, here are the differences between a quilting and a walking foot.
Oftentimes, quiltmaker, and seamstresses use these terms interchangeably. This is fine, although there are a few differences in their function and use.
Quilting Foot
Quilting foot helps you feed the fabric on the machine from any direction.
It is helpful for free-motion stitches like embroidery and quilting patterns.
A quilting foot allows you to create beautiful and textured effects on your quilts.
It is more economical.
Walking Foot
A walking foot is larger than a quilting foot. It is best for making straight-line quilting.
It is an excellent tool for stitching multi-layered quilts. Sewing several layers of fabrics can be a challenge on a regular presser machine.
A walking foot is often more expensive than quilting foot and other presser feet.
It improves the accuracy of your stitches. It also prevents the different layers of fabrics from moving away or shifting.
Can You Quilt With A Regular Foot?
Yes, You Can Quilt using a Regular Sewing Machine. These are the different ways to quilt using your regular machine.
Having a walking foot or a built-in feed dog makes it easy to make straight-line quilting. But your good old sewing machine is also capable of them. You don't need a special attachment or presser to do it.
You can do Free-motion quilting with your good old sewing machine. Doing this technique needs you to add stitches on your quilts in various directions. You can do this on your regular machine by disengaging the feed dogs and swapping out the foot. This gives you more range of motion as you quilt.
Most newer machines allow you to disengage or lower down your feed dogs. In case your machine doesn't have this function, you can cover these feed dogs with a Supreme Slider. It's a temporary cover that creates a smooth surface where your quilt can glide. This makes you a more convenient motion range while quilting.
The standard sewing presser foot works directly with the feed dogs. So if you want to do free-motion, you need a special foot that disables the presser function. When your machine does not have a free-motion foot, you may get a generic darning foot. This generic darning foot fits most sewing machine models. Once you install this on your machine, you can thread it as usual.
Have you ever wondered if this technique is possible on your regular machine? A quick answer is YES. You can do Matchstick quilting by making a series of straight lines over your quilt. Make sure that you stitch these lines as close to each series as possible.
You begin the stitch on one side of your quilt moving to the other side. Creating long tiny stitches may take time and some practice. But, don't worry if you have some imperfections as these add texture to your quilt.
An easy tip you can do to make long straight lines across is by putting painter's tape as your guide.
You can do this technique on your regular sewing machine even without a slider or attachment. This is more likely a straight-line quilting but larger and further spaces between. This technique is great for quilts with a huge and plain background.
Your regular machine can make these wavy stitches with ease. You can do this technique even without using a special presser or slider.
Do I Have To Use A Walking Foot To Quilt?
For beginners, you may still have a lot of questions when it comes to machine quilting. To address your concerns, here are the answers to your FAQ (Frequently Asked Questions).
Can you quilt without a quilting foot?
Yes, you can do machine quilting without using a quilting foot. You can even quilt various techniques using your regular sewing machine.
What foot do I need for machine quilting?
A quilting foot is an essential part of machine-quilting. It often gets mistaken for as the walking foot. The quilting foot allows you to feed several layers of fabrics on your machine in any direction.
The quilting foot helps quiltmakers to create textured patterns, embroidery, and free-motion stitches.
What does a walking foot look like?
A walking foot is a sewing machine foot that feeds layers of fabric and batting onto the sewing machine. This is most helpful for machine quilting. The foot grips or holds on the top layer of fabric and moves it under the needle. This moves in synchrony with the feed dog that moves the bottom layer of your project.
Can you put a walking foot on any sewing machine?
Yes, you can attach a walking foot to any sewing machine. A walking foot is not exclusive to quilting. This helps seamstresses to sew even and accurate stitches on their fabrics.
A walking foot is useful for thick and heavy fabrics like denim. It also helps in gripping smooth textiles like satin.
Tips In Buying Walking Foot
Not all machines come with this presser or a walking foot. You may need to buy it as an add on attachment. When you have to buy your walking foot, take note of these pointers.
Buy an open toe version whenever possible
Doing the "Stitch in the ditch" quilting is much easier when there are no distractions to your eyes. Following the marked lines is better when you quilt if you see the needle as it hits the fabric.
Take note of your machine manufacturer, model, and date of purchase
It will be helpful to have these details when you buy your walking foot. It makes it easier to find the type that perfectly matches your machine.
Know your machine the type of shank
Does it have a high shank? Or is it Low or slant? You can check this on the manual of your machine. Knowing the shank type of your machine is important for its proper attachment.
If the manufacturer no longer makes the model, you may be able to purchase a generic foot. You'll need to know the type of shank to get a foot that fits properly.
Choose the type with a channel guide attachment
This attachment fits on the foot that makes it easier to quilt parallel lines. This is useful for quilting beginners.
How Do You Quilt With A Walking Foot?
Baste the quilt
To start, assemble your "quilt sandwich". You do this by placing the bottom fabric on a flat surface, then the batting, and the top cover. Once finished, iron your quilt sandwich to ensure that the fabrics layered flat on top of each other.
Attach the walking foot
Prepare your sewing machine for quilting. Attach the walking foot. You can see a U-shaped arm sticking out on the right side of the presser foot. You must slide this U-shaped arm onto the needle bar. Then, secure it with the lever or clip you see on the left side.
Setting up the stitch
After you have attached the walking foot, set-up the stitch you need for your quilt. You do this on the small monitor of your machine. For the older model, you set-up the stitches by switching the turning knob of the stitch selector.Keep in mind that different widths of your stitches affect the depth of its waves.
Start stitching
You can choose where you want to start quilting. Some start in the center of the quilt going outward. Some start sewing the edges of the quilt. Start stitching it to whichever works best for you.When you reach the end of the quilt, secure the edge of the top layer and trim the thread. Follow the same process on the following rows of your quilt.
Change the setting of the stitch
Always check your quilt as you go. See if you need to adjust the distance of your stitches. There are times that you need to adjust them according to the pattern you follow.
Finishing
After you have stitched your quilt, finish it up by cutting the extra threads, batting, and fabric. Make sure to level and straighten up the sides of your quilt. Bind it up. You're done!
Making a quilt can be easy if you have the right machine and good sewing skills. This hobby can take some time and practice to develop. But as you continue making quilts, you get to work faster and your stitches become finer.
Do not hurry with your quilting. Making errors may be costly in terms of fabrics and batting materials. Unthreading and repeating the stitches can be time-consuming and frustrating. So, take time to enhance your quilting and sewing skills.
Invest on a good sewing machine and a reliable walking foot. Machine-quilting is fun and easy to make as long as you have the right materials and attitude.