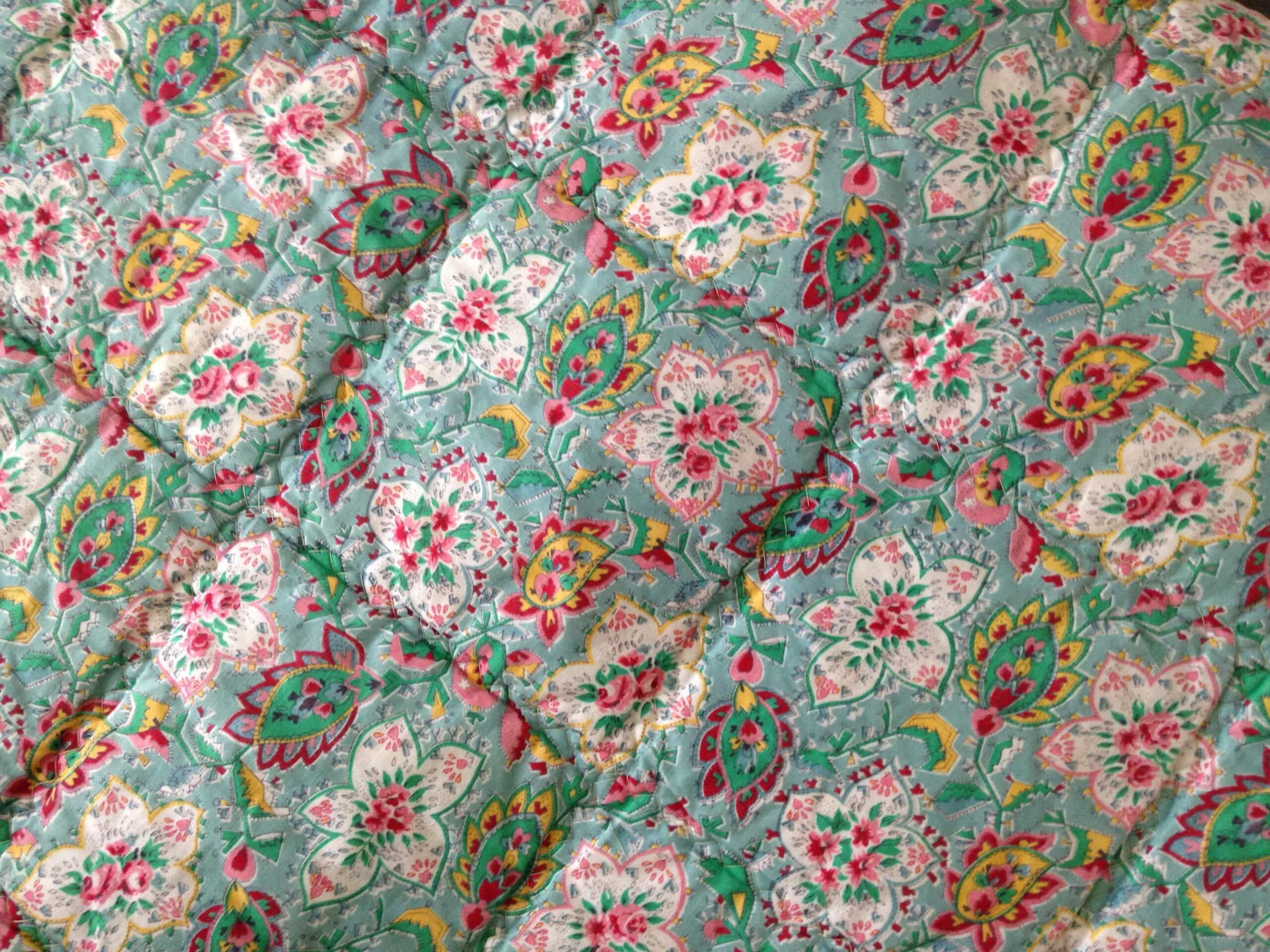 Quilting fabrics are expensive because fabrics, in general, are expensive. Whether you are using natural or synthetic fabrics, they always come at a price. The high cost of production to make fabrics is the main factor driving the surging prices of fabrics.
When you quilt, you will have to use significant yardage of fabrics. This is because a quilt consists of three layers – top, batting, and bottom. So, when you buy fabrics for your quilt you are buying large quantities. To understand more what causes the hefty price of your fabrics, read on the following.
Cost Of Fabric Production
Producing fabrics take a series of processes that involve expenses. They spend on material, labor, transport, and utilities.Manufacturers spend huge amounts only to get the needed materials. Add into that are the production costs to make them suitable for fabric construction.

During production, they also use agents and dyes for these materials. Again, this adds expense to the manufacturers.

Sourcing of Raw Materials
Some fabric raw materials are not easy to acquire. Some natural fibers are not available most of the time. It is a common notion that the harder to get these raw materials, the higher their price.You may choose synthetic fabrics. Yes, they are cheaper, but they are not always the best for quilts. Most natural fabrics are more expensive because they make beautiful and comfortable quilts.
Labor Costs
Every process in producing fabrics involves manpower which means labor costs. Getting the raw materials down to weaving the threads all costs money.Making your quilting fabrics undergo processes that involve manual labor and machine processing. Textile companies spend a lot on both aspects.
Logistics or Transport Costs
From harvesting raw materials down to the production facility, textile producers spend money. Some materials come from different parts of the world, so shipping that costs a lot.Even after making these fabrics, companies still incur expenses to deliver these fabrics. The importation and exportation of these raw and finished materials are costly.
Branded Fabrics
Some fabrics have a unique history, quality, and texture. These factors give these fabrics their branding. Some of these come from famous designers and manufacturers. Because of their esteemed value, they sell higher than other fabrics.
Retailers' Markup
Manufacturers and wholesalers impose markups on these fabrics. But, aside from that retailers also have to impose their cut. All these markups add to the prices of the fabrics.It is a normal thing to have these markups. This is where these manufacturers and retailers earn and pay for their workers.

Fabrics are essential to quilting, and so buying them is inevitable. Make sure to consider the expenses that you might incur throughout the process.
What Is The Difference Between Quilting Fabric And Regular Fabric?
Quilting fabrics differ from your regular fabrics in three factors.
Thread count
Thread quality
Finishing Process
Thread count
Quilting fabrics have high thread counts. They often have a thread count of 60 squares or 60 threads in every inch on the crosswise and lengthwise grains. The higher the thread counts the denser the fabric.Fabric with high thread count has minimal shrinkage. They feel softer and more durable.
Thread Quality
Quilting fabrics produce less lint. Most quilting cotton fabrics are medium weight and tightly woven.
Finishing Process
Quilting fabrics undergo several finishing processes to set the dyes and prevent bleeding. This creates a final that is soft to the touch. These fabrics have very minimal shrinkage.
Five Common Quilting Fabrics
Quilter's weight cotton
This is the most popular quilting fabric. world champion. It is high-quality and made of 100 percent cotton which is perfect for quilts. This has less shrinkage than cheaper cotton fabrics.Quilter's weight cotton is less likely to bleed. But, it is best to test your fabric first before you use it for the quilt.
Home decor weight cotton
This quilting fabric is heavier weight cotton and has a satin finish. It's ideal for making quilted bags, pillows, and other home accessories.When you use Home decor weight cotton, you only need light batting since it is already heavy. This type of cotton comes in widths of 54 inches (137 cm.). This makes it affordable because of its wide yardage.

Home decor weight cotton doesn't drape well because of its weight.

Voile
Voile is a silky, lightweight, and bit transparent type of cotton. This fabric is also best for blouses, skirts, dresses, and scarves.
Essex Linen
Robert Kaufman introduced Essex Linen. This fabric is great for making quilts or sewing home decor projects. This fabric blend is 55 percent linen and 45 percent cotton.
Quilter's Linen
This is also a creation of Robert Kaufman. Quilter's Linen is an all-cotton fabric. It has the look and texture of linen. This fabric blends well with quilting weight cotton and other types of fabrics.
What Is The Best Fabric For The Back Of A Quilt?
You can use any fabrics for your quilts, but the most common is the Quilter's weight cotton. This is because of its soft texture and less- shrinkage properties.
Another great fabric for backing is the Essex linen. This is a blended fabric, so it is not too soft for a quilt backing. If you want a textured backing, this is a great choice.
The other option for your quilt backing is the Minky fabric. This is a synthetic fabric that is soft and stretchy. This is a good option if you want an ultra-soft quilt.
When you make your backing for your quilts, consider the following tips.
Choose Your Fabric
Before you start your quilt, you must have chosen your material. This is to make sure that neither the top nor the bottom layer will shrink. If you are using different fabrics, make sure to pre-wash the fabric that is prone to shrinkage.
Provide Seam Allowance
When you cut your backing material, make sure to provide a seam allowance of at least ½ inch (1.3 cm).
Sew On Grainline
When you sew your fabrics, see to it that you put them together along their grainline. It means you sew crosswise grain along another crosswise grain for more stretch. If you want less stretch, sew the fabric long lengthwise grain.
What Is A Good Thread Count For Quilting Fabric?
Quilt quality fabrics must have a thread count of at 60 threads per inch or more. They are often made with long-staple cotton. This means that the fibers of cotton used for weaving are longer and stronger.
If the fabric has more threads in every square inch, the fabric is denser. This will prevent the batting material in quilts from poking through the fabric.
Fabrics with higher thread count have a softer texture and absorb dye better. Average cotton fabric has a thread count of 60 threads per inch. This type of cotton uses short-staple cotton.
A good quilting fabric must at least have a 60 thread count per inch. Higher than this is better, but it comes with a hefty price tag.
What Is The Difference Between Cotton And Quilting Cotton?
Quilting cotton is a fabric type made from 100 percent cotton fiber. It is a plain weave fabric with a medium weight. This fabric has a lot of body.
It holds its shape even after several washes. In recent years, fabric companies have started making lighter weight quilting cotton. This is for clothing construction.
Quilting cotton makes great quilts and home sewing projects. This fabric also comes in different print designs.
Quilting cotton and apparel cotton are both made of 100 percent cotton. Both are plain woven.
Quilting cotton is a durable medium weight fabric. It can withstand several washes. This is why you can wash your quilts often.
Quilting cotton is great and easy to work on fabric, especially for beginners. It is easier to use than apparel cotton.
Apparel cotton is also a good beginner fabric, but it can be too stretchy and lightweight to work on.
Quilting cotton often comes in 44 inches (112 cm.) wide. Meanwhile, apparel cotton has a width range of 54 to 60 inches (137 to 152 cm.). The apparel cotton has more fabric per yard which makes its yardage more expensive.
Apparel cotton is lightweight and gives a beautiful drape. The wrinkles are less noticeable, and it's more comfortable to wear.
How Much Does It Cost To Have A Quilt Made?
Quilts are more expensive than your usual blankets and comforters. Quilts are also heavier and thicker than these beddings. As mentioned earlier, quilts have three layers – top, batting, and bottom.
Most quilts have a cotton top and bottom layers. The batting material can be from cotton fibers, wool, and polyester. These three basic parts are clear indications of their high cost.
But aside from these, there are other factors affecting their price.
Choice of Fabric
This is an important factor in quilt pricing. Good utility quilt needs good fabric. If you buy utility fabrics, you know that it is not cheap. Although you may choose a cheaper fabric, it does not guarantee a good and comfortable quilt.If you use quality quilting fabric, your project will have less shrinkage. Plus, it can withstand several washes.
Stabilizer
Some quilts need stabilizers. A stabilizer helps prevent fabrics from stretching and creases. So, if you want a quilt with soft and stretchy fabric, a stabilizer is a must. This implies that there will be an extra cost
Batting Material
This is the insulation layer of your quilt. You need to keep in mind that this should not add too much weight to your quilt. This is why you must use a lightweight material for it. Avoid using batting materials that are clumpy and heavy.
Labor Cost
Quilting is a special skill and so you don't only pay the quilter with her hourly rate. A quilter may charge you a certain percentage for her skills on top of her hourly rate.
Binding Cost
If you want your quilt to have a beautiful binding and embellished borders, then you need to pay extra.
Like any other artisan products, quilts have premium prices. Their prices vary depending on the factors given above. You have to keep in mind that quilts are more than just bedding, it is a work of art.
You might have some more questions about quilting. Below are some FAQs to shed some light on your queries.
Are quilts expensive?Making quilts is more expensive than other crafting hobbies. This is because quilting uses a lot of materials and it takes time to finish one. The price of fabrics, batting materials, and labor are only a few of the factors that affect its price.

If you use quality fabrics and other materials, you are likely to spend a good amount of money on your quilt. However, good materials produce good utility and comfortable quilts.

How can you tell the quality of the quilting fabric?When you look for your quilting fabric, look for the three factors.

Texture – The fabric must be soft and durable. If you are a beginner, choose cotton fabrics for your quilts.

Thread Count – A good quilting fabric must have at least 60 per inch thread count.

Finish – Make sure that your fabric is colorfast and has less-shrinkage.

What type of fabric is best for quilting?Many quilters prefer Quilter's weight cotton for most of their projects. This fabric is 100 percent cotton, soft, and has minimal shrinkage.
What thread count is quilters cotton?Typical quilters cotton has 68 thread counts per inch.
Quilting is a pleasant and rewarding hobby. Yes, it may be a bit more costly than crafting hobbies you know, but quilts are different. Quilting is more than sewing and patching up of fabrics.

It needs thorough sewing skills, creativity, and patience. Quilts are not plain blankets or beddings. Quilts are works of art. So, why bother with the expense?

For beginners, it is fine not to splurge on buying the most expensive quilting fabrics. You can start with Quilter's weight cotton or any other cotton fabrics. The important thing here is for you to learn and hone your skills.

So, do not hesitate to start quilting using basic fabrics. Once you have mastered the skills, then you can level up your materials, too.