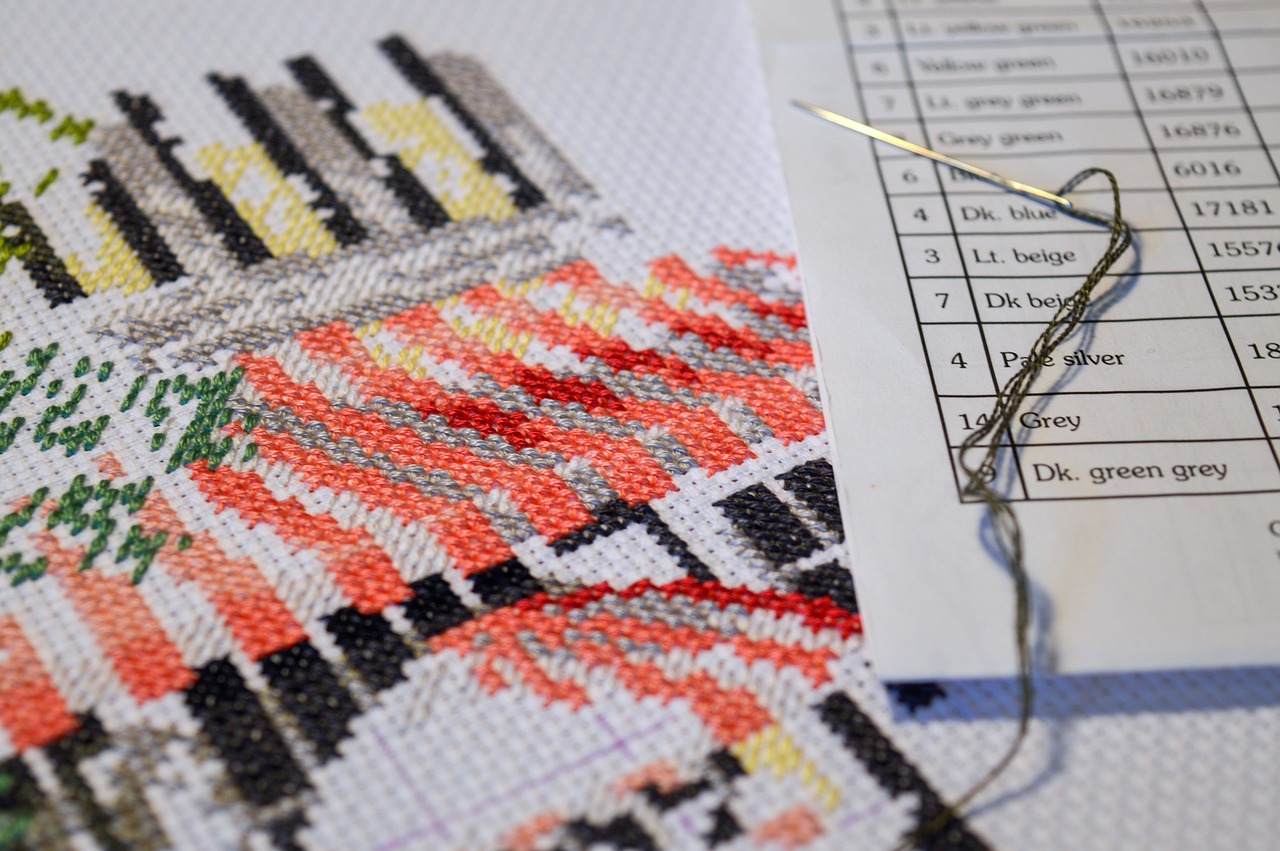 When starting with a new hobby, the cost is always one of the first things to consider. There are many types of needlecrafts out there, and if you are still on the lookout for a hobby, why not try cross stitching?
You will need only very few materials for this craft. You can start with a basic cross stitch kit which includes a pattern, fabric, threads or floss, and a tapestry needle. A kit would cost you about $20 – $40 only. A basic cross stitch kit has all the materials you will need for a simple cross stitch project. Most of the kits you can find in craft stores include an embroidery hoop. A pair of scissors is also an essential tool but is not included in kits as it is assumed to be available at home. The rest of the things you will need are just extra tools that can make your work easier.
Cross stitching can be inexpensive and practical. Not only do you get hours of relaxation from this hobby, but you also get a tangible item that you can display or give as gifts when you finish a project.
What do you spend money on in cross stitch?
If you are a newbie, it is recommended that you start small literally. If you start with a small cross stitch kit, it is possible to finish your project quickly, and you do not get to spend so much. You also get to try your basic cross stitching skills on reasonably-priced kits. Starting to cross stitch with beginner kits may even inspire you to buy the bigger and more intricate ones later on.
But for starters, here are the very few essential materials you need so you can start crossing your stitches.
1. Patterns
Patterns dictate the size, design, and, in some way, the cross stitch project's skill level. When starting, you can look for free gorgeous patterns online. Another way to obtain inexpensive patterns is to get them in a kit and all the materials you need for stitching.
As a beginner in cross stitching, you may wonder how much you would pay for a pattern. Browsing through cross stitch pattern websites, you will find that a pattern may cost you $8 to $18.
For the more advanced in cross stitching, pattern shopping may be quite hard to resist. Some have a huge stash of patterns set aside, waiting to be stitched.
If you want to hold on to the thought of cross stitch as being an inexpensive hobby, hold off from buying more patterns than you can manage to stitch.
2. Fabric
Cross stitch fabric is usually Aida or even weave fabric. Cross stitch fabrics come in a wide range of counts. The most common count used for Aida fabric is 14, which is also the recommended fabric count for beginners. The fabric count means you can have 14 cross stitches in an inch of the fabric. Aida can come from 6ct to 20ct fabric. The higher the count, the more cross stitches you can make in an inch; thus, your work will look smaller.
Traditional Aida fabrics come in white and ecru, although black, gray, tan, brown and other bright shades are also available. Aida cloth is sold in pre-cut sheets or bolts in craft stores. As a starter, you may only need a small sheet for your pattern so ask for assistance to purchase only the right size you need. There are also special Aida fabrics woven with metallic threads and fabrics with a very soft texture. These types of fabrics would cost you more as compared to the common Aida fabrics.
3. Floss
Cross stitching uses cotton thread or floss. There are many different brands of embroidery threads available in craft stores. They slightly vary in thread thickness and color. Embroidery floss usually comes in 6 strands that you can split up. Usually, you do not stitch using all of 6 strands. For the common fabric count 14, you commonly use only three strands.
The most widely used brand for cross stitching is DMC, and you will also find most patterns using this brand. These threads are soft and gentle but relatively strong. DMC floss is readily available in craft shops because it is easy to produce and is not too expensive. A skein of cotton embroidery floss usually measures 8 meters costs around $0.90. Prices can reach $2.45 or more with specialty threads like metallic threads.
You can buy floss in individual skeins or packs of varied colors. Sometimes, it would be best to buy in packs and get a good deal.
4. Needles
When you are new to cross stitching but have done other embroidery types, you may not need to buy new needles. Cross stitch uses tapestry needles. A tapestry needle has a blunt end and a long eye. The tapestry needle needs a blunt end to slide through the holes of the Aida fabric easily. It also needs a long eye to accommodate the multiple strands of threads usually needed to cross stitch. If you have no needle stash at home, you can always purchase a needle pack for around $2 to $3.
5. Scissors
A pair of scissors will come in handy during cross stitching. You may save money if you have one easily available at home. Cross stitching involves a lot of changing of thread colors. It would help if you had sharp scissors to cut your threads to have a clean finish. It would also help you thread your needle easily when your thread does not have wispy thread ends.
If you feel the need to have embroidery scissors, you can buy them from $7 to $30. You can take the practical route and buy a cheap one because you only need sharp scissors to cut your thread. Or you can indulge yourself with fancy embroidery scissors that you will only have to use for your embroidery.
6. Embroidery Hoops
Embroidery hoops are also called tension hoops, Q snaps or scroll bars. All these are some form of a tension device. Some stitchers consider them necessary, while others think they are optional.
Most modern kits include hoops with the idea that you can frame your finished cross stitch in the embroidery hoop. Some patterns are particularly designed to fit and get framed in the embroidery hoop.
But the main purpose of the hoop is to improve the tension of the stitches on your fabric. For some stitchers, the embroidery hoop is unnecessary for cross stitching, so it is one tool not to buy.
7. Extra tools
When you have advanced in your cross stitching journey, you will find that more tools can make you more comfortable and efficient in your hobby. Some of which are:
Needle threader
Floss organizer
Floss bobbins
Good lighting
Fabric marker
Hoop stand
Even though most of these things can be useful to a cross stitcher, you can still create your cross stitch projects without a hitch. They are beyond the basic needs for you to finish stitching a pattern. Most of these items are good to have and may even help you speed up your work. But you can do away with them if you do not want to spend too much on your hobby aside from the essentials.
More pages: 
How can you save money by cross stitching?
You may have already invested a big amount of time and resources on your cross stitching. If you decide to pursue it with enthusiasm, you can still do it without being a spendthrift. Even if you focus only on the basic materials you need to stitch; you still need to be aware of your spending.
Here are a few tips to keep your expenses balanced as you make progress on your cross stitching journey.
Buy a cross stitch kit.

The easiest way to save money if you want to start or pursue cross stitch is to buy a kit first. A cross stitch kit is packaged so that all your basic cross stitch needs are included: pattern, fabric, floss, and needles. Most cross stitch kits even add in an embroidery hoop which you can use as you work on your stitches or use as a frame after you finish stitching.

Buying a starter kit can surely save you money. The next time you want to stitch again after finishing your starter kit, you need not buy needles or embroidery hoop. You only need to buy the other essential supplies you need.

Finish a pattern or kit first before buying a new one.

You should keep your focus on your current work and finish it first before purchasing a new one. This way, you can be sure that you will not have half-baked projects sitting in your drawers in the future.

Be wary with your pattern choices.

When choosing your patterns, make sure that it matches your skill level in cross stitching. If you are a newbie, it would be better to look at patterns that are not too big or too intricate. You can choose to stitch patterns with whole stitches rather than those with many fractional stitches.

Patterns that use fabrics with lower stitch count are faster to finish. It would be better to look for patterns with fewer stitches first if you want to move on to a new one.

For experienced stitchers, buying a larger cross stitch would be more economical. Working on a large pattern that will cost a little more will take you longer to finish than buying a pattern that will only take you days or weeks to finish.

Maintain a clean and safe place for your cross stitch supplies.

To avoid buying supplies all the time and make use of your materials on hand, keep them safe and tidy. It would be best to find a corner of your home where you can keep all your cross stitch tools and supplies. Your cross stitch supplies storage must be safe from your pets, damaging or playing with your supplies.

Find discounts on cross stitch supplies online.
When you are getting serious with your cross stitch craft, you may find your next projects on crafting websites like Etsy. These crafting websites have downloadable patterns which you can get for less than $5. You can also check out crafting websites that offer supplies like floss or hoops in multipacks and get a reduced price compared to buying in a piece.