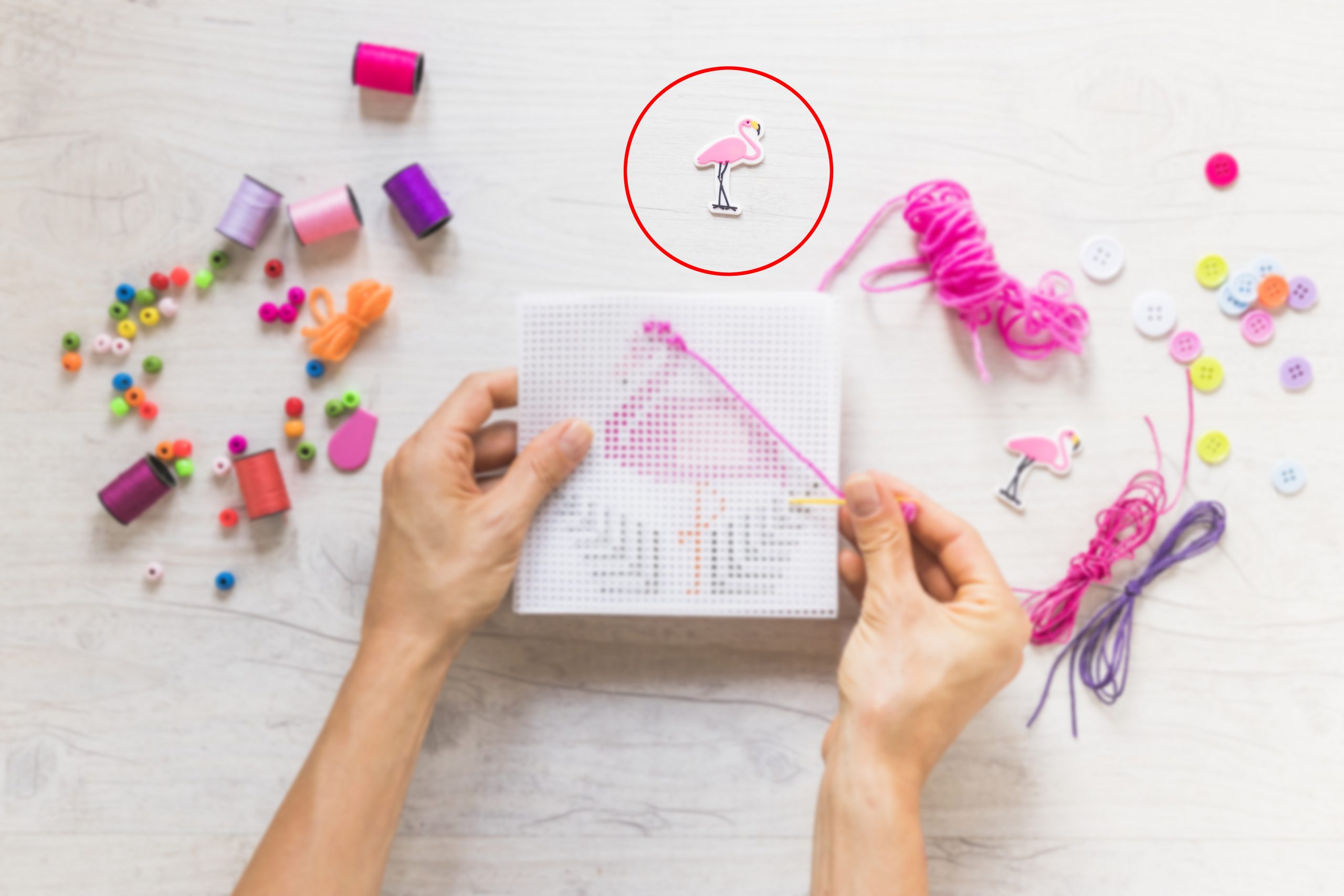 When doing cross-stitch or any needlecraft projects, your needle can get lost as you put your work down when taking a break or changing threads. The usual practice is to poke your needle anywhere on your fabric to keep it secure. But this habit can sometimes leave ugly holes on your cloth, which can sometimes leave permanent marks. Minute items like needles are also easy to lose on the couch or the floor and are hard to track when misplaced.
The needle minder is the creative and practical solution to this everyday crafters' dilemma. It is one simple tool that can hold your needles to relieve you of the stress of wasting time looking for your needle after putting down your cross-stitch or embroidery work. A needle minder is a small decorative magnetic piece that you can put on top of your needlework where you can place your needle if you need to take a break from stitching and find it right where you just left it.
A needle minder may not be such an essential sewing item, but it is still a joy to have because it is a handy tool that secures your embroidery needle and also adds fun to your crafting by being a pretty inspiring accessory on your needlework as you stitch.
What is a needle nanny?
A needle minder is sometimes called a needle nanny. The name is entirely appropriate because a needle nanny will make sure your needle stays in place when you put down your embroidery for a short break. It is typically made of a tiny decorative piece of clay, metal, plastic, wood, enamel, or any material possible attached to two pieces of small magnets. The decorative piece glued to one magnet is placed on top of the fabric while the other magnet is placed at the back to keep your needle minder in place.
A needle nanny may come in handy when you keep losing your needles as you change your thread colors or just putting down your needlework for a while. Having a specific place to put your needle saves time wasted in looking for lost needles, at the same time, saves money to buy needles to replace the ones lost.
How do you make a needle minder?
Many years ago, needle minders were still unheard of. Today, crafters are so lucky that somebody thought of creating a simple and crafty tool such as a needle minder. You can visit crafty shops and find a variety of needle minders on the counters. But if something does not catch your eye, it is so easy to make one of your own.
Materials:
Decorative top for the needle minder
Two strong magnets
Glue (preferably E-6000)
How to make it:
Choose your decorative piece.
You can use any material you can find as long as it is small, thin, and with a design that you like.
Loose buttons are excellent needle minder materials. You can help reduce clutter by using nice, old buttons with no other similar buttons around to use with. Fabric-wrapped and vintage buttons can also make gorgeous needle minders. Make sure that the back of your buttons has flat sides where you can glue the magnet. If your button has a shank, like most covered buttons are, remove or flatten it before gluing your magnet.
Small plastic toys just lying around the house can be given another purpose by using them to create cute and funky needle minders. To serve well as needle minders, they have to be thin and flat and can attach to the magnet using a strong glue.
Wooden needle minders also make inspiring embellishments on your fabric as you work on your embroidery or cross-stitch project. You can use small wooden refrigerator magnets, key chains, or laser cut wooden discs as needle minder decorative top as long as they are flat and thin.
Cabochons are famous materials to use in making needle minders. The variety in designs will make you want to own many needle minders even if you only need one. You can find different shapes, styles, and designs online and in some craft shops. Because of its variety in designs, cabochon needle minders will make great gifts for your stitching friends.
Some charms and enameled pins can be the perfect decorative base for your needle nanny because most of them are usually petite and attractive.
Pick your magnets.
You need two tiny magnets to make your needle minder work. One magnet is attached to your decorative piece, which has the duty of holding on to your needles. The other magnet, which is placed at the back of your fabric, holds your needle minder in place.
Choose magnets strong enough to hold each other together while keeping your needles safe from getting misplaced on top of your embroidery or cross-stitch fabric.
Crafters use two types of magnets to make magnetic needle minders: neodymium or rare-earth metal magnets and ceramic magnets. Most needle minders use the neodymium magnets because they are the stronger type and are usually coated, so they do not leave any residue on the fabric and protect the magnets from breaking.
Ceramic magnets, on the other hand, are cheaper and easily accessible but not quite as strong as the rare-earth metal magnets. They can also sometimes leave black marks on your embroidery or cross-stitch fabrics that can be annoying, especially if it is an area exposed when you frame your work.
Whichever type you decide to use for your needle minder, make sure that your magnets are strong enough to hold on to each other and the needles they are meant to secure.
Glue your materials together.'
When assembling your needle minder, you need a strong glue that will keep your decorative piece attached to your magnet. You will have to separate the magnets each time you transfer your needle minder, so you need a strong enough glue that the design piece and the other magnet will not come undone.
Most crafters use E-6000 for projects which need heavy-duty gluing. Squeeze a small amount to cover the base of your magnet. A small amount should be enough to join the two parts together and to avoid smearing too much glue on the design. Wait for the adhesive to cure for several hours or overnight before using your needle minder. Doing so will spare you the time to re-assemble if it comes off quickly and also avoids the risk of getting glue on your embroidery or cross-stitch work.
Test your needle minder.
Now, check if your needle minder is effective. Place the magnet with the decorative piece on your fabric's surface and put the other magnet on the other side of the fabric just below the first magnet. Take the needle minder on and off a few times and give it a shake to make sure it will stay in place.
Place a few needles on the decorative piece and give it a little shake. If the needles are kept in place, your needle minder is doing its job. Well done!
A needle minder is a cute and convenient accessory that anyone who sews, cross stitches, or embroiders must-have—no more worries of having random unnecessary holes on your fabric when you are out on a stitching break. With your needle minder, you will have no more problems losing your needle on the furniture, clothes, or the carpet. Your needle nanny keeps your needle exactly where it should be when you put your work aside if you are done stitching for the moment.
A needle minder is so easy to do and makes creative use of materials set aside or thrown away. A needle minder can also be an excellent gift for friends who also stitches, who may have no idea yet what a needle minder is. Give away your homemade needle minders and spread the word.