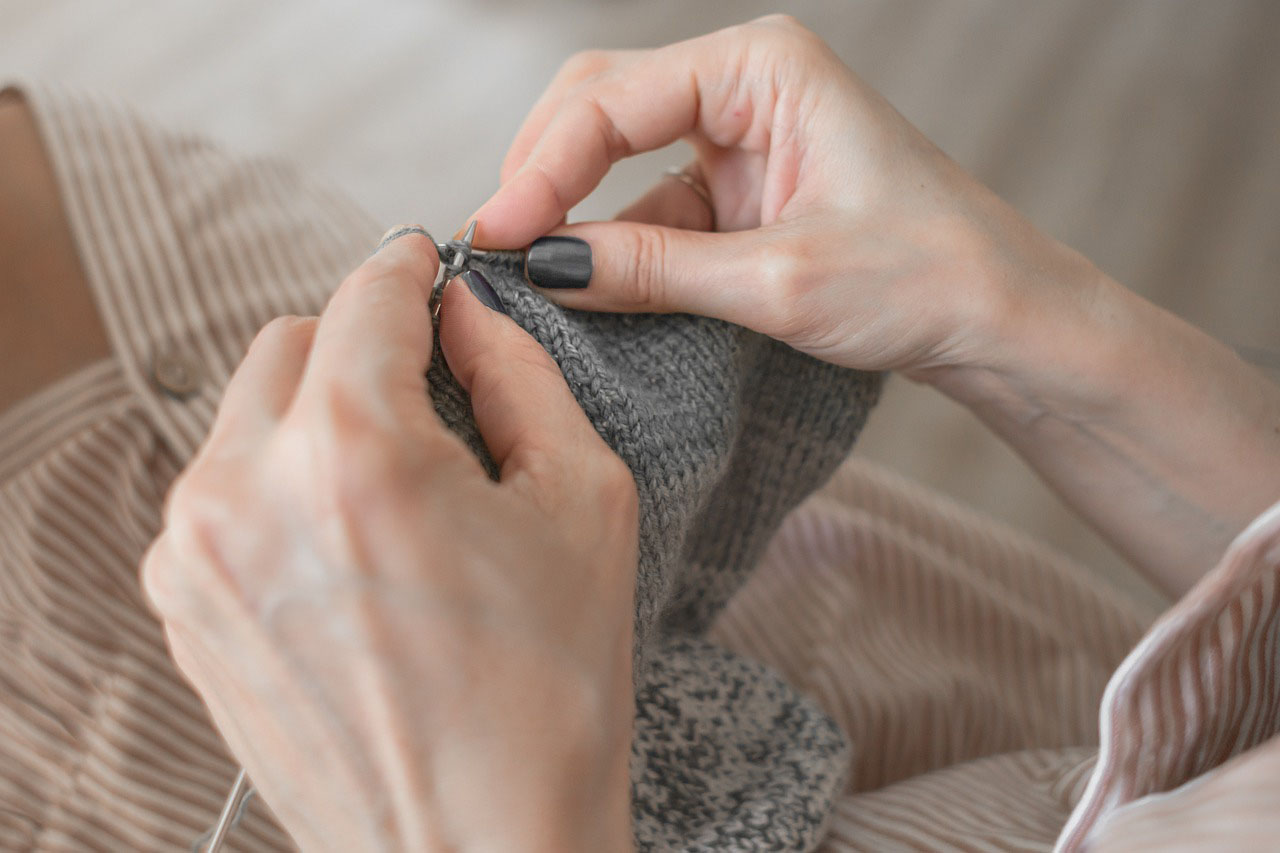 Most courthouses prohibit jurors from bringing knitting materials like needles, scissors, clippers, and pocket knives. Nevertheless, you can still knit during jury duty if you are resourceful and use alternative tools to pursue your knitting projects.
Courthouses have different rules regarding the things you can bring during jury duty. You can call ahead and inquire about your state courtroom website and see the list of prohibited items for the jurors.
To avoid offending the courtroom, you must know the things you should do and not do while attending to your jury duty. As a general rule, here are the things you must always consider:
Always obey courthouse officials
The courthouse or officer on duty may determine whether you may get your knitting tools past security. Many knitters have reported that they received permission to bring their tools inside. Meanwhile, officials told others to leave them with security.
Depending on your courthouse officer, you may or may not bring materials for knitting. Follow them, and abide by their rules. You can bring tools you are willing to let go of if the courthouse confiscates the knitting tools.
Always use a proper knitting needle
You may pass through a metal detector when entering the courthouse. It is safe to bring non-metal knitting, so it can not trigger the metal detector's alarm. As a result, the security officer can let you obtain the tool in the courtroom.
Try using an alternative tool
Knitting needles tend to be sharp and might not pass the security, so it is best to use an alternative tool during jury duty. Cutting tools like scissors, even if blunt-tipped, will almost certainly be forbidden in a courthouse.
For this, you can use nail clippers instead. Most courthouses permit them. If there is an incident where your courthouse does not allow nail clippers, you can purchase yarn-cutting pendants.
These tools are round blades that you can use as a standard pendant, giving it the appearance of a massive piece of jewelry.
A third discrete option is to pack a small container of dental floss with a metal bar on top for cutting the floss. You can use this handy tool to cut your yarn.
Knit During Jury Duty – What to use when you don't have knitting needles?
There are plenty of alternatives for knitting needles. You can use pencils, chopsticks, and so much more. These tools can pass the security check in public spaces and even in a courtroom.
If you're looking for non-metallic knitting needles that you could bring during jury duty, you could also consider these options:
Pencils
Even if you're caught somewhere without your knitting supplies or are in a place where knitting needles are prohibited, chances are you can find a couple of pencils to use as alternatives. They are also available in the elusive 7 mm size midway between a US 10 and a US 11.
Chopsticks
I've known several knitters who learned to knit with chopsticks! Because they have a lovely, tapered point, rounder yarns are more manageable to work with than squared yarns. However, note that chopsticks have various gauges because of their form, which might affect your knitting.
Toothpicks or Skewers
Bamboo skewers, which you can find in almost any grocery shop, are around the size of a US 2 or US 3 needle. On the other hand, toothpicks are US 0 in size and double-pointed, making them ideal for knitting small projects.
Fingers
If you want to be 100% sure that the courthouse security will not confiscate any of your knitting tools, you could try using your fingers instead.
Finger knitting is a pleasant and productive activity. It's simple and enjoyable for the entire family! When you finish, you'll have a lovely knit garment that you may use in various ways, such as a key ring, hair ornament, belt, or bag handle.
Can You Use Pencils as Knitting Needles?
Knitting needles are generally tapered sticks. So, you can use pencils as knitting needles alternatives. They are one of your best options and are relatively easy to use for knitting.
However, it is best to consider some dangers to avoid when knitting using unconventional needles such as a pencil. Choosing the wrong pencil or neglecting to select the correct yarn can quickly transform your project into a tangled mess.
Choosing a Knitting Pencil
Knitting with pencils is simpler than you may think. To knit with pencils, you will need two pencils that are roughly the same size and are smooth on all sides.
If you use an old pencil with missing bits, your yarn may grab onto its surface, which could ruin your knitting. You should also ensure that the pencil is sharp but not too sharp.
You will also need pencils with tapered ends to make it simpler to knit. However, you must be careful not to make your pencils very sharp because they can hurt you while knitting.
Knitting with Pencils
Choose two pencils to use for knitting.
They should be the same or nearly comparable pencils. Two pencils of varying sizes will result in uneven rows.
Sharpen your pencils to have tapered ends.
Make sure to do this step because it could make your knitting much easier! You may also wish to remove the lead at this time to avoid staining your yarn.
Cast onto one of your pencils.
Cast on to your pencil as you would any other knitting needle.
Start knitting.
Knit how you usually would. Because pencils are much shorter than particular knitting needles, I suggest using them for smaller tasks.
Tips on Knitting Using Pencils
Check that your gauge is accurate.
Knitting needles must be coupled with a specified yarn weight to complete a project successfully. So, when knitting with pencils, it is best to compare your pencil's size to needles to determine the gauge.
Use stoppers to ensure that your knitting will stay on your pencils.
If you're using a pencil when knitting, I recommend applying strong craft glue on the ends to prevent your yarn from falling off and marking your product.
Keep an eye out for snags!
Since you would most likely use wooden pencils, making sure their surfaces are as smooth as possible would be best. You wouldn't want your knitting to get caught and ruin your project.
Use cheaper yarns.
Purling and knitting with different knitting needles can be a lot of fun, but your result is unlikely to be the belle of the ball. So, I suggest using cheap yarn options or even scraps when knitting with pencils.
How Do You Finger Knit?
Knitting is a very versatile activity. You can finger knit by weaving thick cords four stitches wide, then utilizing those cords to build various items. You can always finger-knit even if you do not have knitting needles.
Finger knitting is a fun activity for adults as well as children. Because you work on the stitches with your hand, you can carry this craft everywhere as long as you have some yarn – even in courthouses!
Working with bulky yarn offers the best results, but you may achieve a similar look by holding two strands of worsted-weight yarn. One strand should work, while the knitted cord is much looser and lacks the solidity that some crafts require.
Tips on finger knitting:
Start knitting your first stitches
To start finger knitting, you will place your non-dominant hand in front of you, palm facing you. Hold the yarn's end with your thumb and work it behind your first finger and in front of your middle finger. Then, do the same behind your ring finger and in front of your pinkie.
After doing so, you should have a woven yarn behind your pinkie and in front of your ringer finger. You should also have the same result behind your middle finger and in front of your pointer finger.
Next, you will knit the yarn across your fingers and back again for each row, producing a loop of thread on each finger.
Begin your second row
Start with the second row of loops on your fingers by weaving back and forth, beginning with the pointer finger and finishing with the middle finger. Please pay careful attention to your working yarn, as it may fall from your hand and ruin your entire project.
Return the yarn, knit, and loop again
Starting from your pinkie finger, you will lift the lowest loop closest to your palm over the end of your finger. Then, repeat as you work your way toward your pointer finger.
To simplify, you can take the loop of yarn off and bend the tip of your finger. You may need to relocate your stitches closer to your fingertips, but be careful not to let the upper loop slip off your hand.
Weave and loop again
Take your working yarn and weave it back and forth across your fingers, beginning with your pointer finger. Note that you should have two loops when you return to the beginning. Then, lift the lower loops over the higher ones and take them off your fingers again.
After a few rows, you must carefully pull the starting end of the yarn down to see the knitted cable form. When you flip your hand over, the right side of the knitting should face the back of your hand, while the wrong side is visible.
Pause and prepare your yarn
Use a long, thin instrument, such as a pencil, if you want to take a break. Move it through each of your finger loops, and slide it in the same direction for each loop.
Remove the loops from your fingers while they remain on your placeholder. Then, when ready, slide each stitch back onto your fingers and return to your knitting, noting that the right side should face the back of your hand.
You should also note that yarn weights and styles alter the appearance of the finger knitting cords. So, I suggest experimenting with different yarns to discover what you like.
Tie the ends of your knitting together
Making jewelry or headbands out of your finger knitting is also fun! You can work a piece long enough to wrap around your wrist to produce a finger knitting bracelet.
To make one, you could bring the ends together and tie a knot with the yarn ends after you have secured or cast off the stitches. Next, weave the thread through the stitches' ends and back.
Is it okay to knit in public?
It is okay to knit in public, but you must be mindful of your surroundings and the people near you. You can choose a quiet environment like a park if you want to knit in public.
However, some knitters choose to knit inside a movie house or in crowded areas that might offend people. It is best to read the surroundings before pulling out your knitting materials. Some people might find it impolite, especially in a crowded room like a community meeting.
Make sure that when knitting in public, it cannot cause any distraction to others. It would help if you also considered the energy of the surroundings and the vibe of the people. Some crowd is okay with this scenario, and some are not.
Use your best judgment if the perception of not paying full attention to what's going on influences the spirit of the moment when you should be reflective, attentive, and solemn.
You would not want to impair someone else's capacity to pay attention. So, it is generally best to be mindful of your environment, including the setting and the people.
Related article: