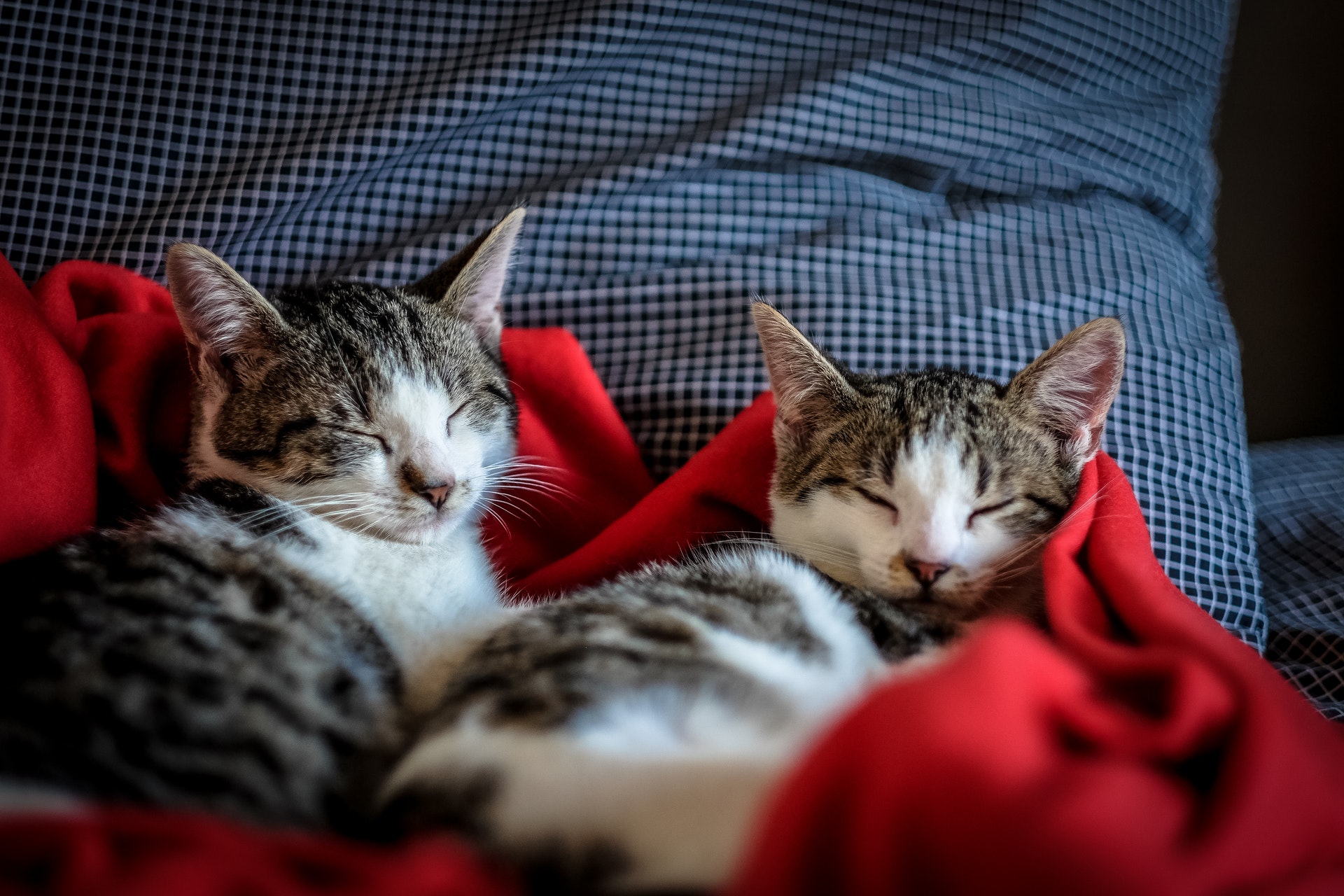 Cats love balls of yarn; there is no doubt about it. You love your cat as well as you love crocheting. But is your acrylic yarn safe for your cats?
Acrylic yarn can pose a danger to your cat and vice versa. But everything will be well and good if you keep your cat and your crocheting supplies away from each other.
Kidding aside, a harmless acrylic ball of yarn or any string can cause some severe problems to your cat. So, it is crucial to understand the risks and find safer alternative toys for your feline pet.
Why do cats like balls of yarn?
Cat lover or not, you can admit that a cat chasing a ball of yarn is an all too familiar scene. It may look quite a cute act to play with yarn with your cat over and over again. But it can become frustrating when your cat damages the yarn you were meant to use on your crochet project. And what's more, your kitty is at risk for getting into trouble with a ball of string.
Why, indeed, do they like balls of yarn? Science points to a cat's attraction to the yarn being rooted in its natural hunting instincts. Cats in the wild survive by catching their prey. They also defend their own territory from other animals who may be interested in the same prey.
A rolling ball of yarn elicits the same predatory instincts of a cat when it sees a mouse or a bird in the vicinity. Science experts also consider that dangling or untangling yarn reminds cats of snakes. Snakes happen to be their top predators for the same prey in the wild. You know now why your cats attack your ball of yarns like that.
So, it is clear to you now why your cat is after your crochet yarn stash. You might want to keep it away from your pet. At the same time, keep your cat safe from these bundled strings. If you want to secure your yarn and your cat, it is important to find other toys for your cat to pick on.
What happens if a cat eats yarn?
Cats get attracted a lot by yarns and strings. Yarns fascinate cats because these unraveling balls of strings make them think of snakes they want to capture. Pet cats playing with yarn may look adorable but may pose a big risk for your pet's health.
Here are some indications that your cat may have eaten some yarn.
Biting on some yarn may be interesting for cats but can be quite dangerous. Chewing on yarn can cause your cat to choke by having a piece of yarn lodged at the back of its mouth. If a cat chokes on yarn, it should be removed immediately.
Your cat may eat yarn and items other than food. The problem in ingesting yarn is that it can end up in the gastrointestinal tract. Swallowing a foreign body such as a yarn can induce your cat to vomit.
If your cat ingested a string, it might have difficulty swallowing. Cats who eat yarn may have it stuck under the tongue, which is very difficult to see. When you see your pet cat drooling or licking its lips more often than usual, it may have eaten string.
Your cat may also exhibit a loss of appetite or lethargy if the yarn stays stuck to its tongue or in the gastrointestinal tract longer.
Cats playing with string or yarn are bound to swallow some parts of it sooner or later. If a cat eats a long piece of thread, it can get looped around the tongue and get stretched out through the gastrointestinal tract. Swallowing a linear foreign body such as yarn or string can lead to gastrointestinal obstruction.
Gastrointestinal obstruction can become a severe condition for your cat. If the string or yarn gets stuck anywhere in the cat's intestines, its digestive system will have difficulty functioning. The cat will naturally want to expel this foreign object. But if the string is too long, it might just bunch and twist inside the digestive system.
The yarn may also cut through intestinal walls, causing more severe problems such as abdominal infections.
Cats playing with yarn are prone to entanglements. Cats can be quite rowdy with strings, and their legs, feet, or tail can get entangled in knots of yarn. When your cat gets tangled up in yarn, blood may not be able to flow freely in that area of its body. If the yarn is not quickly removed, pain and swelling in constricted regions may lead to tissues dying.
What do you do if your cat eats yarn?
You see your cat just lingering around your crochet supplies, and then eventually, it is running around with an untangled ball of yarn. Then, your cat chewed a part of it. And you have no idea how much string your pet cat swallowed.
If your cat ate string or yarn, what is the best thing to do? Here are a few recommendations from vets to keep your cat out of danger after eating yarn.
You must call your veterinarian when your cat swallows yarn or any string-like objects. Set an appointment with your veterinarian immediately because ingesting string is a serious risk to your pet's life.
Your cat may have a gastrointestinal obstruction, which can become a serious situation when a vet does not treat it quickly. The string inside the body may cut through the intestines and leak some bacteria into the body, which can be extremely harmful and lead to death.
Monitor your cat's behavior.
Most cats who eat yarn would not show early signs of distress unless it ate a big chunk of yarn. If your cat shows signs of vomiting, poor appetite, shaking, heavy panting, or seizures, bring your cat to the veterinarian as soon as possible.
It would also be best to check the back of your cat's tongue. It is the area where the string commonly gets lodged. If you can see the string and can pull it without any resistance, you can gently try to remove it from your cat's mouth.
Never forcefully pull a string or any object from your cat's mouth or anything dangling from its rectum. Doing so may harm internal organs that got entangled with the string.
If you observe any kind of abnormal behavior in your cat after swallowing string, your vet is the only expert who can help you. The veterinarian can tell you if there was an intestinal blockage or not. Your vet may ask you to have some medical tests done on your cat, depending on the symptoms it is showing or how long the yarn is inside your pet's abdomen. Some of these tests are bloodwork, endoscopy, radiography, or a complete physical exam.
Your vet might also try induced vomiting in the hope of removing the yarn more comfortably. But it is safer and more possible for your vet to give IV fluids for hydration and surgery to remove the string from your cat's gastrointestinal system. The vet may also be able to check if there is a need to remove any damaged parts of the intestines.
The vet is also the only person who can give medication for pain and whatever abnormalities that your pet cat is experiencing due to ingesting string.
More pages:
What kind of string is safe for cats?
Any kind of string or yarn is not safe for cats to play with. Cats can easily swallow yarn or any string-like items. Cats have these tongues covered in backward-facing barbs that make it hard for them to spit yarn, string, and similar things. It would be best for your pet's health and your peace of mind if you find better alternative toys other than a ball of yarn.
It may not be possible to separate cats from strings. So many things in the household have strings, like curtains, rugs, clothing, blankets, shoelaces, needlecrafts, and floss, to name a few. None of these things are safe toys for your cat. You can play with such toys with your cat; make sure that you put them away after playtime in a place that your cat cannot reach.
Instead of encouraging your cat to play with any string-like objects, provide safer cat toys that can give them equal fun and challenge. Your cat can play with fake mice, small stuffed toys, catnip toys, small balls, and any toys that they can carry or push around than swallow. But check for any loosely glued parts or anything that may be a potential choking hazard.
You can give your cat thick, soft pulls to play with, such as your bathrobe belt. Cats like to chase and hold onto things they caught. Soft pulls can be fun to play with but will be harder for your cat to swallow.
Giving your cat other toy options than strings keeps your yarn stash secure and your cat safe and happy as well.