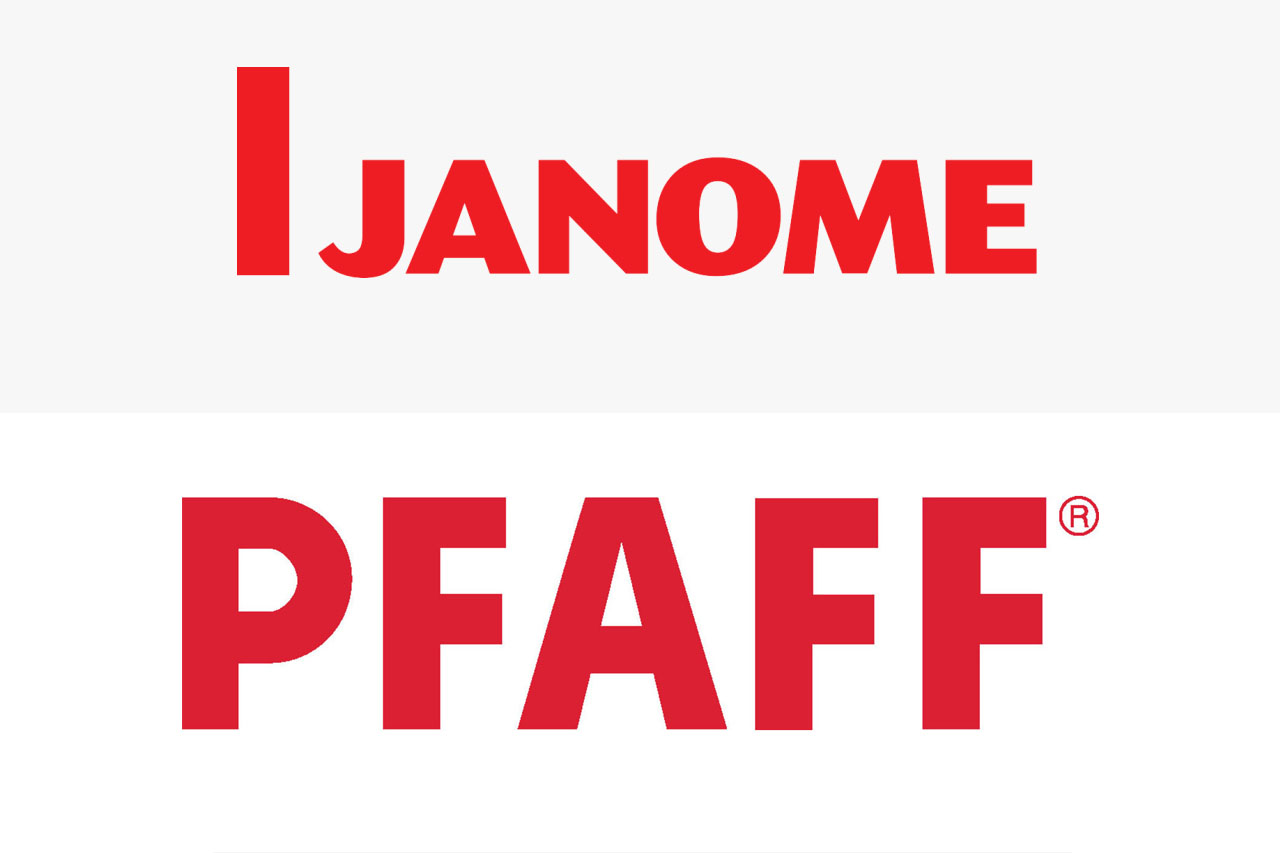 Are you a newbie in sewing looking for a trusted sewing machine brand (Janome vs Pfaff) or a sewing expert looking for an additional sewing machine to your tried and tested first sewing machine?
Janome and Pfaff are two of the most popular and reliable sewing machines in the market today, and it would be good to know the multiple benefits of each brand. It is best to know the pros and cons of each brand to get the sewing machine that would suit your needs best.
In a nutshell, the Janome brand is known for its wide range of sewing machines available; there is one for a beginner, mid-level, and expert at sewing with a wide range of costs that would fit anyone's budget. On the other hand, the Pfaff brand is famous for its dual fabric feeding system.
If you are a newbie sewist, one of the Janome sewing machines may be a good one to upgrade your skills, but if you are a pro, trying out one of the Pfaff computerized sewing machines can help boost your creativity and productivity.
Janome Sewing Machine (Why is it a Good Sewing Machine?)
Janome is a well-known brand in the sewing industry. The brand is famous for producing quiet, reliable, and capable sewing machines. Janome offers beginner sewing machines for those with newbie skills but has machine models fit for more advanced sewists.
Janome started under the name Pine Sewing Machine Company in Japan in 1921. The company was founded by Yosaku Ose, the inventor of the round bobbins we use today. The bobbins remind the Japanese people of a snake's eye or what they call "Janome" in Japanese.
The round bobbin shape was such a big hit that Janome was established as a Trademark in 1935. In 1949, the company name was officially changed to Janome Sewing Machine Company.
Janome purchased the American sewing machine brand "New Home," founded in 1860, to expand to the US.
Janome sewing machines are beginner-friendly and easy to operate. Newbie sewists will benefit from the simplicity of the Janome sewing machine. Janome is a famous brand worldwide, with its sewing machines sold in many parts of the world.
Janome sewing machines usually come with a 25-year limited warranty, except for the electrical and electronic equipment you can find in the sewing machine, which has a 2-year warranty. The labor for the repair of the sewing device is covered under a one-year warranty.
Pfaff Sewing Machine (Why is it a Good Sewing Machine?)
The Pfaff sewing machine brand is famous for its industrial qualities and precision, letting you enjoy your sewing machine for many years to come. The brand is highly-known for its unique built-in dual fabric system called IDT (Integrated Dual Transportation).
Pfaff sewing machines are usually the best option to upgrade from your first primary sewing machine. With the assistance of the IDT system, you can stitch the most intricate and exquisite quilts. Pfaff was founded in 1862 by instrument maker Georg Michael Pfaff in Kaiserslautern, Germany.
The first Pfaff sewing machine was handmade; since then, Pfaff has continued to modernize and innovate the succeeding Pfaff sewing machine models.
Pfaff manufactures beginner models, which are mechanical sewing machines. They are called the Smarter Series, which comes with around 20 stitch types, automatic one-step buttonholes, and reverse stitching capability. These beginner sewing machines need the IDT system, which Pfaff is most known for.
Middle-range models of Pfaff sewing machines are all computerized and have the most coveted IDT system. They also have more advanced sewing features than the starter models.
Special features included are automatic needle threading, automatic thread cutting, a wide variety of stitch types, speed control, multiple one-step automatic buttonholes, and needle up/down programming. The mid-range Pfaff sewing machines are Passport, Ambition, Expression, and Performance.
The Pfaff high-end machines are the Performance Icon or Creative Icon. They come with touch screens, massive workspaces, and needle-piercing power that is way beyond what a regular domestic sewing machine can.
The first Pfaff sewing machine, the Pfaff 1222, with the dual fabric feeding system, was released in 1968. Most Pfaff sewing machines have this unique feature that helps the machine feed the fabric more evenly.
Pfaff is a premium brand that costs more than regular domestic sewing machines. Pfaff mostly makes computerized sewing machines. The company also produces some mechanical models, sergers, cover stitch machines, advanced embroidery machines, and long-arm quilting machines.
The Pfaff brand offers sewing precision through its high-performance machines. The company takes pride in its fine craftsmanship and German precision. The quality that differentiates a Pfaff from other regular sewing machines is its unparalleled ease of operation.
In 2006, Pfaff was bought by SVP Worldwide alongside Husqvarna Viking and Singer. The company currently manufactures sewing machines in China.
Is Janome better than Pfaff?
Janome and Pfaff are great brands on their own; they are must-haves for sewing enthusiasts around the globe.
Janome and Pfaff are two of the world's leading brands in sewing machines.
But to help you decide which one would work best for you, you should know the differences (and similarities) between these two popular brands.
Basic Features
For a newbie in sewing, it would make sewing easier for you if your machine had basic sewing features like an automatic needle threader, speed control, or automatic buttonholes.
Pfaff has these basic sewing machine features to make sewing more manageable and enjoyable.
The computerized sewing machine models of Janome also have time-saving features such as an automatic thread cutter, automatic threader, and a start/stop button, to name a few.
Product Quality
Regarding product quality, Janome and Pfaff are long players in the sewing machine industry. However, some sewists wonder if the quality of Janome because the company produces a wide assortment of sewing machine prices, from low to high range.
But leave your worries behind because Janome provides a product warranty of 20 – 25 years, proving the long-term quality of a sewing machine that you deserve.
Similar to Janome, Pfaff keeps the same when it comes to product quality. You are sure to get the quality sewing machine that you deserve.
Brand Value
Janome and Pfaff have both made a mark in sewing machine production globally. Both popular brands are known to have quite a following in their respective customer base. These two leading sewing machine brands remain high earners for their various sewing equipment.
Budget
Speaking of value for money, Janome and Pfaff deliver according to price. Both brands have different price ranges suitable for beginners and sewing experts. Although, many sewists consider the Pfaff brand on the higher end of the spectrum.
The price range of Janome sewing machines is $100 – $6000, while Pfaff can range from $350 -$15000. Whatever your budget dictates, you will find one from Janome or Pfaff that best suits your needs.
While Janome is known to carry sewing machine models that would range from low to high range of prices, Pfaff is known to have higher-end sewing machines.
Stitch Options
The number of stitches accessible on a sewing machine is usually one of the first things most sewists consider when looking for a sewing machine. But the truth is that the type of stitches a machine has is more important than how many stitches there are in a sewing machine.
It would be best to determine first what kind of stitches you need for your sewing projects. The straight stitch and the zigzag stitch are the basic stitches most standard sewing machines have. Then, you can check if the sewing machine you wish to buy has those stitches.
The number of stitches a sewing machine has sometimes depends on the price of your sewing machine. Usually, the more stitches you can enjoy, the more expensive your sewing machine is. Janome and Pfaff are two leading brands offering a wide variety of stitches for more artistic and creative projects.
Service and Warranty
Service and warranty are essential factors that also help you determine which sewing machine brand to choose. Pfaff offers a 2-year international warranty and an extended 5-year warranty for UK customers.
On the other hand, Janome has a 25-year limited warranty, with a 2-year warranty for the electrical and electronic equipment in the sewing machine. The company offers only a one-year warranty for the labor to repair the sewing machine.
FAQs
Are Pfaff sewing machines good?
Pfaff is a good sewing machine brand, and it is of European quality, which is meant to last a very long time. Pfaff has sewing machine models suitable for a newbie to an expert sewist. Its unique built-in feature is the dual-fabric feeding system which can help sewists feed the fabric through the machine quickly.
Is Pfaff owned by Singer?
In 1999, Husqvarna Viking purchased Pfaff from the original company owners. Then, in 2006, the owner of Singer acquired Swedish VSM Group, the owner of Husqvarna Viking and Pfaff. The acquisition of these companies resulted in the creation of SVP Worldwide, which now carries the Singer, Husqvarna Viking, and Pfaff brands.
Are old Pfaff sewing machines good?
The old Pfaff sewing machines are great for household sewing and professional work. These vintage Pfaff sewing machines are reliable and sturdy workhorses offering precision, power, and durability because of their mostly metal parts and superb engineering.
What is the best Janome sewing machine to buy?
The best Janome sewing machine to buy is the computerized sewing machine 3160QDC. It offers balance and stability for beginner to expert sewists. Its high-speed settings, automatic assistance, and precise control can benefit you. Know that this machine is the best one to accommodate your sewing needs.