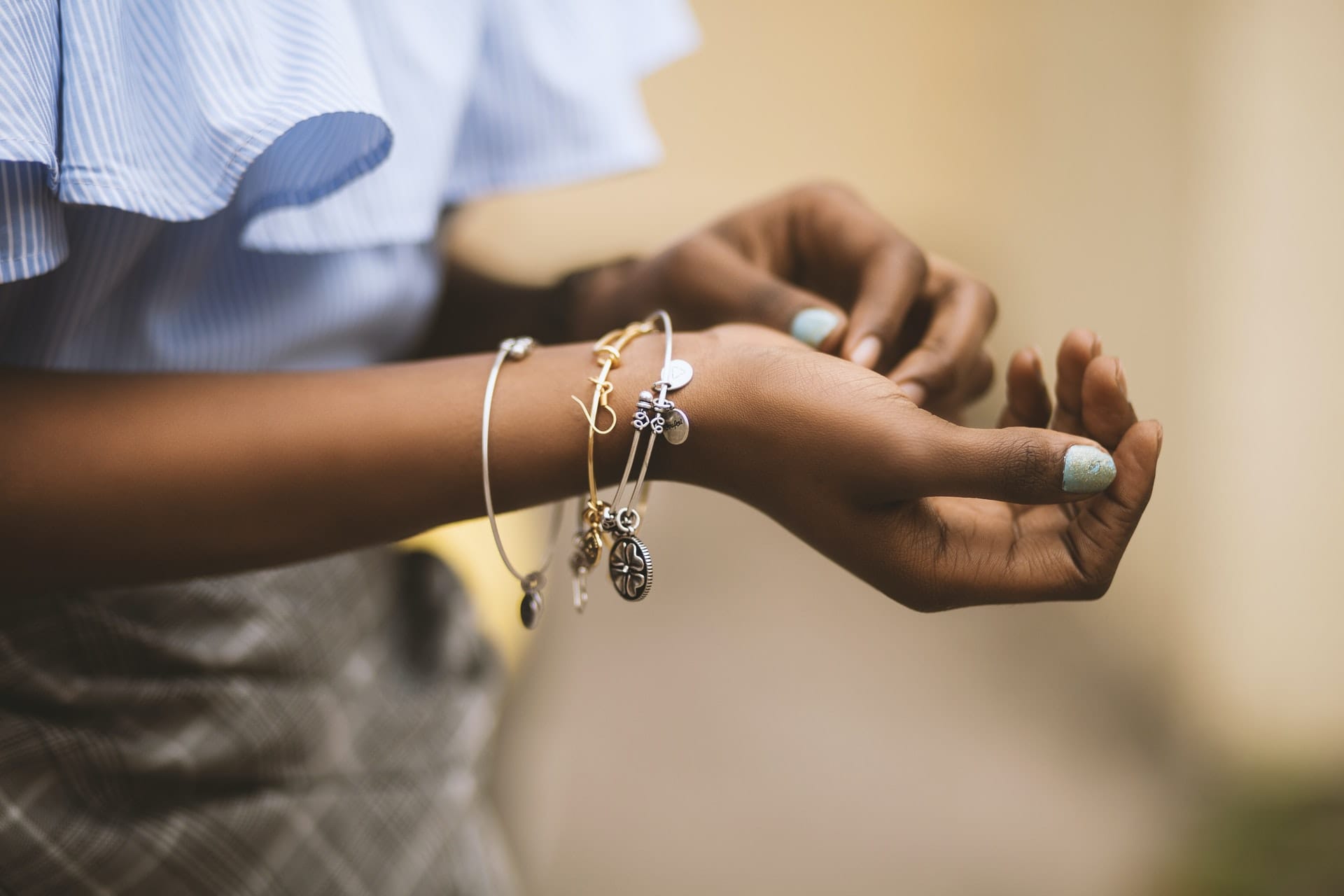 Headpin earrings, little bead rings, and other jewelry pieces made with crystals or unusual gemstone beads can cost up to $20.
Wire-wrapped crystals, more elaborate earrings, regular cab, and pendants cost around $25 to $50.
Specialty items can cost up to $90 or more.
What is needed for wire wrapping?
Although it is okay for beginners to start with a few essential tools, it is still best to get as many necessary materials as you can. Doing so will help you focus on your work without interruptions of looking for the things you need.
Keep in mind that you as you progress, your tools and other materials will accumulate. So what you need to invest in are the essential tools like pliers, cutters, wires, and such. Follow this guide to know what you will need for wire wrapping.
Wires. As you already know, without your wire, you cannot wrap any pieces of jewelry. If you are a beginner, copper wire is the best type of jewelry wire to use.
Pliers. Many believe that you can never have enough pliers when you are wire wrapping jewelry pieces. There are several types of pliers too.
a. Round nose pliers
Round nose pliers will help you bend wires smoothly and create jump rings, loops, and other jewelry findings.
b. Snipe nose pliers
Snipe nose pliers, or chain nose pliers, are excellent for bending wires and metal sheets. Its tapered jaws make them perfect for closing stainless steel jump rings and crimps.
c. Flat nose pliers
Flat nose pliers have broad, flat jaws that are excellent for gripping wide surfaces, opening jump rings, and bending angles.
d. Nylon jaw pliers
Nylon jaw pliers help you straighten out your wires when they accidentally get bent. They are perfect for this task because they will not leave scratches or damages to your work.
e. Half-round pliers
Also known as ring-bending pliers, half-round pliers are perfect for quickly bending curves in flat or D-shaped wires. The half-round cross-section on one of its jaws is excellent for curving and forming. While the other flat jaw helps you prevent marking the metal that you are using.
Cutters. These tools are perfect for cutting your wire since a pair of regular scissors or a knife could not do the job.
a. Flush cutters
This type of cutters provides even and unbroken cuts to your material for a clean design look. They are perfect for cutting, cable-style beading, soft wire-wrapping, and hard wire-wrapping wires.
But you cannot cut flush both ends of your wire because they have angled jaws. You can only flush cut the flat side of your wire, while the remnant will have an angle cut.
b. Side cutters
Side cutters are useful in cutting soft wire-wrapping wires and precious metals.
c. End-cutting nippers
Also known as end cutters, end-cutting nippers work best with cutting the post off ear studs or trimming a flat pad's peg. These nippers can cut cable-style beading wires, soft and hard wire-wrapping wires, thick posts, pegs, and wires.
d. Stringing wire nippers
This type of cutters is perfect for cutting steel-reinforced thread wires and soft wires such as a copper wire.
e. Shears
Shears are ideal for cutting dead-soft wires, hard wires, headpins, sheets, and precious metals.
f. Memory wire shears
This type of shears is excellent for cutting hard wires such as stainless steel memory wires.
Hammers and mallets will help you strengthen your base frame wire.
a. Chasing hammer
A chasing hammer or a repousse hammer is the perfect tool to create texture on your jewelry wire. You can also use it to flatten wires up to 1.5mm.
b. Jewelers hammer
This type of hammer is excellent for gently tapping your designs to make it a little bit harder.
c. Rawhide hammer
Rawhide hammers come in handy when your work becomes warped, and you want to flatten it back into its original shape.
Rulers are for accurately measuring the wire that you need to cut for your jewelry piece.
Pens or markers are useful for marking your wires for cutting or bending.
Files or sandpaper will help you gently smoothen the edges so the wearers of your jewelry can use them safely.
What is the typical markup on jewelry?
The standard retail markup for jewelry is double the cost of purchase. The markup could be around 100 to 200% of the original price. If, for example, you made jewelry for $50, you can probably sell them for $90 to $140.
The markup on jewelry can vary widely, considering the many categories within the industry. Market prices for materials and labor costs can significantly impact what a jeweler can expect to earn. Jewelry pieces with precious stones such as diamonds will have higher markups because of the stones' nature.
How do you price handmade jewelry?
You can use a simple formula to figure out the right price for your handmade jewelry items:
materials + overheads + labor + profit percentage = wholesale price + profit percentage = retail price
Ensure that you consider all the materials and other costs, such as threads, wires, and findings for every piece you make. Be careful not to overlook these materials as their prices are also essential to consider.
You may also include the cost of delivery and packaging. It would be best if you keep notes of every minor detail so you can refer to them later and quickly come up with your calculations. But, remember that you need to add your tools' cost to the annual overhead instead of the materials.
You should also remember to add overhead costs. it includes any general running costs you regularly pay to keep your business running. These costs are not directly related to your jewelry items, but they significantly affect your business.
You must consider your overhead costs because you might lose a significant amount of money if you do not include them in your pricing. They may consist of rent, internet fees, postage, trade fair fees, marketing, and website fees.
Sum up all these costs together so you can figure out how much you are spending and how much you need to cover for these costs.
Labor costs are also vital when pricing your handmade jewelry items. It is the amount that you want to charge for the time you spend on making your pieces. The simplest way to decide on your labor cost is to come up with an hourly rate and then calculate the amount of time it takes to finish a design.
You must know how long it takes to create a piece of jewelry to know how much you need to add to your costs. Adding an hourly rate ensures that you are valuing your time correctly.
You could also note the time you spend doing admin tasks, such as paying bills, delivering packages, and answering queries. They must be all accounted for within sales.
After you compute for your labor cost, overhead fees, and cost of materials, you will have to add some profit. Make sure that your prices are reasonable so your customers would not complain, but avoid underselling yourself. Keep in mind that you work hard for every jewelry piece that you make.
When you finally compute for your wholesale price, you need to add a little more profit to figure out the most reasonable retail price. You need to charge around 1.5 to 2 times greater than your wholesale price. Remember that you should come up with a value that will make both you and your consumers happy.
Your customers and the way they value your products are other factors you need to consider. Identify your target customers and make sure you are not selling your jewelry items too low. People usually take low prices as a sign of low-quality products.
You also need to check your pricing against comparable jewelry items. You can review online jewelry sites or stores to see how much products usually sell for. Appraisers are also helpful for selling gemstone jewelry pieces. They look at your items and come up with a fair market value.
If somehow your jewelry items are not selling well in the market, it is usually better to change your design than to lower your prices. But if your items sell well, you can further increase your cost. People offering to buy your items is a good sign of the marketability of your jewelry.
Also read: 
Does handmade jewelry sell well?
Your handmade jewelry will sell well when you sell them on online marketplaces such as Amazon. It is a giant online space that already has the trust they earn from millions of customers. They also get massive traffic every month, so there will always have potential buyers.
You can save money by paying a small fee per listing that comes with lots of marketing. But there are still many competitors on online marketplaces. So you can also choose to sell on other platforms such as social media.
You can post your jewelry items on Facebook's Marketplace or on Instagram, where millions of sellers usually sell their items. It is a simpler solution for selling your handmade jewelry. But it is more challenging to generate leads.
You can also try posting your items on social media and online marketplaces to sell them better. It all depends on your market strategy.