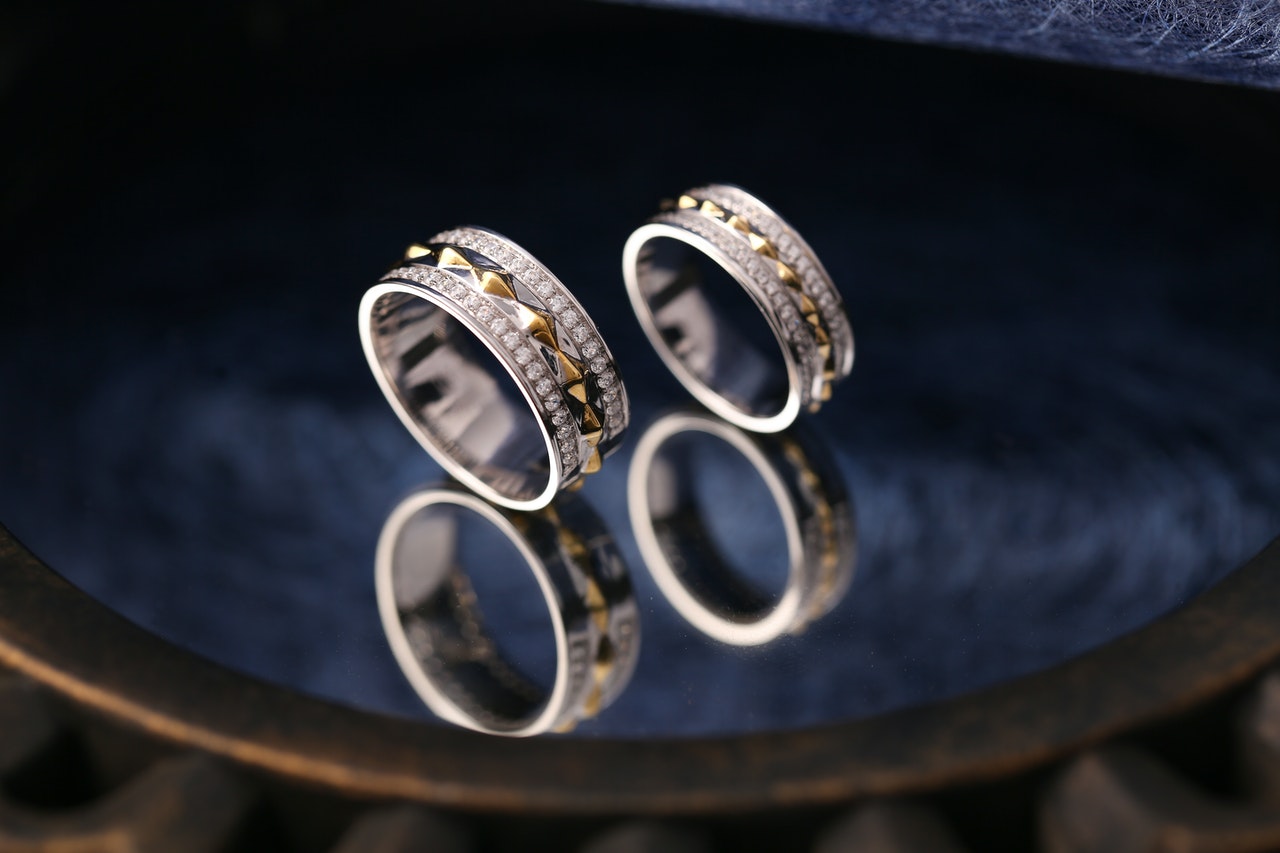 Corrosion resistance is one of the reasons why zinc alloys are popular in jewelry making. Zinc is essentially rustproof, but its alloys can tarnish and discolor because of various factors. These factors include:
Metal content
Finish
Exposure to chemicals
Exposure to harsh environments
Zinc naturally forms a protective zinc carbonate layer. This barrier keeps out the moisture that speeds up the corrosion process. But, zinc alloys contain corrosive metals too. So zinc alloy jewelry may eventually rust at a meager rate, depending on its environment and contents.
How to clean zinc alloy jewelry?
Zinc alloys are a popular option for jewelry making because they are beautiful and versatile. But, like other jewelry, it also inevitably tarnish sometimes. Here are some ways to clean and care for your zinc alloy jewelry:

You can use an ordinary household non-gel toothpaste to clean your tarnished zinc alloy jewelry. Do it by working the paste into a lather and apply it to the area that needs cleaning. Remember to use soft-bristled, so it will not cause any further damages to your item.
Rinse your jewelry thoroughly after cleaning to ensure that there are no toothpaste residues on it. Wipe your zinc alloy jewelry dry to see the luster back on your beautiful piece.
Use lemon juice and baking soda.
If you do not have non-gel toothpaste, you can use a combination of fresh lemon juice and baking soda to make a paste. Apply the paste onto the tarnished area, then proceed with the same process using toothpaste.
Besides toothpaste and lemon juice-baking soda paste, you can also use your nail polish remover! You can remove the black finishes on your jewelry by using a cotton bud dipped in nail polish remover. The tarnishing should dissolve in the remover, leaving no dark spots behind.
If the black finished already covered your entire jewelry piece, you could dip it whole into the remover. Let it sit for a few minutes to ensure that the nail polish remover sticks to the tarnishing.
Brush the stains off after letting your jewelry sit in the remover for a few minutes. Use a soft brush to avoid causing any further damage to your item. Rinse your jewelry thoroughly after brushing, and make sure that you gently wipe it off with a soft cloth or towel.
Remember that the cleaning agents that you use can either help clean your zinc alloy jewelry or cause more damage. Make sure that you are careful and gentle in handling your items. You can also do more research if you want to look for other ways to clean your jewelry.
How to care for zinc alloy jewelry?
Zinc alloy jewelry is beautiful, affordable, and durable. You need to take good care of your items if you want them to look their best for as long as possible. Here are some tips on how to care for your zinc alloy jewelry:
Avoid placing your pieces on moist or wet areas when not in use. Instead, you need to store your zinc alloy jewelry in an airtight container. You can place a small silica gel sachet to absorb the excess moisture that might still be present.
Use a soft cloth to clean your zinc alloy jewelry. Using abrasive fabrics may scratch your items. These scratches will expose the metals that might react to air or moisture, causing them to rust or tarnish.
Gently clean your zinc alloy jewelry once in a while to maintain its beauty and luster.
Does zinc alloy jewelry change color?
Although zinc naturally forms a protective barrier, other oxidative metals in the alloy tarnish on their own. So, zinc alloys do, eventually, change color because of oxidation.
Besides oxidation, scratching and denting can also cause tarnishing on zinc alloy jewelry. These scratches and dents allow moisture in, which reacts with the metals. This reaction causes the jewelry to change its color into black, brown, blue, or even green.
Is zinc alloy a good material?
Zinc alloys are very strong for their affordable price. Besides their price and durability, zinc alloys can also be corrosion resistant. They also have better stability and strength compared to other metals. So, yes, zinc alloys are good materials!
Zinc provides a much longer die life because of its lower casting temperature. It is why no other alloys can compare to zinc alloys when it comes to casting components. These alloys have tight tolerances and areas with thinner wall sections, making them more desirable.
What is zinc plating?
Galvanization is when manufacturers apply a protective zinc coating to steel or iron to prevent rusting. Zinc plating is when manufacturers apply zinc using electric currents. Also known as electro-galvanizing, this process is easier to weld and cheaper than hot-dip galvanizing.
Before plating, manufacturers clean the steel or iron to remove all oils, paints, rust, and mill scales in an acid bath. Then, they immerse it in a cold zinc chemical solution and use an electrical current to apply it.
Zinc plating benefits:
Aside from providing a protective layer, zinc plating also has other advantages. Here are some zinc plating benefits:
Companies usually prefer zinc plating over more costly precious metals such as gold. It is an ideal and cost-effective metal finishing that protects metal components.
Although it uses a lightweight solution, zinc plating effectively strengthens its substrate. Zinc plating increases the metal's lifespan by creating a physical barrier. This barrier stops moisture from penetrating the base metal, which then prevents rust.
Companies often use zinc on mechanical pieces and car parts because of the clean shine it adds. It makes a significant improvement in the way the base metal looks. It has a natural silver/bluish hue, but manufacturers can adjust the properties to produce other colors.
Although zinc plating involves using a chemical solution, it is essentially environmentally friendly. Manufacturers can recycle or reuse it for other metal pieces.
Is zinc plated rustproof?
Zinc plating indeed provides some rust protection because of zinc's natural properties. But, it is not as rust resistant as hot-dip galvanizing.
Is zinc alloy safe for food?
Although manufacturers can use zinc for food-safe metal components, they need to coat it after casting. But, this coating could potentially leach into foods. It is why zinc alloys are generally unsafe for food.
Customers typically go for strong and corrosion-resistant alloys when looking for food-safe materials. The best option that has both these properties is stainless steel. Manufacturers do not need to coat or plate it, which helps reduce secondary operations.
Is zinc-plated steel weather-resistant?
Because of galvanization, zinc can act as a sacrificial coating that protects the steel no matter what. Zinc-plated steel will not rust too easily, even when a scratch exposes it to air or moisture.
Zinc coating will always tarnish and corrode first because of zinc's natural properties. It will protect its substrate even in bad weather.
But, note that zinc plated steel cannot stay weather-resistant for a long time. You will have to clean and properly care for it if you want to keep it in its best condition.
How long will zinc plating last outside?
Although zinc plating is fairly tough, it is not ideal for applications exposed to the outdoor atmosphere. Zinc plating usually does no last beyond twelve months outside.
Like all other ferrous metals, zinc also corrodes when exposed to air and water. Although it is unsuitable for outdoor applications, its corrosion rate is still lower than that for other metals. It all depends on its environment and how you care for it.
Is zinc alloy better than stainless steel?
Zinc alloys are much cheaper than stainless steel. But, although it is more expensive, stainless steel is better when it comes to strength.
But, zinc alloys provide better corrosion resistance than stainless steel. They also offer better stability, dimensional strength, and impact strength.
Choosing stainless steel over zinc alloys will depend greatly on the company's needs. Stainless is an alloy of carbon, iron, and chromium, known for its strength and corrosion resistance.
Modern types may contain elements such as nickel, niobium, and titanium to boost their corrosion resistance. They also add strength and flexibility to weather environmental factors that may be too harsh for other metals.
But, zinc provides a much longer die life that further reduces production costs. It is why manufacturers prefer zinc alloys when casting components with tight tolerances. It is also an ideal material for working with areas with thinner wall sections.
Companies usually use zinc alloys to make large items where they need a higher volume of materials. Because of its lower costs, manufacturers prefer zinc alloys to make larger items.
Here are some pros and cons of both zinc and stainless steel to help you understand them better.
Zinc Pros:
Affordable
Durable
Corrosion-resistant
Manufacturers can galvanize onto other metals
Versatile
Zinc Cons:
Less aesthetic
Slightly less strong
Stainless Steel Pros:
Durable
Strong
Corrosion-resistant
More aesthetically pleasing
Stainless Steel Cons:
More expensive
High tooling cost
Difficult to work with when making larger items