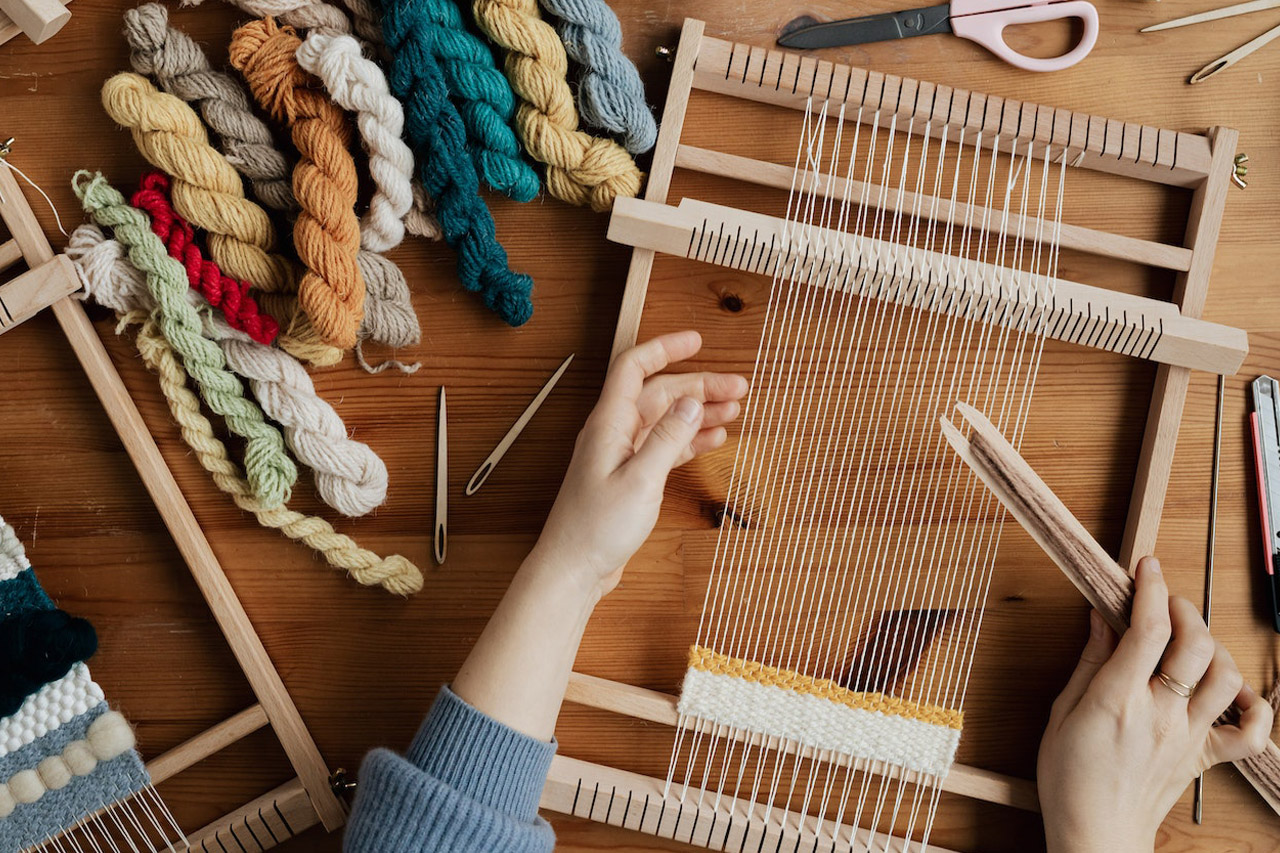 Weaving can be expensive, but it is possible to avoid making it one. The cost of this hobby can differ based on a few factors, like the loom type and size you want to use, the materials you choose, and personal inclinations.
Like most crafts, you need to shell out some amount from your budget for a hobby such as weaving. You must know its cost if you are interested in a weaving hobby.
Weaving is a hobby requiring some special tools and equipment, but this fact should not stop you from pursuing this craft if you want to.
If you want to get into weaving as your hobby without breaking the bank, there are ways you can do it without going over your budget.
Below are the variable costs of weaving, alongside some tips on going about the hobby without spending too much.
Loom
There are different kinds of loom that you can use as a weaver. But a small loom is recommended for a newbie in weaving. You can even borrow a loom first to get the hang of using one and decide whether to pursue weaving as a hobby.
You can use a canvas stretcher frame as a DIY loom if you have an unused one at home. A picture frame is also a good alternative; remove the glass and backing. Cardboard is also an excellent material to make a DIY loom. But do not expect this type of loom to last.
For standard looms, you can choose from tabletop to floor looms.
Tabletop Loom
For a newbie weaver, a tabletop loom is an ideal size. A tabletop loom fits on the table or any flat surface. These small beginner's looms are not very costly. You can find tabletop looms for less than $100. Many also come in kits with the tools you need to get started.
Small looms, like tabletop looms, are perfect for making beginner weaving projects like scarves, wall hangings, or simple tapestries. If you do not want to spend on a loom, you can make your starter loom out of cardboard.
There are many varieties of tabletop looms. Some have complete tools and accessories you can use for more challenging weaving projects.
Floor Looms
Floor looms are the more traditional looms that weavers use to do big projects like rugs or full-wall tapestries. These are the looms that people of long ago used to create clothing and other fabrics used in their homes.
The bigger projects and tasks they can do, the higher the price tags on these floor looms. You can usually get a floor loom for several thousand dollars.
Many of these floor looms are highly mechanized, so they work faster than standing or tabletop looms. Foot pedals drive the shuttle used in floor looms.
If you are starting to weave, you can make it less expensive by buying a small loom to see if weaving is the one craft for you.
Threads
One of the primary materials you need for a weaving hobby is threads. Yarn, commonly used by crafters and weavers, is relatively cheap.
For weaving, you must ensure that the type of yarn you purchase is sturdy and durable, especially for the one you will use for your warp. It also has to look smooth and consistent in width and texture.
You should note that the warp will hold the tension long while you complete your weaving project. Your best bet for your yarn for weaving is cotton yarn which is sturdy and affordable.
As you advance with your weaving hobby, you will want to try finer threads which are, in turn, more expensive. You can maintain your hobby to still be cost-effective by using cotton yarn.
Using your scrap yarn is an excellent way to save money on the thread. You lower your materials cost but are leveling up your creativity.
Tools and Accessories
Aside from the loom, weaving entails more tools to make this craft easier. If you use a simple wood frame loom, it does not have the accessories that more advanced looms have, like the beater.
The beater is the part of the loom that holds apart your warp. Larger and more advanced looms have a beater, making it easy for a shuttle to pass through the yarn. The beater also presses each pass of thread together.
If your loom has no beater, you can use a thinner needle. A thin needle can also help you with intricate weaving. You can use a fiber comb to press down your work if your loom does not come with a beater.
You may need other tools and accessories used for weaving different techniques, and they may add to your expenses. You may only need some of these tools at a time, but if you do, you can try borrowing a tool specific to your design from a weaver friend to avoid a big dent in your budget.
If you are new, try the patterns that are not very complicated yet, so you will not need as many accessories as possible.
Weaving Lessons/ Tutorials
Weaving is a different fiber craft from knitting or crochet, and you should take lessons that can enhance your understanding of the craft and improve your weaving skills.
Taking classes or workshops may incur costs on course fees, materials provided in class, and transportation to your classes.
You can choose to avoid shelling out a single penny for classes by watching online lessons and tutorials from fellow weaving enthusiasts. You only need to gather the materials you need to practice your learnings.
Working Space and Equipment
Weaving needs dedicated space, and your working area depends on the loom size you need for your projects.
You can set up your warping board for free if you have a huge unused space in your living room or dedicate your spare room for your weaving. Having enough space in your home can lower the cost of your weaving hobby.
You can tailor-fit the expenses of weaving as your hobby to your budget. Know that many tools, materials, and equipment options are at different prices to fit your budget. You can limit or expand your choices based on your interests and financial resources.
Can you make money from weaving?
It is possible to make money from weaving, but you should remember that weaving is primarily a hobby. Weaving entails a lot of time, and manufacturers can mass-produce everything with the technology that produces textiles these days.
You can sell your completed woven projects, but the potential of them being sold lies in how you market your goods.
Note that a market still exists for handmade products in this age of advanced technology and mass-produced items. Many products are sold online as much as in physical stores.
You can sell your finished woven items on platforms like Etsy, eBay, Amazon, Handmade, and Facebook Marketplace. You must pay a small amount for some of these online markets to list your products.
If a listing fee is off your list of expenses, you can create your website to showcase your work or use other social media platforms to advertise your homemade wares. A blog or weaving tutorials would be a good idea to attract like-minded people who could potentially be your customers.
It is also possible to earn customized work. Some people who saw your woven pieces may be interested in personalized woven items made according to their preferences. Creating a portfolio of your completed woven items and promoting commission services may bring you, potential clients.
You can also sell your handmade woven goods at the local craft fairs and get a kick out of meeting other weavers and weaving enthusiasts who will visit your booth.
Be ready also for some expenses you will make when running a stall, like transportation for your goods, food for the day, and a minimal fee for the stand.
While you can sell your finished woven items, you cannot depend on them to make a living. Selling your woven creations can support the expenses your weaving hobby entails for you to go on weaving.
What is the easiest type of weaving?
The easiest type of weaving fit for beginners is plain weave .Plain weave is a simple weaving construction forming a simple grid pattern. The interweaving of the warp and weft threads builds the design.
Below are why the plain weave is considered the easiest type of weaving.
Simple Design
Plain weave has the simplest and the most basic weaving structure. The technique involves passing the weft thread over a warp thread and then under the next, alternating in a consistent pattern. The repetitive motion creates a simple weave pattern.
Uses Fewer Warp Threads
The plain weave requires fewer warp threads, setting up the initial weaving process and warping the loom simpler and less time-consuming.
Balanced Tension
The structure of the plain weave allows balanced tension making it easier to keep an even and consistent fabric. Plain weave is not prone to distortion or puckering since each weft thread goes over and under the same number of warp threads.
Versatile Design
Plain weave is simple, yet it offers versatility in design and materials. Using a wide range of yarns and fibers allows greater creativity with different colors, textures, and thicknesses on the simple plain weave. This basic design is the ideal starter for a newbie weaver.
Plain weave is the perfect technique for beginners to have a strong foundation in this craft. It can introduce the basic weaving terms, use a loom, and help a newbie weaver understand the concepts of warp and weft interlocking.
After trying out plain weave, a weaver can move on to more challenging and intricate patterns with enough knowledge and confidence.