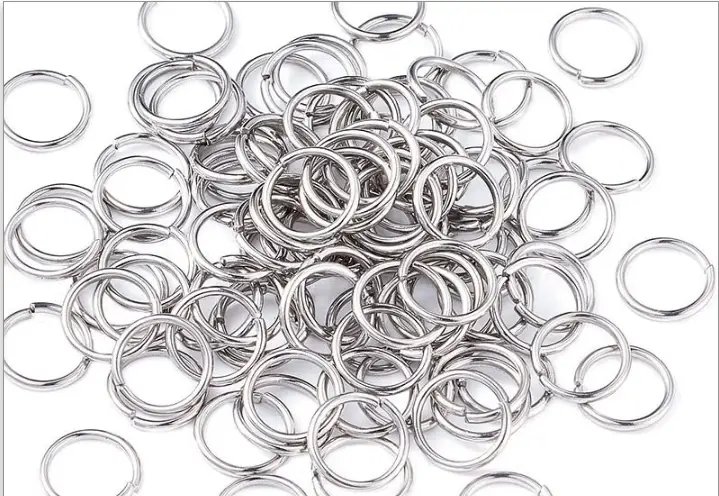 One of the smallest but sometimes one of the essential materials in craft projects is jump rings. They make jewelry connections and are excellent connectors for various jewelry-making applications. You can use jump rings for different purposes, including:
Hanging a pendant
Connecting a clasp to jewelry pieces
Extending the length of a jewelry piece
Some crafters may not be giving enough thought about choosing the perfect jump rings for their projects. But it is a must-have jewelry tool if you want your jewelry pieces to look flawless and have a professional look. You need to consider the size, shape, and quality of the jump rings you buy.
Choose the best size of jump rings.
A jump ring's size has two facets that matter most:
Gauge – the thickness of the wire used to make jump rings
Diameter – how small or large you measure the across their shape.
Remember that the jump ring's gauge increases as the diameter increase for it to hold more weight. Understanding this principle helps you choose the best jump rings. If you want heavier charms and pendants on your jewelry, you need to choose bigger and thicker rings.
You also need to remember that not all sellers measure jump rings the same way. Some measure the outer diameter, while others measure the inner diameter. Make sure that you know which measurement they use so your jump rings' sizes are consistent.
Choose the best shape of jump rings.
Many crafters may not know it, but not all jump rings are round. There are many other shapes of jump rings, but the two essential connectors are oval and round.
Oval jump rings are essential for ensuring that chainlinks and cords will not slip through the jump ring opening. The cord does not touch the gap when you put the opening on the oval's side. It is the reason why oval jump rings are always perfect to have on hand.
Choose the best quality of jump rings.
Take note that the highest quality jump rings are those made for creating chain mail. Chain mail is a type of jewelry made from metal rings linked together.
These jump rings tend to be perfectly round with smooth joining ends. Manufacturers cut them with a saw instead of blade-like wire cutters that leave rough edges. Rough edges can sometimes make it difficult for the jump rings to close tightly, which may cause you trouble.
If you want to ensure that your jump rings are the best, you can get soldered-shut jump rings. You can thread these rings onto your project as you make it through.
Another option you have is to use snap-closed jump rings. A variety of manufacturers offer this type of jump ring but are slightly more expensive. But they are worth it if you want to ensure that you get jump rings that will stay securely closed.
How to use jump rings?
It will cause you so much trouble if you got the best jump rings but do not know how to use them. Remember to always open your jump rings with the help of an excellent crimping tool by twisting them open to the side. Never pull the ends apart! Doing so might ruin your jump rings and even your jewelry.
Hold a pair of pliers in each hand and grasp the ring on either side of the opening. Next, you need to twist it in opposite directions. Doing so should open your jump rings as you keep their quality.
You can also use a jump ring tool in place of one of the pliers. It is a ring that you put on the top half of your finger. Find the slot that your jump ring fits best. Next, slide it halfway inside, with the opening above the slot. Then, twist on the other side with your pliers.
Besides its industrial applications, stainless steel can also complement delicate jewelry designs. It is strong and resilient, unlike most materials. Stainless also had an attractive grey color that is in either a shiny or matte finish.
If you want long-lasting jewelry designs, stainless steel jump rings are perfect! They are resistant to rust, oxidation, and discoloration, making them the perfect material for your findings.
Unplated jump rings are perfect alternatives for wearers who have allergic reactions to metals, such as copper and brass. It may contain nickel, but it is generally hypoallergenic for most people.
Now, for the best part of this post, I listed the best stainless steel jump rings you can find on Amazon! Stainless steel jump rings are durable and can offer some extra weight and shine to your jewelry. I hope you find the best one for you and love them as much as I do.
1. VALYRIA 500 pieces Stainless Steel Open Jump Rings
These Valyria stainless steel jump rings are one of the best on Amazon! They are lead and nickel-free, so you do not need to worry about your allergies. Valyria always offers products that have excellent quality and price that is best for the amount you receive.
Unlike other jump rings from other shops, these are more durable and do the job without soldering. One of the best qualities of these jump rings is their appearance. They look professionally-made and look as shiny as sterling silver.
You can use these for various applications, including your jewelry-making projects. There are several sizes to choose from and have the perfect gauge to use for different projects. Whether you make chainmail or make beautiful jewelry, these rings will work perfectly.
[lasso ref="valyria-500pcs-stainless-steel-open-jump-rings-connectors-jewelry-findings-18-gauge" id="2825″ link_id="585″]
2. PANDAHALL 1000 pieces Elite 304 Stainless Steel Open Jump Rings
If you are not sure about which jump rings size you want to use, this might be the one for you. This PandaHall stainless steel set includes many sizes, which you can freely choose from with just one buy! One set a total of about one thousand pieces of jump rings, including:
400 pieces of 4mm rings
270 pieces of 5mm rings
150 pieces of 6mm rings
80 pieces of 8mm rings
60 pieces of 9mm rings
40 pieces of 10mm rings
This set also includes a jump ring tool opener, which adds great value to your money! The jump rings all have 18 gauge wires, which works perfectly for most crafting projects. They work well, especially if you want to add charms and pendants to your jewelry.
Note that the product listing says these jump rings are 304 stainless steel. But some buyers believe otherwise because the jump rings are magnetic, although 304 should not be.
Remember that stainless steel becomes magnetic when manufacturers work on it while not heated. It is only a characteristic of forming and pressing the metal. Their magnetic properties do not affect its excellent quality in any way at all.
[lasso ref="pandahall-elite-about-1000-pcs-304-stainless-steel-open-jump-rings-o-ring-diameter-4mm-5mm-6mm-8mm-9mm-10mm-wire-18-gauge-for-jewelry-making" id="2826″ link_id="586″]
3. PANDAHALL 1200 pieces Elite 304 Stainless Steel Open Jump Rings
This PandaHall jump rings set perfect if you want to add a bit of color to your jump rings. Besides the shiny silver stainless steel rings, it also includes brass rings too. With two classic colors, you will meet your various jewelry-making needs.
The jump rings are 6mm in diameter, 0.8mm thick, and 4.55 in inner diameter. These dimensions are perfect for many different applications. With a 21 gauge, it will also hold various charms and pendants that will elevate your design.
[lasso ref="pandahall-elite-about-1200-pcs-304-stainless-steel-open-jump-rings-diameter-6mm-wire-21-gauge-2-colors-for-jewelry-findings" id="2827″ link_id="587″]
4. VALYRIA 1410 pieces Mixed Stainless Steel Open Jump Rings
Another excellent option if you want several jump ring sizes is this Valyria set. The package includes seven sizes, sorted out inside a sturdy plastic box. With a total of 1,410 pieces of jump rings, you get great value for your money. The box contains:
500 pieces of 4mm jump rings
350 pieces of 5mm jump rings
200 pieces of 6mm jump rings
140 pieces of 7mm jump rings
100 pieces of 8mm jump rings
70 pieces of 9mm jump rings
50 pieces of 10mm jump rings
These lead and nickel-free jump rings are perfect for any crafting project you want to do. You can create beautiful jewelry pieces, chainmail items, or weaves. You also get a lot, so you do not need to worry about running out of jump rings for your project.
[lasso ref="valyria-1410pcs-mixed-stainless-steel-open-jump-rings-4mm-5mm-6mm-7mm-8mm-9mm-10mm-box-set-for-diy-jewelry-making-findings" id="2828″ link_id="588″]
5. KISSITTY 2000 pieces 8mm Stainless Steel Open Jump Rings
This Kissitty is perfect if you are looking to stock up on your jump rings. It includes 2000 pieces of 19 gauge open jump rings. These high-quality 304 rings are durable and beautiful!
The jump rings are thinner than other rings, and they have a relatively wider diameter. You will not have any problems in opening and closing them for your crafting projects. Although they come randomly mixed in a bag, the rings have no scratches or any damages.
[lasso ref="kissitty-2000pcs-8mm-stainless-steel-open-jump-rings-connectors-0-9mm-thick-chainmail-making-jewelry-findings" id="2829″ link_id="589″]
You need to remember that not all shops will offer high-quality products all the time. Some shops manufacture their products manually, so there will be discrepancies. You might expect fantastic products on the listing and get disappointed by the actual product.
Remember that you can always ask the seller some questions if you want to ensure the item's quality. You also need to understand what the other buyers are saying in the reviews. Buyers' reviews will help you choose the best products for your projects.
Also check: Best Pinch Bails for Jewelry Making