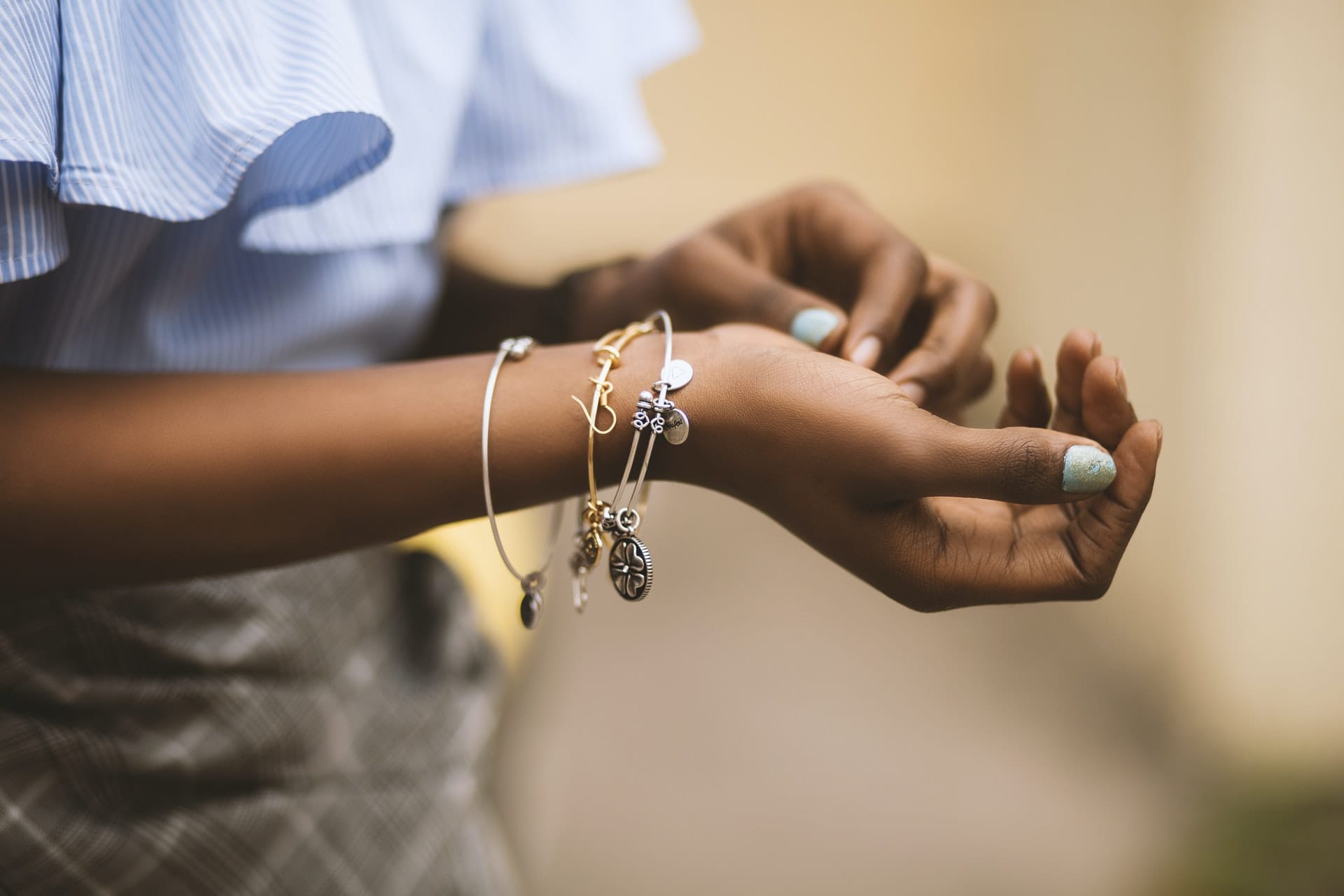 Copper wire is the best wire to use for wire wrapping. It is affordable and the most common, so you will not have a hard time looking for it.
Wire wrapping is easier than it looks. Learning how to wire wrap will help you create beautiful jewelry pieces using only a few necessary materials. You will need needle-nose and side-cutting pliers, gemstones, and of course, your wire.
What tools do I need for wire jewelry making?
The basic tools that you need for wire jewelry making are pliers, cutters, wire, hammers, or mallets, a ruler, and a pen.
These pliers are vital in your jewelry-making tool kit. You need round nose pliers for bending wires smoothly, creating jump rings, loops, and other jewelry findings.
Also known as chain nose pliers, snipe nose pliers are perfect for bending metal sheets and wires. Their tapered jaw makes them excellent for closing jump rings and crimps.
These pliers have broad, flat jaws that are excellent for gripping wide surfaces, opening jump rings, and bending angles.
Nylon jaw pliers help you straighten out your wires when they accidentally get bent. Excellent nylon pliers are perfect for this task because they will not leave scratches or damages to your work.
Also known as ring-bending pliers, half-round pliers are perfect for quickly bending curves in flat or D-shaped wires. The half-round cross-section on one of its jaws is excellent for curving and forming. While the other flat jaw helps you prevent marking the metal that you are using.
Side cutters are for trimming and cutting wire, headpins, eye pins, and other materials.
Also known as repousse hammer, chasing hammers are perfect for creating texture on your jewelry wire. You can use its flat side to flatten wires up to 1.5mm.
Jewelers hammers are excellent all-round jewelry-making hammer. You can use this type of hammer to gently tap your designs to make it a little bit harder.
When your work becomes warped, you can use a rawhide hammer to flatten it back into its shape.
When you use hammers for your jewelry-making projects, you must use a steel block. It provides a flat surface that would not get damaged when you hammer on your pieces.
Also known as a mandrel, a triblet can help you form, resize, and shape rings without need any ring blanks for your design project.
You must use files to gently smoothen the edges so the wearers can use the pieces safely.
As you may know, the wire is one of the most vital supplies when it comes to making wire-wrapped jewelry. It comes in various gauges, materials, and strengths.
What wire do you use for wire wrapping?
Thin jewelry wire is what crafters usually use for wire wrapping. It is delicate and perfect for decorative pieces. It is best to use the 24-gauge wire because it is likely to fit most beads that you will use in wire wrapping.
How do I choose jewelry wire?
One of the most vital factors you need to consider is its gauge. The higher the number, the more refined your wire will be. A thin jewelry-making wire is best for beginners because it is simple to use, while a thick wire can also be suitable for other pieces.
Using jewelry wire in practical and decorative applications is essential. You can use it in making intricate and attractive jewelry designs. You can use it to craft links for chains, create stone settings, and make pendants, earrings, and rings. Follow this guide to know which wire is most suitable for your project.
Crafters most commonly use this type of wire because it is the most versatile. You can use it for any jewelry piece that you want to make or improve.
It is also suitable for all popular wire jewelry-making techniques. Round wires also come in the widest variety of sizes. If a jewelry supply shop or pattern does not specify the wire's shape, it is most likely this type of jewelry-making wire.
Crafters use D-shaped wires for making large-sized ring shanks and small-sized binding wires. You can also use it if you want to start with various silversmithing projects.
Square and rectangular wire
This type of wire has four flat sides, making it practical to use as bundling wire because it will sit nicely side by side. It stays in place as you bundle them together. You can also use this as an alternative for round wires. You can use it to make spirals and in wire wrapping.
Square and rectangular wires are sturdy. Many crafters usually use this for jewelry pieces that need thicker and sturdier frames.
You need to pay attention to which plane you want to work on when using this type of wire. You must consider if you are going to maintain the wire's straight edges. You may get unwanted twists in it if you are not careful.
You can form twisted wires when you twist two or more round cables together. Crafters usually use this type of wire to make beautifully textured jewelry wires, such as ear wires and jump rings. It also adds lovely detail to wire-wrapped pieces.
You can use beaded wires best for stacking rings and making your jewelry findings, such as toggle clasps or hooks and eyes. This type of wire is also excellent to incorporate into other pieces that need silversmithing.
What is jewelry wire made of?
Jewelry wires come in different materials, such as copper, silver, or gold.
This type of jewelry-making wire has a copper core with a high level plated coating. Using plated wires allow you to have the same look as sterling silver and gold, but for a lesser cost. You can practice the craft with this jewelry-making wire, but keep in mind that it is easier to work with the softer sterling.
Copper jewelry-making wires are ideal if you are a beginner with jewelry making and want to practice different techniques. Its rich red color creates excellent detail, and it works well with rustic pieces. Copper wires are also cost-effective and very malleable.
The golden color of brass wires works beautifully in many jewelry designs and gives an elegant finish. But it is a little stiffer than others, making it a little bit more challenging to get high-quality results since kinks are inevitable.
Crafters usually prefer using this type of wire than sterling silver because it is softer and easier to use in wire wrapping.
Wires made of precious metal, such as sterling silver, adds value to your jewelry design. Many crafters recommend using sterling silver wires and 9ct gold once you master various techniques.
Eco sterling silver wires are round wires from recycled scrap silver in a totally traceable and fully audited process. It feels and works the same as sterling silver, and it is excellent for eco-aware jewelers.
Like the sterling silver wire, 9ct gold wires add value to your jewelry pieces. It is perfect for a wide range of techniques, from wire wrapping to making your findings and rings.
What is the best gauge for wire wrapping?
22-20 gauge wires are the best for wire wrapping. These wires are versatile and thin enough to string on most beads. They can also be all-purpose. They are sturdy enough to hold their shape when you make handmade chains, ear wires, eye pins, lightweight clamps, and jump rings.
This type of heavy-duty jewelry wire is suitable for large shapes, bracelet bases, oversized clasps, and hefty rings. It adds a dramatic look with a heavy-metal aesthetic to your designs. Remember that you will need some sturdy jewelry-making tools to work well with these thick wire gauges.
They usually come in 12 to 16 gauge and is perfect for supporting heavy jewelry pieces. You can also use thick jewelry wires for your artistic or outlandish jewelry projects.
12 gauge wires are perfect for rings, bangle bracelets, cuff bracelets, and neck collars. They are usually only available in dead soft and may need heavy-duty wire cutters.
Crafters primarily use 14 to 16 gauge wires to create thick and sturdy pieces such as clasps, cuff and bangle bracelets, and rings. You can also use this size for frames of resin and mixed media projects and as structural support for many jewelry designs.
Medium wires come in 18 to 20 gauges and are strong enough for average-sized clasps, pins, and jump rings. You can find many colors of this type of wire and use it for many jewelry-making projects. You will discover medium-gauge wires easy to use because of its versatility.
You can use this type of wire for statement pieces, such as dramatically sculpted pendants and chandelier earrings.
Many crafters believe that thin wires are the perfect type for decorative pieces. The 24-gauge wire can most likely fit most beads used for wire wrapping. Other thinner wires are perfect for making small-detailed pieces and delicate jewelry projects.
Extremely thin wires with 32 to 28 gauge are perfect for intricate wirework like wire weaving, Wiking knit, and wire crochet.
What is 22 gauge wire used for?
You can use 22 gauge wires for almost anything in jewelry-making. It is a versatile wire size sturdy enough to hold its shape when you use it for your jewelry-making projects.
What is the 24 gauge wire used for?
24 gauge wires are perfect for stringing pearls and beads with smaller holes since it can fit most beads used in wire wrapping.
How to twist jewelry wire by hand?
Prepare the needed tools and materials.
a. Clamp
b. Hand crank drill
c. Wire cutters and pliers
d. Ruler
e. Wire
Prepare your wire for twisting.
a. After carefully choosing which wire to use and cutting it to your desired length, fold it in half with the two loose ends meeting at the center.
b. Grip the ends using the pliers.
Insert one end of the wire into the open jaws of the vise and secure it tightly.
Insert both ends into the drill chuck and secure it again tightly.
Extend the wire out to a slight tautness, ensuring the twisting operation will have consistent results.
Begin twisting by cranking the drill handle until you reach the desired twist. Be careful not to overtwist your wire, or it may result in kinks and crooks.