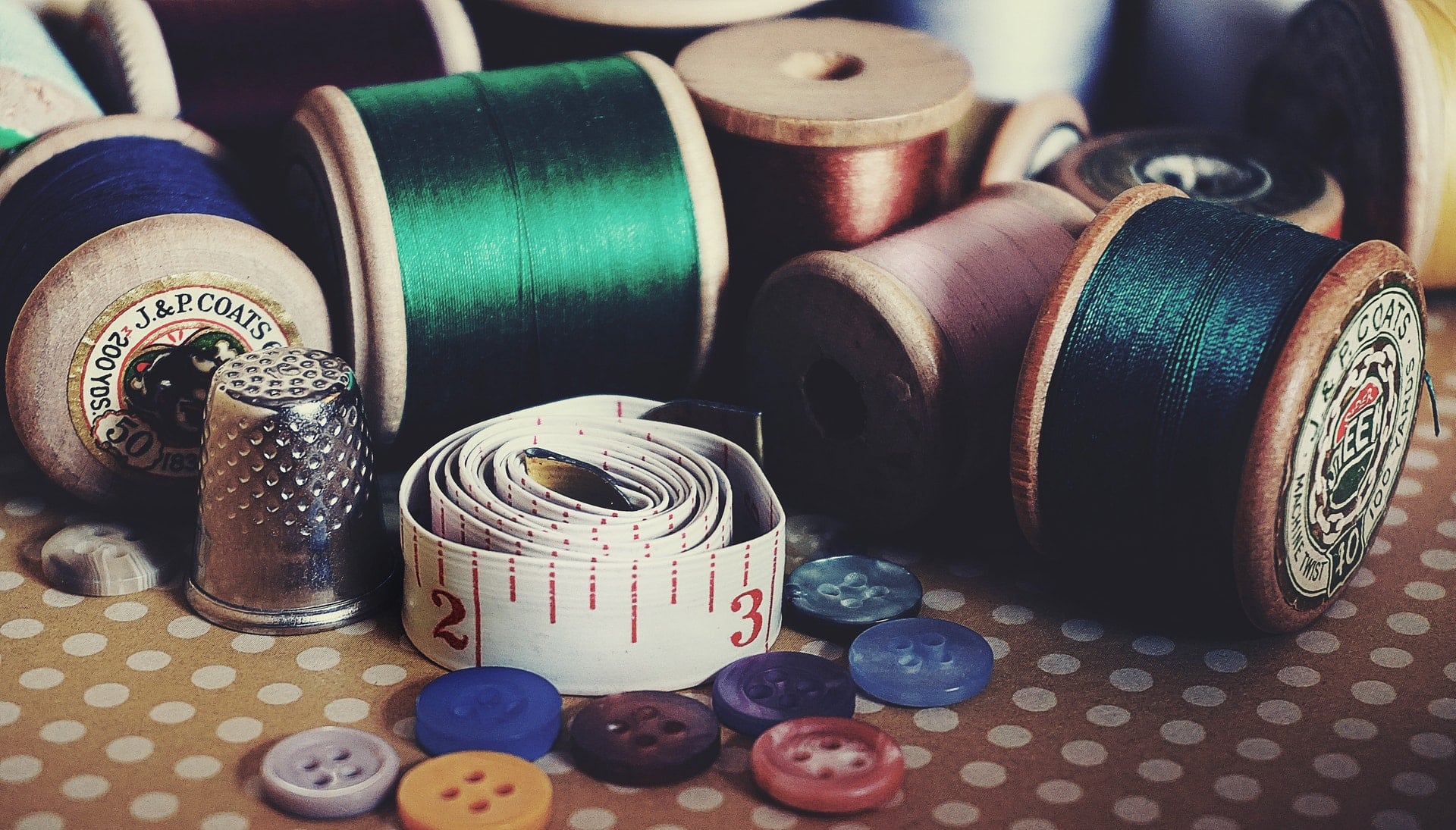 Has this question been bothering you for a while? The straightforward answer is – it DEPENDS! If the embroidery thread is not colorfast then exposing it to water can cause it to bleed. Some threads are not intended for hot water like the pure cotton embroidery threads.
The fibers that make the embroidery threads determine whether you can get them wet or not. This means that when buying embroidery threads select the brands with colorfast floss. Embroidery threads have many uses. If you intend to use it as clothing designs, patches, and bracelets, buy quality brands like DMC and Anchor.
Different fibers make your embroidery floss or thread. Some threads are from natural materials like cotton, wool, and silk. Some threads are from synthetic and blends of natural and synthetic fibers.
Many embroidery threads these days are blends of natural and synthetic fibers. This combination or blending lessens shrinkage and maintains vibrant colors. Some popular embroidery threads are available in blends of cotton, rayon, and polyester.
The different variations of embroidery threads today provide quality and water-resistant threads. These embroidery thread blends allow you to buy sheen, colorfast, and shrinkage-resistant threads.
These are the common embroidery threads:
Cotton Floss
Variegated Floss
Light Effects
Metallic Floss
Satin/Rayon Floss
Silk Floss
Pearl Cotton
Can You Shower With String Bracelets?
Most string bracelets are water-resistant, hence you can shower wearing them. String bracelets or friendship bracelets are decorative accessories made of waxed polyester threads. Crafters braid these threads into beautiful patterns to make these beautiful string bracelets.
These string bracelets are durable yet delicate making them a great accessory. String bracelets can also mean a symbol of friendship, luck, and strength for other people. Regardless of how you look at string bracelets, they surely are gorgeous works of art.
How Do You Make A String Bracelet Waterproof?
Porous fibers make most of your crafting threads and so they are often not resistant to moisture. But, thanks to waxing, you can now make your string bracelets waterproof!
Waxing either by paraffin or beeswax is an effective way of waterproofing threads. Waxing threads for your string bracelets makes it stronger and holds knots better. It also makes smooth unthreading of your bracelet.
Below are simple steps to waterproof your string bracelets.
You can do this technique with either paraffin wax or beeswax.
Get the threads you want to use for your string bracelets. Cut them but do not weave or braid them yet.
Get a chunk of paraffin or beeswax. Make sure that the wax is smaller than your fist for easier handling.
Get a thread and hold it nearest to its tip. The long side is away from your face.
Get the wax and put it under the thread you're holding. Then, put your thumb on the string.
Pull the thread over the wax. Make sure that you keep a firm hold from your thumb as you pull the thread. You will notice that the thread will make a deep mark on the wax.
After waxing the long part of the thread, this time run the other end over the wax. This ensures that the wax has covered the entire thread.
Do the same steps to the rest of your threads.
You can repeat the entire process if you want more wax coating on your threads.
After you have waxed all your threads according to your preference, get a paper and hairdryer. Sandwich the thread inside the paper and blow over with a hairdryer. This makes the wax penetrate well in the thread.
After the threads have cooled down, you can start making your bracelet.
Congratulations, you have waterproofed your string bracelet! You can wear it anytime and anywhere – in the shower or at the beach.
Can You Wear Magnetic Bracelets In The Shower?
Magnetic bracelets are different from string bracelets. These bracelets are not 100% made of threads. A combination of threads, leather, and plated magnetic beads make these bracelets. These bracelets are often water-resistant but not waterproof.
You can wear it in the shower, but avoid doing it whenever possible. Constant exposure of magnetic bracelets to moisture can cause corrosion over time. These bracelets are a great accessory for both men and women.
Aside from being an accessory, some believe that magnetic bracelets have therapeutic benefits. The following are some of its therapeutic claims.
Improves Blood Circulation
Reduces Body and Joint Inflammation
Promotes Relaxation
Promotes Good Sleep
Relieves Body and Joints Pain
Helps Encourage Positive Thinking
You may agree or not on these therapeutic benefits of magnetic bracelets. But you can't deny that they make a great style statement.
These magnetic bracelets can go well with your string bracelets.
How Do You Make An Adjustable Bracelet With String?
You are here because you want to make your string bracelets, right? You're in luck because you will not only make a regular string bracelet here. Rather you will learn to make a beautiful adjustable bracelet. Adjustable string bracelets are a smart idea so you can wear it loose or tight.
Here are the steps.
1. Get the materials
Waxed threads at least three color
Scissors
2. Prepping the threads
Measure your threads by wrapping it around your wrist twice. Do this with all the colors of your threads for the bracelets.
Tie the ends of all your threads in two big knots.
h3>3. Braid the threads
Get the left thread and pull over the middle thread. It's like switching the left and the middle threads.
Then, get the right thread and pull over the middle thread. Note that this middle thread was originally the left thread.
Keep doing the process until you finish the length you want.
Once done, double knot the end.
h3>4. Finishing the bracelet
Put the ends of the threads on top of each other.
Then, tie the overlapping ends with a new thread. The thread you use to tie these ends come from the remaining thread from your spool.
Trim the knots and pull them to the edges.
Tip. You can put glue or use candlelight to singe the loose fibers of the ends. This will give your string bracelet a neat look.
How Do You Make A Fishtail Bracelet With String?
Get your preferred embroidery threads. You will need three 40 inches (101.6 cm) strands of thread, in 5 colors of your choice. There will be 15 strands in total.

Tip. Wax them first with paraffin or beeswax before you start the making process.

Fold the bundle of threads in half, and knot them together at the top of the fold. This creates a loop in the middle of the bundle. Make sure that your loop is large enough to wrap the ends through. This will serve as the lock loop of the bracelet.
Sort your threads in a way where each side has every color of the strands.
Start braiding by crisscrossing the first color over to the opposite set of threads.
Continue braiding by crossing the same color of thread over the opposite side.
Keep doing steps 4 and 5 with your next thread color. It might not look pretty yet at this point. Patience.
Repeat steps 4 and 5 with each color. Make sure to keep the thread organized and tight.
A beautiful chevron pattern will start to show up.
Continue braiding until your desired length.
Do not braid the entire thread. Leave at least 3 inches (7.62 cm.) of the thread.
Knot the threads but leave the remaining inches of thread.
Trim the ends of the threads. Hurray, you're done!
Now, you have a gorgeous chevron style fishtail string bracelet. This makes a perfect gift for your friends, classmates, or coworkers.
How Do You Make Bracelets With Embroidery Thread?
Get Your Embroidery Thread

Before you begin the process of making your bracelet, choose your embroidery threads. DMC and Anchor embroidery brands are good and accessible in most craft stores.

Choose the Number of Strands You Want

For starters, using two complimenting colors is fine. Use three strands of each color, at least 30 inches (76.2 cm.) long. You can decide the length of your bracelet. It's better to have longer threads than to end your bracelet short.

Organize the Strands

Gather your threads and tie the ends together. Leave at least 3 inches before the knot. This will serve as the locking thread of your bracelet.

Begin the Bracelet

Use scotch tape to attach your knotted threads on the edge of a table or board. Then, start the braiding process. Separate the strands of your thread and pull them straight.

Get the strand on the left using your right hand. Loop it on your left thumb. Notice that this makes the shape of a number "4". Then, tie the knot through the loop in the number "4" shape you created.

Next is to get the next strand with the fingers of your left hand. Then using your right hand, pull the end of your first strand below and through the loop. Take out the first strand straight up of the bracelet to create a knot.

Finish the Bracelet

Continue the process until you braid your desired length. Tie off the end of the braided portion. You're done. You can now wear your amazing embroidery thread bracelet. Make sure to double knot the ends together for secured locking.
What Do You Do With Extra Bracelet Strings?
Simple Knot

When your threads are just the perfect length you want, you can secure the ends by simple knotting. First, trim the ends of the threads and straighten them. Then, singe them through candlelight. Then, knot the ends together twice on your wrist.

Tie One Loose End to a Looped End

You can use the extra strings as a loop lock. Before you start your string bracelet, make a loop. To create this, you need to fold your threads in half and grab them in the middle of the fold. Tie the folded threads at about 1 inch (2.5 cm.) to create a loop.

Separate the frayed threads into two and braid each separately. Then, put the first braid through the loop and tie using the second braided end to tie both ends onto the loop.

Braid and Tie Ends Together

Organize the extra threads, trim to straighten the ends. Apply glue on the tips of each thread and let them dry separately. Once dried, separate the threads into three parts. If you don't want to use glue, singe the tips using candlelight.
Then make a regular braid on each side. Knot the ends of the braids for both sides. Then tie the two braids together around your wrist.
You can be creative with how you want to finish and tie the ends of your bracelet. You may also put beads or metal hooks to secure them. There are no hard rules on this as long as you're happy with your bracelet.
Are Pura Vida Bracelets Waterproof?
You might have heard or read about Pura Vida bracelets. And if you're wondering if they are waterproof, read on.
All Pura Vida bracelets are 100% waterproof. The threads they use are all coated with mineral wax. You can go surfing, snowboarding, or take a shower wearing them. Wearing these bracelets all the time enhances its natural look and feel on you. Each bracelet is hand-made and unique. There can be a slight color variation depending on your skin tone and acidity.
Pura Vida started in Costa Rica. It's a Spanish phrase which means pure life. Then, newly graduates Griffin Thall and Paul Goodman started the company. They had a trip to Costa Rica and fell in love with the lifestyle and string bracelets of the locals. The rest is history.
They help around 800 artisans worldwide like Costa Rica, India, El Salvador, and more. Pura Vida provides them with steady work and income by bracelet and jewelry making. This brand of string bracelets is available around the world.
Yarn crafting is a relaxing and useful hobby to pursue. It does not need much crafting skills unlike others. If you are starting to explore yarn crafting, making string bracelets is a good start. You can make beautiful friendship or charmed bracelets for yourself and your friends.
You can also sell them, and make extra income. String bracelets are unique and stylish pieces of accessory that go well to any outfits. You can do it fast, easy, and with unlimited designs and colors. So, if you want a crafting hobby that you can do anytime and anywhere, try making string bracelets.