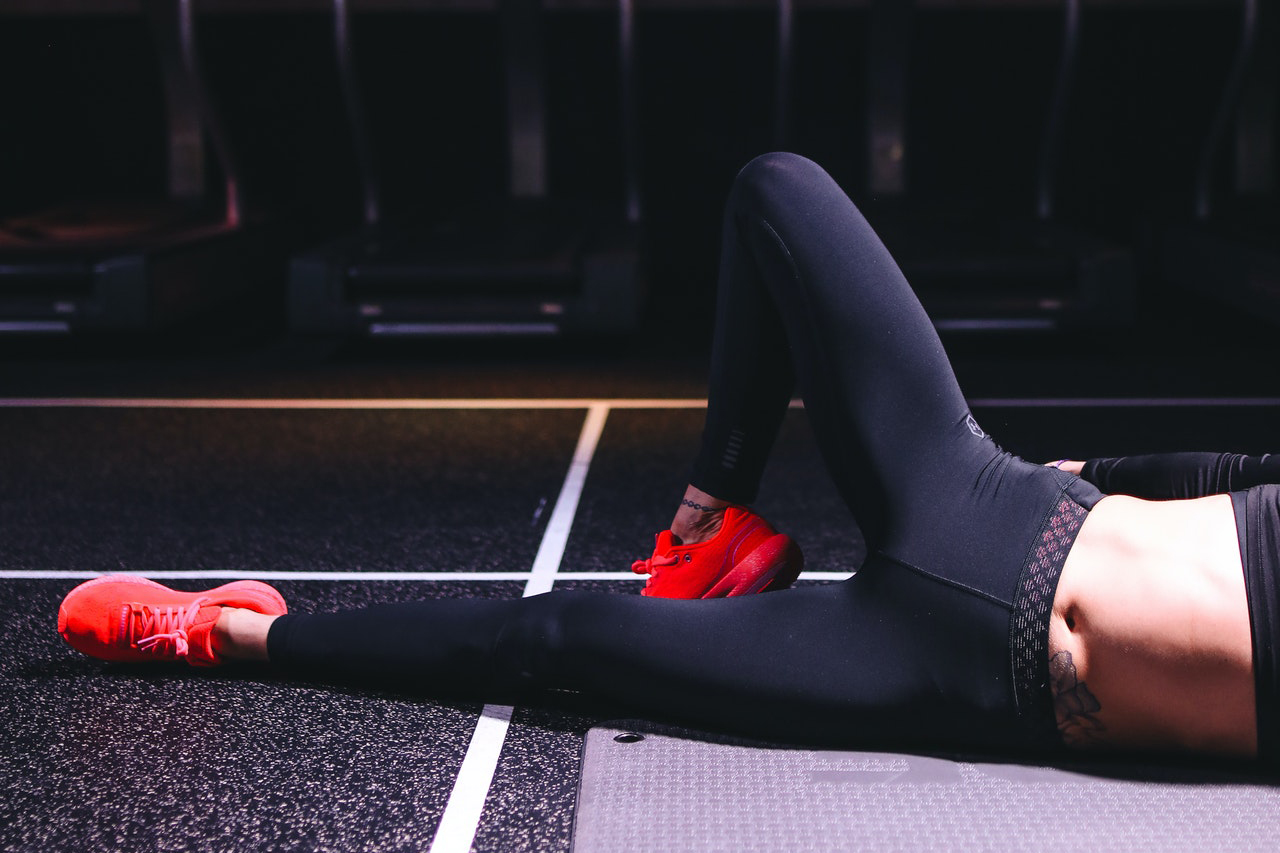 As a sewist, you will not feel ecstatic about repairing clothing. But your favorite stretchy pants can eventually get holes accidentally or torn due to wear and tear over time. Good thing you can quickly fix a hole in your leggings in many possible ways with or without sewing.
You can mend a hole in your leggings by hand sewing, machine, or a serger. Alternatively, you can use self-sticking garment tape, heat-activated garment tape, or a fabric patch if you do not want to sew the hole.
How do you fix leggings with holes in them?
Leggings are made from stretchy material and can be tricky to fix once torn. But similar to other fabrics, you can quickly fix holes in your leggings with or without sewing them.
Fixing a hole without sewing
Your leggings may get holes due to wear and tear or get pierced by a sharp object. Do not fret, as you can quickly repair your favorite pair of stretchy pants in various ways, even without the help of a needle and thread.
You can repair a pin-sized hole on knit-fabric leggings quickly. Using a big needle, arrange nearby threads towards the tiny hole to cover it. Stretching the fabric lightly in all directions will help repair the hole.
If you want to mend the holes in your leggings without sewing, there are various methods that you can apply, such as the following:
Nail polish

A typical household item you can use to fix a hole or tear in your leggings is nail polish. It is fast, easy, and effective. The only things you will need are a pair of scissors, clear nail polish, and leggings that need repair.

Put on your leggings first before mending. Get your nail polish and your pair of scissors. Find all the holes and tears that you need to cover up.

Apply the nail polish to close the holes. Make sure that the nail polish does not stick on your skin.

Wait for the nail polish to dry. It usually takes only a minute to dry the nail polish. Cut the pieces of thread hanging from the sealed tears. Once dried, you will find the holes fixed and indistinguishable.

You can get your clear nail polish supplies on Amazon.

Special fabric glue

You do not need to stitch the hole on your leggings to look like you repaired your garment professionally. The technique is to use special fabric glue. You can use special fabric glues to close small holes in stretchy fabrics and make them look like they were not there.

Apply the glue to the holes in your leggings, keep them tightly clamped overnight, and avoid washing your garment for 24 hours to ensure you seal the holes properly.

Using fabric glue is an excellent way to seal holes on stretchy fabrics if you have no option of stitching them up.

Iron-on mending fabric

If your leggings are from thin fabric and the hole is tiny, using an iron-on mending fabric is one of the best options for mending.

The cut thread on the hole of your leggings will merge with the interfacing at the wrong side of your stretchy pants.

Iron-on mending fabric is available in many craft and tailor shops and online. Since you need to iron the mending fabric, you cannot use synthetic materials like rayon, nylon, or polyester, which can cause your leggings to get damaged.

Iron-on mending fabric is available in most tailoring shops and online stores like Amazon.

Ornamental applique

You can embellish your leggings with ornamental or decorative applique patching as a way to repair a hole or a tear on it.
You can use decorative stitches to sew the applique. Using a cosmetic patch hides the tear or spot on your stretch pants.

Fabric flower patches

Fabric flower patches can also cover up holes aside from clothing embellishments. The challenge in using these embellishments is that you have to balance them in other areas of your leggings so that the design would look intentionally placed.

Fabric flower patches are easily accessible and easy to use by ironing them on the fabric.

Wear the holes with pride
If you do not want to sew the holes in your leggings, you can wear them as they are. Sport a casual look with leggings that look frayed. If you are a bit artistic and brave, you can cut the torn part open and make ripped leggings.

You don't need to hide the evidence of wear and tear and don your stretchy pants with pride.

Sewing a hole in your leggings

Stitching a hole in leggings is more effective if the spot is along the seam. You can choose to mend a torn seam by hand or using a sewing machine.

You can fix a hole in your leggings by hand stitching. It may not be as easy as when you are sewing a fabric that is not stretchy.

Sewing a hole in leggings can be tricky, so here is a step-by-step process to repair the hole on your leggings by hand sewing.

Thread your needle with more than enough thread that you will need to make sure that you will not run out of yarn as you are sewing the hole.
Before you start sewing, turn the garment inside out first. You will get a good grip on how to sew the tear properly.
Start stitching slightly away from the hole. Doing so will ensure that you have a regular stitch holding the hole and its area.
Stitch a little more beyond when you have reached the end of the hole for more stable stitches that will not tear at the repaired spot. Make a knot, then cut the excess thread.
Use a thin needle to sew stretchy fabric. Leggings tend to use thin material that may acquire more holes if you use a thick needle.
Use thread with the same color as the leggings you are sewing to hide the area where you mended the hole.
Use only tiny stitches when hand stitching a hole on your stretchy garment. Insert your needle as close to the tear as possible to seal the hole on your leggings tightly.

Stitching with a sewing machine

Stitching a hole with a sewing machine is a faster method and is the best option if you are more adept at using a sewing machine to repair garments.

Repairing a hole in a stretchy garment such as leggings is fast and easy if you follow these tips:

When sewing stretchy clothing, always use polyester thread on your sewing machine.
Use a thread with the same color as your leggings so that the area you are mending is not noticeable.
On your machine's stitch settings, choose the zigzag stitch. A regular zigzag stitch is the right setting to make small and firm stitches that will seal the hole on your leggings.
Start sewing a bit far from the hole, and when you reach the end of the hole, sew beyond the hole at the same distance to ensure that you can secure the spot correctly and the fabric around the hole does not tighten or loosen much.

Sewing a clothing patch

A clothing patch is an excellent way to fix a hole in your leggings. You can choose a contrasting pattern or color. Make sure that the fabric for the patch is equally stretchy as your leggings fabric. They must have the same elasticity to lessen or avoid the wear and tear of your stretchy clothing.

When you want to repair a hole in your leggings using a clothing patch, you will need a fabric piece similar to the material of your leggings. But the best clothing patch that you can use to fix a hole on your leggings is a part taken from your leggings.
The possible sources of your clothing patch can be an extra-wide hem, the seam, or any part of your leggings that you can use.
The best thing to do is cut a small piece of leggings material and make it the same size as the hole to cover it seamlessly. Once you have attached your cloth patch, no one will know that you have mended a hole in your leggings.

Sewing with a serger

The most common location of holes on leggings is the inside seams. The part of the leggings that easily get worn out is near the inner thighs. It is the portion of your leggings that gets rubbed together most of the time. It can weaken the stretchy fabric of your leggings over time and create holes.

First, turn the inside of your leggings out to see the seams and the holes created. Commonly, you can find the gaps and tears at the inside seam. You can easily use the serger to repair these holes.

Serge up starting at the bottom of one leg, follow along the crotch of the leggings, then down the other leg. This procedure is possible as the legging's fabric is stretchy. Because you are following the original seam, you can remove a quarter-inch of the original hem from the inside to remove the holes.

Then you can remove the serging tails or excess threads at the bottom of your leggings. Knot the tail as close as possible to the edge of the fabric, then thread the tail into a needle. Make backstitching through the existing serger stitches about an inch wide. Cut the excess bottom for a clean finish.

If you reach the part of the leggings where there are holes, serge inward until you get to the good parts of the leggings, then cut away the excess fabric.

How do you darn a hole in leggings?

You can darn a hole in your leggings by hand sewing using simple tools you can find at home, such as a sewing needle, thread, a pair of scissors, and leggings with a hole.

Cut a 12-inch piece of thread with the same color as your leggings.

Pull the thread through the needle, making sure that there are two halves of the cord. Tie a knot at the ends of the lines.

Turn your leggings inside out so that the stitches will be on the inside of your leggings.
Smoothen the fabric surrounding the hole.

Pinch the fabric together. Start stitching at one end of the hole. It would be best to use short stitches so that the thread will not break easily. Check if you included the whole tear in your stitches.

Tie a knot at the end of the stitches and make sure that the knot you create is large enough that it can slip off the stitches.

Cut the extra thread above the knot you made after sewing the hole.

Also check: