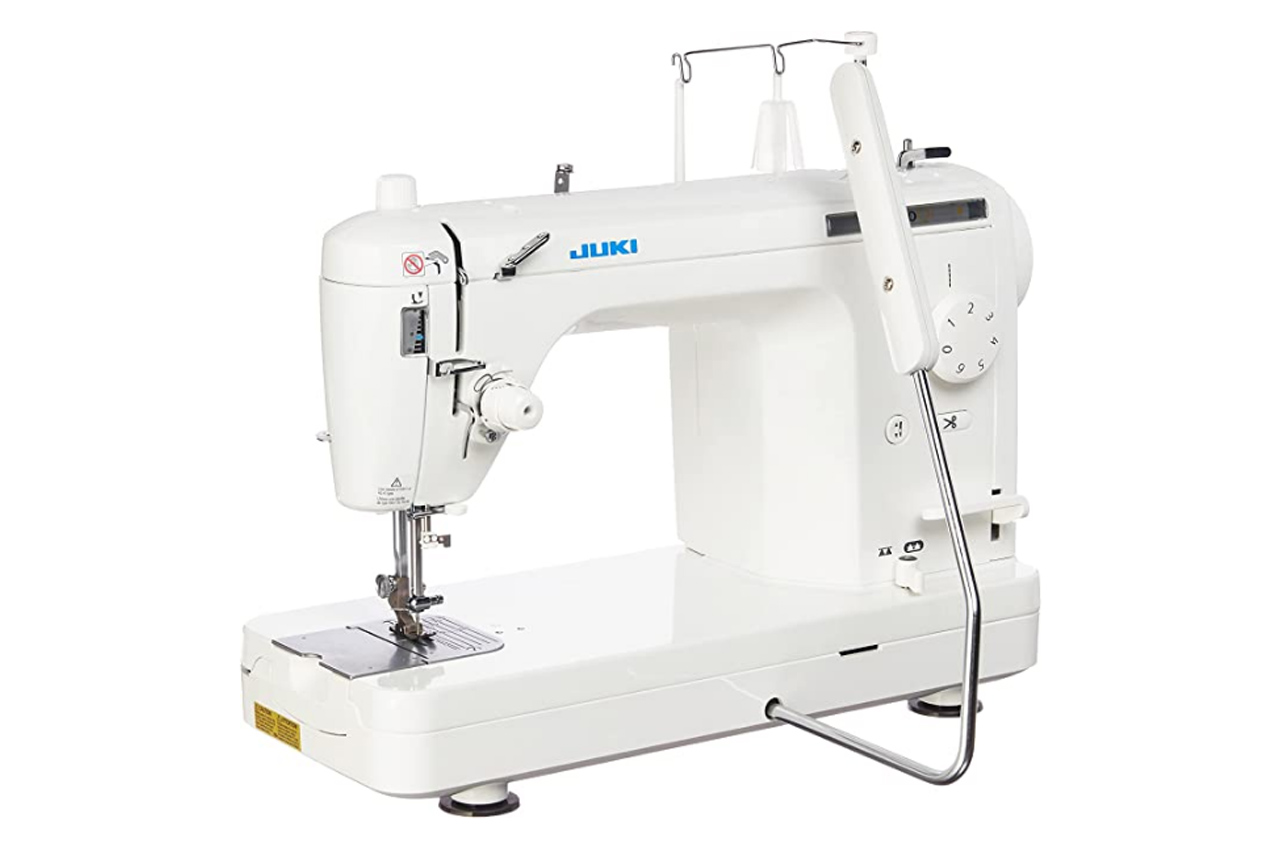 Look nowhere else if you are trying to find the best Juki sewing machine for commercial or residential use. Using its established logistical networks, the Juki Corporation has been supplying well-liked sewing equipment because of its excellent value for money.
Working with the best instruments is required if you want to sew at the top level or for the international market. The best Juki sewing machine for making clothes are dependable, easy to use, robust, and long-lasting.
1. Juki HZL-DX7 Computerized Sewing and Quilting Machine
The Juki HZL-DX7 is unquestionably one of the company's high-end sewing machines. You may use this one-of-a-kind sewing machine to create the best free-motion quilting, consistent straight lines, and zigzag stitching.
You can confidently accomplish your goal of having lovely even stitches since the Juki HZL-DX7 features a Juki "box feed" that ensures even and reliable fabric feeding. Additionally, regardless of the fabric, the "box feed" technology enables you to create flawless, high-quality stitches.
The Juki HZL-DX7 has details that make stitching more pleasant. You may easily manage multi-layer items created from heavy materials by increasing movement and lifting the presser foot, which can go up to 14 mm.
The Juki HZL-DX7 sewing machine makes it simple to enjoy the satisfaction of creating your design while utilizing some of the most incredible finishes. With this sewing machine, you can quickly transform your designs into works of art.
Based on its quality and capabilities, this machine is a terrific value even with its extra features. I highly recommend it because it produces excellent stitches and sews effortlessly. Additionally, it is a popular sewing machine and doesn't eat delicate fabrics.
Check the prices here: Juki HZL-DX7
2. Juki HZL-F600 Sewing and Quilting Machine
Are you just getting started with sewing? If so, the Juki HZL-F600 is one of the best sewing machines for beginners that you ought to try out. It is a computerized sewing machine ideal for quilting, clothing, home decor, and many other applications.
Although you might not be able to embroider with this sewing machine, it will still enable you to accomplish almost anything else. The Juki HZL-F600 has excellent power, is remarkably quiet, and resembles an unmatched workhouse.
While some complaints about the Juki HZL-F600, users have overwhelmingly good things to say about it. Owner ratings for this sewing machine made by the Juki Corporation are excellent.
The Juki HZL-F600 has a lot of benefits that come with it. You can use this machine confidently, knowing there won't be any instances of fabric shrinkage, even when using the lightest fabrics available, which is undoubtedly one of its most significant benefits.
The integrated box feed system in this sewing machine ensures that the feed dog is in contact with the material for lengthy periods, which is why you might not experience fabric shrinkage.
In addition to those mentioned earlier, you can also do free-motion quilting, thanks to the steady and stable thread tensions. Some people believe that this Juki sewing machine is unquestionably among the best available on the market.
Check the prices here: Juki HZL-F600
3. JUKI TL-2000Qi Sewing and Quilting Machine
The JUKI TL-2000Qi is a lightweight, portable sewing machine with aluminum die-casting and one of the most incredible Juki home sewing machines. It is your ideal option if you're looking for the top Juki industrial sewing machine.
This model has a vast work area up to 23 inches and an attached auxiliary table. So, it can handle large quilts and home decor easily.
The JUKI TL-2000Qi is a cutting-edge machine frequently referred to as "the Rolls Royce of quilting sewing machines" and can perform exceptionally, particularly in straight stitching. This sewing machine is ideal for dressmaking, quilting, and tailoring applications.
The JUKI TL-2000Qi is trustworthy; thus far, owners are not reporting skipped stitches or broken needles. The stitching is flawless, even, and very lovely. The JUKI 2000Qi is ani deal competitor if you're looking for a fantastic tool that will complete the task with ease.
If you didn't know, the JUKI 2000Qi is a remarkable machine made from premium components. In a nutshell, that is a real workhorse. This fantastic machine comprises entirely of metal, which ensures its endurance.
The machine's aluminum bed and arm are essential since they reduce vibrations, which your family, neighbors, and roommates will value.
Check the prices here: JUKI TL-2000Qi
4. Juki TL-2010Q Single Needle Lockstitch Machine
The JUKI TL-2010Q sewing machine has a single needle, semi-flat, speed control, and an automatic thread trimmer. It is a high-performance, mobile, single-point, lock-point sewing machine made of aluminum die-casting to guarantee commercial-grade sewing.
It boasts cutting-edge features like an industrial Undervoltage system, a variable speed control slider, and dazzling white LED lighting. Because of these components, this machine is ideal for precise sewing.
The device contains a button for automatic threading. With the push of a button, it helps trim the bobbin and needle threads. The adjustment button and the foot controller activate the Juki brand's advanced industrial style's cutting mechanism.
The thread tension scale is another characteristic of this machine. It enables the thread and material to be adjusted appropriately. Additionally, the new speed control lever gives you complete control and allows you to sew at your favorite speed.
Thanks to the microcomputer-controlled speed mechanism, the machine can also slowly observe. It provides highly accurate feeding. It enables you to stitch heavy fabrics, quilts, and materials with multiple layers while having the ideal sewing experience.
Check the prices here: Juki TL-2010Q
5. JUKI DDL-8700 Industrial Lockstitch Sewing Machine
If you want Juki's most incredible industrial sewing machine, I recommend the Juki DDL-8700. This machine can sew at mind-blowing speeds of up to 5500 stitches per minute, making it ideal for industrial-level applications.
The JUKI DDL-8700 has an automatic lubrication system and a lower material motor, making it suitable for processing both medium and light fabrics. Due to the incredible stitching rates and jam-free sewing that reduces losses, many significant enterprises that produce materials prefer this type of machine.
It is a sewing machine worth your time and consideration if you're looking for the best one that will suit your industrial demands for 10, 20, or even 30 years with no effort.
The JUKI DDL-8700 sewing machine ensures noise and quick vibrations aren't too annoying. It's one of the best sewing machines available and will provide you with the best performance possible.
Check the prices here: JUKI DDL-8700
6. Juki HZL-G120 Sewing Machine
The JUKI HZL-G120 sewing machine is a lightweight, very effective sewing device. It is a simple and user-friendly sewing machine that is ideal for beginners. It can stitch with any cloth of any thickness.
This sewing machine has a lot of impressive features. It has a stitch count of 70 and eight excellent buttonholes with LED lights on the automatic needle threader.
Its maximum speed is 900 points per minute, and it has a strong motor and manually adjustable upper tension. In addition, the Juki HZL-G120 is an excellent value for the money and has speed control and an easy needle threader.
Given that it is automatic, the Juki HZL-G120 sewing machine is more straightforward. It is perfect for stitching freehand embroidery. It is ideal for sewists who desire a clutter-free instrument to use. An instruction manual and the machine's numerous attachments also come with the package and a DVD.
The G120, which costs less than the TL 2010-Q, is an ideal entry-level model for premium sewing machines with extended arms and reasonable prices.
Check the prices here: Juki HZL-G120
More options: 
Best Sewing Machines for Beginners
Is Juki a Good Sewing Machine
Juki machines are well-made, and customers generally give them positive reviews. The controls are straightforward to use, and it has no trouble sewing through thick layers of fabric. The seams are flawless, and the thread hardly ever breaks or jams.
Juki sewing devices are some of the best in the market. But why should you invest in these machines while you have plenty of other options? It's simple. Juki sewing machines are sturdy and can stand long hours of work.
Considerations to Make Before Choosing the Best Juki Sewing Machine for Making Clothes:
Juki machines are some of the best out of all the options the market offers. If you have any plans to buy a Juki sewing machine, you found the right place! Here are some elements you must consider before you spend your hard-earned money:
Size

You shouldn't overlook the sewing machine's size since it is an essential factor. If you are a novice or a light user at home, you might want to invest in a compact Juki sewing machine that will fit in your home without taking up too much room.

Fortunately, Juki sewing machines are available in a wide range of sizes and shapes, like the Juki HZL-LB5020, which is portable and lightweight.

Weight

One of the vital factors is the Juki sewing machine's weight. If a device is light in weight, it often has plastic components, which is helpful if you need to move it around. However, if the sewing machine is too lightweight, you will experience a lot of vibrations.

Speed

Sewing requires attention to speed. Speeds are essential in the modern world of rising competition. Given that the JUKI DDL-8700 is one of the most fantastic industrial sewing machines currently available, speed is crucial in the sewing industry because it directly correlates to earnings.

Remember that these machines are renowned for their incredible sewing speeds when looking for a Juki sewing machine of your choosing.

Stitch Length

It would be best if you considered a sewing machine's ability to change stitch length when shopping to give you more options while stitching. It is precisely what Juki sewing machines do, making the procedure simple.

Thread Trimming

When choosing a sewing machine, remember that thread trimming is a regular task, particularly in manufacturing industrial clothing.

Before completion, cutting threads from stitched garments is an unavoidable activity that could call for a large workforce. However, since Juki sewing machines include thread trimmers for these jobs, you can avoid such wasteful expenditures.

Stitch Number

Preset stitching patterns are a lifesaver when it comes to a costume or prom dress you need to decorate quickly. Quilting becomes simple when you can design your own unique stories within a fabric piece.

Whether you are a beginner or not, you need to improve your items as you sew more to wow loved ones, friends, or customers. Consider the entry-level Juki HZL-F600 or the more sophisticated Juki HZL-DX7 sewing machines for the best stitch patterns.

Motor

Another characteristic to consider when buying a Juki sewing machine is its motor. The sewing machine will be more powerful the heavier the motor.

If the motor is powerful and heavy, it will be simpler for you to deal with regular use and thicker materials. A servo motor in industrial sewing machines like the JUKI DDL-8700 ensures a robust yet silent operation.

Noise
Although this can seem like a silly, almost trivial notion, it is very significant. It would be best to choose a sewing machine based on how loud or silent it is. You don't want to be greeted by an audibly loud jackhammer.
Unquestionably, Juki sewing machine brands are among the greatest you can hope to find on the market. They will quickly meet your sewing demands for commercial, industrial, or domestic use.