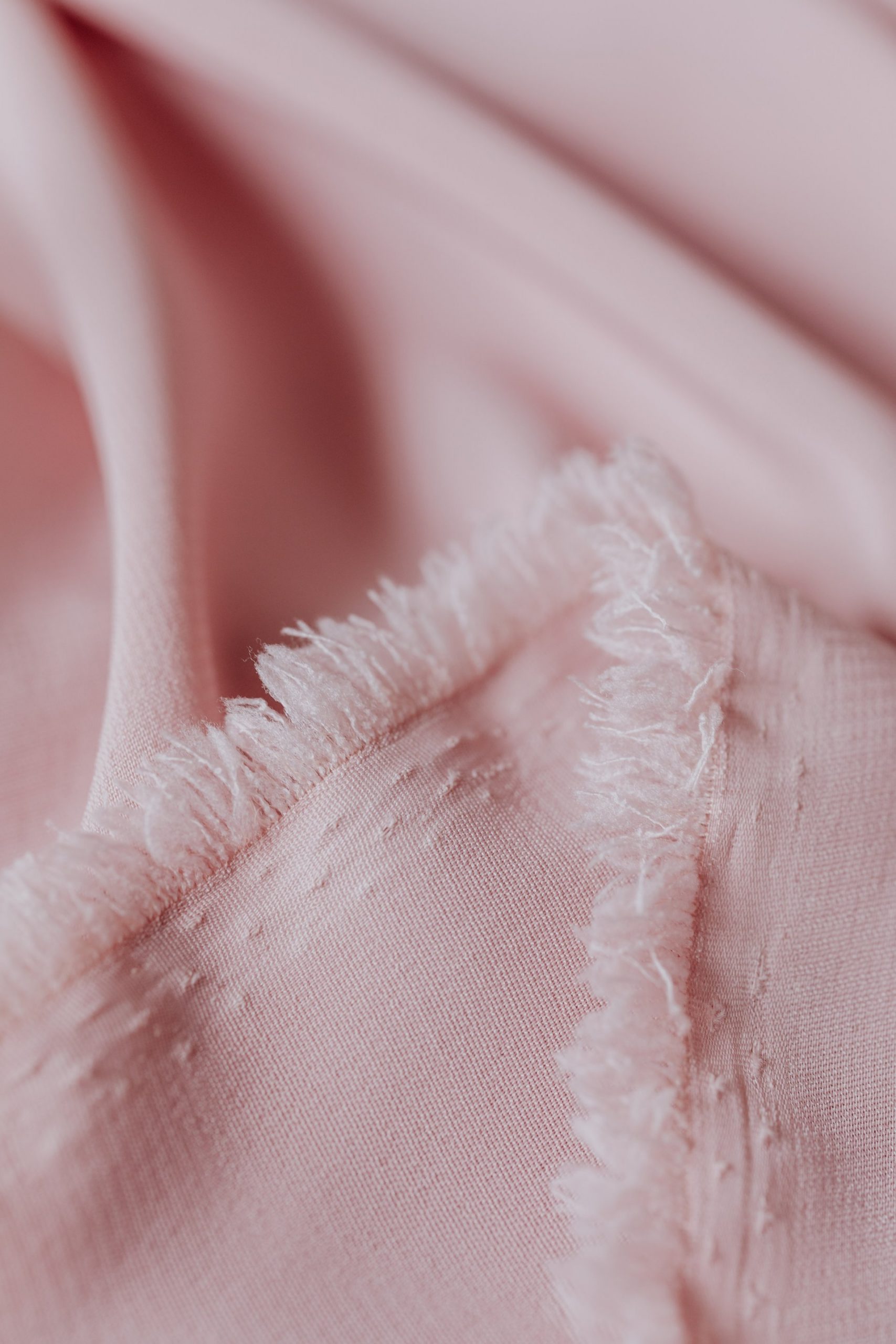 Yes, you can sew polyester. But you need to work with fine needles to avoid ruining the material. You also need to use small, zigzag stitches to sew its seams.
What needle do you use for polyester?
Polyester works best with fine needles like a size 8 Sharp or Microtex needle. This style of needles has a thin, accurate point. It is ideal for sewing materials like polyester, microfibers, silk, and others.
How to repair polyester fabric?
You can repair your polyester fabric using two primary ways for most household applications. You can either use an iron-on patch or overlay a polyester patch to the back of your fabric.
Clean up your fabric's tear with scissors. Remove any irregularities that might prevent the material from laying flat.
Cut the patch material at least half an inch larger than the hole on all sides. Make sure that your polyester can withstand the heat or the iron. You can use a small part of what you removed to test your material's heat stability.
Place your fabric flat and face side down so that its damage looks as if you reduced it. Put your patch over the damage. Iron it on the setting recommended by the patch manufacturer, which is usually a cotton setting. Iron your fabrics until you seal them well.
Place your material face down and flat if you prefer the sewing-mending technique.
a. Put your patch material over the damaged area.
b. Pin the fabrics together and turn the material right side up.
c. Sew a zig-zag stitch across your fabric's patched area. Keep your stitch rows even to get the ideal finished appearance.
Can you iron polyester?
Yes, you can iron polyester. But you need to make sure that the fabric is slightly damp. You can pre-moisten it with your spray bottle. Set the temperature to low or medium heat.
When ironing, you need to start at the top and work your way down your polyester garment. Keep in mind that you need to press firmly on the creases and rewet the fabric if necessary.
How do you get wrinkles out of polyester?
Polyester is a synthetic fabric that needs special care. It wrinkles quickly, and it cannot withstand high temperatures, which is why its wrinkles can be a bit more challenging to remove. But you, there are a few ways to get the wrinkles out of your polyester.
Wash and dry:
Check the care instructions on your garment's tag.
a. Follow the suggested wash cycle and water temperature indicated on the care tag. It may vary depending on if the item is pure polyester or if it is a blend.
b. If you are unsure of the instructions, you need to wash your polyester garment with cold or warm water. Put it on the permanent press cycle.
c. Never use hot water to wash your polyester item as it can damage the material.
d. The care tag on your garment will also show if you can to iron or dry the item.
Add a gentle detergent and fabric softener.
a. Adding gentle detergent while washing your fabric in the machine is less likely to damage your item. It will help reduce the static after you dry the fabric.
b. Since polyester tends to develop lots of static, using fabric softener is also highly recommended.
Start the wash and remove your garment right after the cycle ends.
a. Press start on the washing machine after adding the detergent and fabric softener.
b. Listen for the cycle to finish and then, transfer the wet polyester from your washer to the dryer right away. If you fail to do so, your polyester may develop new wrinkles.
Dry the item using the permanent cycle on your dryer for fifteen to twenty minutes.
a. Toss your polyester garment in a dryer sheet to help reduce the static.
b. Set the heat to low and turn the dial to twenty minutes max. These settings should be enough to get your item dry.
c. You can dry it for longer if needed, but check it every five minutes.
d. You can select the lowest heat setting if your dryer does not have a permanent press cycle.
Hang your polyester garment immediately after you dry it in the dryer to prevent developing new wrinkles.
a. Leaving your item sitting may cause new and possible permanent wrinkles on your polyester.
b. Leave the garment alone after hanging it for at least five minutes or as long as it takes for it to cool down.
Use an iron:
Turn on your iron to its lowest setting.
a. Polyester cannot withstand high temperatures, which is why you need to set your iron to low.
b. Check your iron's instruction manual if you are unsure about what setting is best for a polyester garment.
Spray the item with plain water.
a. Fill a clean spray bottle with plain water. Then, spritz your polyester with the water to dampen it a little bit.
b. Make sure that your garment is not dripping wet when you iron it.
Turn the polyester garment inside out and spread it on an ironing board.
a. Stretch your item gently with your hands to ensure that it lays flat on your ironing board.
b. Smooth out the wrinkles with your hand, so it also lays as flat as possible.
Cover the item with a thin towel or shirt.
a. Ensure that the shirt or towel is clean and dry. Smooth it out over your polyester so that it also lays flat. This extra layer will help protect your garment from becoming damaged by the iron's heat.
Iron the fabric through the shirt or towel on low heat.
a. Press the heated iron down on the towel or shirt.
b. Iron over the fabric to smooth it out.
c. Continue to move your iron back and forth across the fabric until you cover all of it two to three times.
Hang the item or leave it on your ironing board to dry it flat for at least five minutes. Do not fold or wear the garment right away, or it will develop new wrinkles.
Steam out the wrinkles:
Fill your iron's reservoir with water and turn it on the seam setting.
a. Check your iron's manufacturer's instructions to know how much water you need to add to the reservoir.
b. You also need to check the instructions on how long it needs to warm up.
c. In most cases, ten to fifteen minutes is enough time for the iron to get hot and release steam.
d. You can also use a handheld steamer. But make sure to follow the manufacturer's instructions.
Turn the polyester inside out.
a. Prepare your fabric on the ironing board while your iron is warming up.
b. Turn your garment inside out so that you will be less likely to damage the fabric.
c. Smooth the material out on the ironing board as best you can.
Move your iron up and down.
a. Position your iron about two to three inches above your polyester garment once it is releasing steam.
b. Move it up and down over each wrinkled areas to smooth them out.
c. Gently tug the edges of your fabric as you do this step. Doing so will help release the wrinkles.
Hang your garment.
a. Transfer your item to a hanger or leave it lying flat on the ironing board after you finish steaming the wrinkles.
b. Let your polyester cool for at least five minutes.
c. Make sure not to wear or fold the garment until it is cool, or else it may develop new wrinkles.
d. Slowly touch the fabric after five minutes to check if it is cool.
Related: