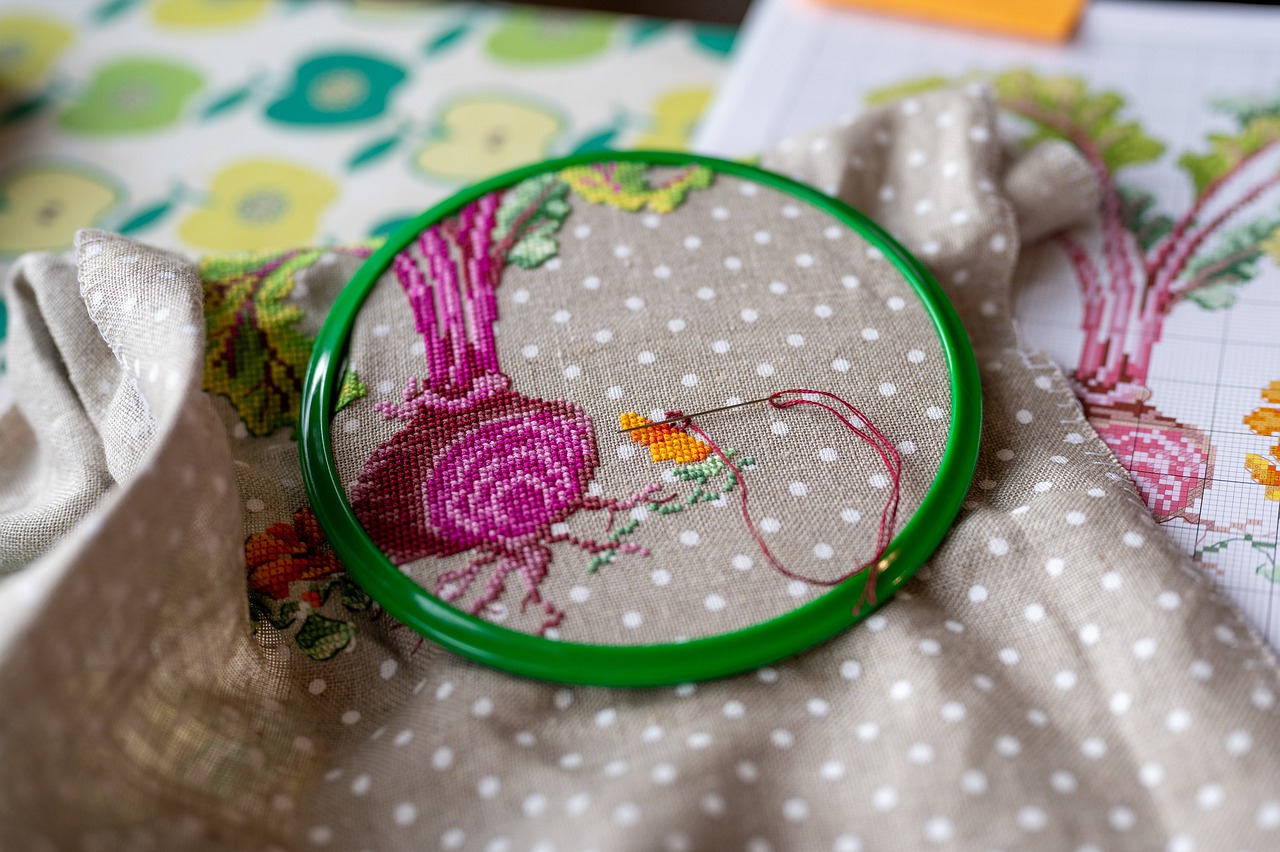 For many beginners, cross-stitch pieces with many colors can often look too challenging. It can sometimes be tricky to navigate through, and you might need some guidance. So, I will share the steps you will do to cross-stitch with multiple colors.
Parking Method
If you are a beginner, you probably do not know what this method is. The parking method helps you ensure that your stitching procedure is in place.
It is a cross-stitch technique that does not leave holes between rows. So, it is an excellent way to ensure that your work is as neat as possible. Also, you are not anchoring your floss and threading a new needle as you change colors. So it also helps you stitch faster.
When you use this method, you will know where to stitch next and where you have not yet. Plus, it ensures that your pattern moves logically. So, you will use this method more often when cross-stitching with many colors. Here is how you use this method for your projects:
1. Prepare your fabric.
First, it is best to get a fabric that is suitable for cross-stitching with many colors. It also helps if you wash and iron it beforehand, so your pattern will come out as neat as possible.
2. Choose your threads.
Threads are one of the most exciting parts of cross-stitch. If you are following a pattern, you will get the thread colors that it recommends. But, you can also choose according to your preferences.
Cross-stitch usually uses stranded cotton, which has six strands of loosely twisted thread. But, you will only commonly use two to three strands, according to your pattern.
3. Thread your needle.
When working with many colors for your cross-stitch, it is best to use not just one needle. Doing so will help you stitch faster and ensure that your project is neat. So, it is ideal that you thread all your needles with different thread colors.
4. Start working on your cross stitches.
Stitch your cross stitches row by row, starting with one color. Next, after you reach your desired point or the end of the color, you will park it. Then, start stitching again with a different thread, starting where you parked the first thread.
After doing so, you can go back to the beginning of the stitch. But, you will not make stitch this time. Instead, you will leave the thread and the needle fixed at the fabric's front.
Finally, cross over to make the other stitches once you finish the pattern's first stitch. But, make sure that you use a different thread color and needle.
5. Stitch the next row.
Move on to the next row and follow your pattern to make the next row's stitches. After doing so, you will park the thread and go to the next row to create the exact color stitches.
5. Sew the following pattern and continue with parked floss.
Ensure that you complete all the same thread colors in the first row. Make sure to do this step before you start with the following parts of your pattern.
Next, get a different color and pick up where you parked your first thread. It is best to go in with one thread first and stitch the pattern without leaving holes.
Finally, you will pick them up and stitch according to the pattern for the threads you parked. After doing so, it is best to anchor and trim the rest so your result will look neat.
Non-Parking Method
The parking method is the most common way to cross-stitch with many colors. But it can also be confusing and complicated if you do not have the right skills for it. Follow this guide for a more straightforward process to cross-stitch with many colors:
1. Thread your needle with the first color.
First, you will thread your needle and determine where you want to stitch first. But I suggest that you start with the middle and follow the pattern to the end.
2. Start stitching, then stitch the first color.
Insert your needle on the fabric's right side and ensure to leave an inch of the thread outside. Also, it is best to secure the tail with your finger before making a few stitches to secure it.
Next, follow your pattern and make stitches using the first color of your thread. Then, you can finish a row or a specific area depending on the design that you want.
3. Secure your stitches.
Move your needle on the fabric's wrong side, then sew through the stitches to keep them in place. Next, you will trim the thread and start stitching using the next color.
4. Thread your needle with the next color, then start stitching.
Follow your pattern as you stitch the fabric with the new color, leaving a trail of this new thread. Also, note that you will stitch at the wrong side of your fabric.
Next, insert your thread on the wrong side and secure the stitches before cutting excess thread. Finally, follow this procedure for the other colors to finish off your work.
Tips for Cross-Stitching with Many Colors
1. Thoroughly go through the design chart.
When cross-stitching, it is best to follow your pattern to see beautiful results keenly. So, it is also ideal that you know where to start and where to end each thread you will use. Also, by understanding the pattern, you are minimizing mistakes and factors that can ruin your work.
2. Deal with one stitch at a time.
After learning how to navigate the pattern, it is best to deal with the stitches one by one. So, it ideal to move forward with another color thread when you finish stitching one stitch. Doing so will help you sew faster and neater.
3. You can stitch incomplete rows.
You can also choose another method if you do not like dealing with the stitches one by one. Also, you may want to come up with a remarkable color variation. So, it is best to stitch the rows back and forth to help you make combined color effects.
How to cross-stitch multiple rows?
If you want beautiful cross-stitch pieces, you need many rows with good transitions. It is best to master transitions and do it with invisible stitches at the back. Then, start each row with a series of half-stitches, looping back to complete the cross stitch.
Anyone with basic hand-stitching skills can easily make single rows of cross-stitches. They need to understand what an "x" pattern looks like and how to transition from one to another.
But, only learning how to cross-stitch single rows will take you so much time. It is better if you know how to count, measure, change direction, and cross-stitch many rows. Follow these steps to make as many rows of cross-stitches as you need to finish your pattern:
1. Start with a single row.
Note that many rows will start with a single row. Also, doing your first row right will give you an easier time replicating it to make the following rows. So, it is best to do your first row with absolute precision and place it at the right spot.
Note that there are different ways to create a perfect row of cross stitches. But, beginners may find it easier to start with simple half stitches. Then, completing the stitch by looping back before transitioning to the next row.
There are some advantages to making your cross stitches by starting with half stitches. One of them is that you can quickly undo or correct your stitches. Also, it is more convenient if you want to redo a whole row of half stitches compared to a row of completed cross stitches.
2. Move on to the next row.
After completing your first row of cross stitches, you will see that you ended up on one side of the fabric. Next, you will find a way to move to the next row without interfering with your design. Note that you will do this step depending on the shape you want to make.
Note that you need to cover your fabric with cross stitches and count them to the end. So, it is best to do any other connecting stitches at the back of your material.
You can cross over to another row by making a straight stitch to the starting point of the next stitch. But, it is best to create this interconnecting stitch at the back of the fabric. Also, it is best to avoid making it too tight, or else it might show at the top.
Ideally, you will avoid making a connecting stitch that is longer than an inch. So, it is better to complete the current row, secure it, and cut the thread before starting the next row.
Using an interconnecting running stitch will introduce a point of weakness in your design. Also, it could quickly become undone after a few washes. So, it is best to avoid using this lazy method of multiple-row cross-stitching.
Like what experienced designers do, you can also make many rows with pure cross stitches. You will make the last exit point of the row directly leading to the next adjacent row's entry point. But, note that it will only work if the rows are adjacent and close enough to each other.
It also works best if you know how to count your stitches in precision. Also, when using this method, you can introduce a cross-stitch between two rows to connect them.
With everything said, please remember that beginners do not have to stress too much about transitions. You can try whatever method is most comfortable for you to use. Then, with time and practice, you can cross-stitch many rows with more ease.