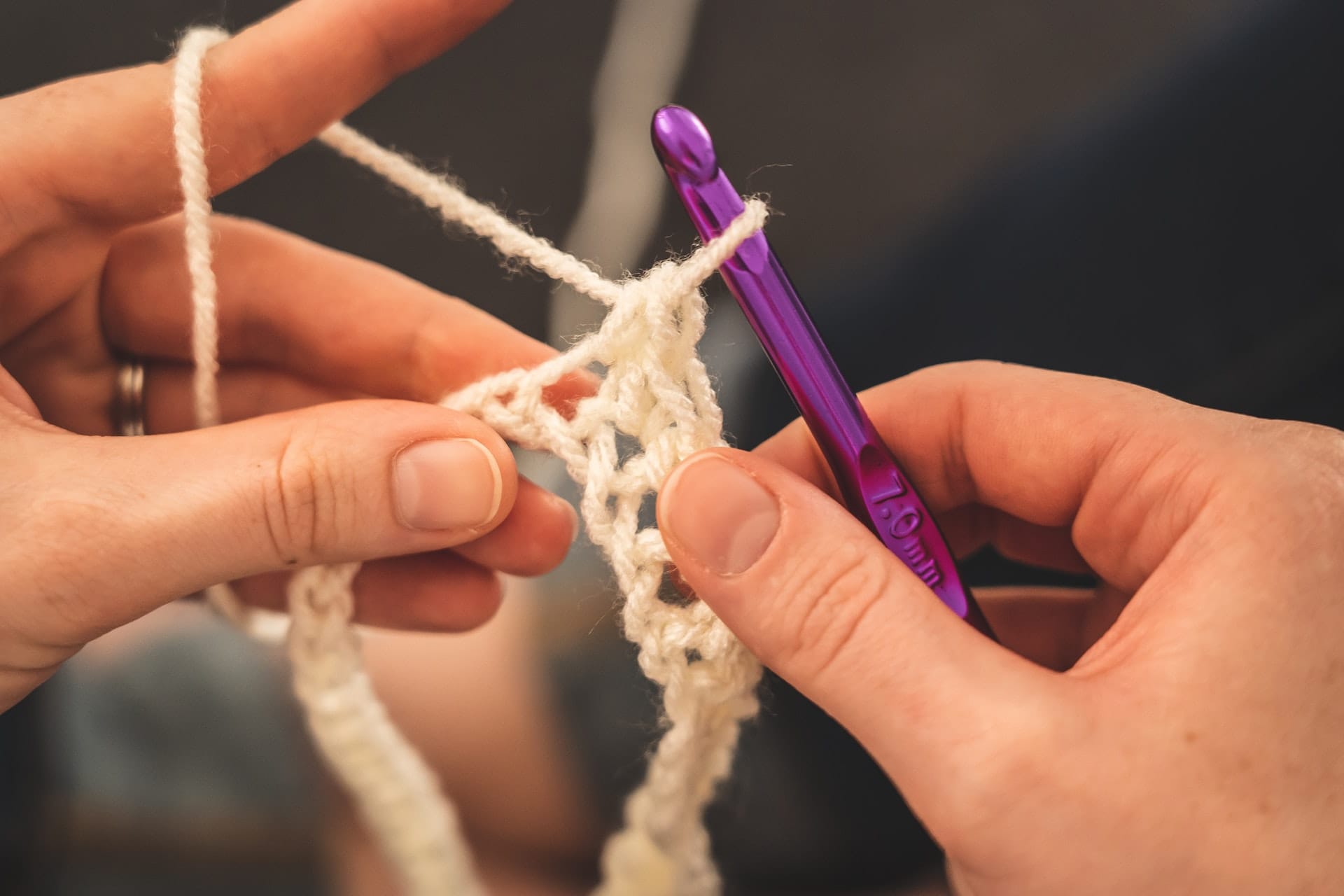 Generally speaking, a beginner will take up to three months to learn how to crochet. The basics, such as single crochet, turning, and chain, could only take a few hours to learn. But it could be up to a year if you want to master and get comfortable doing most crochet types and patterns.
You need to diligently practice if you want to learn to create smooth and consistent patterns. You must take a few weeks up to a few months to understand the mechanics and muscle memory required for this task.
How easy is it to learn crochet?
Learning crochet is relatively easy to learn, although it takes dedication, time, and enthusiasm. It is not as tricky as other crafts, but you do have to practice a lot.
At first, you might quickly feel like giving up when patterns become too difficult and complicated. Besides practice, learning and mastering crochet also needs a lot of patience. It quickly gets more comfortable as you perfect one stitch or technique at a time.
How do I teach myself to crochet?
As mentioned, you will need a lot of patience to learn how to crochet. First, you must know the appropriate tools for a crochet beginner like you. Find materials that you find easy to use. Next, you choose the project that you want to create. Then, practice doing it over and over.
What are the best crochet yarns for beginners?
It is advisable that you carefully choose your materials, although there is a wide variety of yarns and hooks you can use. Choose mid-weight (worsted) yarn made of acrylic, wool, or cotton. These types of yarn will give your project an excellent stitch definition. It will help you see your stitches better.
Wool yarn is excellent for practicing your crochet stitches. It is resilient, quick to unravel, and reusable. Cotton yarn is lighter than wool, which is why many beginners choose to practice with this fiber. But it is inelastic, making it slightly harder to use.
The most common fiber used by crochet beginners and enthusiasts is acrylic. It is widely available. It is also usually one of the most affordable yarns. But be careful in buying your acrylic yarns as some of the cheapest ones can easily split apart.
It is also best if you choose yarns of lighter colors. Dark or multicolored yarn makes it harder to identify where to insert your hook as you crochet. You can opt for any shade you want after you master crocheting.
As a beginner, you should also start with smooth yarns instead of textured ones. These yarns are more manageable and less frustrating when practicing your crochet stitches. Washing details are also essential if you want to crochet something wearable.
You should remember that any type of yarn can work for anyone who wants to learn crochet. But it is advisable for beginners that you start working with materials that would not make crocheting too complicated for you.
What is the best size of the crochet hook for beginners?
Besides yarns, you must also carefully choose the most appropriate hook for a beginner like you. It is best to match your crochet hook to your yarn weight. Yarn labels and patterns often suggest the size of the perfect hook for it, so keep an eye out.
Generally, most beginners start with a size H-8/5mm hook. It is an excellent average size that will help you get used to different crochet stitches. Be careful to buy the H-8 hook instead of a size 8 as these two sizes significantly differ from each other.
What is the best type of crochet hook for beginners?
You must get the most basic type of crochet hook if you are a beginner. Go for the regular ones instead. These hooks are medium-sized with a hook on just one of its ends.
Avoid specialty hooks like the double-ended crochet hooks. This type is for a specific technique called Tunisian crochet. You must also avoid using small steel crochet hooks as this type is for crocheting threads. Do not buy these hooks if you are only using yarn.
What is the best crochet hook material for beginners?
You should also choose the most suitable hook material for you. It might take a little bit of experimenting before you finally decide which material is best for you. So be patient and keep practicing, soon you will find the right hook for you.
Metal hooks are durable general-use hooks. They are the most common and most widely available. Plastic hooks are light and affordable, making them perfect for beginners. Lastly, there are bamboo hooks that are a bit more expensive but have an excellent grip that stops your yarn from slipping.
What should beginners crochet?
Many crocheters believe that crochet is a welcoming craft. Beginners can easily pick up a hook and learn a few stitches. There are plenty of crochet projects, even beginners like you can make.
Crochet Necklace
Making a simple necklace is one of the best beginner-friendly crochet projects. You only need to know a few stitches to make this craft.
What you need:
Yarn
Crochet hook
Chunky chain
Two jump rings
Large clasp
How to make it:
On the first row, start single crocheting around the chain.
Make a slipknot on your hook.
Slip the hook through the first link on your chain.
Wrap the yarn around your hook and pull it through the chain link.
Wrap the yarn again and pull it through the two loops on your hook.
Make three single crochets in one chain link and move to the next one.
Repeat this until the end of the chain.
Chain (ch) one at the beginning of the second row and start single crocheting into every stitch.
Ch two at the beginning of the third row and start double crocheting (dc) into every other stitch. Make one stitch every dc.
Finish off after the third row and weave in the yarn.
Add jump rings at both ends of the chain and attach the clasp lock to either one.
Crochet Round Coasters
These small projects are quick and easy to make, making it one of the most suitable projects for beginners. They can be excellent gifts for friends, colleagues, and family.
What you need:
How to make it:
First, you must create a magic circle. Loop the yarn around your two fingers and hold the point where the loop overlaps between your index finger and thumb.
Insert your hook into the loop from front to back. Pull up a loop.
Position your yarn over, and pull through the loop on your hook.
Create twelve double crochets (dc) in the circle.
Pull the short yarn end to close the circle and form a ring.
Slip stitch (sl st) to the first dc.
Work on two dc in each stitch for the next round.
Sl st to join them. Take note that you must have twenty-four at the end of this row.
Work on 1dc, 2dc in all the stitches around. You must have thirty-six stitches at the end of this round.
For your next round, work 1dc, 1dc, 2dc, all round. You must have forty-eight stitches as you finish.
Crochet Basic Beanie
Other than coasters and necklaces, crochet beanies are also excellent gifts you can give your loved ones. You can save money and easily create it with a bit of time and some simple directions.
What you need:
Worsted weight yarn
I/5.5mm crochet hook
Measuring tape
Yarn needle
How to make it:
Create a magic circle.
Round 1: ch 2, 12 dc into a circle; pull circle closed tight; join to first dc with your sl st (12 dc)
Round 2: ch 2, 2 dc in each stitch around, join to first dc with sl st (24 dc)
Round 3: ch 2, *dc in 1 stitch, 2 dc in next* repeat from * to * around, join to first dc with sl st (36 dc)
Round 4: ch 2, *dc in 2 stitches, 2 dc in next* repeat from * to * around, join to first dc with sl st (48 dc)
Round 5: ch 2, *dc in 3 stitches, 2 dc in next* repeat from * to * around, join to first dc with sl st (60 dc)
Related: 
What is the best beginner crochet book?
There are so many good crochet books to use if you want to start learning how to crochet. But the most recommended are:
How to Crochet: A Complete Guide for Absolute Beginners (Alison McNicol, 2013)
The Crochet Answer Book: Solutions to Every Problem You'll Ever Face; Answers to Every Question You'll Ever Ask (Edie Eckman, 2005)
Crochet for Beginners: A Complete Step by Step Guide With Picture Illustrations to Learn Crocheting the Quick & Easy Way (Nancy Gordon, 2018).
Why should you learn to crochet?
If you have ever wondered why you should learn to crochet, here are some reasons why you must follow through:
You always have customized and inexpensive gifts to give your loved ones.
It can help you relax and relieve you of tension and stress.
You have complete control of the design and colors of the projects that you will make.
It is both a fun and productive hobby.
Is it easier to learn to knit or crochet?
Many believe that knitting can be easier to learn than crocheting because you only need two basic stitches as your foundation: knit and purl. But you should take note that these two are similar yet different.
Knitting is excellent for items that need delicate stitches. Meanwhile, crocheting is best for projects that need bulkier stitches, like when you want to crochet a sturdy tote bag.