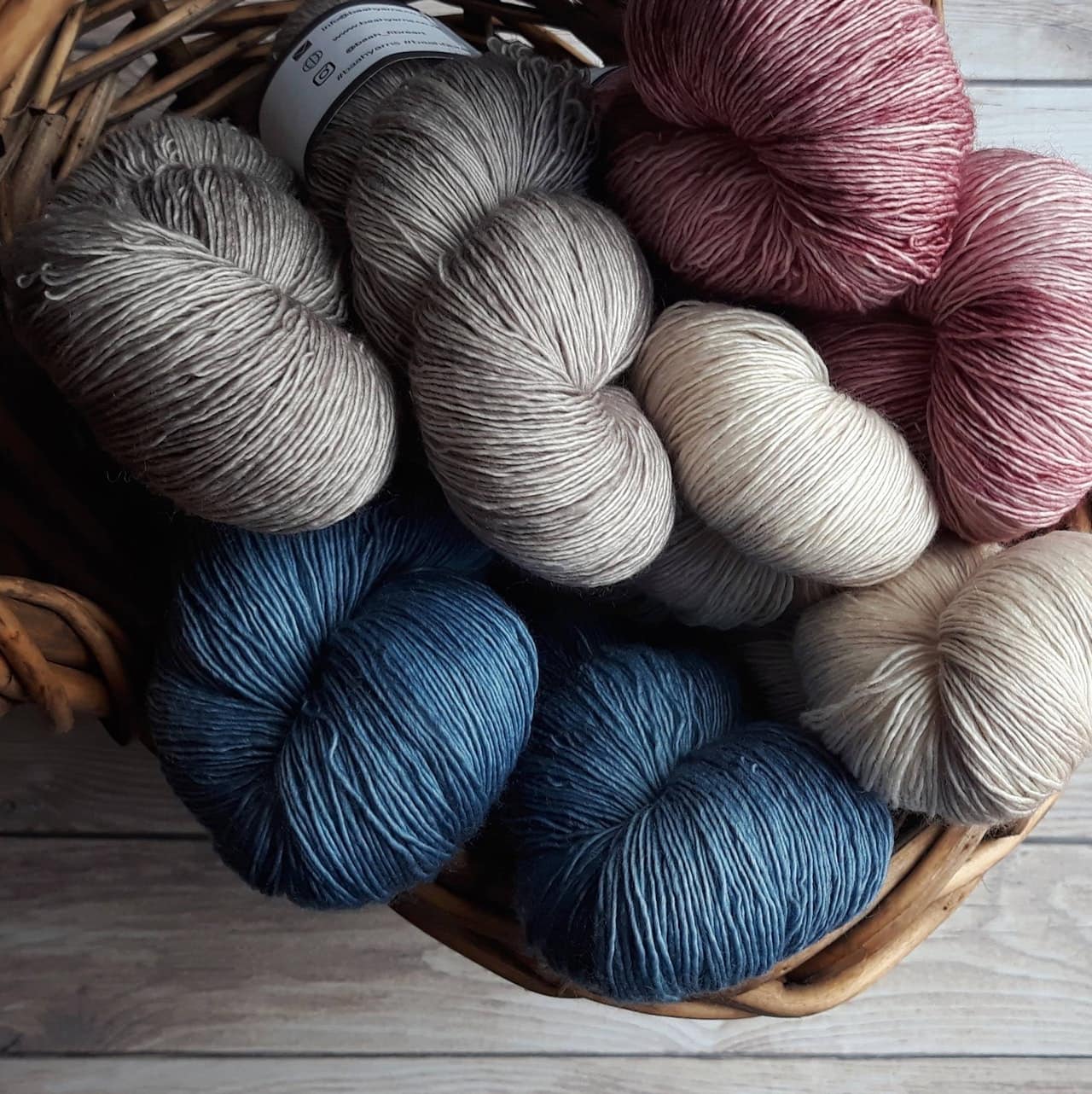 Tunisian crochet or Afghan crochet is a particular type of crochet that is sometimes considered as a mixture of crochet and knitting. It uses a hook with a stopper at the end, similar to a knitting needle, and has a length longer than the regular crochet hook.
Tunisian crochet begins with a starting chain, just like traditional crochet. But unlike the usual crochet, Tunisian crochet is worked back and forth without turning the work, making the right side always facing you as you stitch. Completing a row needs a forward and return pass, meaning working stitches onto the hook in the forward pass, just like knitting and working stitches off the hook in the return pass. Tunisian crochet produces a dense and waffle-like fabric which is perfect for dishcloths, shawls, and afghans.
Aside from Afghan crochet, Tunisian crochet has been called many names like Shepherd's Knitting, Scotch Knitting, Railroad Knitting, Royal Princess Knitting, and many others. It is unclear why the Tunisian crochet is called such because there is no verifiable history of this type of crochet in Tunisia.
Is Tunisian Crochet difficult?
Similar to a C2C crochet, Tunisian crochet is not as complicated and intimidating as it sounds. It is also not as difficult as you may think it is. Tunisian crochet is simply a mix of knit and crochet using a hybrid crochet hook that is a mix of a crochet hook and a knitting needle. The structure of the Tunisian crochet hook allows the creation of stitches that are unique to Tunisian crochet but you may also crochet a fabric that looks just like garter and stockinette stitches of knitting using Tunisian crochet hooks. Tunisian crochet is an enjoyable stitch to learn and add to your crocheting (or knitting) skills.
What is the difference between crochet and Tunisian crochet?
Traditional Crochet
Crochet hooks come in different sizes from 0.6mm to 20mm, usually with a flat thumb grip in the middle to achieve an even tension on the yarn.
For traditional crochet, it is advised to use a hook size that matches your yarn's weight.
When crocheting the traditional way, one stitch is completed before you proceed to make another stitch. At the end of the row, you turn the work, then crochet your stitches along the row until you complete the number of rows you need for your project.
You will notice that in traditional crochet fabric, there is plenty of stretch in all directions. The material produced is suitable for more delicate items like socks and baby items.
Traditional crochet has minimal curling than Tunisian crochet.
Tunisian Crochet
An ergonomic Tunisian crochet hook looks like a combined crochet hook and knitting needle. It measures between 10 to 14 inches long, longer than a classic crochet hook, and has a knob at the end to prevent stitches from falling off. Tunisian crochet hooks also come with a hook on both ends for crocheting in the round projects. Larger Tunisian crochet projects such as afghans are worked on hooks similar to circular knitting needles with the plastic cable and a knob at the end.
For Tunisian crochet, using a hook that is one or two sizes larger than recommended for the yarn is easier to use for many crocheters.
In Tunisian crochet, stitches are worked onto the hook during the forward pass and worked off the hook for the return pass. During the forward pass, stitches accumulate on the hook, which looks a lot like knitting, and the return pass is like binding off each stitch. But unlike knitting, stitches made in Tunisian crochet do not support the stitches below them, so dropping a stitch is not quite frustrating. A dropped stitch can quickly be recovered, or you need to rip out only one row to fix it. You also do not need to turn your work the whole time you are working on a Tunisian crochet project.
Tunisian crochet fabric is slightly less elastic and thicker than the traditional crochet fabric, which is ideal for afghans or winter blankets. You can also observe that each edge of the Tunisian crochet fabric has a naturally neat border which makes it much easier to join fabric pieces together.
Tunisian crochet is usually a faster process than traditional crochet.
Tunisian crochet fabric has a great tendency to curl, which needs to be shaped by steaming the fabric, known as blocking.
How do you do a Tunisian crochet stitch?
The stitches of Tunisian crochet are quite different from the basic stitches of traditional crochet. While standard crochet talks about inserting the hook through the loops, Tunisian crochet is about working through the bars. These bars are created after you have completed your first row of stitches, which is composed of a forward and reverse pass. You can work the Tunisian Simple Stitch crochet by following these steps:
Starting and Forward Pass
Make a slip knot, then crochet a chain the usual way. Create the number of chains for your foundation chain, depending on your pattern.
From the end of your chain, insert your hook into the second chain from the hook. Yarn over, then pull up a loop. Then leave it on the hook. Go to the next stitch, insert your hook, yarn over, then pull up a loop, and leave it on the hook. Repeat these steps along your foundation chain.
When you have reached the foundation chain's end, your stitches will look like the stitches on a knitting needle. You have reached the end of the forward pass.
Return Pass
The next step is working stitches off the hook, which is called the return pass. To start, yarn over, then pull up a loop on the first stitch. Yarn over, then pull through two loops on the hook. Always pull through two loops on the hook after the first stitch. Work stitches off until the last stitch.
Keep in mind that a single Tunisian crochet row is composed of a forward pass and a return pass.
Second Row (Forward Pass and Return Pass)
After you have worked the last stitch off the hook, a single loop remains on your hook. Notice vertical bars in front of your foundation row. Insert your hook on the second bar (not the bar at the edge) and pull through the yarn and leave the loop on the hook. Insert the hook on the next bar, pull the yarn through, and leave the loop on the hook.
Work your way through the end of the row, repeating these steps. You have reached the end of your second forward pass. Make it a habit to count the number of stitches when you get to the end of every row to make sure that you are still working on the same number of stitches as when you started.
Work stitches off the hook the same way you did before. Yarn over, pull up a single loop on the first stitch, then pull through two loops at a time to work all your stitches off the hook. When you have reached the end of the row, you have finished your second return pass.
Finishing Off
When you have reached the number of rows needed on your pattern and want to finish off your work, you will do something similar to a cast-off in knitting. To do this, insert your hook on the first bar, then instead of pulling the yarn through only one loop on the hook, pull through two loops. Insert hook on the next bar, then pull through two loops on the hook.
Repeat this process until you reach the end of the row.
To close your work, yarn over, then pull through. Snip your yarn with a pair of scissors. Pull the yarn end, then tighten. You made yourself a Tunisian crochet piece using the Tunisian Simple Stitch.
Tunisian crochet has a large variety of stitches that you can make just like in standard crochet. Take your time in learning and practicing the Tunisian Simple Stitch to make you more comfortable in tackling the other Tunisian crochet stitches such as Tunisian Knit and Tunisian Purl Stitches.
Can you use a regular crochet hook for Tunisian crochet?
Yes, you can technically use a regular hook to make Tunisian crochet. But crocheters advise that it is better to have the right kind of tools if you intend to make larger and different kinds of projects. The standard crochet hook can only make small projects like square washcloths, cuff bracelets and belts. The long Afghan crochet hook can be used for scarves, the ones with a cable can make even bigger projects like blankets and the double-ended or circular Tunisian crochet hooks for working in the round.
What can I make with Tunisian crochet?
Washcloth/ Dishcloth
Cuff Bracelet
Belt
Scarf
Cowl/ Neck warmer
Shawl
Hats
Blanket Sweater
Afghans
Baby Blanket
Does Tunisian crochet use more yarn?
In the '70s, the Tunisian crochet was known as the Afghan stitch and was widely used to make graph afghans in the US. The practice before was to crochet a large, plain, single-color blanket in afghan stitch, and you need to make the tension tight so you can form little grid-like squares. Then, you can embroider or cross-stitch the design using these grid-like squares.
The impression that Tunisian crochet uses more yarn came from this practice because you need a lot of yarn to produce a tight tension. But with modern Tunisian crochet, crocheting with tight tension is not so much encouraged, especially with particular Tunisian stitches. Not only do you use less yarn in Tunisian crochet, but you might be able to save some yarn than you would for a similar project by hand knitting.