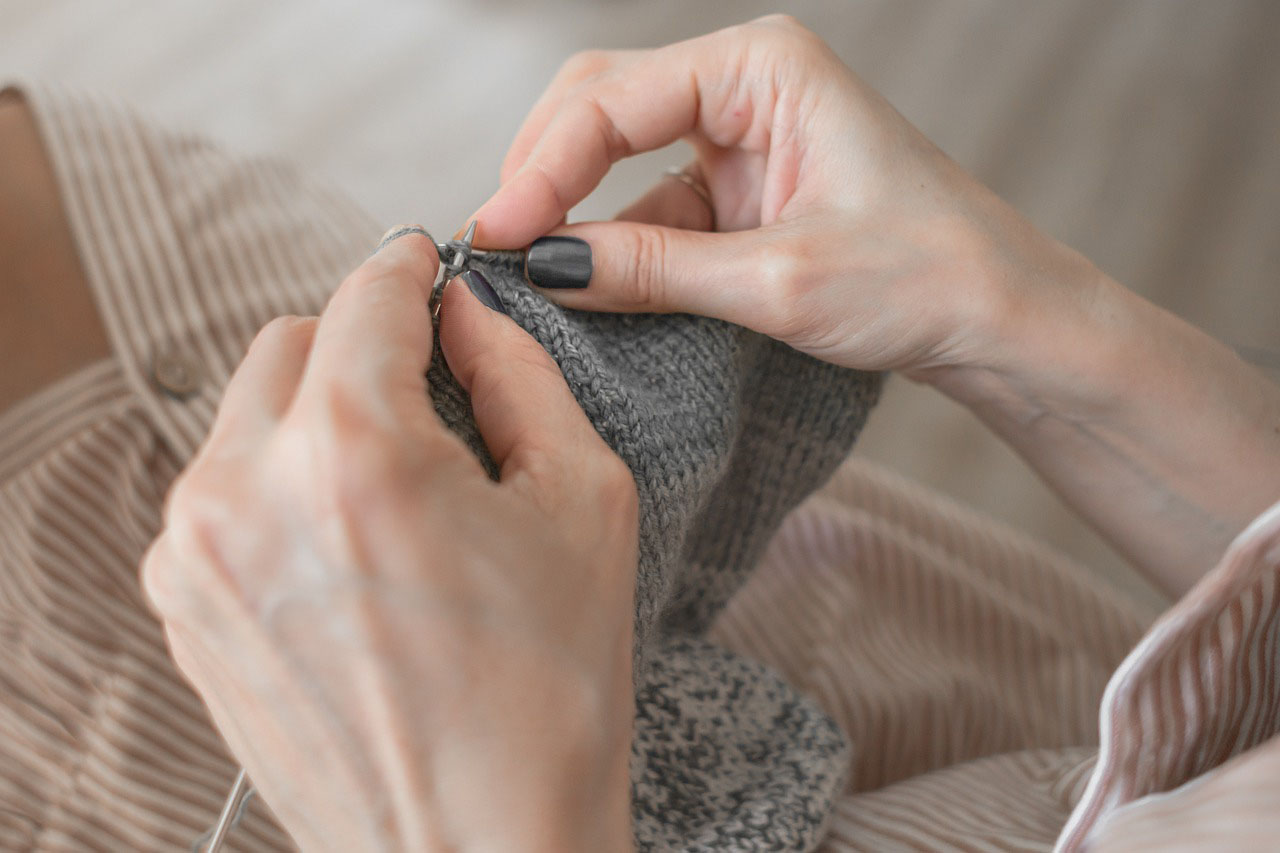 Knitting, formerly considered a "grandma hobby," has recently grown in popularity among younger crafters. It's one of the simplest crafts to learn, and with only a few simple stitches, you can make anything from comforting blankets to cropped sweaters.
As we live in a more digital world, you can find thousands of knitting ideas on various social media platforms, and new online knitting apps and groups are springing online.
Whether a beginner or an advanced knitter, there's never been a better time to pick up your favorite needles and yarn. So, continue reading if you desire to know more about all the knitting stats and trends of 2022.
Knitting Stats in 2022
According to an article from Forbes, knitting has become more popular due to the COVID-19 pandemic.
#1 Because of the pandemic, people had more leisure time for hobbies and handicrafts, such as knitting and crocheting. They had the chance to concentrate on their work and be proud of it.
For example, the founders of We Are Knitters answered a few questions in an interview, stating how their knitting business is now their full-time job.
For instance, Pepita Marn and Alberto Bravo (founders of We Are Knitters) stated that their sales had climbed by 75%. Their followers on social media and YouTube also increased by 50%.
#2 Despite the disruption of social life, online platforms allowed knitters to engage and socialize. Online knitting groups have boomed as a way to unwind after a long day at work.
People had the chance to share their passion with hundreds of others who shared it. In addition, many people knitted for charity. According to the survey results, here is some knitting data:
#3 45 million Americans can knit or crochet.
#4 Knitters buy their supplies at least once a month by 33% (one-third).
#5 Most knitting supply buyers were women aged 25 to 40.
#6 Customers aged 25 to 40 buy knitting kits to improve their skills.
#7 Customers above 40 bought individual supplies more often.
Knitting Industry Stats
This Knitting and Crochet Market report provides niche markets, potential risks, and comprehensive competitive strategy analysis in various fields.
The study examines the Knitting and Crochet market size, segment size (mostly product type, application, and geography), competition landscape, current status, and development trends. In addition, the research proposes solutions for businesses to overcome COVID-19 dangers.
For example, it suggests that technological improvement and innovation will further enhance knitting products' performance, allowing it to acquire a broader range of uses in the downstream market.
Furthermore, consumer choice analysis, market dynamics (drivers, restraints, and opportunities), new product introduction, COVID-19 impact, regional disputes, and carbon neutrality provide critical information for knitters to go deep into the Knitting and Crochet business.
Overview of the Market
Another study, Apparel Knitting Mills Industry Report, assessed the USA knitting industry. It examines the industry's breadth, size, disposition, growth, significant sensitivities, and success factors.
It also indicated five-year industry predictions, growth rates, and a study of industry-leading players and market shares.
The Apparel Knitting Mills business has decreased for over a decade as more apparel manufacturing rises in low-cost countries abroad. This reduction has resulted in a steady fall in industry revenue during the next five years until 2019.
While consumers benefit from an increase in discretionary income levels at the current time, this did not significantly increase demand for clothing knitting in the United States due to ongoing challenges from import penetration. Here are more findings from the study:
#8 The knitting industry made $1.2 billion in 2019.
#9 In the last three years, the knitting industry sales have grown by 0.1% annually
#10 In 2019, average sales per knitting company were $5.5 million
#11 The average hourly pay for employees of these merchandisers was $15.42
#12 the study predicts the revenue in the industry to rise modestly during the next five years through 2024.
As the report predicts the trade-weighted index to fall during the forecast period, it expects the US dollar value to rise, incentivizing industry product exports.
#13 As a result, the results expect the price of imported raw materials to rise.
Furthermore, the report projects the import penetration to encounter restrictions due to the uncertainties surrounding trade with numerous key trade partners for this industry.
#14 Over the next five years, it expects the industry to reverse its downward trend.
Key Players in the Global Knitting and Crochet Market
#15 According to the Knitting and Crochet Market reports, the top players in the industry are:
Red Heart Yarns
Made in America Yarns
Mountain Meadow Wool
Cestari Sheep
Imperial Yarn
Lion Brand Yarns
Brooklyn Tweed
Organic Cotton Plus
Global Knitting and Crochet Market Segmentation:
The Global Knitting and Crochet Market report divides the industry into various types and application segments.
#16 The knitting and crochet market from 2017 to 2029 primarily has three categories based on types:
#17 The knitting and crochet market from 2017 to 2029 covers four categories based on applications:
Apparel
Home Textiles
Industrial
Others
11 Knitting Trends in 2022
#18 Yarns with Space Dyes
Hand-colored yarns have long been popular among knitters, now gaining traction on the runway.
Designers allow colors to pool and alter with variations in stitch and diameter, creating a kaleidoscopic look. They become much more dramatic when employed in head-to-toe outfits.
This trend is a yarn-dyeing technique that produces a multicolored or blurred dye effect. It creates a textured pattern and adds color to the fabric.
Space dyeing is possible with any textile, natural or synthetic. Typically, you can do it on polyester, cotton, rayon, nylon, and wool.
#19 Knitting Comfort Projects at Home
People nowadays have become used to working from home and spending much more time in their living rooms. Even once governments eased the limits, some stayed in more often, so it's no surprise that Lion Brand reported an increase in comfort initiatives.
Soft blankets and snug sweaters are a challenging knitting endeavor and cozy addition to the new WFH lifestyle. I recommend making an arm-knit chunky blanket for your next couch binge-watching session.
#20 Beadwork in Knitted Creations
Beads have recently started to develop on more needles, and looks might range from quirky to ultra-luxurious.
They are a simple method to transform a mundane endeavor into something remarkable. Use them liberally for a highly textured effect or sparingly for a hint of glitter.
#21 Lavender and Neon Pink Colors
It's all about extremes when it comes to knitting and colors. There appears to be an upsurge in the number of knitters using dark, even black, yarn.
Several examples of ice pastels, particularly lavender, harken back to the early 2000s version of techno-futurism, although bright pink and super-saturated blues are also prevalent.
#22 Knitting Apps
If you can't find a knitting class or club in your area, you can download a knitting app, which is becoming more prevalent now. Apps like Knitrino, popularized during the pandemic to help people find patterns and learn new skills, make it easy to connect with other crafters and knitters worldwide.
#23 Knitting Community Connections
Knitting, formerly an individual craft, has recently evolved into a social pastime. After a buddy signs up for a group knitting class, a couple of your friends may decide to resurrect the hobby and launch a virtual knitting club.
#24 Temperature Blankets
This popular craft trend is one of many knitters' favorites because it is simple for both novice and experienced knitters. The concept is simple: knit one row in a color that matches the weather outdoors on each day of the year.
Because it's only one row a day, it's a great way to brush up on the fundamentals or master a new stitch.
If you're looking for ideas, there are already over 54,000 posts on Instagram with the hashtag #temperatureblanket!
#25 Combining Yarns and Textures
Mixing yarn bases and stitches add dimension to creations like never before. Contrasting textures elevate the already remarkable 3D stitches and provide a fantastic opportunity for stash diving.
Craft-focused labels such as Loewe are producing work that harkens back to the art sweaters of the 1980s. Designer Florence Spurling demonstrates a more approachable version of this trend.
#26 Floral Themes
While many love a fresh bouquet, more sustainable alternatives to actual flowers are trendy right now, especially after the Winter Olympics gave cashmere bouquets to competitors instead of fresh blooms.
Florals are a charming way to add color to any pattern, whether you knit a vibrant bouquet or include a flower motif in your next knit sweater or blanket.
#27 Knitted Skirts and Dresses
Skirts and dresses have become more popular on the runway and on knitting needles. Crocheters have traditionally been more open to wearing gowns, but more knitters are joining in on the fun.
Indie knitwear makers have begun repurposing some of their most popular shirts into dresses. Cardigan and tank sets have come back in recent years, and more designers now see sets as an entirely knit ensemble with coordinating top and bottom.
#28 Knitted Hoods and Balaclavas
By the end of 2021, the balaclava had become the season's must-have accessory. Balaclavas and hoods will continue to evolve until the Fall/Winter 2022/23 season. Knitters and crocheters.
Knitting is a Profitable Industry
Like knitting and crochet, yarn crafting has a vast market and is a profitable business. The following are true about the knitting industry's profitability according to the AFCI:
#29 In their research, AFCI found that knitting had a market worth $2.79 billion in 2016.
#30 This data gave them an average knitting spending of $20.57 per household.
#31 They also found that about 28.8 million Americans were knitters and crocheters.
#32 These knitters also participated in other needle arts like embroidery and cross-stitch.
#33 The research also showed that 71% of knitters and crocheters are female. Meanwhile, 29% are male, and 37% are full-time employees.
Here are some other astounding details that AFCI has gathered:
#34 77% of knitters buy their supplies from physical stores
#35 4% purchase outside physical stores (can be online)
#36 19% buy from both sources
#37 34% of knitters are between the ages of 18 to 34
#38 36% are between the ages of 35 to 54
#39 30% are 55 years old and above
What do these data mean? It's pretty simple. These figures imply that knitting is an enjoyable hobby for everyone. Whether you are male, female, or even if you are working full-time.
Knitting Is for Everyone
The study by the Craft Yarn Council found some interesting facts about knitters and crocheters. Here are some of their findings:
What Motivates the Participants
The study revealed that different age groups have unique motivations for knitting.
#40 Knitting provides a creative outlet for 65% of the participants.
#41 51% of the participants said they enjoy knitting projects for others.
#42 44% of the participants agreed that knitting gives a sense of accomplishment.
The study revealed that all participants agreed that knitting is their creative outlet. The second motivation is to cope with stress, and the last is the feeling of being productive.
Check: Youtube Channels to follow for knitting
What Benefits Do Participants Get
The research revealed that participants have different motivations. However, none of the results involve monetary gains or rewards.
#43 93% of the participants revealed that knitting gives a feeling of accomplishment.
#44 85% of the participants agreed that knitting reduced stress.
#45 68% of the participants revealed that knitting improved their mood.
#46 56% of the participants agreed that knitting gives a sense of confidence.
What Projects Do They Do
#47 The research showed that 86% of the participants make scarves. Meanwhile, 79% make hats.
Related: Best Soft Yarn For Crochet Hats 
When and Where Do They Buy Supplies
#48 The study revealed that 87% of the participants buy their yarns every one to three months. 49% purchase supplies monthly, while 11% buy them weekly.
#49 It also showed that 51% buy supplies from specialty craft stores. 10% get their supplies from the Internet. Then, 14% from local shops and 14% from mass merchandisers.
Related: