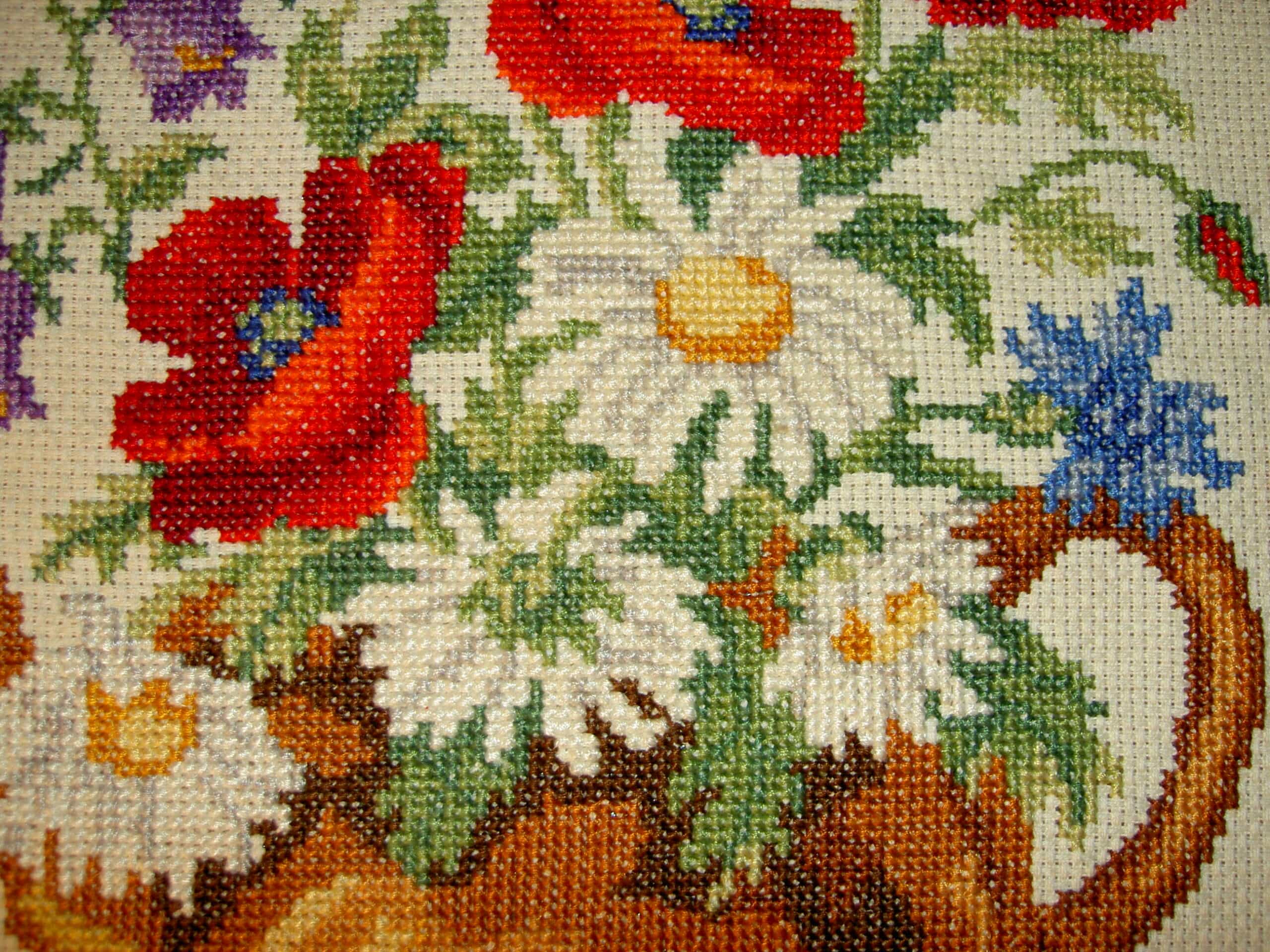 There are many fabric types you can use for cross-stitching. There are Aida, linen, and Evenweave. The Aida is the most common and popular among these cross-stitch fabrics.
The Aida fabric gained the term "The Cross Stitch Fabric". This is because most cross-stitchers learned this craft using the fabric. If you are a beginner, Aida will be your best friend in cross-stitching.
Not only that the fabric is inexpensive, but because it is easier to use. The 14-count Aida is the most widely used fabric in cross-stitching. So, if you want to learn how to cross-stitch in Aida, check the following details.
When you begin your cross-stitching, you need to prepare your materials. First, is to determine your chart or pattern. From your chart, you will know what fabric, needle, and threads to use.
Assume that you have the chart, so here is how you cross-stitch on Aida.
Get your Aida fabric
If you are a beginner, choose an Aida cloth with 11 or 14-count. These sizes have loose weave grids and bigger squares.
These fabric counts will be easier to work on and will give you even stitches.
Choose your thread
If you have a chart or pattern, it indicates the thread number that you need to buy. These threads are according to the design. Threads are available in hundreds of colors.
The cross-stitch thread you are going to use is the same as the embroidery threads. When you buy your threads, you need to keep in mind that each skein of embroidery floss comes in 6 strands.
Some patterns do not ask you to use all those 6 strands at once. Many patterns call for 1 to 3 strands of your thread or floss. Cut your floss at about 36 inches. This is the length you need to use on your work.
If you want to have neat threads on your cross-stitch, you may wax your threads first before using it.
Follow your pattern
Some beginners do not want to go through the hassle of making their patterns. This is why they often buy cross-stitch kits.
In case, you choose to make your design. Make sure to use 3 to 7 colors only.
Make a small design, so you do not overwhelm yourself.
Get your hoops
When you get your cross-stitch hoops, make sure that they are a little smaller than your design and fabric.
Keep in mind that when you put your fabric, there must be excess fabric around the hoops.
Start cross-stitching
Some patterns give you specific guidelines on where to start. If your pattern does not tell you, the safest way is to begin at the center of your fabric.
If you do not know how to get the center of your fabric, here is how you do it.
Secure the edges of your Aida cloth. You may create a small fold and baste it using long running stitches.
Once you have secured the edges, fold your fabric in half lengthwise. Press the fold to make the marking noticeable. Then fold it again crosswise. It is like folding your fabric into quarter size.
You need to do the same to your pattern to make sure you are on the right track on your pattern.
Once you have identified the center, mark it on your pattern and your fabric.
Finish your work
Follow your pattern until you finish the design. Once done, secure the edges with permanent stitch, then remove the basting stitches.
Another option is to use backstitches to secure the edges.
Wash your work
After you have completed your work, you need to wash it. The constant touching has caused some dirt and dust on your fabric. To ensure that your work is clean and ready for framing, wash it well.
Make a solution of water and detergent. Soak your work for 10 to 15 minutes to loosen the first. Then, hand-wash it by applying a gentle pressing motion. Try not to crumple the fabric.
Rinse it well and hang to dry. You must not squeeze or wring the fabric.
Once dry, you may press it on the reverse side. If you want to press it on the front side, use a thin fabric to cover the design. This thin cover will protect the stitches against the metal base of the flat or steam iron.
You may now frame your work or use it as a pillowcase design. There are lots of ways to display or use your cross-stitch projects.
How Do You Calculate Aida Count?
Understanding your fabric is important in cross-stitching. Unlike embroidery, this craft uses "X" stitches to form the design. Because of this, it is crucial to know the fabric count or size of each cloth.
Since the Aida cloth is the most common fabric, it is practical to get familiar with its fabric size. The size of your Aida cloth is its fabric count. You must keep in mind that the lower the fabric count, the bigger are the squares on the fabric grid.
This is a crucial concept because it will help you to resize your design by using the right fabric count. The size or fabric count is the number of stitches per linear square. In simple terms, the fabric count is the number of "X" stitches per inch in the cloth.
The Aida cloth has 7, 10, 11, 12, 14, 16, 18, 22, and 28 fabric-count. To help you understand this, let's take the14-count Aida fabric. This fabric count or size means that 14 "X" stitches fit in 1 inch of the fabric.
Let's take the 18-count Aida as another example. When you say 18-count, it means there are 18 "X" stitches in every inch of the fabric. In this instance, the weave grid or the squares in your fabric is smaller.
Say you use the same design on 14-count and 18-count Aida. You will notice that the design on the 14-count looks bigger than that of the 18-count. This is because the grid or the squares in 14-count are bigger.
What Does Aida Mean In Cross Stitch?
Aida cloth also called Java canvas is an even-weave fabric. Most cross-stitchers use this fabric because of its inherent stiffness and even grid. Aida cloth has gained the title "Cross Stitch Fabric". This is because most beginners learn to cross-stitch.
Manufacturers use cotton to make Aida cloth. It comes in different colors and sizes or fabric-count. Both novice and seasoned cross-stitchers love to use this fabric for their creations.
The even weave and grid allow cross-stitchers to make even stitches. There are three popular types of Aida fabric.
Herta
This is the most suitable type for beginners. This has 6-count fabric size which is among the largest sizes for an Aida cloth
Aida Country French
This is the luxurious type of Aida. Aida Country French is soft. It is suitable for baby garments, quilts, and other washable apparel. This fabric comes in 14 and 16 fabric- count.
Aida Yorkshire has a rustic texture and comes in 14 fabric-count.Some seasoned cross-stitchers do not use hoops on Aida. This is because the fabric is stiff.
What's The Difference Between 14 And 16-Count Aida?
The Aida cloth only differs in size and colors. The texture and the weave are the same for most Aida fabrics. Although there are other types, the typical Aida cloth features the same characteristics.
Let's take the 14-count Aida. This fabric count 14 indicates that there are 14 stitches per linear inch. This means that in every inch of the fabric, you can make 14 "X" stitches.
For the 16-count Aida. In this fabric count, there are 16 stitches in every inch of the fabric. These two sizes tell you that the higher the number, the more "X" stitches it has per inch.
The more stitches you put in 1 inch the smaller or thinner they get. This translates to narrowing or reducing the size of your pattern or design.
How Many Threads Do I Use On 18-Count Aida?
The 18-count Aida has smaller grids than 14-count and 16-count fabrics. The ideal number of strands is 1 or 2 depending on how dense you want your stitches to be.
There is no right or wrong when it comes to the number of strands to use for your cross-stitch. This is the reason why this craft gives you more control over your project. If you want your design to have that full and 3D look, you can use more strands.
The only issue that might arise from using too many strands is the look of your stitches. Since they are dense and too closed with each other, you could hardly see the "X" figure in your stitches.
Some cross-stitchers still prefer to see the "X" stitches in their fabric, so they only use 1 to 2 strands of floss. Again, the choice is yours. There is no hard rule about this.
What Does 14ct Mean In Cross Stitch?
The 14ct in cross-stitch denotes the fabric count 14. This means that in every inch of the fabric, there are 14 stitches. For instance, 14ct Aida means 14-count Aida.
This is the size of your fabric per linear inch.
Do I Need A Hoop For Cross Stitch On Aida?
Hoops are useful tools for holding your fabric well. They keep the fabric taut and give it the right tension. Hoops make it easier, especially for beginners to create even stitches.
But in practice, most cross-stitchers do not use hoops on Aida. The fabric is stiff and its grid is even, and so they think that hoops are unnecessary.
In case, you are using Aida with low fabric count, say 11-count Aida. The hoops may no longer be essential because the grid is bigger and you can easily see where to punch in your needle.
For those using higher count Aida or with unclear vision, hoops can be useful. These will allow you to see the fabric well and keep your cloth in place.
What Size Needle Is Best For Cross Stitching On Aida?
When you cross-stitch, you must also consider the size of your needle. The cross-stitch needles are different from embroidery or sewing needles. Here are some properties unique to cross-stitch needles.
Cross-stitch needles have rounded tips. This is because you do not puncture the fabric when your cross-stitch. You only insert it onto the space between the weaves of the fabric.
Needles for cross-stitching have rounder or wider eyes. Bigger eyes allow you to put in more floss when necessary.
When you cross-stitch, the lower the fabric count, the bigger the needle size you need. For any size of Aida cloth, cross-stitch needle size 3.6 mm. Works well. This size also works on linen, evenweave, and other cross-stitch fabrics.
For Aida fabric with lower count such as 6, 8, and 10, the 4.0 mm needle size works better. The point to remember here is the lower the fabric count, the bigger the needle size.
How Do You Pronounce Aida Cloth?
The Aida cloth started in 1890 by a German company called Zweigart. The even-weave cloth was first termed as Java.
There are two accepted pronunciations of Aida. The first is "Ah-ee- dah" (ɑːˈiːdə) with emphasis on the second syllable. This is the same as the opera in Verdi. This has three syllables.
The second accepted pronunciation is "Eiy-dah" (eɪdə). This has two syllables.
Aida cloth is no doubt a great fabric to use for your cross-stitch projects. This fabric is helpful to novice stitchers because of its even weave and stiffness. This fabric is also the most common and inexpensive cloth for your projects.
When you use Aida, make sure you understand its size or fabric count. It is not difficult to understand this concept. The key point is the higher the fabric count, the smaller the "X" stitches you can make.
The lower the fabric count, the bigger the "X" stitches you can make. The fabric count is the number of stitches that fit within one inch of the Aida cloth. In simple terms, the 14-count Aida fits in 14 "X" stitches in every inch of the cloth.
Once you have understood this concept, cross-stitching will be easier and more enjoyable.