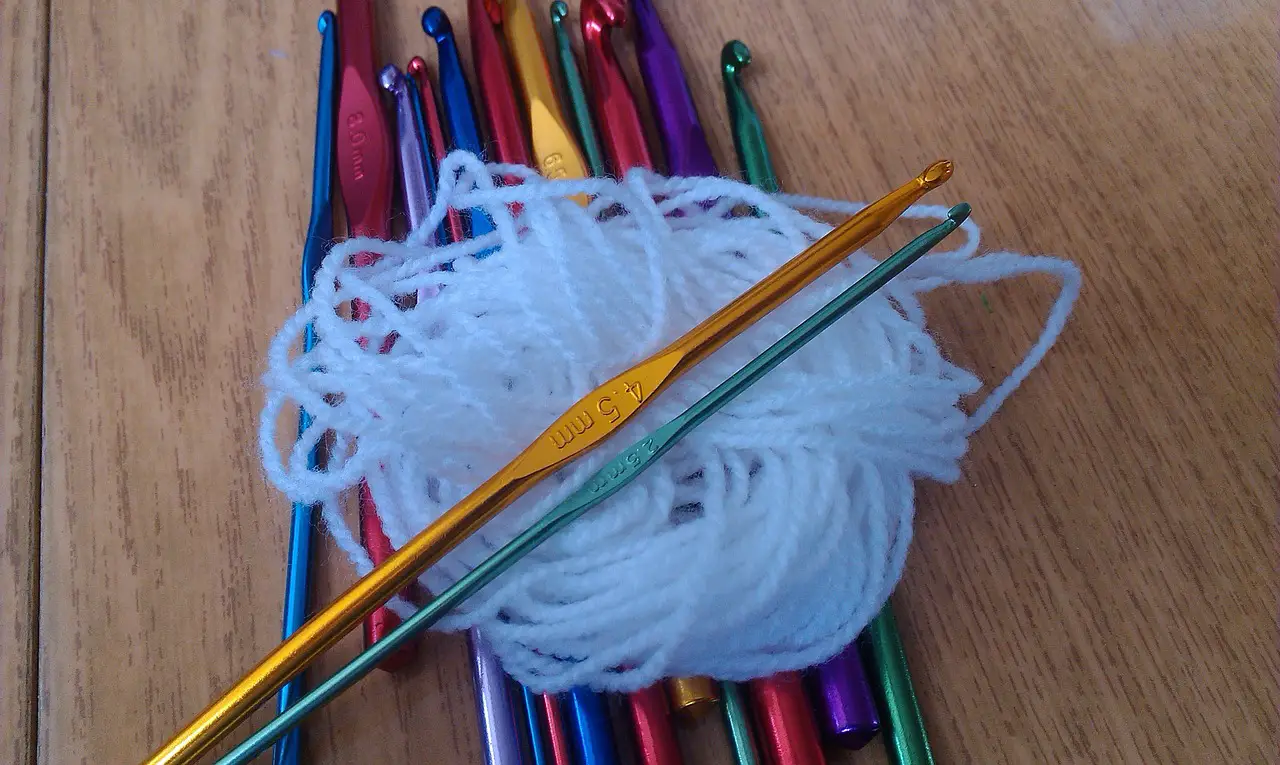 These days are the best days to crochet. Aside from the wide variety of shades of yarns available, the huge variety of crochet hooks you can find in craft stores is hard to resist. How would you know which ones you should get for the crochet project you have in mind?
How do you know which crochet hook size to use?
The diameter of the shaft shows the size of the crochet hook. It also determines the size of the stitches that you will create.
It might get overwhelming for a newbie in crochet to see different types of crochet hooks in various sizes. However, it is important to know the right crochet hook size to use before you start any crochet project. Using the wrong hook size may produce a finished crochet product that is either too small or too large.
Here are some tidbits of information that can guide you in choosing the right crochet hook size for your specific projects.
Crochet hook sizes differ based on the material, brand, and country where the hooks were made.
Hook sizes are designated on crochet hooks using different systems. Crochet hooks produced and sold in the US use letters of the alphabet for their sizes. Sizes vary from size B as the smallest and S as the biggest.The UK uses numbers for hook sizes, where the larger the number, the smaller the hook size. The smallest size is 14, and the biggest size is 2. Some crochet hooks indicate sizes on the hook using the metric system, which is in millimeters.
Steel hooks are also known as thread hooks. They are the smallest among the crochet hooks and are used only for fine lace thread.
A general rule for crochet is the thicker the yarn, the bigger the hook size to use.
For crochet projects that need a nice flow on your body, use a yarn-hook combination that promotes a flowy drape.
How do you match a crochet hook to a yarn?
The usual rule of thumb for crochet is to match your crochet hook size to your yarn weight. You can commonly find the yarn weight and the recommended hook size on the yarn label.
Following the rule of thumb for crochet, you will achieve the desired tension of your crochet fabric. Here is a concise but complete guide to using the right crochet hook size with the right yarn weight.
| | | | | | |
| --- | --- | --- | --- | --- | --- |
| Yarn Weight (UK) | Hook Size(UK) | Yarn Weight (US) | Hook Size (US) | Yarn Weight (Australia) | Hook Size (mm) |
| 1ply | 14 | Lace | – | 2ply | 0.75 to 3mm |
| 2ply | 12, 10, 9 | Fingering | B, C, D, E | 3ply | 2 – 3.5mm |
| 4ply | 12, 10, 9 | Sport | B, C, D, E | 5ply | 2 – 3.5mm |
| DK | 9,8,7 | Light Worsted | E, F, G | 8ply | 3.5 – 4.5mm |
| Aran | 6, 5, 4, 3 | Worsted | H, I, J, K | 10ply | 5 – 6.5mm |
| Chunky | 3, 2 | Bulky | K, L, M | 12 – 14ply | 6.5 – 9mm |
| Super Chunky | – | Super Bulky | N, P | 16ply | 9 – 14mm |
| Super Chunky | – | Jumbo | Q | 20ply | 15+mm |
When choosing the right crochet hook for your project, there are some things that you first need to consider.
Yarn Weight

The hook size you choose usually depends on the yarn weight. Most of the yarn labels include the suggested knitting needle size or crochet hook size, along with the other information relevant to crafters. Yarn weight and the recommended hook size serve as a guide for pattern makers to visualize the kind of crochet fabric the yarn and hook combination will produce.

Most crochet patterns also include yarn weight and crochet hook size combination to achieve the right crochet fabric finish you are looking for. But despite having yarn weight-hook size suggestions, it is also important to create a gauge swatch to determine your tension, as some crocheters can crochet tight stitches while others can crochet loosely.

Yarn Fiber

The type of crochet fabric that you will make will not solely depend on the crochet hook size you choose for your project. Yarn fiber also has a lot to do with whether your crochet looks tight or loose.

Cotton and wool are two of the most common yarn fibers used for crochet. Cotton is a fiber that will most likely widen if you combine a big hook with a thinner yarn. On the other hand, wool will create a more stable fabric when used with a smaller hook.

Finished Product
When choosing your crochet hook size, it is also important that you know what your finished product should look like. If you use a small hook with thicker yarns, expect the resulting crochet fabric to be more rigid with smaller spaces in between stitches. Amigurumi projects are common examples of crochet projects with a very tight finish.
If your crochet project requires a flowy drape, your stitches must have more spaces in between. You can create a loose and airy crochet fabric by combining a larger hook with a thinner yarn.
If you are just a newbie crocheter who has no experience combining different hook sizes with various yarn weights, the hook size and yarn weight suggestion on the pattern will be a useful tool. The more you crochet, the more you gain experience in combining various hook sizes and yarn weights. Then, you will be able to design your crochet project with the texture and finish of the crochet fabric you like.
What is the most commonly used crochet hook size?
The most commonly used crochet hook size is an H/8 or 5mm. It is the ideal crochet hook size to make scarves, sweaters, blankets, and many other crochet pieces. It is also the perfect size for most crochet projects because it is not too small or big.
Crocheters who have been into this craft for a long time mostly use middle-sized crochet hooks. It is matched to worsted-weight yarn, which is also the most common yarn weight available.
There is a wide range of crochet projects that you can make using a medium-sized hook and medium weight yarn. They are an ideal combination for making flat pieces like scarves, blankets, or shawls and those crochet pieces that need a nice drape, such as sweaters or tops.
The mid-range crochet hook size is also the one recommended for crochet newbies. A medium-sized hook is the best option for beginners because the hook is large enough for you to see the individual stitches you are making. The stitches are not as tiny as those made with thread hooks or as bulky and loose when using the large plastic hooks.
Can you use a smaller crochet hook than recommended?
You can use a smaller hook than what is recommended. The crochet hook size written on the pattern is only a suggestion. It is also the most suitable crochet hook size for the yarn weight stated on the pattern.
You can actually use a smaller or larger size than what is written on the pattern. Your choice of crochet hook size depends on your tension. Some crocheters crochet very loose; consequently, they will need to use a smaller hook than the recommended hook size in the pattern. Those who crochet very tight will have to use a bigger hook than what the pattern suggests.
The decision of using a smaller or larger hook also depends on the project you are making. Choosing the hook to yarn combination is more flexible on crochet projects like a shawl, blanket, or scarf. It is a different case when you are working on a sweater. It would be best if you used the proper gauge to get the size of the item right.
If you think the gauge matters for your crochet project, you have to crochet a test swatch and measure it before starting it. Making a gauge swatch will ensure that you can achieve the tension stated in the pattern, or else your crochet will be either too small or too large. Use the same yarn and hook stated in the pattern.
Make the foundation chain longer than what is stated in the tension guide of the pattern. For example, the tension guide indicates there are 20 stitches in 4 inches, make 28 stitches. Make extra stitches also for the stitch height. Crochet in rows until you create a square swatch. Mark the 4 inches across the center with pins. Then, count the number of stitches between the two pins.
Count the number of rows in 4 inches. If you crocheted fewer rows and stitches than you should, try making a swatch again with smaller hook size. If you have more stitches and rows, then try again with larger hook size. Use the hook size that best matches the right tension.
Does using a larger crochet hook use less yarn?
If you use a larger hook to crochet the same number of rows and stitches of a pattern, you will use more yarn. But if you are crocheting the same length and width as a project you made, say a scarf or a blanket, then a larger crochet hook will use up less yarn.
Using a larger hook to crochet creates looser crochet stitches. Your crochet project will have a lot more spaces in between the stitches and within each stitch. This reason holds for both situations.
If you want to crochet the same size as a piece you made using a bigger hook, you will produce bigger and looser stitches. You will finish your project quicker with fewer stitches; therefore, less yarn is also used.
The other situation calls for the same number of rows and stitches. Since you will be using a larger hook, you will produce larger stitches with more spaces in between. In this case, you will create a bigger crochet project with the same number of rows and stitches stated in the pattern; therefore, you will use more yarn.
This analysis is pretty useful when working on a tight yarn budget and saving up on yarn. It can work mostly on crochet projects where the exact size of the finished product is not a big issue, such as scarves, blankets, or shawls. These projects will definitely work out even with large spaces in between stitches. If you want to crochet the same number of stitches and rows, you can still save up on yarn, this time by using a smaller hook size.