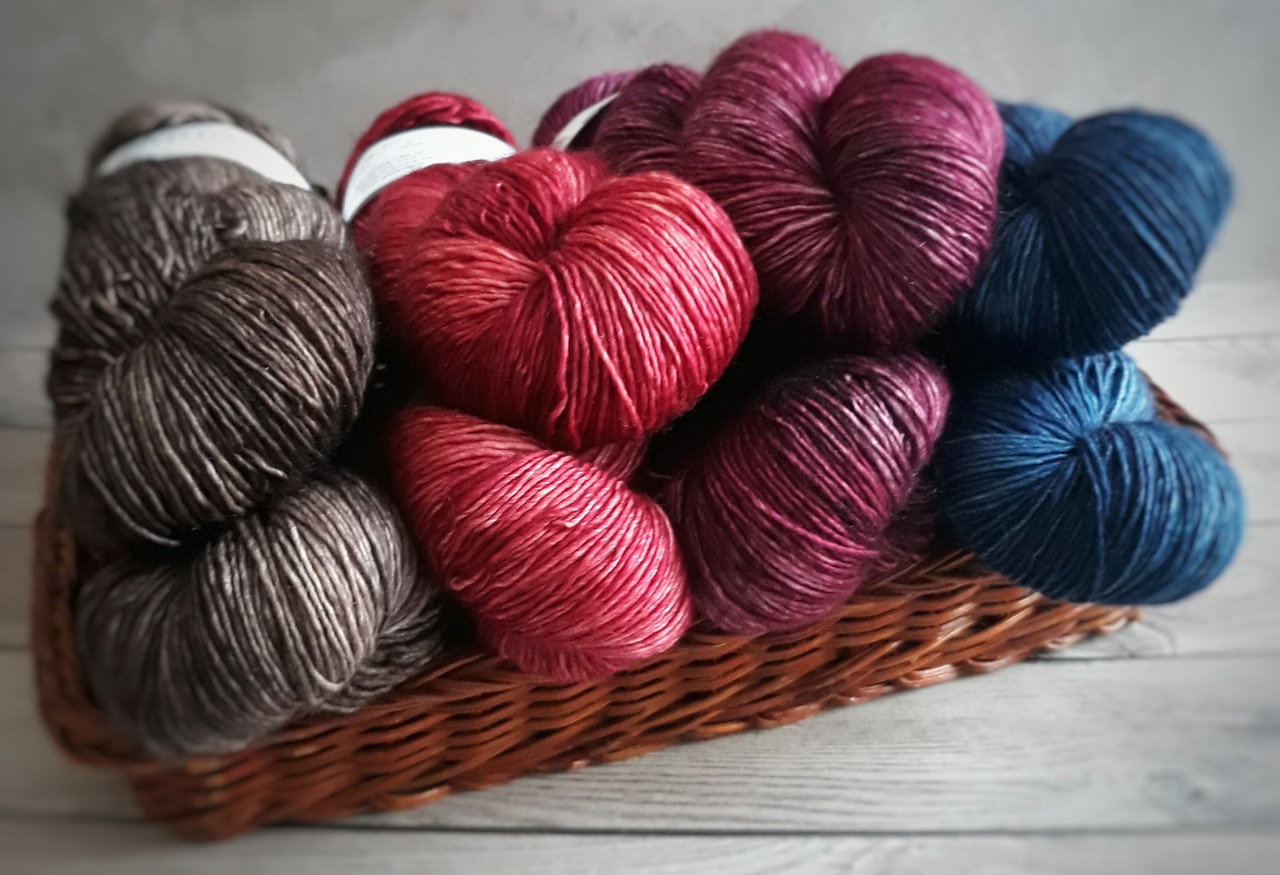 Choosing between knitting and crocheting makes you wonder which one uses more yarn. For example, many people say that crocheting takes 30% more yarn than knitting. But, results do not always prove this hypothesis.
Crochet uses yarn much faster than knitting, which may seem like you are using more yarn. But many factors determine the amount of yarn you will end up using in the final product. So I cannot say that crochet or knitting takes more yarn than the other.
Crocheting and knitting have so many differences. But, rather than the craft, the amount of yarn has a lot to do with the type of yarn, needle size, hook size, gauge, and pattern.
What Is The Best Yarn For Crocheting
There are many kinds of yarn that you can use for crocheting. But, many believe that wool, cotton, or DK acrylic are the best yarns for crocheting.
You can use almost any kind of yarn to crochet. But if you are a beginner, choosing your first options may seem challenging. So, here are some recommendations and guidelines you can consider to find the best choice.
Fiber Types
First of all, it is best to decide which type of fiber works best for you. As I mentioned, you can crochet with pretty much any yarn. But, the three most common and ideal yarn options are wool, cotton, and acrylic.
Wool
Many believe that wool is probably the best yarn for crochet projects. It is breathable and highly absorbent, so it will keep you dry and cool. Also, wool can soften with wear, is long-lasting, and has anti-bacterial properties. So, you know that your wool pieces will last longer than others.
Wool is also an excellent choice if you want to practice your crochet stitches because it is durable and resilient. So, if you make mistakes, you can quickly unravel and re-use wool yarns. But, some people have wool allergies, which is something to consider.
Another fantastic thing about wool is its memory. It will keep the shape it dries into after wetting and stretching your wool garment (blocking). But, if you worry about itching, you can test a yarn necklace first to see if it irritates your skin.
Cotton
Cotton is the best option if you wish to crochet something that holds up to wear and tear. This fiber type is durable and will give you nice precise stitches. Also, cotton yarns come in various colors and at reasonable prices.
Cotton yarns are lightweight, feel smooth to crochet with, and are perfect for summer pieces. Also, cotton is an ideal alternative if you are allergic to animal fiber types like wool. But, note that it is inelastic, which makes it slightly more challenging to use.
Acrylic
Acrylic is popular among crocheters because it is widely available and comes in various colors. Also, it comes in bright colors and at affordable prices, making it an excellent option for beginners. But, it can sometimes split apart, so buying from a reputable brand is essential.
Acrylic yarns are not as breathable as wool, but some brands are durable and machine-washable. Also, because it is essentially plastic, acrylic lasts longer and is not as susceptible to wearing down and moths.
What Is The Difference Between Knitting and Crocheting
They are similar in many ways, but the tools and techniques are the main difference between knitting and crocheting. People often ask what their differences are when choosing between the two. So, here are five differences between knitting and crocheting:
Crochet Stitches vs. Knit Stitches
The structure of a crocheted fabric and knitted fabric is one of the primary differences between crocheting and knitting. For example, you will usually pay attention to only one active yarn loop when crocheting. But, you will securely keep a few active yarn loops on your knitting needles.
In knitting, each stitch depends on the support of the stitch you place below it. So, if a knitter drops a stitch, the whole column below it can unravel. Also, you have two primary knit stitch types: knitting and purling.
You can use knitting and purling to mix and match different ways to create a diverse set of stitches and patterns. You can also make them in rows while allowing your needle to hold the active stitches in place.
In crocheting, there is a wide variety of stitches that you form one at a time. So, there is no longer a need to keep your stitches on the crochet hook. But, note that many crochet stitches are more complicated than knitting stitches.
Crochet Hooks vs. Knitting Needles
As I mentioned, the tools are one of the primary and most noticeable differences between knitting and crocheting. Knitters use knitting needles, while crocheters use crochet hooks.
You can use pointed needles, machines, or looms when knitting, but most knitters use needles. They are available in various lengths, sizes, materials, and configurations for different projects.
Looms and machines may be more efficient to use if you are knitting as a business. These tools can help you mass-produce items and will save you so much time. But, it is best to use a pair of needles if you prefer hand-knitting.
In crocheting, you will use a hook, which is a stick with a small hooked end. Like knitting needles, crochet hooks also come in various sizes and materials.
Crochet Supplies vs. Knitting Supplies
Another area where crocheting and knitting differ is the supplies and accessories each of them uses. Here are some of the typical materials you need for each craft:
Crocheting Supplies:
Crochet hooks
Gauge swatches
Stitch or row counter
Finishing needles
Scissors
Knitting Supplies:
Knitting needles
Stitch markers
Scissors
Point protectors
Measuring tape or ruler
Crochet Yarn vs. Knitting Yarn
Both knitting and crocheting use yarns, and generally, both use the same type and basic amount. So, you can use any yarn to knit or crochet, depending on your project. You can even knit with only a crochet thread. But, one exception is knitting with thread because it is much more challenging to knit with threads.
Yarn is available in many different types and colors, which you can use in knitting and crochet. But, some kinds may be more suitable for one craft than the other, such as looking for excellent rug yarn, if you intend to knit a rug at home. So, it is best to experiment and find out what works best for you.
Crochet Projects vs. Knitting Projects
Crochet creates stiffer yet delicate fabrics, which is ideal for projects like blankets. But, knitting creates a finished fabric with more drape, which is perfect for garments.
Note that there might be specific projects that are more suitable for either knitting or crocheting. But, some yarns can help you create delicate knits and draped crochet projects. Also, there are many projects that you can either crochet or knit, depending on your preferences.
Pros and Cons
Crocheting Pros:
You have fewer tools to buy, lose, or drop while working on a project.
Many people find crocheting easier than knitting once you learn the basics. Unlike in knitting, there is no need to move your stitches back and forth between needles.
Crocheted projects are less likely to unravel than knitted items. So, it is a significant benefit of crocheting!
Crocheted fabrics have a stiff nature. It makes crocheting ideal for blankets and other items that do not need a flowing drape look.
Crocheting Cons:
Some people believe crocheting tends to use more yarn, which can make it more expensive.
You will find less variety in crochet patterns.
Knitting Pros:
Many people find it easier to learn than crocheting. But, it depends on the person.
Knitted projects have more drape, which is more aesthetically pleasing to many.
Knitted projects can be pretty stretchy, depending on the stitches you use.
Advanced knitters can knit garments that look like high-quality knits in stores.
Knitting Cons:
Dropping stitches is a common problem, which can ruin your entire project.
It is best to have a lot of patience because knitting can take a long time.
How To Tell If Something Is Crochet Or Knitted
There are a few ways to determine whether something is a crocheted fabric or knitted fabric. One of the easiest ways to tell if something is crochet or knitted is by looking at the stitches. For example, knit stitches form a "v" shape. But, crochet stitches look more like knots.
You can also tell whether the item is a crocheted or knitted fabric by looking at the stitch structure. For example, knitted projects usually show the stockinette stitch. But, crocheted pieces usually show the double crochet stitch.
Another way to tell if a fabric is a crocheted or knitted piece is by looking at the motif type. A motif is a repeated design that forms patterns on a garment. For example, knitters usually create various motifs, including ribbed, cables, and knotting.
Crocheting also uses motifs like open or lacework and granny squares, but they are easy to differentiate from knitted motifs. So, it is best to familiarize yourself with these things if you want to distinguish crochet from knitted pieces.
Also check:
Is It Better To Knit or Crochet A Blanket
As I mentioned, some yarns can help you either knit or crochet some projects. But, it may be better to crochet a blanket because it is a quicker method. Also, it will help you make a blanket that is stiff yet delicate.
Although crochet is more preferred when making a blanket, there are factors to consider before starting. For example, knitting can be labor-intensive and slow, but it is also an excellent form of exercise. But, you may have to learn more skills for crocheting, depending on your pattern.