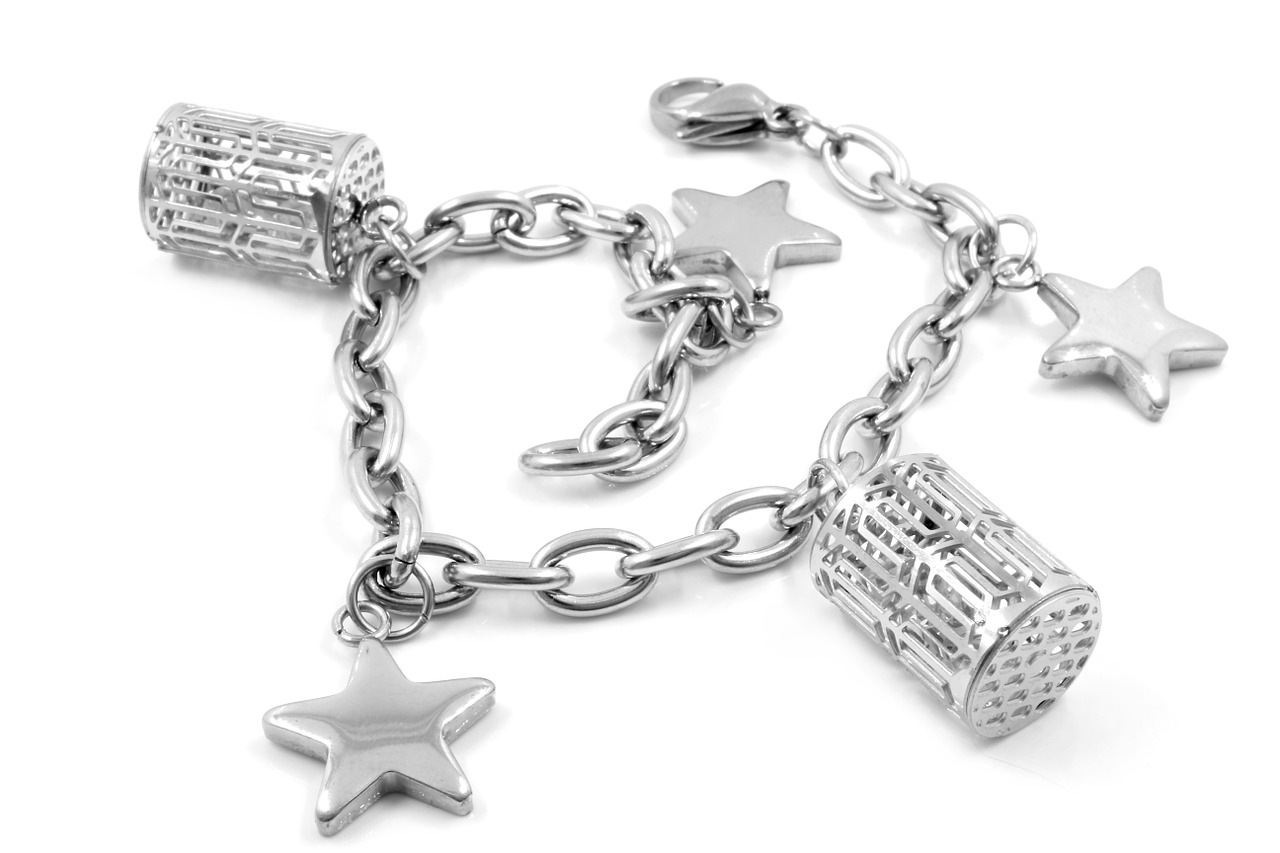 Although there are many metals for jewelry-making, many people are sensitive to common base metals like copper. If you are allergic to such metals, you can make jewelry out of stainless silverware instead. It is bendable and has excellent integrity, ideal for jewelry-making!
Another fantastic thing about making jewelry pieces from silverware is it is eco-friendly! Not only will it help you express your unique fashion sense, but it will also help the planet. You only need a few tools, most of which you can find in your house.
But, note that not all stainless steel silverware is pliable for jewelry-making. It is best to find thin materials so that you can work well with them. Please continue reading to find out more about making stainless steel jewelry and its pros and cons.
Is stainless steel jewelry good?
Stainless steel is an inexpensive yet durable alloy and a good material for jewelry-making. Unlike some alloys, it does not look cheap while being highly practical. Stainless steel makes a great jewelry material as it takes less to keep it as good as new.
Its corrosion resistance is also one of the best things about stainless steel. It an excellent option if you want a material that can hold up well to daily wear and tear. Although it has some flaws, its advantages still outweigh its downsides.
Here are some pros and cons of stainless steel jewelry to help you decide if you should try it or not:
Affordable
One of the best advantages of stainless steel jewelry is its affordability. It is a lot lower than solver, gold, and platinum. You get an excellent deal given its durability and luster. It is probably the best next option as it gives you the most generous returns on investment.
Durable
Stainless is a highly durable metal, which makes it an ideal everyday accessory. You can do your daily activities without worrying about damaging your jewelry piece. Because of a layer that prevents oxidation, stainless steel can resist corrosion and scratches.
Ages Well
Because of its scratch and corrosion resistance, stainless steel jewelry can age well. You will not see signs of wear and tear for a long time, and it does not damage when exposed to water. But, remember that it is still metal, so it is best to take care of it properly.
Environmentally Friendly
Did you know that stainless steel is the most ecologically friendly metal used in jewelry-making? Manufacturers much less energy and waste when producing stainless steel products. It is also recyclable, which is excellent for our planet.
Adaptable
Stainless steel jewelry comes in many various shapes, sizes, and designs. You can wear stainless steel anywhere, unlike other expensive jewelry that is not always appropriate. You can use it to dress up or dress down and still look fantastic!
Lightweight and Hypoallergenic
Although it is highly durable, stainless steel is lightweight. It is comfortable to wear for long periods, making it perfect for everyday wear. It is also hypoallergenic, so it is an excellent option for people with sensitive skin.
Low Maintenance
Because stainless steel is scratch- and corrosion-resistant, it can withstand everyday wear. You do not need to exert too much effort to keep it as good as new because of its incredible durability.
Susceptible to Dents
Although it is highly durable, stainless steel jewelry is still prone to dents. But there will only be dents if you do not properly take care of your items. So it is best to avoid exposing it to surfaces that can cause abrasion.
Chlorine Reaction
Not all stainless steel variants do well when exposed to chlorine. It would be best to buy 304 or 316 stainless steel jewelry if you wish to wear jewelry while you swim.
Rigid
Stainless steel has a high melting point, which makes it stiff and rigid. Because of its rigidity, you may not get uniquely complex designs that you get from other metals. Resizing is also a challenging task unless you or a jeweler can accommodate the high melting point.
Nickel Reaction
Because it is an alloy, some stainless steel variants can contain nickel. Many develop allergic reactions when exposed to nickel. So stainless steel might not be ideal for you if you have any history of nickel allergy.
Maintenance
Although cleaning stainless steel is a relatively straightforward process, you might have to do it more often. It would be best to do more repolishing compared to other metal jewelry.
How to clean stainless steel jewelry?
As I mentioned, stainless steel jewelry is relatively low maintenance, but you need to clean it more often. It would help to know how to clean your jewelry pieces properly if you want them to last longer. Follow this guide on how to clean stainless steel jewelry in three methods:
Get two bowls and fill them with warm water. Make sure that your bowls are large enough so you can submerge your jewelry. Then, add two to three drops of dish soap into the first bowl.
Get a soft, non-abrasive, and lint-free cloth and dip its corner into the soapy water. You can also use a microfiber cloth that is soft, non-abrasive, and lint-free.
Rub the cloth along your jewelry, going along the grain and not across it. Doing so will help you prevent leaving scratches. You can also use a soft-bristled toothbrush to scrub any grime for detailed areas of your jewelry. Make sure to brush along the grain gently.-Avoid brushing any gemstones, or else you might leave scratches on them.
Next, dip your jewelry in the second bowl of water. Gently bob your item up and down to get rid of any soap residue. Keep rinsing the jewelry until there is no more soap residue.-You might want to pour the dirty water and replace it with fresh water if necessary.
Finally, gently dry your jewelry with a clean and soft cloth. Make sure to get as much water as possible to prevent your jewelry from developing water spots.
You can also polish your jewelry if necessary. Make sure that you use a polish that is safe for stainless steel.
Use Baking Soda and Water
Get a small bowl and combine two parts baking soda and 1 part water to make a cleaning paste. Most jewelry pieces need one tablespoon of baking soda and ½ tablespoon of water.
Next, dip a soft-bristled toothbrush and make sure to cover just the tip of the bristles. You can use a baby toothbrush if you have one because they have the softest bristles.
Gently scrub your jewelry along the grain using the toothbrush. Avoid pressing too hard to prevent leaving scratches on your item. You also need to avoid brushing gemstones because they scratch easily.
Fill a bowl with warm water and dip your jewelry in it until the baking soda comes off. Then, gently pat your jewelry piece with a soft and dry towel. Or you can also wrap it up in the towel and let it sit for a few minutes so it can soak up excess water.
You can also polish your jewelry if necessary. Make sure that you use a polish that is safe for stainless steel.
Get a plain, white toothpaste without silica and a soft, non-abrasive, and lint-free cloth. Dampen the cloth's corner with warm water and make sure to squeeze out excess water.
Squeeze out a small amount of your toothpaste onto the cloth. Less than a pea-sized amount should be enough for cleaning.
Gently run the cloth with toothpaste across your jewelry's surface, making sure to go along the grain. Make sure to avoid applying too much pressure to prevent leaving scratches.
You can also use a soft-bristled toothbrush to clean detailed and complex areas. Run it first under warm water and apply more toothpaste if necessary. Then, gently scrub the toothbrush across your jewelry's grain, avoiding any gemstones.
Fill a bowl with warm water for rinsing. Dip your jewelry in it and thoroughly rinse it. You can also rinse the toothbrush and use it to clean out any residual toothpaste.
Finally, gently pat your jewelry with a soft, non-abrasive cloth to prevent water spots. You can also wrap it in the fabric and let it sit for a few minutes so it can soak up excess water.
You can also polish your item with a polishing cloth and a safe stainless steel polish.
How to make jewelry out of silverware?
Making stainless steel jewelry may be challenging, mainly if you use scraps, but the benefits outweigh the downsides. You can sell them almost anywhere because it is one of the favorites of the masses. Follow this guide on how to make stainless steel jewelry:
Get Your Materials:– Jewelry pliers or needle-nose pliers
– Vice
– Safety gloves and goggles
– Propane torch
– Fork
– Hammer, rubber hammer, or bossing hammer
– Bracelet, ring mandrel, ring blanks
– Metal snips or hacksaw
– File
– A rotary tool with sanding or polishing wheels
Choose the Right SilverwareIt is best to visualize your finished jewelry piece first to choose the proper silverware to make it. Remember that thicker silverware is more challenging to bend. But, these silverware pieces create jewelry with higher perceived quality.You can use full-size spoons and forks to forge bracelets. You can also use baby spoons, and silverware handles to create rings and other smaller jewelry pieces.
Hammer, Bend, and HeatYou can create jewelry from silverware by hammering your materials against a mandrel. You can also use pliers to bend the pieces into their shapes. You might also need to heat the silverware with a propane torch, depending on their weight.
Flatten the EndsYou will need to flatten most silverware to make jewelry. Although you can leave the bowl end of a spoon, no one wants to be stuck with a fork's tines. But, if you wish to cut off a spoon's end with metal snips, then there is no need to flatten it.
Form Your JewelryIt would be best to tap the silverware against a mandrel with a hammer to form your jewelry. Reposition the silverware many times to tap it from different angles and create an appropriate curve.If you wish to make a ring, it is best to hammer a spoon handle against your ring mandrel. Make sure to do this step while holding it against a wooden block or workbench. Then, work down the mandrel to a larger section than your intended size, making your ring rounder.
– Remember to cut off any excess and file down rough edges.
Heat the SilverwareIf your silverware is thick and heavy, you will need to use a propane torch to heat it. Do it in quick applications, and make sure to wear safety goggles and gloves.Remember that base metals heat at a different rate than plated ones. It would be best to heat unplated silverware to a cherry red color. But, you only need to heat plated metals to a salmon color. If you are unsure, you can heat it under-heat it, which is better than overheating.
Smoothen and Polish Your Jewelry
Doing all these steps will leave marks on your jewelry. You can smoothen deep divots with a rotary tool and scratching wheel. Make sure to use a fine-grit sanding wheel to polish your finished piece and add a shine.