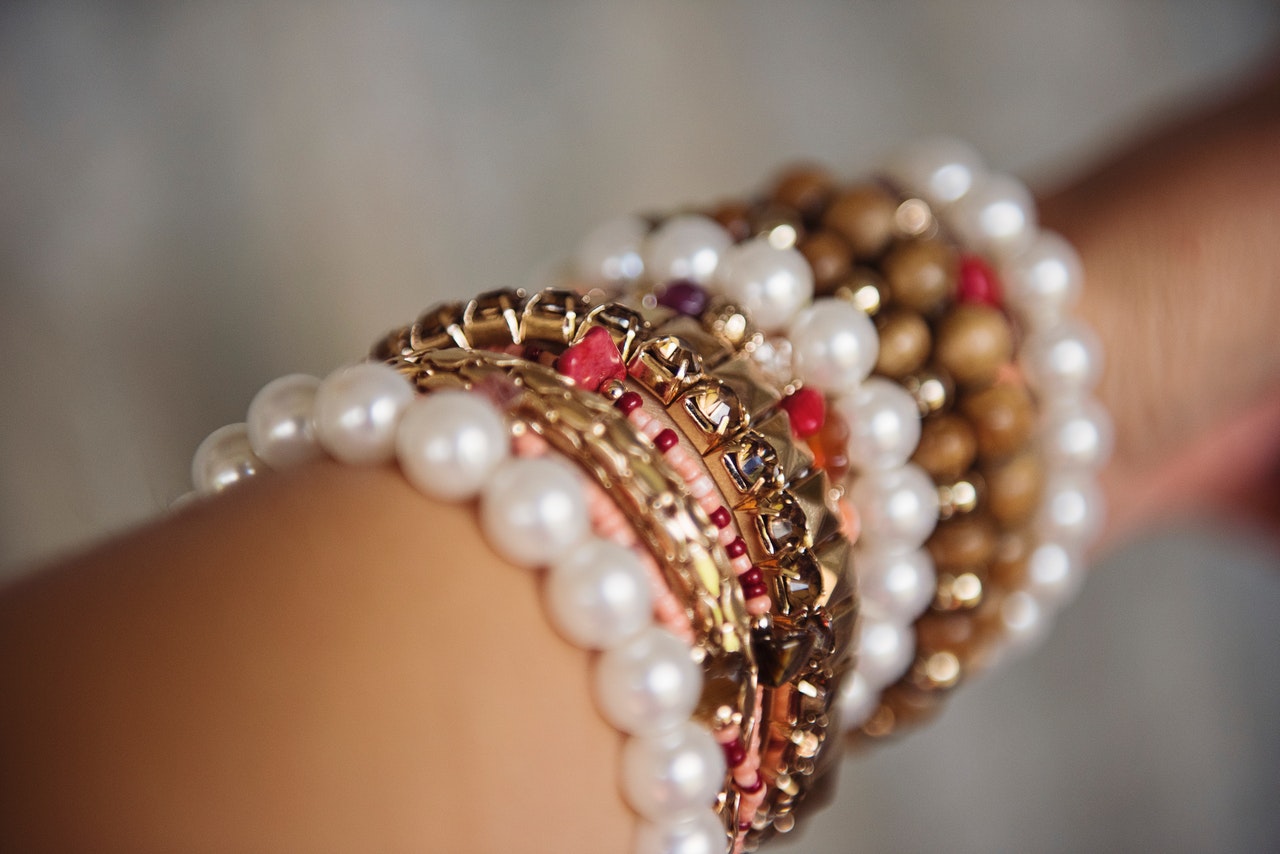 If you love DIY crafts, you probably already know that you can create your ideal piece of jewelry with inexpensive and easily accessible materials like beads. You can make so many beaded jewelry pieces like necklaces, chain earrings, chokers, bracelets, and so much more!
There are numerous ways to create your jewelry, but one of the most enjoyable and adaptable is using beads. Just like freshwater pearls for jewelry making, you can make a variety of lovely pieces of jewelry using beads, so for anyone interested in giving it a try, here are seven of the best bead jewelry ideas you can try yourself:
Beaded Circle Necklace Pendant

Making an exquisite circle pendant using beads is a relatively straightforward process. You can wear the final necklace with casual or formal ensembles, and it will look beautiful either way.

Because this beaded circle pendant employs beads in the brick stitch, it is best if you work on the stitch as it lies flat before you begin with your beading project. However, if you are familiar with the brick stitch, you will finish this pendant quickly.

Wire-Wrapped Beaded Chain Necklace

Make a chain necklace out of this pattern using beads and wires, making it as long or as short as you want. In any case, this beaded bracelet is one of the most straightforward wire-wrapped items you can do.

The design and process are both straightforward and work with a wide range of beads. But, it is best to make sure you have enough complementing beads to finish the project. Also, it would help if you are familiar with wire wrapping and assembly-line techniques, which can significantly speed up the task.

Bead and Wire Pea Pod Pendant

You can also make a brilliant pea pod pendant made with just three simple beads and your choice of wire. It is an excellent project for gifts because you can customize it according to your recipient's preferences.

The design is both beautiful and simple. So, in just a few steps, you will see how three simple beads can make an elegant long drop pendant that you can wear for almost any occasion.

Beaded Ladder Stitch Bracelet

There are many fantastic design ideas for beaded bracelets available, and the most challenging part may be picking one to tackle first. But the ladder stitch bead bracelet is one of many people's unexpected favorites.

Because it has a thin weave of beads, this pattern goes back to beading basics and creates a bracelet that you can easily layer. Another fantastic thing about it is its style, which is pretty straightforward, but you may dress it up with a delicate charm.

Hand Chain Bead Bracelet

Many people believe that hand chains are a passing trend, but there is always room for one in your jewelry collection! You can make a dainty beaded hand chain with only a thin chain and a few beads. But, although it may seem simple, it will have a significant impact on your style.

To construct a hand chain, you will make a coordinating bracelet and ring with chain, then connect the two with a beaded connector. It is a beautiful design that you may customize to fit any bead or occasion.

Macramé Bracelet with Large Beads

If you find silver jewelry making a costly hobby, this project is a beautiful choice if you want to mix up your Pandora bracelet or have similar charms and huge beads that you want to show off. Also, it is a relatively straightforward process that employs conventional macramé knots with your choice cord.

But, the fact that you can change out the beads is what makes this bracelet unique. Every feature is versatile, so it can have a fresh look whenever you like.

Earrings with Beaded Tassels
Earrings are enjoyable beading crafts because they are modest, and the process is pretty straightforward. Also, it lets you experiment with beads and wires to create unique designs so that you can express your creativity to the fullest!
Earrings with beaded tassels are eye-catching and trendy because it combines a simple foundation with a fabulous chain fringe. The beadwork itself is a brick stitch that you can add length to as you complete the project.
Read: Pool safe jewelry guide
How to Make a Beaded Bracelet?
Beaded bracelets can be enjoyable and easy to make, but it is essential to do things right to get the best result. So first, you will choose your beads and string, considering your design. Next, you will measure and cut the cord and put beads in place. Then, you will tie a knot to secure your beaded bracelet.
Step 1: Getting Started
It is best to think of the materials that best suit your design and preferences. For example, elastic beaded bracelets are fun and easy to make. So, you can insert the beads onto the cord and tie a knot instead of buying and attaching a clasp.
But, if you wish to use an elastic cord, it would help to consider its thickness. For example, thicker thread (1mm) is more durable, perfect for large beads. But, a thinner string (0.5mm) is more delicate and goes well with smaller beads.
If you want a more advanced design, you can try using wire. But, note that you cannot simply tie your wire. So, you will need crimps and clasps to secure your beaded bracelet. Also, it would be best to use a flexible wire so you would not have difficulty completing your project.
Besides the string, it is also best if you consider the beads you wish to use. So, be aware that some beads work best with specific types of thread. For example, smaller beads will work more effectively with thin, fragile elastic cords. On the other hand, larger beads require something more durable, like a thicker elastic or wire.
If you are using bulky beads, it would be best to add extra length to your bracelet. Doing so will allow them to bridge the gap between the bracelet and your wrist, causing the band to fit more snugly.
After deciding on what string to use, you will select your beads. Each type of bead has a distinct appearance and characteristics, so some types of beads may be more suitable for specific designs than others. These three types are the most common beads you can find in stores:
Plastic Beads
Plastic beads are the most affordable and come in various shapes and colors, so they are perfect for various crafts and activities for children. For example, you can use brightly colored plastic pony beads to make a fun, kid-friendly bracelet. Or, you could also use other subtle colors and add charms to suit your style.
Buy plastic beads here: DICOBD 3390pcs Plastic Bead Set.
Glass Beads
Glass beads are lovely and come in various colors, although they come in a mid-price range. In addition, most glass beads will be translucent, so they offer a classier look than plastic beads.
Buy glass beads here: UOONY 35000pcs Glass Seed Beads Set.
Semiprecious Stones
Semi-precious stones are typically more expensive than glass beads. Also, they are often heavier. But, the fantastic thing about these beads is that no two beads are alike because manufacturers craft them from natural materials.
Buy stone beads here: EuTengHao 933Pcs Irregular Chips Stone Beads Natural Gemstone Beads Kit.
Lastly, to get started, it is best to decide on your beaded jewelry's design. Doing so will help you determine how many beads you need and what type of string and beads will suit your piece the most.
Step 2: Prepare Your Materials
Stretchy bracelets are the simplest to make because they require the fewest tools. For example, you can make a simple, child-friendly version with an elastic cord and plastic pony beads. But you may also build a delicate version with transparent elastic cord and glass beads. Here are the things you need:
First, you will cut the elastic a little longer after measuring your wrist, wrapping the beading elastic around your wrist one and a half times. Next, you will use a pair of sharp scissors to cut it, making it a little longer so you can knot it later.
Hold the elastic between your fingers and slowly stretch it to keep it from stretching out and creating gaps later. Next, fold some tape over one of the elastic ends to keep the beads from falling off while you work. But, you can also use a binder clip if you do not have any or if the tape does not stick.
Step 3: Put Your Beads onto the String
Place the beads through the elastic by slipping them on while holding the cord close to the end. Then, slide the knot under that bead to hide it.
Continue adding your beads until you reach your desired length. Also, it is best to make sure to wrap the bracelet around your wrist regularly to make sure it fits.
Step 4: Secure Your Beaded Bracelet
To secure your beaded bracelet, you will first remove the tape or clip and tie a square/surgeon knot in its place. Begin by folding the elastic ends over and under each other as though tying a pair of shoes. Next, tie another similar knot, wrap one of the tail ends around one of the circle's sides, and do the same for the opposing side. Then, tighten the knot to secure the bracelet.
Try to move the knot beneath one of the surrounding beads to hide it. Next, trim the extra string and place a drop of glue over the knot if you can slide the knot under one of the beads. Then, slip the knot beneath the bead.
a. If the knot does not fit under one of the beads, tuck the tail ends inside instead. To seal the knot, dab a drop of glue on top of it.
Allow the adhesive to set before putting on your bracelet to prevent it from splitting.