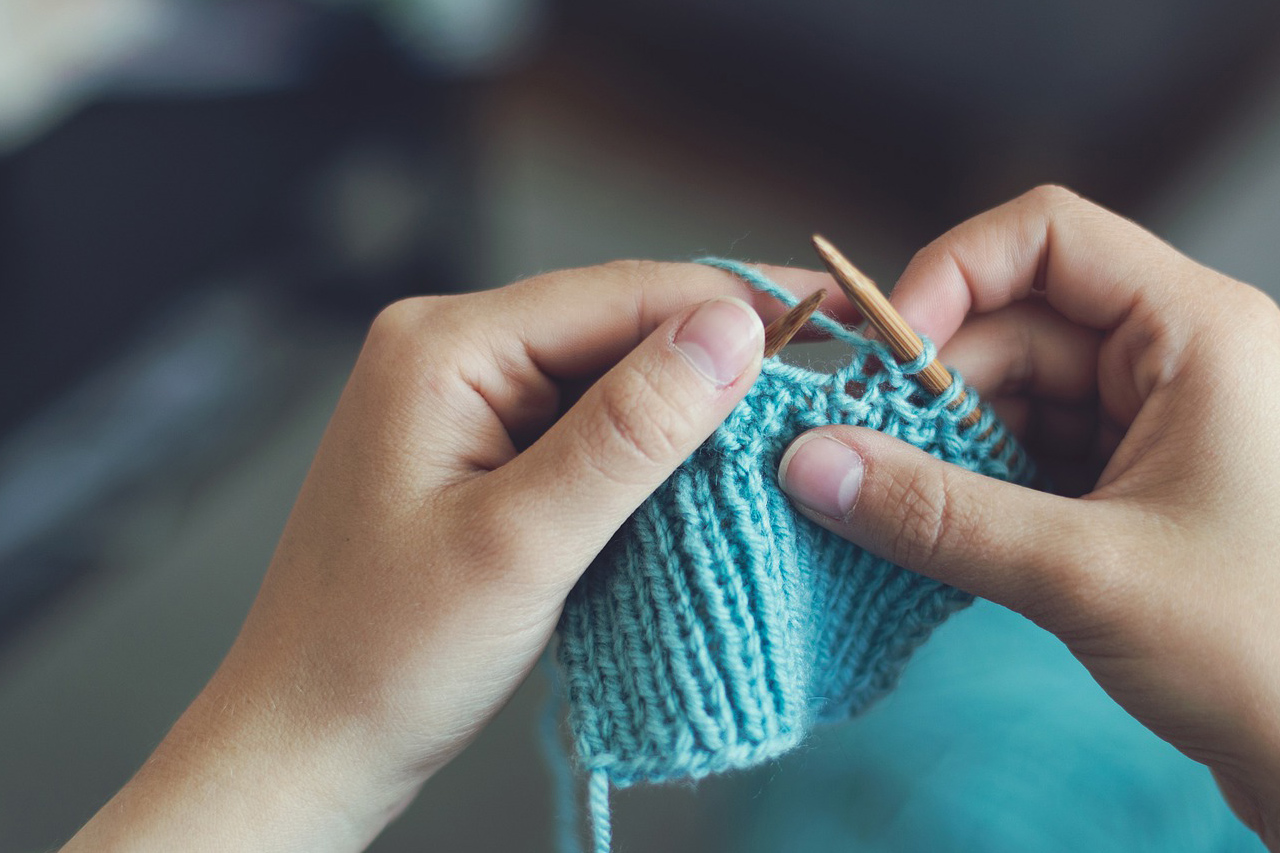 You can knit crochet thread as much as you can crochet with it. You can use the 2mm knitting needle sizes below for this thread. Knitted jewelry, flowers, and lace-weight shawls are some samples of projects you can knit with crochet thread.
As with any string available, you can knit or crochet the crochet thread. You need to match the thread size with the correct needle sizes to achieve the type of fabric you want.
Is crochet thread different from yarn?
The crochet thread is thinner than yarn. It produces a fabric with a smaller gauge showing finer details.
Crochet thread is an extra fine cotton yarn ideal for intricate crochet work like lace doilies, bedspreads, or shawls.
Most crochet threads in the market are made from mercerized cotton, specially formulated to achieve a certain sheen. Crochet thread is usually made of cotton and has a smaller diameter than ordinary yarn but a thicker diameter than sewing thread.
It is easy to find crochet thread in craft stores and notions departments in big box department stores. Crochet thread comes in numbered sizes from 3 to 100; the lower the number, the thicker the thread. Size 100 of the crochet thread is almost the same as the sewing thread, while size 3 is nearly the same as ordinary yarn.
Although you can always knit with either yarn or crochet thread, it would still be good to know their differences so you can choose which is best for your project. Here are three significant differences between knitting yarn and crochet thread.
Elasticity
Crochet thread might not be the best material if you think of making a sweater. Unlike knitting a bag or a bedspread, a sweater needs fiber with a bit of stretch.
Cotton thread has almost zero "stretch." Since cotton is a fiber that does not flex, you must make your stitches snug when using cotton thread for knitting. The reason cotton fabrics sag is not due to the cotton fibers stretching, but the knitting stitches are getting deformed or pulled out of shape.
Most animal fibers, such as wool or mohair, have a unique crimp or shape, creating soft and fuzzy yarns. Plant-based fibers like cotton and flax have no "life" and are considered "flat." The fabric you can produce after knitting cotton thread has no elasticity to make it return into shape.
It would be best to block after knitting a garment using cotton thread. Blocking the item will help hold its shape and keep its original size.
Some knitters have this to say after knitting using crochet thread:
Crochet thread garments are a bit heavy and tend to expand after a few times worn. Using shorter and snug stitches will account for this tendency to stretch over time.
When knitting with cotton thread, check for colorfastness before proceeding with the project. Some dyed cotton threads may "bleed" after washing and may be a waste of your time if you continue knitting.
Wash your cotton thread garment in cold water, then spin dry or lay it flat to dry. It would be best not to hang it to dry or store the item. Fold the garment loosely to store.
Smoothness
Another significant difference between yarn to crochet thread is the warmth and softness. Most yarns, especially the ones spun from animal fibers, provide warmth.
Yarns made from wool are known to trap air that can help insulate the wearer from cold surroundings. Wool has a natural wave called crimp that can trap air and prevent cold air from entering the body.
On the other hand, cotton fibers that make up the cotton threads have no insulation capacity. They are absorbent, which helps keep the body cool by keeping the moisture away from the body.
Knitted garments from crochet threads are excellent for warm weather but will be useless for the winter season.
You can also identify cotton thread from yarn by its smooth finish. Cotton thread undergoes mercerization, where the makers dip the cotton fibers into a corrosive bath that removes the fuzziness of the untreated cotton fibers. The thread left after the process is very smooth, with a low-luster sheen.
Mercerized cotton threads are remarkably smoother and shinier than their wool or acrylic yarn counterparts.
Direction of Twist
Crochet thread and knitting cotton yarn also exhibit differences in how the plies of yarn were twisted. Strings usually used for knitting are almost always spun "Z" and twisted "S."
Crochet threads are almost always spun "S" and plied "Z." You can check by looking at the direction of the finished project. If the dominant lines follow the direction of the middle of an "S," then the thread has been plied "S," and the individual plies have been spun "Z."
The advantage of this spinning in a "Z" direction and plying in "S" of yarns is that unraveling the twisted plies of yarn is minimized when knitting.
Most yarns for knitting are traditionally spun from the fiber into a single string with a z twist. Then, two or more strands are plied together with an S twist. This process benefits a knitter more than a crocheter as it helps to prevent the unraveling of the yarn.
Although, it is still good to note that you can always use any string for knitting or crocheting.
Can I use crochet yarn for knitting?
In general, knitting and crochet use yarn to create items. You can use different types of strings in the market to knit and crochet.
But you must know that there is also such a thing as a crochet thread commonly used in crocheting delicate projects, but you can also use it in knitting small and decorative products.
Some of the most popular brands of crochet threads today include Red Heart, Royal Fashion, DMC, Bernat Handicrafter, and Aunt Lydia's.
The technical way of measuring the thickness of cotton yarn is called the British Cotton Count. This consistent cotton count system is quite helpful for knitters and crocheters in identifying the thickness of their threads before using them.
You will know the size of the crochet thread you are using by checking for the size number on the tag or the band on the spool. Using the cotton count system, the lower the number, the thicker the yarn. Cotton thread weights range from 3 to 100.
The sizes 3 and 5 cotton threads are excellent materials for knitting garments. Size 8 and 10 cotton thread are also suitable materials to knit lacey projects, primarily when size 2 needles are used to knit. A bookmark is an excellent and easy knitting project for a size 10 crochet thread.
Size 3 crochet thread can be compared to light, worsted weight. The crochet thread size 5 is similar to sport or DK, and size 8 or 10 to fingering or laceweight.
Crochet thread sizes 20 to 70 are used with needles with a smaller range of sizes. Size 70 is similar to silk sewing thread, so you can expect more intricate lacey designs on your finished projects.
You can use size 100 cotton for knitting lacey items like table runners, bedspreads, or doilies. Using lace-weight crochet threads, you can knit intricate home decor like flowers, leaves, and fruits.
The division between cotton thread and yarn is a bit unclear. Crochet threads are available in spools, unlike yarns which are usually in skeins or hanks. The thickest crochet thread is almost the same as the finest cotton yarn.
Another benefit you can get by knitting with crochet thread is savings. Knitters can get more fun with this craft by knitting inexpensively with crochet thread than yarn. When finished, you will also get pretty and durable items like dishcloths, placemats, etc.
Concerning crochet thread, projects that come to mind are only delicate ones. The thought of knitting something with crochet thread might be daunting, but many crafters, knitters, and crocheters have gone that road and were quite satisfied with the results. You can achieve a wide variety of knitting projects using crochet thread.
Below are some common knitting projects that might inspire you to try on crochet thread.
Earrings
Bracelets
Bookmarks
Ornaments
Brooches
Pins
Headbands
Banners
Buntings
Scarves
Bags
Table runners
Crochet edging
The wide variety of yarn types can all be equally used in knitting as well as in crochet. Although, some fussy types may work better on either knitting or crochet.
If you are a seasoned knitter used to yarn, expect that knitting with crochet thread will produce lacey and more intricate items. Crochet thread is an excellent alternative to the lighter strings to knit lace patterns. You will get a smoother and shinier knitted finished product in the end.
Most knitters want their knitting stiff to maintain a definite size and shape. The finished knitted items are lacey and can get floppy. You can use sugar and water solution to stiffen your lacey-weight knitting.
Usually, the effective water-to-sugar ratio is 4:1. But if you want stiffer knitting, you can add more sugar.
Below is a quick and straightforward way to finish your lacey crochet thread knitting using sugar and water that you can easily find at home.
Boil the sugar and water solution until all sugar crystals are dissolved. Let your solution cool down.
Find a big container for your knitting project and sugar/water solution. Dampen your knitted item with regular water, then allow excess water to drip.
Place the item into the sugar/water solution bowl. Allow the solution to seep into the knitted item ultimately.
Take out your knitting and squeeze excess sugar/water solution using a towel.
Pin the knitted item along the edges to get the correct size and shape.
Let it dry for about 24 to 48 hours or when your item is already stiff and not sticky. A great thing about this process is that you can wash your item and then make it rigid using the same method.
You can also use fabric stiffeners that you can find in craft stores if you want to finish your knitting more quickly. But the sugar/water solution is easy yet more practical.