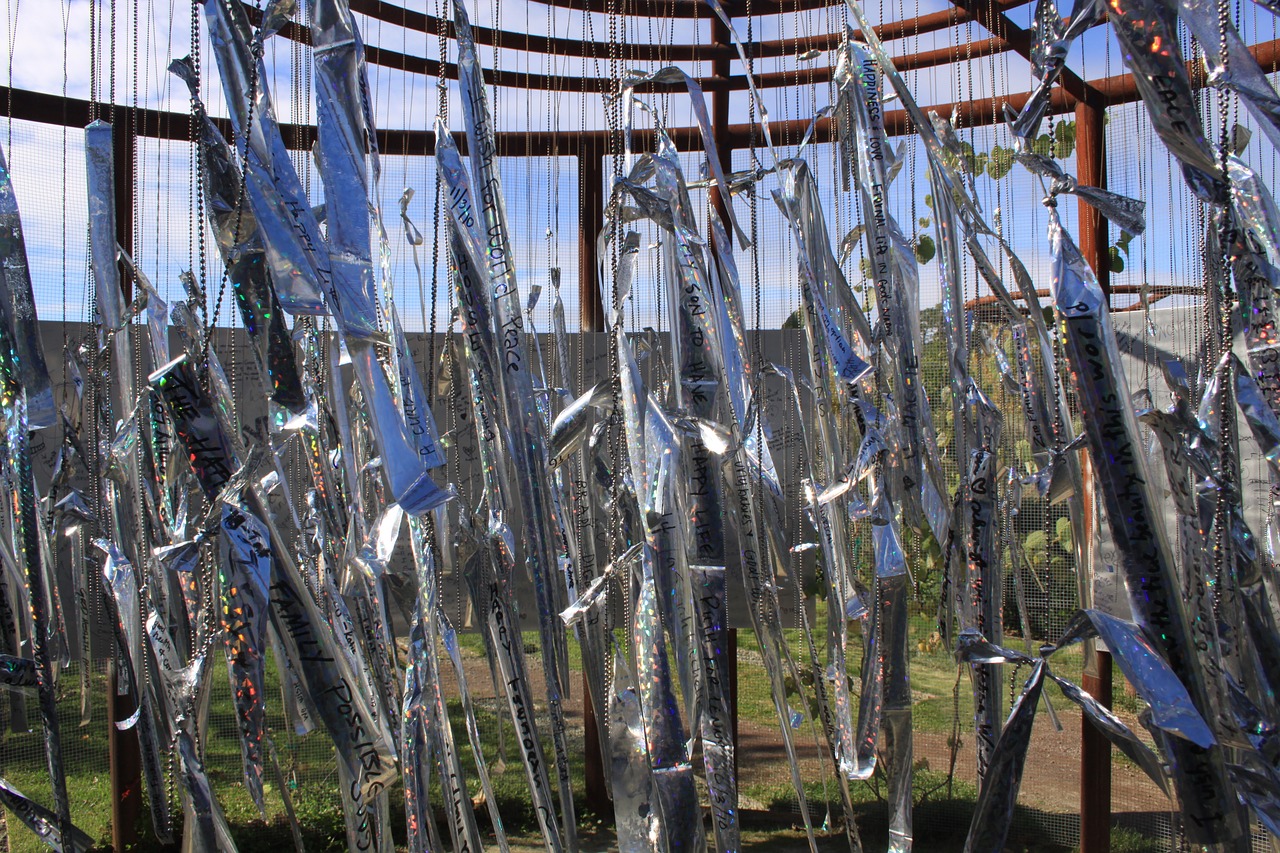 b>Mylar can be sewn and can turn your sewing project a notch higher. It creates a glitter effect on your embroidery and makes very eye-catching and sparkly designs.
Mylar used for embroidery refers to the colorful plastic film usually used for gift wrapping. It is a very accessible material that you can find in many dollar stores, crafts shops, and online embroidery websites.
The shiny Mylar gift wrapping tissue is suitable for sewing, not the type of Mylar used in metallic balloons.
Sewing with Mylar can make your embroidery projects look brighter, exciting, and more interesting.
What is Mylar?
Mylar is one of the world's most popular and most widely used polyester films. It is a term that is typically used to refer to the plastic film.
Mylar is a biaxially-oriented polyethylene terephthalate (BoPET), meaning That it is stretched in two directions making the material exceptionally strong. Mylar is actually stretched polyester film developed in the 1950s and is a registered trademark owned by Dupont. It gradually replaced cellophane because it was much stronger and more heat resistant.
Most people think that Mylar is the shiny and silver material used to make balloons, but the real Mylar is transparent and does not contain metal.
What is Mylar used for?
Mylar is a type of stretched polyester used in many different applications. It is used as space blanket material, making foil balloons, Mylar tags and labels. The material is versatile, strong, and multi-functional.
It is commonly used as covering over paper or cloth to act as a protective coating and create a shiny surface. Mylar is durable and flexible, making it a perfect material for packaging, electrical insulation, and many other uses.
For Mylar machine embroidery, the design gives a stunning and sparkly effect. The opalescent film makes a shiny and sparkly metallic effect in between stitches.
Why do you use Mylar with embroidery?
Using Mylar can add a striking glittery effect to your embroidery and enhance your embroidery design's beauty.
Mylar is a shiny plastic film that has many uses aside from embroidery. You should note that the type of Mylar used in embroidery are the thin sheets that you would often find in the wrapping paper section of a craft shop.
The Mylar balloons are not the right kind because they are too thick and will not give you the outcome of the embroidery design you are hoping for.
The shiny and reflective quality of the Mylar sheet allows more light to reflect off of your embroidery design and give it a shimmering effect. Mylar sheets are available in various colors. You can check this link on Amazon for a wide range of colors of Mylar embroidery sheets.
Compared to common materials you can use that can add sparkle to your embroidery work, you can buy Mylar at a very reasonable price. It is easier to embroider with Mylar than using metallic threads to make your embroidery shine.
The opalescent Mylar sheet usually comes in a pack of three at a very affordable price. You would usually only use a small piece for your design, so a pack of Mylar sheets would go a long way.
Another benefit of using Mylar for embroidery is that it will not be itchy to wear because it is only stitched in front of your clothing.
How do you embroider with Mylar?
You can find many embroidery designs digitized specifically for use with Mylar. You can also create your Mylar embroidery design that will show off a shiny and sparkly effect.
Mylar embroidery designs would usually have an open style fill or motif stitch fill. The concept is to embroider over the Mylar to hold it in place but still allow the Mylar to shimmer through the embroidery threads.
It is fun and easy to stitch a Mylar embroidery design. Using Mylar is a great design technique for creating a shiny embroidery design without using metallic threads.
It would be best to digitize the embroidery design to let the Mylar shine through the design. Stitching a Mylar embroidery design is not so much different than stitching a regular embroidery design.
Take note that if you use embroidery designs digitized for use with Mylar, you will need to print a color change chart that comes with the embroidery design to guide you when you need to stitch and when you need to tear away the excess Mylar.
The basic materials you will need to embroider a Mylar design are pieces of Mylar, a medium-weight stabilizer, an embroidery hoop, a Mylar embroidery design, and your embroidery sewing machine.
You will need a stabilizer to make stitching on your machine steady. You can commonly find stabilizers in any craft store, or you can buy them online. You can check Amazon for various types of stabilizers you can use. Note that you can choose a stabilizer that you use on your regular embroidery.
Here is an easy step-by-step procedure you can follow to embroider Mylar on your design.
To start your Mylar embroidery, load your Mylar embroidery design on a USB and open it on your computerized embroidery machine.
Attach a stabilizer to the fabric you are going to embroider, then place it on a hoop. Attach the hoop to your embroidery machine.
Load your first thread color based on your color change chart. Check your color change chart for the parts where you need to change the thread colors, place the Mylar film, and remove the excess Mylar film. These steps are usually shown as colored dots and are described at the bottom of the page of your chart.Note that the placement of the Mylar is exclusive to each design. It is designed that way to make sure that you get the sparkle of the Mylar as you expect. Placing the Mylar down at the wrong time will not get the right shimmer on your embroidery design.
When you come to the point where you need to place your Mylar sheet, cut a piece of your Mylar film enough to use on your embroidery design. To prevent the Mylar film from moving over your fabric, you can tape the corners.
<br/
With Purely Gates Mylar embroidery sheet, you do not need to spray adhesive because it has a natural static cling.
Change the thread color based on the color change chart. The first thing that the machine stitches after placing the Mylar over the design is a running stitch around all of the areas where the Mylar needs to shine through.
Embroider the last color of thread you need to stitch over the Mylar. You can remove the excess Mylar by tearing them off towards the embroidery design when you have reached this point. Your color change chart will also indicate when you need to remove the excess Mylar.
Then, you can continue to add more thread colors based on the color change chart to embroider the outlines and finish your Mylar embroidery design. Marvel at the sparkle and dimension that the Mylar film has added to your embroidery design.
You will find a lot of advantages in using Mylar film for your embroidery design. It gives depth and dimension to your embroidery.
Usually, only a small piece of Mylar sheet is used for embroidery, and you can keep the rest of the sheet for future use, so this material is very budget-friendly.
There is no special way to store your Mylar sheets. It has no expiration date and is not affected by humidity.
You can just smooth it out with your hands before laying it down over your embroidery design so that when your needle moves in different areas of your hoop, it does not drag the Mylar.
It also does not matter if it has folds or it gets wrinkled in your storage area. The wrinkles add more sides to your Mylar, making it shimmer more, like on a crystal.
You can opt not to put the Mylar in your embroidery design. Your background fabric color will show through, and it will have a light and lacy-looking effect. But incorporating Mylar into your design will make it more stunning and pleasing to the eyes.
Related: 
What is the color of Mylar to use?
Opalescent is the only color of Mylar you will need to use. The Mylar film gives your embroidery the sparkle, but the regular embroidery threads give your embroidery the color.
You might find other brands of Mylar in craft shops that have a wide range of color choices. But the real beauty of Mylar is that you can just use one color to do the job. You do not need to buy separate colors of Mylar because it picks up the color of the thread you are embroidering on top of it.
You also need only one time to place your Mylar sheet over your embroidery design. You do not have to add more pieces or stitch them on top of each other. One layer of Mylar sheet on your embroidery design can achieve the shimmering effect you are looking for.
Where can I buy Mylar embroidery film?
Most craft stores sell Mylar embroidery film and are usually found at the wrapping paper aisle of craft shops.
You can also find various colors of Mylar embroidery sheets at online craft stores or search them on Amazon.
Purely Gates' opalescent Mylar sheets are the Mylar embroidery sheets exclusively used for Purely Gates embroidery designs. They are sold in packages of three sheets that are 18 inches by 30 inches.
Some embroidery designs are small and would require only one sheet of Mylar, while bigger designs will need more than one sheet. Having three sheets in a pack is advantageous and gives great value for your money.
Purely gates Mylar sheets can be purchased through their website and are also available on Amazon.
Where can I buy Mylar embroidery designs?
You can purchase Mylar embroidery designs from embroidery websites. Some online embroidery sites sell collections of Mylar embroidery designs that can be purchased as an instant download or can be shipped to your address on CD.
Mylar embroidery designs are usually sold as a collection of designs and rarely individually. Online embroidery shops provide links on their web pages for you to purchase their collections online.
You can also find some Mylar embroidery design collections on Amazon.
Is Mylar embroidery washable?
You can wash items embroidered with Mylar designs inside out. It would be best to use cold water using the delicate cycle.
Since it has properties similar to plastic, it would be unwise to put it in the dryer. Garments embroidered with Mylar would be better if air-dried.
If you need to iron garments with Mylar embroidery designs, turn your garment inside out.
The Mylar embroidery sheets of Purely Gates can be washed, dried, and ironed. But if you want your embroidery design to last a long time, it is recommended that you iron the embroidery from the backside of your garment to maintain the quality of your embroidery design.