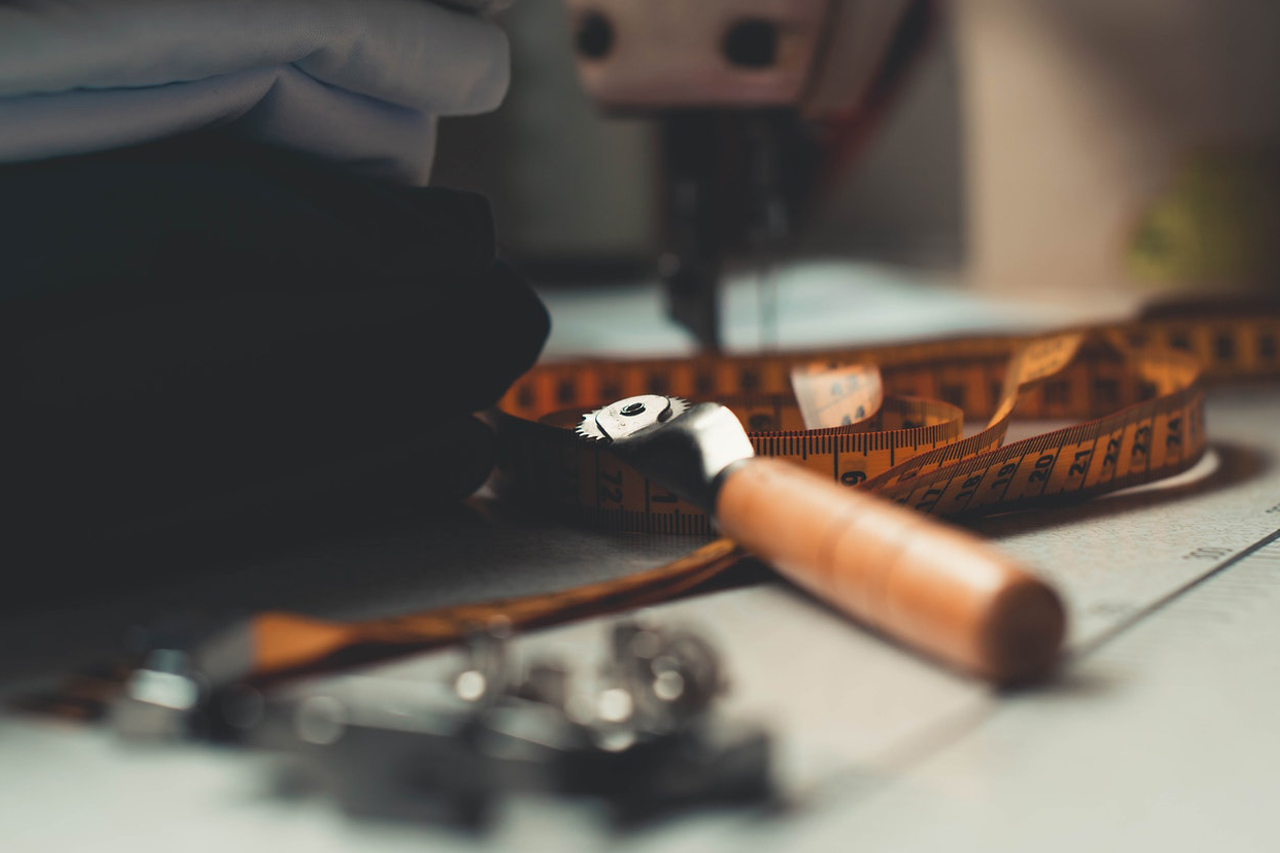 So, it's time to use your learned sewing skills and practice them in making clothing. There is no better feeling for a sewist than making your clothing from scratch with the best cheap sewing machine out there.
Your advanced sewing skills go side by side with the right equipment to accomplish the task of making garments. With the wide variety of options of sewing machines available in the market these days, it would be pretty daunting to pick one.
If budget is an issue, you may prioritize the features you need for sewing clothes before buying one. You can find affordable sewing machines with the qualities that matter to sewing clothing at prices ranging from 150 to 250 plus dollars.
Before investing your savings on the machine that can help you make gorgeous clothing, breeze through these top choices of inexpensive sewing machines specifically made for the job.
1. Singer 7258
The Singer 7528 is the most affordable sewing machine and the best option that you can find for making clothes.
This machine has 100 adjustable stitches for your various garment projects. With only the simple push-button stitch selection, you can switch from the basic, stretch, and decorative stitches to the seven one-step buttonhole styles.
Practical features such as the automatic bobbin winder, electronic start and stop button, and a high-pressure foot lifter that can help with thick fabrics make this machine easy to use.
It has an adjustable speed option and a top speed of 750 stitches per minute, which is a valuable feature for newbies and those still developing skills in making clothing. The adjustable speed feature is also essential for precision stitching which is vital in dressmaking.
The Singer 7258 is a computerized sewing device, yet it is encased in a heavy-duty metal frame, making it a handy tool in making garments for a long time.
It is also a light and portable model that you can easily carry to your sewing classes or sessions.
Check the price here: Singer 7258
2. Janome 2212
The Janome 2212 is an entry-level sewing machine that will give value for your money. It has 12 built-in stitches, a four-step buttonhole, a knob to select stitch patterns, and a zigzag stitch with width and length adjustment for ease of use.
You can snap on the presser feet for the Janome 2212, and it has an extra high presser foot lift to feed various fabrics easily.
Convenient features of the Janome 2212 are the free arm and drop feed functions that make the machine useful for any sewing. The Janome 2212 is affordable, easy to use, and ideal sewing equipment for beginners.
Check the price here: Janome 2212
3. Brother CS6000i
The Brother CS6000i is a user-friendly and budget-friendly sewing machine. It has 60 built-in stitches, with utility and decorative stitches and seven styles of auto-size buttonholes, a number that is not overwhelming for a newbie in clothes-making but enough for an experienced sewist to try on different garment projects.
It has convenient features such as an automatic needle threader and a jam-resistant drop-in top bobbin. You can easily select your stitches with a push of a button and view your stitch option on the LCD.
You can find a wide detachable table to sew freely, ten sewing feet, three pieces of bobbins, and a needle set with a twin needle as the accessories included with the machine.
It has an adjustable speed control function that allows you to work at your comfortable speed. The machine has a free arm to help you sew cylindrical garment parts such as sleeves, cuffs, and pant legs.
Check the price here: Brother CS6000i
4. Singer 4423
If you want a beginner and affordable heavy-duty sewing machine, you should look for the Singer 4423. The sewing machine has a heavy-duty metal frame making it durable and long-lasting.
With a stainless-steel bed frame, a sewing speed of 1100 stitches per minute, and a powerful motor, this sewing machine can sew a wide range of fabric weights. It can easily handle a thick fabric such as denim.
It has 23 built-in stitches such as basic, stretch, decorative, and buttonhole stitches that can help you sew different types of clothing.
The Singer 4423 also has convenient features like an automatic needle threader, a drop-in top bobbin, and a one-step buttonhole feature to make sewing clothing a fun and more exciting experience.
The machine has many accessories, such as different presser feet, a seam ripper, extra needles, bobbins, a screwdriver, a spool pin, and a soft-sided dust cover.
The Singer 4423 is affordable and of good quality, so it is a perfect option if you want a reliable, durable, and robust sewing machine that can make clothing.
Check the price here: Singer 4423
5. Brother HC1850
Many sewists consider the Brother HC1850 one of the fastest sewing machines for making clothes. The machine has 185 built-in stitches, which you can access using a push-button switch below a brightly lit LCD screen where you can view the stitch you selected. You can also find a stitch guide on the machine's front side.
The jam-resistant drop-in top bobbin and an advanced needle threading function are practical features of this inexpensive sewing equipment.
The machine includes a wide table, eight sewing feet, an instructional DVD, and a manual to make your sewing easier.
This versatile sewing machine also offers different types other than the traditional, such as decorative stitching, monogramming, and quilting.
Check the price here: Brother HC1850
6. Singer 4432
The Singer Heavy Duty 4432 sewing machine can sew a wide range of fabric thicknesses. It has a heavy-duty metal interior frame, stainless steel bedplate, a powerful motor, and extra-high sewing speed, so you can sew through any fabric you want for your clothes.
It has a built-in needle threader, top drop-in bobbin, snap-on presser feet, adjustable stitch length, variable presser foot pressure, built-in one-step buttonhole, and three-needle positions. These are convenient features that can make sewing baby clothes or regular clothes faster and easier.
The Singer 4432 has a motor 60% stronger than standard sewing machines, allowing you to sew thick and heavy fabrics quickly. It gives better piercing power and a higher sewing speed. The metal frame adds stability and durability to the machine.
The machine has a free arm feature to help sew cuffs, collars, pant hems, and other circular clothing parts.
Check the price here: Singer 4432
7. Singer Fashion Mate 3333
The Singer Fashion Mate 3333 is a small, portable sewing machine for beginners who want to sew clothing.
It has a sturdy metal frame making it a durable and stable sewing machine. It is a primary sewing machine with only 23 stitch options that you can select using a dial.
It has practical features such as the automatic needle threader, top drop-in bobbin, and bright LED light to brighten your work area. It also comes with four presser feet that you can use to sew zippers, buttonholes, etc.
The Singer Fashion Mate 3333 is an inexpensive, beginner-friendly primary sewing machine that can quickly and efficiently help you finish garment projects.
Check the price here: Singer Fashion Mate 3333
8. Singer 4452
The Singer 4452, a heavy-duty sewing machine, is a basic machine with no LCD screen and the full features you can find in the most expensive Singer models. But despite the lack of other features, this machine does an excellent job of stitching thick fabrics like denim or canvas.
The heavy-duty frame makes the machine more durable and long-lasting. It also makes the sewing machine more stable as you slide fabrics through the needle.
You can choose from 32 built-in stitches by rotating a dial. The automatic needle threader, top-loading bobbin, and the automatic reverse function make sewing clothing less overwhelming.
The Singer 4452 includes four sewing feet, extra needles, spool caps, a bobbin pack, a screwdriver, and a soft dust cover to protect your sewing machine.
Check the price here: Singer 4452
What is the best cheap sewing machine to make clothes?
It would help to consider the many factors involved when choosing a sewing machine for sewing clothes, such as the motor, automatic features, speed control, and the number of sewing feet, to name a few.
Before buying the best sewing machine to make clothing for you, take note of all the possible features you want on your sewing equipment. It would be good to consider first the types of clothing you plan to make using your machine.
Listed below are the essential features and basic characteristics you should look for in a good sewing machine for making clothes.
1. Speed Control
A sewing machine with adjustable speed control is helpful for newbies or children who are just starting to learn how to sew. The speed control function allows you to slow down or speed up stitching according to your preference. This feature is also essential when you sew delicate materials for your clothing.
2. Sewing Speed
The sewing speed of a machine is vital, especially if you plan to use your sewing machine daily for sewing clothing. You can start with a sewing machine that works at 750 stitches per minute up to 1100 stitches per minute.
3. Number of Built-in Stitches
Your skills as a sewist will determine the number of built-in stitches you will need for your sewing machine. If you are a newbie at sewing, you might need only the basic stitches. But if you are already confident with your sewing skills as an experienced sewist, maybe a hundred or more built-in stitches will work out for you.
You should also note that some sewing machines come with more utility stitches than decorative ones, so you need to determine what kind of sewing projects you do most.
4. Sewing Feet
When making clothing, three presser feet are vital to be included with your sewing machine. Aside from the standard and zigzag foot, it would help if you had a zipper foot, a blind hem foot, and a buttonhole foot.
It will also help if you find a machine where you can decrease the pressure of the presser foot to avoid the risk of snagging your garment fabric on the feed dogs.
5. Free Arm
The free arm is one of the most important features you should look for in a sewing machine that can make clothing. It makes stitching cuffs and sleeves easier, especially for beginners. In most sewing machines, you can remove the accessory tray to expose the free arm, which is helpful when sewing cuffs, sleeves, and hemming pants.
6. Size of Working Area
A piece of sewing equipment with an extension table will make things easier when sewing clothing, especially those that require a considerable volume of fabric. A large throat on a sewing machine will also help push the clothing fabric through as you sew.
7. Price
There is a huge benefit in making clothing. You can customize your dress by sewing. You can even earn by selling what you make from your sewing craft. It would also be wise to consider your sewing machine budget before purchasing one.
You can either buy a second-hand sewing machine which is usually less expensive, or invest in a brand new one. When new to sewing, you may want to gauge if you are in it for the long haul by borrowing or buying a cheap but workable one.
If you have the proper skills in making clothing, you may want to buy a brand-new machine with more features than getting an inexpensive one that may easily break down.
8. Automatic Features
Automatic features like the automatic needle threader, automatic bobbin winder, automatic buttonholer, and thread cutter can help you finish sewing clothes quicker and easier.
Is it hard to sew your own clothes?
It may be intimidating to sew your clothes from scratch, but a sewing machine is a great tool to help you do it quickly and easily. It would be best to practice sewing each clothing component and then putting them all together to finish a garment.
Read on for tips to guide you in using a sewing machine to make clothing.
Take your time to learn how to use your sewing machine. Each machine has its unique quality and features. Discover how to use these convenient features to your advantage when making your clothing.
When sewing clothing, you must take it easy with your speed, as going too fast may cause you to make errors.
Ironing your fabric before sliding it through the machine for better results would be best.
Use the right needle for your preferred fabric. Tough and thick fabrics need sharp needles, while stretchy material needs a rounded needle.
Use the same thread on the top thread and your bobbin to avoid having problems with tension as you sew.
If you want to keep sewing using your machine for a long time, keep it well-maintained, and it will keep working for you for a long time.
Sewing will be a better experience if you share it with people who have the same interests. You can swap ideas, patterns, and techniques, which is an excellent way to make new friends.