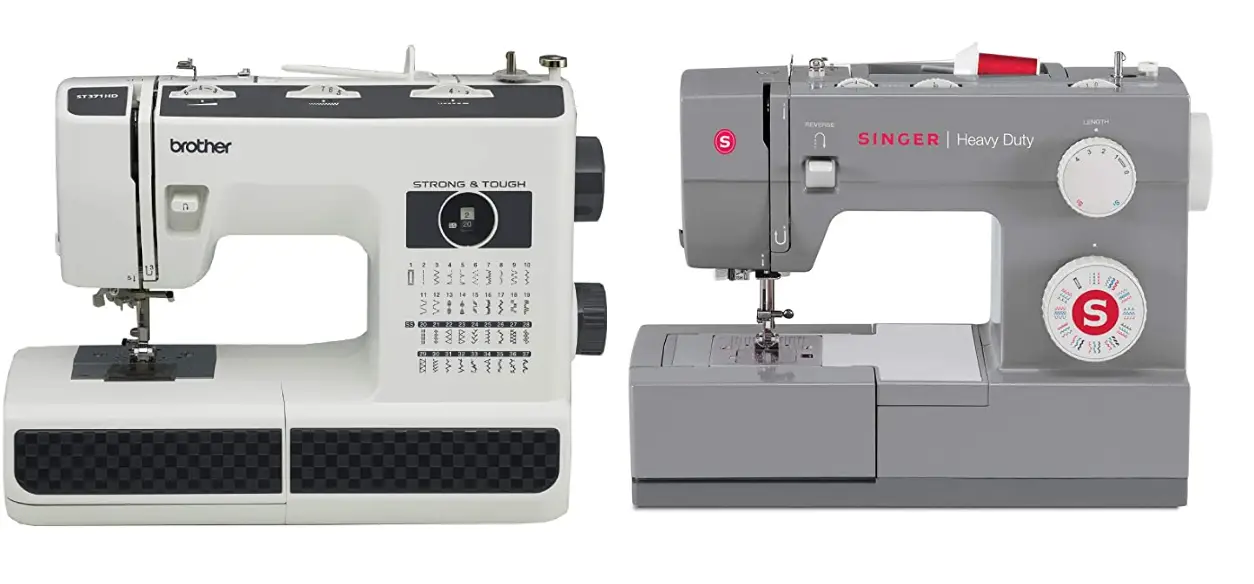 The Brother ST371HD and Singer 4432 are two of the most popular heavy-duty sewing machines available in the market today. The Singer 4432 has been in the heavy-duty sewing machine pedestal for quite some time now. Both novice and experienced sewers have shown great appreciation for this model.
The Brother ST371HD is the Brother brand's heavy-duty sewing machine counterpart to Singer 4432. Both of these sewing machines can handle thick and heavy-duty fabrics like denim or canvas, but they still are, after all, domestic sewing machines.
The Brother ST371HD and the Singer 4432 are similar in many features and have their own distinct and best qualities that distinguish them. Both heavy-duty sewing machines can handle a wide range of fabric thicknesses, but a side-by-side comparison of their similar features yields Singer 4432 as the leading choice because of its speed, durability, and affordability.
Brother ST371HD Main features
37 Built-in Stitches
The Brother ST371HD has 37 unique built-in stitches, including an auto-size buttonhole. It has common stitches such as a zigzag, decorative, blind hem, stretch, reinforcement stitches, a large number of stitches that experienced sewers can use on a variety of sewing projects.
Heavy Duty Features
The Brother ST371HD has a metal interior frame making it sturdy, stable and durable despite being lightweight mainly because it is mostly made of plastics. Its needle plate is made of metal which contributes a lot to consistency and better stitching speed. The machine can stitch through both thick and difficult materials.
The Brother ST371HD is known as a lightweight but stable, strong and tough sewing machine.
Built-in Handle
Storing your Brother ST371HD sewing machine is made easier with a built-in handle to carry it from the table to your storage area.
Extra Accessories
Aside from the nifty machine, you will find extra accessories with the package, which comes in a convenient little pouch. The extra accessories include a needle set, six sewing feet, four bobbins, an extra spool pin, two-spool caps, an instructional DVD, a screwdriver and a dust cover.
Singer 4432 Main features
High Speed and Strong Motor
The Singer Heavy Duty 4432 operates at a high-speed of 1100 stitches per minute, similar to a serger machine. It is also armed with a 60% stronger motor than the standard sewing machines making it easy to stitch through heavyweight and thick fabrics.
Pressure Adjustment Feature
The Singer Heavy Duty 4432 has a pressure adjustment feature that makes it possible to sew both lightweight and heavy fabrics. The adjustable presser foot pressure gives complete control over the amount of tension you place on the fabric. You can lift the pressure foot as needed to work on quilts, denim and other thick fabrics.
32 Built-in Stitches
The Singer 4432 is a multifunctional, full-size mechanical machine equipped with 32 stitches; the largest number of stitches included in its class of Singer sewing machines. The stitches include six essential basic stitches, seven stretch stitches, and 18 decorative stitches varied enough to sew different projects.
Extra Accessories
The Singer 4432 is already a complete package you can use for sewing, but you can find that it also comes with a few accessories that can be valuable on your sewing journey. The package includes four presser feet to enhance the capability to perform different techniques, an extra spool pin, extra bobbins, a set of needles, a lint brush, a screwdriver, and a spool pin felt. The kit also includes a power cord, a printed instruction manual and a stitch guide.
Similarities and Differences
The Brother ST371HD and Singer 4432 are mechanical sewing machines that have mostly basic functions that are ideal for beginners. The Brother "Strong and Tough" sewing machine and the Singer "Heavy Duty" are full-size machines built to work on a wide range of sewing applications.
Similar Features
The weights of Brother ST371HD and the Singer Heavy Duty 4432 do not differ much. The Singer weighs 14.6 lbs. while the Brother brand weighs 14.52 lbs. These heavy-duty sewing machines are also great starter sewing machines that you can carry from your sewing table to your storage or bring to your sewing class.
Both sewing machines are equipped with presser feet to increase the sewing machines' capabilities to perform various sewing techniques.
Both machines have a top drop-in bobbin system for easy loading and quick re-threading of your machine.
The Brother ST371HD and the Singer 4432 both have the drop feed option, a sewing feature essential to quilting and free-motion sewing. It also helps that the bobbin has a clear cover to monitor easily if the thread supply needs to be reloaded.
Both sewing machines have a removable free arm cover that makes sewing cuffs, sleeves, and small items easier. The removable cover can also serve as small storage for extra bobbins, needles and other small sewing supplies.
Both machines are backed by a 25-year limited warranty implying that both are reliable and durable sewing machines that can serve you for many years.
Different Features
With a needle threader, you will never have issues wasting precious time on threading a needle. The Brother ST371HD has a semi-automatic needle threader which may not work as easily as a fully automatic threader of Singer 4432 but still does the job better than doing it manually.
The two heavy-duty sewing machines slightly differ in the number of built-in stitches as the Brother brand has five more stitches than the Singer machine, which has 35 built-in stitches. Experienced sewers may find more advantage in having more stitches to use in their sewing projects, while newbies can benefit most from a few basic stitches.
There is a big difference in the motor speed of the Singer 4432 and Brother ST371HD. The Singer can sew at 1100 stitches per minute while the Brother at 800 stitches per minute. The Singer sewing machine's high speed is the unique selling point of the Singer 44 series and is quite a huge edge over the Brother counterpart.
Price and availability
The Brother ST371HD can be bought at $200, while you can purchase the Singer Heavy Duty 4432 at a more affordable price of $190.
Both sewing machines can be shopped online through sewing and craft websites and can easily be found on Amazon.
Conclusion
The Singer 4432 is a universal, easy to use, and speedy mechanical sewing machine. It has great functionality and can work on a wide range of sewing applications which is useful to sewing experts but still basic enough for beginners to understand.
The Brother ST371HD is a strong and tough sewing machine ideal for everyday sewing or mending various fabric thicknesses. But if you are constantly working on thick fabrics, the Brother ST371HD may not be the ideal machine for you.
In this comparison of the heavy-duty mechanical standard sewing machines, the Singer 4432 is the best bet in terms of speed, durability and price.
Customer Reviews and Recommendations
Singer 4432
– Super fast sewing machine. It definitely gets the job done fast. It also lives up to its super duty name and can go through several layers of thick fabric. The auto threader is hit or miss — I end up threading my own needle 90% of the time.
– Great choice. Fast and steady. Great for small items and large bulky projects. Accomplishes long runs (drapery adjustments) at high speeds with even stitches once stitch length, style, thread and tension are in synch.
– After two months of sewing, the timing was all off. Since this was bought as an extra machine to supplement my embroidery and overlock machines, it was used very sparingly.
– Overall, I'm loving the versatility and stitch quality. I'm not having any difficulty at all. I'd highly recommend this machine. It has many key features and is a great home use machine. Heavy duty to boot!
– One-word "WOW", she's a dynamite little honey, and fast too.
Brother ST371HD
– I bought this machine almost a year ago and have had no complaints. I had absolutely no experience sewing before; I watched the video it came with and it made it very easy to learn. I managed to sew 6 layers of denim with this machine with no problems.
– I would consider myself a beginner. It works great. Easy to use. I'm sewing all kinds of things now. I would give it a complete five stars.
– Wow! I'm having a great time learning how to use this machine to its best abilities. I replaced three winter parka zippers with no trouble at all. The only issue I had was to buy the correct weight of the thread meant for this machine, and the ease of use is great. Easy to wind bobbins, thread your needle with the self-thread system, and the drop-in bobbin makes the operation of sewing a pleasure.
– Two and a half months old, and it's not working. I've used my machine maybe six times since I purchased it. Suddenly it won't sew forward. The reverse button is not working. I will only go in reverse; it's too late to return it. Very unhappy!!
– Love this sewing machine! The Brother ST371HD is one sturdy machine and will take on heavy-duty fabrics without missing a beat (or a stitch!). I love it and would recommend it for the novice and professional alike.
Related: 
People Also Ask
Q: Is Singer 4432 a good machine for sewing a hem or a ripped seam?
A: It is a great basic machine and can do many different things.
Q: Can I use the Singer metal 15 bobbins for the Singer 4432?
A: The Singer model 4432 uses the Singer Transparent Class 15 bobbins only. Using the correct tools for a project is a must. It only means that always use the bobbins that came with the machine; using a metal bobbin in a machine designed for a transparent bobbin can knock the machine out of timing and could cause damage to the bobbin case system; this is true in all brands of sewing machines.
Q: Can you use a walking foot with the Singer 4432?
A: You can use a walking foot with the Singer 4432.
Q: Can the Singer 4432 sew heavy denim and thick leather fabrics?
A: It can sew heavy denim but make sure that your needle is for heavy fabrics like size 15 or 16. It can also sew leather but only on the soft leather types.
Q: The Brother ST371HD sewing machine only weighs 19lbs. Does it have enough weight to prevent shaking and wobbling of the table as you stitch?
A: The Brother ST371HD has managed to balance stability with lightweight in this model. The machine has a rubber base responsible for reducing vibrations and the machine's stability. It is also good to note that it is a few pounds heavier than most starter sewing machines, mostly due to its metal interior frame.
Q: Can you drop the feed dog on the Brother ST371HD so I can do free-motion quilting?
A: Yes, you open the front storage area where you will find the feed dog lever.
Q: Does Brother ST371HD have a binding stitch?
A: The Brother ST371HD does not have a binding stitch.
Q: Can the Brother ST371HD sew through denim?
A: The machine was able to sew through six layers of denim.
Q: Can you oil the Brother ST371HD sewing machine yourself or does it need to go to a dealer?
A: The manual says: "this machine was manufactured with the necessary amount of oil applied to ensure correct operation, making periodic oiling unnecessary." So apparently there is no maintenance schedule but should a problem occur, it would need to be serviced by a dealer.