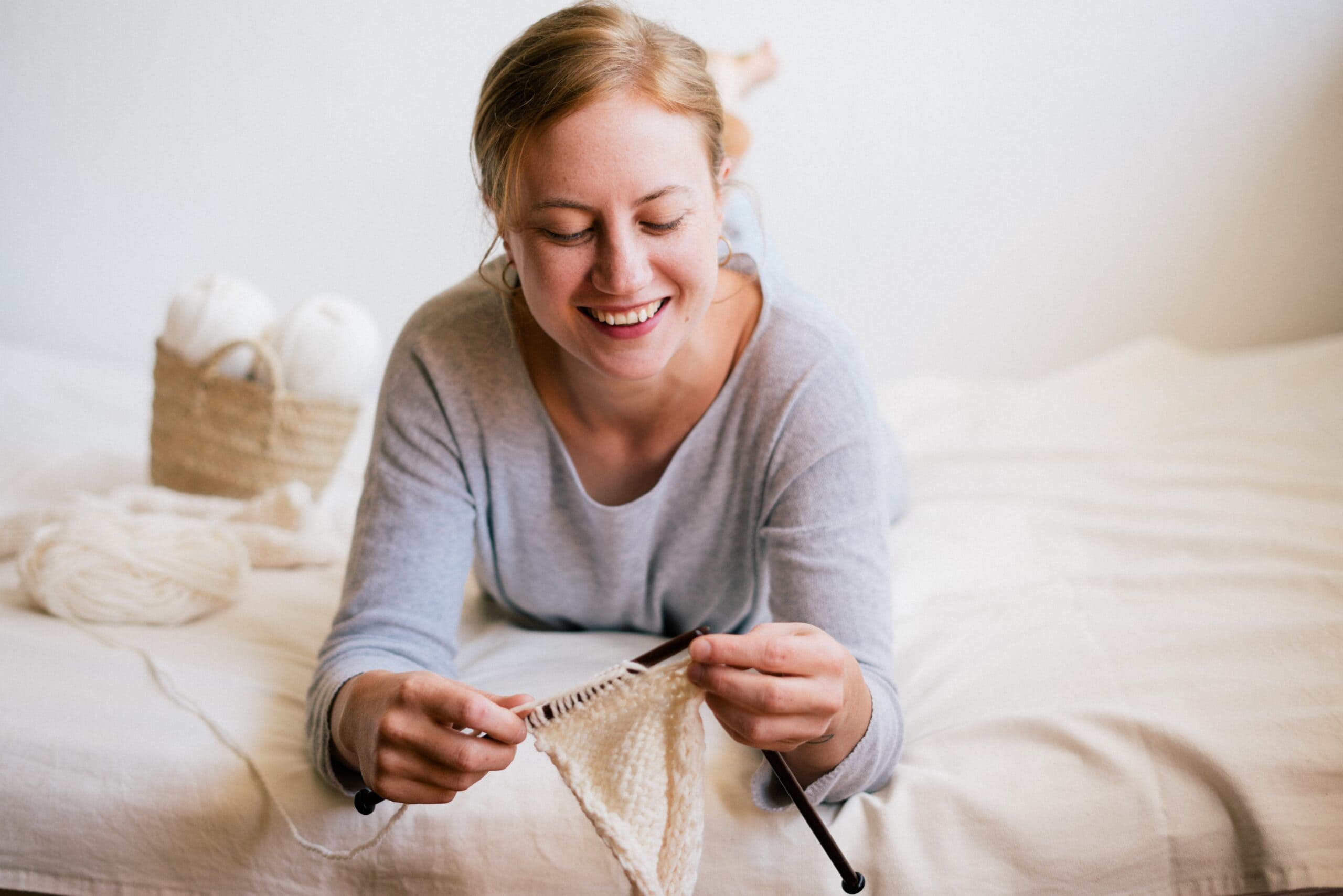 Learning how to knit allows you to be creative and fun, also detail-oriented and meticulous. Aside from this, it also has health benefits. Knitting relieves you from stress and can even keep Alzheimer's at bay.
Many experts say that repetitive action in knitting can induce a relaxed state associated with yoga and meditation. This state of mind and body can help lower your heart rate and blood pressure. It can also reduce harmful blood levels of your stress hormone – cortisol.
Craft-making hobbies like knitting have results that are tangible and other useful products. It can help boost your self-esteem. The rewards that you get from knitting go beyond reducing your stress and anxiety with the satisfaction of creation.
While other people love working out, many experts believe that it is equally essential to find activities that exercise your mind. Please continue reading to know more about the benefits of knitting.
1. Knitting reduces stress and depression.
Knitting can be very relaxing once you get the hang of it. Simple knitted projects usually only need the same few stitches repeatedly, so you can use your muscle memory to get it done.
A study in 2005 encourages all age groups to think of knitting as a "bilateral, rhythmic, psychosocial intervention. It suggests that knitting has the power to transform people's lives." Betsan Corkhill's patients used knitting as a way to self-manage destructive thoughts and behaviors.
English physiotherapist Corkhill saw the positive results of knitting in her patients. Many believe that the repetitive and rhythmic movements you do while knitting could be the key to relaxation. Experts also believe that it can trigger a release of serotonin.
Serotonin is one of the neurotransmitters in your body. It impacts almost every part of your body, from motor skills to emotions. It helps reduce depression, regulate anxiety, happiness, and mood. Low levels of serotonin can result in depression and anxiety.
Your blood pressure and heart rate will lower when you relax and knit. Several studies showed that knitting can help soothe several individual concerns. These issues include feeling sluggish, stressed, and depressed. The more they knitted different pieces, the less stressed and worried they became.
2. Knitting reduces symptoms of anxiety.
As all knitters know, knitting requires great focus, so there is no time left for worrying. Even the simple task of casting-on the yarn on your needle can erase your most intrusive thoughts. The required precise bilateral eye-hand coordination distracts your brain from unhelpful thoughts.
A study also showed that knitting helped many anorexia nervosa patients. Patients who had access to free knitting supplies and lessons had less intensity of fears and thoughts. Their minds cleared up from other preoccupations.
3. Knitting keeps your mind sharp.
Many people learn best when they do another activity. Many experts and knitters believe that knitting is a perfect activity for this type of learning.
While it helps improve your mood, it also stimulates your brain to keep it healthy. Scientists say that the more you use your mind, the healthier it becomes, and the longer it lasts.
Many older people worry about cognitive impairment. These health issues can range from occasional forgetfulness to more dementia. Experts believe that the best way to keep your brain sharp is to exercise and challenge it regularly.
Knitting is a dynamic activity where each little decision you make actualizes what you visualize. Doing so, you are stimulating your brain's motor cortex, frontal, and occipital lobes. It strengthens your mind and slows down cognitive impairment.
A study shows that seniors who engage in knitting are less likely to have mild cognitive impairment than those who do not.
Like biking, knitting also requires consistent practice and dedication to develop the skill. The trial-and-error aspect of knitting will teach you to remember and recall errors so you can plan to avoid them in the future. Somehow, it helps improves your memory.
4. Knitting can teach you valuable life lessons.
Many knitters believe that this activity reflects real life and teaches us essential lessons.
Knitting will teach you that freaking out is not a solution. As you start to learn the craft, it is inevitable for you to question your choices. You will probably think that you are knitting the wrong size, the wrong color, or even the wrong pattern.
Always remember that it will get better as you continue. This situation happens in real life too. You might question whether you can or must keep going whenever you try new things. Stop and ask yourself why you started and why you want to continue before you completely give up.
In line with this lesson, knitting will also teach you that good things take time. Most of the time, it also means that the key is to slow things down.
There are hundreds, or even thousands, of stitches in your projects. You must knit one stitch at a time. Hang in there and keep at it, stitch after stitch.
This lesson is very much applicable to real life too. If you just put one foot in front of the other, you will move forward, even if there are challenges along the way. Slow down and love each step that you make. It would be best if you learned how to enjoy every moment a little better.
5. Knitting can help overcome addiction.
Although knitting can be a bit addictive, it can take the place of other self-destructive forms of addiction. Many members of knitting support groups proved that knitting could be transformative. They believe that this is because of its inherently soothing quality and community support.
Knitting can keep you busy without being detrimental to your health or interfering with your daily life. It is a conscious decision with subconscious advantages. It requires a level of concentration that keeps you going.
6. Knitting encourages the sense of community.
One of the benefits that you can get from knitting is becoming a part of social groups. For many older people, knitting is a social activity. Although it is also great to knit on your own, many like sitting and knitting with others.
It can be a great reason to expand your social network by finding local groups to join. When surrounded by your fellow knitters, you feel encouraged to make the hobby a social medium. It can be an enriching experience and a mentally healthy way to build friendships.
From small knitting circles to international knitting forums, you can always feel the sense of community. The groups can even raise funds by selling their pieces or send knitted projects like dolls to charities. Like what many knitters believe, no knitter is an island.
7. Knitting gives you a sense of pride.
Since not everyone knows how to knit, you can show off your knitted projects to someone who appreciates hand-crafted pieces. You will also feel satisfied and proud of yourself whenever you finish new patterns, especially if you are new to knitting.
8. Knitting helps improve motor functions.
Knitting is an activity that stimulates several parts of your brain. It promotes active finger and wrist movements, dexterity, and fine motor coordination. It can aid other functional skills. It can also distract patients from other painful symptoms.
9. Knitting helps prevent arthritis and tendinitis.
Knitting is an activity that does not need speed competition, so that you can work on the most suitable pace for you. The rhythmic actions aid in the prevention of arthritis and tendinitis. It enables you to exercise your arms and hands without exerting an excessive harmful force.
Experts say that you have to use and exercise your joints regularly to keep them healthy. According to Dr. Barron, gently using your fingers in knitting builds up their cartilage. Doing so will make them stronger.
When your cartilages are healthy, you prevent them from wearing down too early. Knitting is a better option to strengthen your cartilage than typing, which does not put a significant strain on your fingers.
10. Knitting improves concentration.
Since knitting improves your memory and focus, it can also boost your concentration. It tones down hyperactivity and helps those with trouble concentrating on one thing. It provides knitters with something tangible to work on and shifts your attention to the present moment.
11. Knitting provides you with a purposeful and relaxing hobby.
Knitting is a perfect hobby for those who are goal-driven and are always looking for achievable tasks. Regardless of what knitted piece you want to make, its success can signal dopamine release in your body. This chemical stimulates your reward center and gives you satisfaction.
It also serves as a simple and affordable way to separate yourself from technology. It lessens the strain on your eyes inducted by artificial lights and helps you better appreciate the time you have.
12. Knitting cultivates your communication.
You have the power of choice when you are knitting. You can choose the colors, the patterns like a knitted chainmail or a baby blanket, the materials, and even the stitches. You set your own goals that are in line with your preferences, which gives you a sense of control. It establishes good individual time.