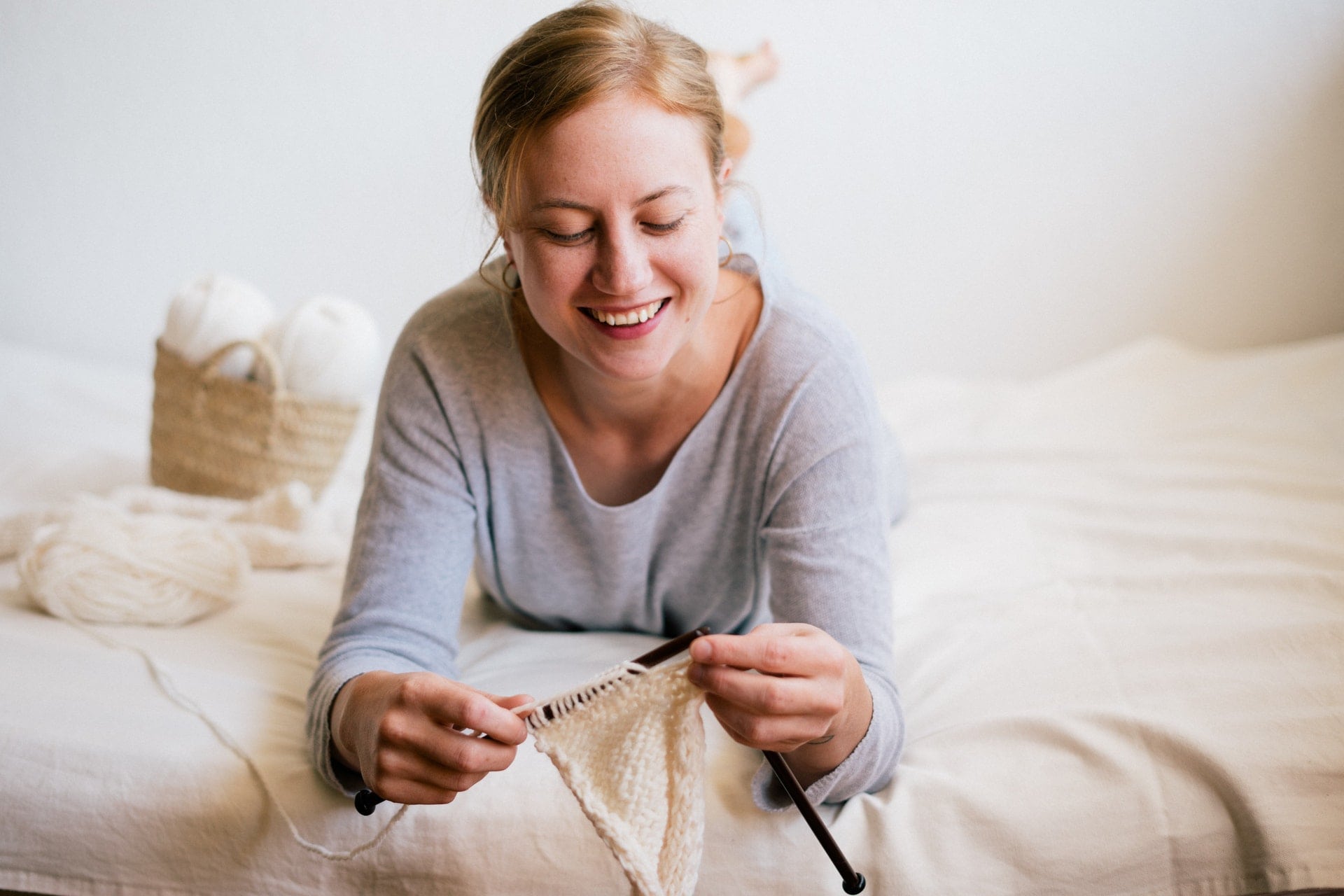 One of the best things about knitting is you can spend as much or as little as you want. Knitting does not have to be an expensive hobby if you are only starting to learn the craft. You can start with a single set of needles and inexpensive yarn to make your first knitting projects.
You could also continue using cheaper acrylic yarn after you master different stitching patterns. But acrylic yarns are usually not the best to handle when it comes to knitting. They typically do not have a good stretch and can be hard and scratchy.
Is knitting expensive?
Like other hobbies, your new knitting hobby might get a little more expensive as you go along. It all depends on what you knit and what materials you use to knit your projects.
You may want to experiment with other fibers such as wool and silk. You may also want to get more yarn for larger projects such as sweaters and cardigans. All of these will cost a little bit more.
The yarn used for projects gets expensive as you make more fabrics. You will have to look for materials that may be more expensive. These materials should have the right degree of elasticity and stretch. If so, your knitting projects will be more comfortable to use.
You may also want to get more appropriate knitting needles. Working with different weights of yarn will need you to get different gauges of knitting needles. You may want to buy a lot more pairs of needles as you go along.
You need at least several pairs for different knitting projects. You may also want to get circular needles for some projects that need knitting in the round.
After some time, you may prefer certain types or brands of needles. Meaning, you may want to get them in different lengths and sizes for various knitting projects.
There are many free knitting patterns and tips online. But you may find yourself wanting to buy specific knitting patterns. You may also want to invest in workshops to hone your skills and expand your repertoire.
Understandably, you may want to spend extra to develop your knitting skills further. But there are some ways to control your spending.
Like what many other knitters do, you can buy your knitting supplies in thrift stores. Several online retailers also offer knitting products at more affordable prices.
What are the tools used in knitting?
Some of the essential tools and materials for knitting are obvious. Even beginners know that you will need your chosen yarn and a pair of needles. But there are more practical accessories that you might need in knitting.
1. Needles
The needles' sizes depend on its diameter. Even beginners know that a pair of needles is one of the essential materials used in knitting.
Knitting needles have two categories: straight and circular. The needles you will use will depend on the type of knitting project you are making.
Suppose you are working on flat and rectangular pieces such as washcloths and scarves. It allows you to work back and forth quickly.
Meanwhile, circular needles have heads that connect to a cord. Working on circular needles allows you to work in continuous rounds. These needles are appropriate for larger knitting projects such as blankets because they can hold more stitches.
This type of knitting needles is also appropriate for projects that need you to work in the round. These pieces may be hats or the body of a sweater.
The sizes of circular needles vary depending on the cord length and the needle size. You might want to get a circular needles kit that offers more flexibility than buying new needles for each project. Purchasing a kit allows you to mix and match cords and needles at a more affordable cost.
These two types of needles have further categories: interchangeable, cable, single-pointed, and double-pointed. Double-pointed needles are the best to use for smaller knitting projects in the round. Knitters use this type mostly when binding off.
Different materials such as wood, metal, acrylic, or bamboo make up knitting needles. Beginners often choose to work with bamboo or wooden needles because of their flexibility. These needles are very comfortable to use, and the stitches do not easily slip off.
2. Yarn
Choosing your yarn is vital in knitting. Beginners should use medium worsted weight yarn with light colors. These yarns are much easier to handle and allow you to see where you have stitched.
Yarn Weight Categories
Category 0: Lace
This type of yarn is approximately equal to one ply, making it the lightest weight of yarn. Since it is the lightest weight, you should treat it gently to prevent breakage or tangling. Knitters usually use lace for making doilies and other ornamental designs.
Category 1, 2, 3: Super Fine, Fine, and Light
These categories are approximately equal to two to five ply. Super fine, fine, and light yarns can cast on and off smoothly. Knitters usually use these yarns to make small knitting projects such as gloves, socks, hats, or baby garments.
Category 4: Medium
This type of yarn is approximately equal to eight to ten ply and is also known as worsted. It is a go-to yarn for all knitters of all skill levels. It offers excellent stitch definition to knitting projects such as sweaters, mittens, and scarves. It is not too light nor too heavy and keeps warmth without bulk.
Category 5 and 6: Bulky and Super Bulky
This type of yarn is approximately equal to twelve to fourteen ply. This yarn is suitable for beginners because it can quickly produce knitting projects such as chunky scarves and blankets. For this type of yarn, it is advisable to knit loose and large stitches for optimal loft.
Common Knitting Fibers
Wool
It is from sheep's fleece. It is one of the most popular yarns because it is stretchy, smooth, and has an accessible price. Wool is perfect for winter garments because of its moisture durability. It is also suitable for making summer garments because of its breathability.
Wool should be gently hand-washed in lukewarm water because to better care for the material. Unfortunately, it also tends to pill over time.
Mohair
Mohair is one of the warmest animal fibers, although it is fluffy, light, and has a soft sheen. It is very elastic and springs back to its shape, making it resistant to wrinkling and sagging. But, it can be hard to knit defined stitches because it is so fluffy.
You can dry-clean, or machine-wash it on a gentle cycle. This fiber is often blended with wool to add weight.
Cotton
This plant fiber is one of the most popular yarns in knitting. It is smooth, has excellent drape, and great for showing off complicated stitches. But it is inelastic and tends to split in the middle of knitting.
Natural fiber and fine cotton yarns are better for long-time knitters because they tend to keep warmth better and are more durable.
Take your time whenever you shop for your knitting yarn. Make sure to choose the thread that is most suitable for your project. Many expert knitters recommend feeling the fiber in your hands to get a better idea of its material and elasticity.
3. Scissors
If you are working with yarn, you will have to cut some off eventually. You can use whatever type of scissors you want for your convenience.
4. Tapestry Needle
A tapestry needle is one of the most basic yet essential tools in a knitter's kit. It is a large sewing needle with a relatively big eye that accommodates bulky yarn. Knitters use tapestry needles to weave in tails of the yarn left after binding off a knitting project.
5. Stitch Markers and Holders
Stitch markers are colorful ring slips knitters use to mark specific points in their knitting patterns. Meanwhile, stitch holders are like safety pins knitters use when setting aside some stitches to come back to later.
6. Measuring Tape
Some knitting patterns need a specific number of inches rather than rows. When making paired knitting projects, measuring tapes are indispensable.
7. Needle Gauge
These tools are perfect for knitting during your trips or vacations. Needle gauges help knitters figure out the sizes of unmarked knitting needles and measure the fabric they are making.
8. Stitch Gauge
Stitch gauges are flat tools with a small ruler on one side and small cut-out windows that help knitters quickly measure stitches and rows.
How much yarn should I buy?
Knowing how much yarn to buy is essential whenever you start a new knitting project. A pattern usually indicates the amount of yarn to buy for each type and size. If you are using the specific yarn from the design, there is no need to compute the amount of yarn you need.
But if you choose to use a different type of yarn, you will need to calculate the amount of yarn you should buy. Multiply the number of skeins indicated in the pattern by the yards per skeins. You should come up with the total yards needed for the design.
Next, you divide the total yards needed for the pattern by the yards per skein of your chosen knitting yarn. Doing so, you will come up with the number of skeins you need for your knitting project.
How much does a skein of yarn cost?
The price of your knitting yarn depends on its weight, fiber content, and the place where you buy it. In the US, the yarn's weight is one of the determinants of its price. The heavier and more sturdy the material is, the more expensive your thread will be.
Basic cotton yarn or acrylic yarns cost around $5 per skein. In comparison, wool costs around $8 to $15 per skein. Cashmere, silk, and alpaca yarns tend to run on the more expensive side, costing around $35 per skein.
More pages:
How much does it cost to knit a sweater?
You have to consider several factors when computing for the cost of knitting a sweater. Most sweaters cost around $60 to $150 to make, but it can cost more.
If you are a beginner, you need to include every factor contributing to the sweater's general cost. These factors include your knitting tools such as needles, yarn, markers, and holders.
Although no one can guarantee a specific price for a knitted sweater, you can expect that it will highly depend on its size and the materials you use. Knitting needles cost around $10 to $30, while other tools cost around $25 to $40.
Is it cheaper to knit or buy?
Generally, knitting can be more expensive than buying. But all is well if you are incredibly interested in knitting and you know it will give you the joy of making your clothes.