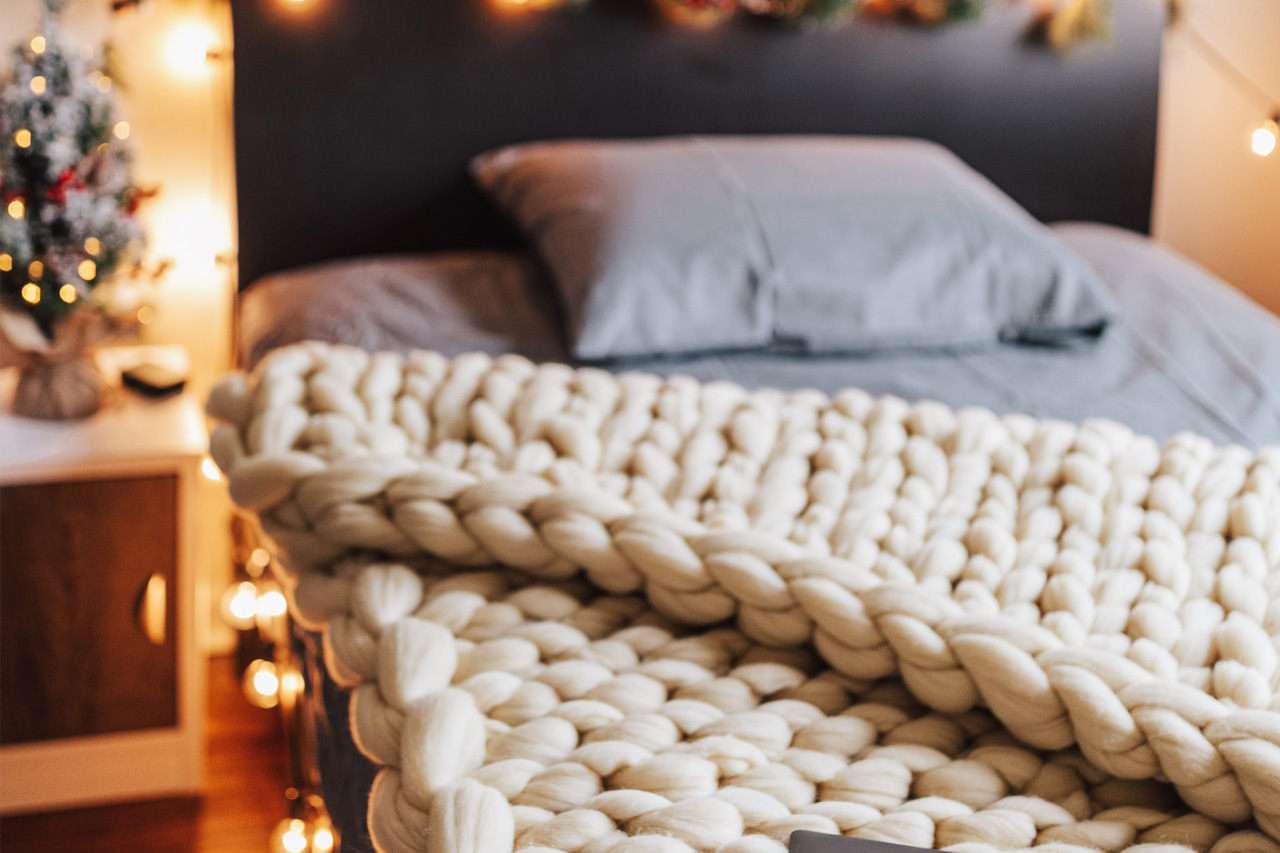 Knitting is enjoyable and relaxing; you can make it more exciting by not doing it the traditional way. If the only way you knit is using standard straight needles, it is high time for you to learn a more exciting way to do it – blanket knitting with arms.
Arm knitting, as the name suggests, uses the arms to make stitches with yarn. The process is similar to traditional knitting but has a few differences other than not using needles.
With traditional knitting, you need to turn your work around after every row you finish, while with arm knitting, you need to have your knitting always facing you.
Just as it looks complicated when starting with knitting, arm knitting is a new skill that requires much patience. Knitting with arms would take a lot to get used to, just like doing traditional knitting for the first few times.
One of the best advantages of arm knitting is how quickly you can finish a project. You can complete a whole blanket in an hour or two of knitting.
Are you excited to add more to your growing knitting skills?
Knitting a blanket using your arms is the most basic way to enjoy this process.
Here is a simple guide to knitting a blanket using your arms:
1. Gather your materials
Use your arms in place of knitting needles to make stitches using bulky yarns. Use super bulky yarns made for arm knitting, or you can use three strands of bulky regular yarns held together.
The amount of yarn you will require depends on the blanket size you want. You can finish a blanket with three skeins of the super bulky yarns. But if you use three regular bulky yarns held together, you will need nine skeins.
2. Pull out five feet of yarn from the skein
You will use this yarn to cast on your first row of stitches. You can cast 18 stitches on five feet of yarn which is enough for a small blanket. If you want to create a more oversized blanket, you can add a couple of inches to the tail of your yarn to cast on more stitches.
3. Start by making a slip knot using some of the five-foot yarn you pulled out as a yarn tail
To make a slipknot, create a loop in the yarn. Then, make a second loop of yarn through this loop. Slip the loop you made on your right arm to create the first cast-on stitch. Continue to loop the rope and pull loops through to cast more stitches on your right arm.
Continue casting until you have 18 cast-on stitches on your right arm to create a small blanket. You can cast around 24 to 30 stitches for a more oversized blanket.
4. Start knitting using your arms
Arm-knitting follows the same concept as you would in knitting with needles.
Knit the first row by taking the free end of the yarn and looping that yarn around your hand. Next, insert this loop into the first loop on your right arm. After pulling the loop through, slide the old loop from your right arm, then slide the new loop on your left arm.
Continue knitting this way until you reach the end of the first row.
For your second row, transfer the stitches from one arm to the other. With arm knitting, you will have to move stitches from one arm to another.
Continue knitting until you have reached the desired dimensions for your blanket.
After you have reached the desired length of your blanket, you can now bind off your work. Bind off the stitches to complete the blanket.
Begin by knitting the first two loops in your row. Then, stop your knitting and get the first loop in your row with your fingers. Pull the loop up and above the second loop on your hand to secure it, and you have only one remaining loop on your hand.
Continue casting off by looping the first loop over the second loop until you reach the end of the row. Note that you should never have two loops or more on your casting arm.
After casting off the final loop, pull the free end of the yarn through the loop. Then, trim off excess yarn from the yarn's tail to finish your blanket. Finally, weave the yarn tail through the loops on the blanket's edge to ensure it is not exposed.
What kind of yarn do you use for arm knitting?
The most popular choices of yarns for blanket knitting with arms are classic wool and wool roving yarns. But there are several options you can choose for your arm knitting. Arm knitting uses your arms instead of needles, so naturally, the yarns you need to use must be huge enough to cast on your arms.
Knitting yarn that is big enough to knit on arms is available in the market as size seven or jumbo yarn.
So, if you are inspired to make huge-sized knitting projects, read on for the things you need to consider when choosing the best yarn to knit with your arms.
Fiber
The best material for arm knitting is a soft one like the merino roving wool yarn. But this type of yarn can be pretty expensive. You can get cheaper ones, but you also get your money's worth.
Wool roving yarns are the most popular in the market, but you can also get acrylic and wool blends. Since arm knitting is just a new technique in knitting, you cannot usually find these super chunky yarns for arm knitting in your local craft store. You may have more luck finding them online.
Color
Isn't it amazing how a specific factor like color affects the success of a project?
When deciding on the color of your yarn for arm knitting, consider the purpose of your project and where you intend to place it.
Most arm knitting projects are lap blankets or afghans, usually used to adorn sofas or beds. So, in picking a yarn color for your arm knit blanket, see if it blends with your home's color motif and décor.
Texture
You will feel how smooth or rough your yarn is in arm knitting. You will feel the yarn with your arms throughout making your knitting project, so make sure your thread is smooth and flexible.
Small blankets are the easiest to make with arm knitting. If you plan on making one using this technique, make sure to use yarn that can produce a smooth and snuggly blanket.
Yarn Weight
Knowing the yarn weight to use is essential in arm knitting. There are super bulky yarns meant for arm knitting, such as the size seven jumbo yarn. Using the right yarn weight for arm knitting will ensure that you will create smooth and even stitches without extra space in between.
You can use a lighter-weight yarn, such as a size six super bulky yarn, but you may need to hold two strands together to knit so you can achieve tighter stitches. Using a yarn with a lower yarn weight than recommended for arm knitting may lead you to make a blanket that needs to be warmer because of the spaces in between.
Handling and care
Some arm-knitted blankets are prone to piling and shedding. These are blankets made from natural fibers. These are usually the arm-knit blankets that can give you warmth and comfort rather than just a pretty display.
If you want to keep your arm-knitted blanket warm and cozy for a long time, make sure to handle it with care by not throwing it in the washer and dryer. It would stay in its best condition with gentle handwashing or dry cleaning.
You can also make arm-knit blankets made from durable materials like acrylic. These blankets can serve as home ornaments and are usually not ideal for warmth and comfort. You can pop them in the washing machine and dryer without fear of losing their shape or form.
How many pounds of yarn do you need to arm knit a blanket?
Arm knitting a blanket may need around 6 to 15 pounds of yarn, depending on the size you plan to knit.
Arm-knit blanket patterns usually include an estimation or guide on how much yarn you will need to knit a blanket. When estimating the amount of yarn for an arm knit blanket, you also need to consider the pattern, size, gauge, and type.
Using size six or super bulky yarn, you will need around 6 pounds to arm-knit a small blanket with a 30 x 50-inch dimension. To complete a gigantic blanket with a size of 40 x 60 inches, you may need to purchase around 8 pounds of yarn.
Below is a simple guide on determining how much yarn to use based on the size of the blanket you plan to arm-knit.
Blanket Size
Amount of  Yarn
(in inches)
(in pounds)
(in meters)
Baby Blanket
30 x 30
2.2
40
Small Blanket
30 x 50
4.4
80
Medium Blanket
40 x 60
6.6
120
Large Blanket
50 x 70
8.8
160
Extra Large Blanket
70 x 80
15
280
Note that the numbers are based on arm-knit blankets made from size six super bulky yarns. The blanket sizes are standard, so if you want your chunky blanket smaller or larger than any of those written, you can always customize your own.
How many yards of yarn do you need to arm knit a blanket?
The number of yards you need to arm knit a blanket should be around 43 to 306 yards, depending on the blanket size. A baby blanket can use about 43 yards, while a big blanket may need as much as 306 yards of yarn.
With arm knitting, your tension and arm diameter can affect the number of yards you need to complete a blanket. The capacity of your arms can also limit the width of your blanket. If you have long arms, they can possibly hold 18 – 24 stitches. But short arms may not hold as many and create only small blankets.
You can produce a smaller or larger blanket than your desired size. The yardage stated above is applicable to an arm knit pattern using super bulky yarn.
Knowing the yardage of the blanket size you wish to make is not enough. You should also know that other factors like fiber type and yarn weight are essential to determine the blanket size you will get after finishing your project.
Related: 
Ways to rotate knitting 90 degrees
How long does it take to arm knit a blanket?
Arm knitting an entire blanket usually takes only one to two hours, depending on your pace as a knitter.
For a beginner in arm knitting, you may need extra time to practice knitting without needles and use your arms instead. Once you get the hang of knitting with your arms, you will only need an hour or two to finish a gorgeous and cozy blanket.